The cry went out round SE1. 'Hawksmoor's coming to our part of town'. Excitement could be seen writ large on the faces of each carnivore at the magnificent treats that lay in store. 'The finest meats, exceptional wines and cocktails and a wonderful setting – what could possibly be better?' The answer, you will be unsurprised to hear, is 'not much'. The latest outpost in Huw Gott and Will Beckett's empire does everything that you'd expect from this superbly accomplished group of restaurants, but adds a few twists that show that there's plenty of life in the concept yet.
The Borough Hawksmoor – the seventh, and sixth in London – feels closest in atmosphere to the (excellent) Manchester outpost. There's a clubby, intimate feel to it that means that it's more suited to a romantic dinner a deux than the more masculine bravado of the Guildhall branch. If we slightly missed the bar area that the Seven Dials branch boasts, then there's no use crying over spilt milk, or spilt gin and tonics for that matter. There is an awful lot here that's good, and we should celebrate it.
If you've ever visited a Hawksmoor before, you'll know the drill to a large extent. Order a pre-prandial cocktail (the Shaky Pete's Ginger Brew is a thing of wonder and beauty) and perhaps half a dozen baked oysters with bone marrow from the daily specials menu, and sit back and enjoy the experience. The trick is to order relatively frugally from the starters – a Jerusalem artichoke salad, perhaps, or a special of heritage tomatoes on sourdough with lardo. They will be excellent, but you know what you're at the restaurant for; the staff know what you're at the restaurant for; Uncle Tom Cobbley and all know what you're at the restaurant for. So you might as well just get on and admit it.
A few years ago, steakhouses were all the rage, but now, like every other fad or trend, they have been supplanted. (I'm never going to understand Burger and Lobster, I fear, but then the speed with which the non-London branches have closed indicates that it's very much a metropolitan fad.) It means that only the very best are likely to survive the long haul, and thankfully Hawksmoor, along with Goodman, continues to serve the best steaks in London. A carnivore's dream is a vegan's nightmare, but the Chateaubriand that we had was something truly beautiful (as Donald Trump might say), with just the right amount of marbling and a rich, succulent flavour. It came with a smorgasbord of side orders including perfect béarnaise sauce, the anchovy hollandaise delight, sublime beef dripping chips, my companion's cauliflower cheese and an unexpected but delightful macaroni cheese. It was enough to feed the five thousand, and a bottle of decent Bordeaux proved a worthy accompaniment.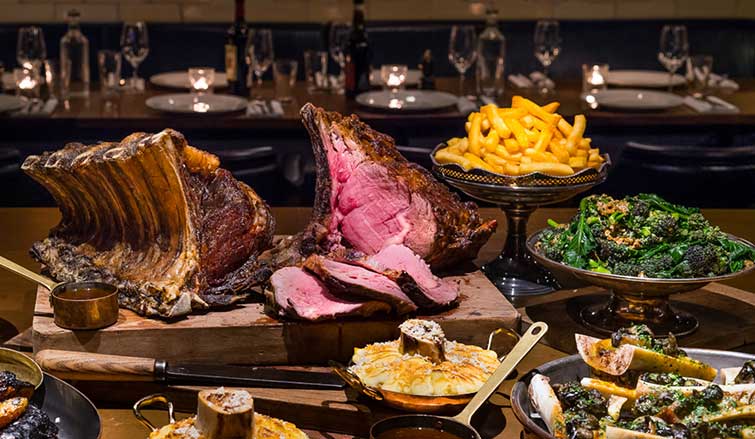 Desserts were lighter than usual – a rhubarb panacotta and a couple of scoops of sorbet – which was probably necessary given the sheer onslaught of meat that we'd just enjoyed. As is my wont, an espresso martini rounded the night off nicely and sent me and my companion, who was rejoicing in the news of a new pregnancy and therefore more sober than usual, off into the night sated and extremely content. Yes, Hawksmoor Borough is far from cheap (although there's a very good-value set menu that can send you off for under £30 a head), but it's one of the sheer, delightful pleasures that make London life that bit more enjoyable, and frankly that has to be worth virtually any amount of ready money. Alexander Larman
thehawksmoor.com