It has been discovered that Thomas J Mace-Archer-Mills Esq, a familiar face in television interviews during the Royal Wedding, was a fraud. Mace-Archer-Mills cut the mustard on television, with his upper class accent, traditional attire and air of authority on all things royal, and passed comment on the Royal Wedding without anyone questioning his credentials. He was one of the most frequently seen faces on TV during the run-up to the wedding, giving insightful comments such as why Meghan Markle was right not to wear a shoulderless dress during the ceremony: "You are in a chapel which is a royal peculiar, which means it is not under the jurisdiction of the Bishop of Canterbury, it is directly under the jurisdiction of Her Majesty the Queen. So therefore protocol must be adhered to at all times." He concluded one broadcast with: "Mwah my darlings, clinkies to you all."
But the royal expert's real name is Tommy Muscatello, an Italian-American who grew up in upstate New York. He developed a passion for all things British while still at school. He played Mr. Sowerberry in a school production of Oliver Twist, and took the role rather more seriously than most pupils, adopting Dickensian British as his own accent thereafter, moving to the UK twenty years ago aged 18.
Since then, Mr. Mace-Archer-Mills has fomented his love for the British royal family by founding the British Monarchist Society and Foundation, described as "the leading organisation for not only British, but international Monarchists". He is also editor-in-chief of Crown and Country Magazine, a bi-annual royal-themed luxury periodical, and the author of a book Their Majesties' Mixers: A Royal Drinkology, subtitled "When they reign, they pour."
Once he was revealed as a fake toff in American and British tabloid newspapers, Mr. Mace-Archer-Mills protested: "I've never made it a secret that I was born in America. I've never once been paid for any of my lectures or television appearances – it's all voluntary." In an interview with The Sun newspaper, he elaborated: "I think I encapsulate Britishness and have taken to the country in a way all people should when they want to come here and be part of society. It's something positive. I'm a fun person and that's why I think I've been successful at what I do because I can relate to the subject but not in a stuffy old way." Naturally Mr. Mace-Archer-Mills will soon be writing for The Chap.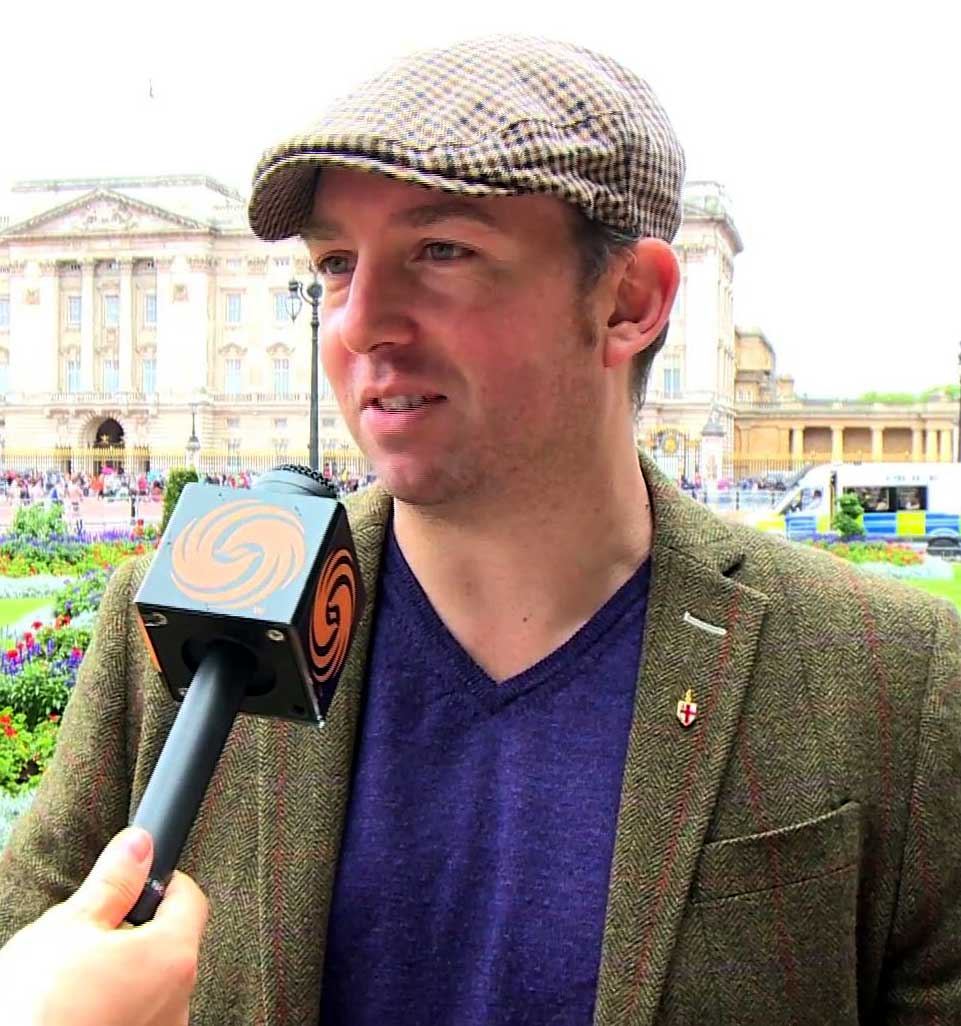 He has been hounded in the press, particularly across the Atlantic, while over in the UK there is a sense of embarrassment that he got away with pretending to be a 38-year-old of aristocratic heritage. If it's that easy to convince the British and world's media that one is "in the club", that doesn't say much for the club's credentials. Besides, Mace-Archer-Mills never lied to anyone or made any claims to be anything he wasn't. He simply aired his passions with sincerity and conviction, while everyone was too busy wondering what David and Victoria Beckham would wear to the wedding.
Someone should have asked this publication about Mace-Archer-Mills' credentials. Wearing Brown in Town, especially outside Buckingham Palace, would have been a giveaway, not to mention omitting to wear a shirt and tie.