During the early decades of cinema, tweed on film was just as ubiquitous as it was in real life, often worn by honest, homespun gentlemen of taste. Think James Stewart in one of several tweed suits during George Bailey's fateful Christmas Eve in It's a Wonderful Life (1946) or John Wayne's Irish tweed sport jacket making a positive impression when his character returns to his ancestral home in The Quiet Man (1952). Lovely examples, to be sure, but nothing groundbreaking in terms of how it was worn. Even the more villainous tweed wearers of this era were still urbane chaps with traditional inclinations toward the art of dressing, from Clifton Webb's scheming snob Waldo Lydecker sporting a double-breasted tweed suit in Laura (1944) to James Mason's charismatic Philip Vandamm donning a series of odd waistcoats with his grey tweed suit in North by Northwest (1959).
Then came the 1960s. Every era has looked to the future to some extent, but the swinging sixties was one of the first decades in modern history where youth was taking the lead across the globe. The less informed may consider tweed to be professorial or old-fashioned, which is certainly not to the fabric's detriment, but this rugged sportswear was rejuvenated in 1960s cinema, for a brief but brilliant flash as the suiting of choice for youthful rogues on both sides of the Pond. In Hitchcock's The Birds, released in 1963, Rod Taylor's Mitch Brenner is a successful and swaggering Bay Area lawyer, the type who has a family home a few hours up the coast in the smaller coastal hamlet of Bodega Bay. Though he wears a wool suit in the city, Mitch sports tweed in this more bucolic, homey setting, donning a fine mixed grey tweed suit worn with a white shirt and silk tie for his younger sister's birthday party. The jacket blends American tailoring with sporty English details with its "shapeless" sack jacket, structured shoulders, slanted flapped hip pockets and ticket pocket, close three-button front, and short double vents.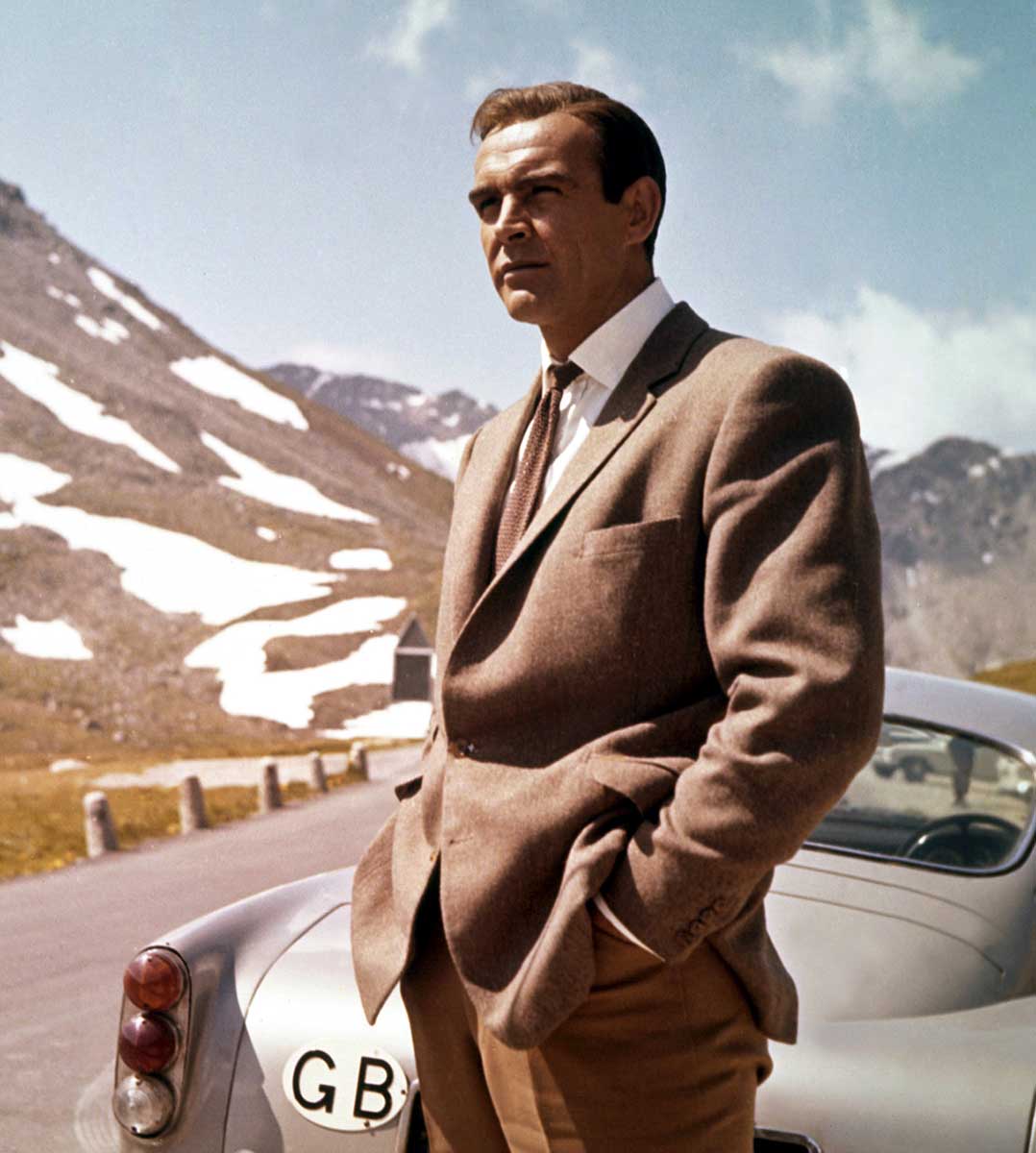 The following year found James Bond sporting tweed on screen for the first time. It wasn't the debut of tweed in the James Bond series, of course; how could such a quintessentially English franchise not feature tweed in its first two films? Old school members of 007's circle, such as the gadgetmaster Q, had worn fine traditional examples of tweed, but it wasn't until Goldfinger in 1964 that Sean Connery's sophisticated spy wore tweed on screen. Bond's brown barleycorn tweed hacking jacket in Goldfinger has taken on something of a divine status in the community of sartorial appreciation. Of course, it may help its case that Connery wore it during some of the film's most iconic scenes, from a statue-shattering encounter with Oddjob to piloting his gadget-laden Aston Martin DB5 through the mountains of Austria. Nonetheless, the jacket is one of the few of 007's garments to appear in more than one film, as Connery would wear it the following year in Thunderball. Both films feature the jacket with a beige shirt and brown silk tie – knit in Goldfinger, grenadine in Thunderball – with taupe trousers and high-top brown suede derby shoes. At this point in the series, Sean Connery's Bond had established a uniform for himself of a two-button lounge suit – often in shades of grey – tailored by Anthony Sinclair with a pale blue Turnbull & Asser 'cocktail cuff' shirt and navy grenadine tie. The hacking jacket in Goldfinger marked one of his first deviations from this uniform, though Bond remains generally true to his usual taste, wearing solid colors, side-tab adjuster trousers, and grenadine or knit ties.
Tweed thus became more commonly seen on fashionable male figures of the mid-sixties, from 007 to Michael Caine's synonymous character in Alfie. A sophisticated secret agent and a playboy in swinging London are natural candidates as style icons, but it's hard to imagine bestowing a similar honour on a small-time Texas desperado during the Great Depression. Yet, Warren Beatty's larger-than-life interpretation of the criminal Clyde Barrow in Arthur Penn's stylized drama Bonnie and Clyde featured the gang leader in a variety of natty duds that likely shared little in common with the backseat wardrobe of the real-life hoodlum.
Costume design of Theodora Van Runkle dressed her protagonists in an intentionally anachronistic fashion, evoking the 1930s but adding modern touches, which would speak to audiences of the late '60s, who embraced the look and attitude of the "romantic" outlaws. A standout of Beatty's wardrobe appears midway through the film, as the gang takes over a bank for a smooth and successful heist. The setting is a summer afternoon in a dusty small town in Texas, yet Clyde strides into the bank beautifully attired in a brown herringbone tweed three-piece suit, complete with half-belted "action back" jacket, Panama hat, spectator shoes, and green polka-dot tie. Despite the weather, tweed appeared to be the fabric of choice for the male members of the gang that day; Clyde's brother Buck (Gene Hackman) sports a taupe birdseye tweed three-piece suit, and juvenile lackey C.W. Moss (Michael J. Pollard) diverts from his usual denim in his plaid tweed sport jacket. The great Van Runkle was only getting started. After the success of her costume design debut in Bonnie and Clyde, her next project would showcase an outfit considered by many to be the pinnacle of 1960s cool: the shooting jacket, rollneck, and suede boots of Steve McQueen's eponymous detective in Bullitt (1968). When we first meet Lieutenant Frank Bullitt of the San Francisco Police Department, he looks rather unremarkable – particularly for McQueen's standards – in a dark navy lounge suit, light blue shirt, and olive foulard tie. Both his attire and the film's narrative refer to the police procedural of the previous decade's Dragnet and M Squad.

The next day, we realize this is something different. Bullitt glides down the iconic streets of San Francisco in a highland green Ford Mustang GT390 fastback, stepping out in a rich brown herringbone tweed sport jacket that remains a sartorial point of interest fifty years later, with its American sack cut, 3/2-roll button front, ticket pocket, short double vents, and irregular tobacco brown suede elbow patches. McQueen insouciantly eschews a traditional shirt and tie – even when on duty – and instead opts for a navy knit rollneck jumper, charcoal flannel trousers, and snuff brown suede crepe-soled playboy boots from Hutton. Joe Friday's wardrobe this surely is not.
After a decade of cheeky, charming cads who flouted criminal codes and conventions, American cinema in the 1970s saw a return to venerating law and order. Pragmatic police officers like Bullitt were out, and a new breed of laconic lawmen like 'Dirty Harry' Callahan were in, upholding the truth and nothing but the truth. Though they serve the same great city of San Francisco, Harry Callahan's manner of wearing a herringbone tweed sport jacket is a business-friendly, conservative ying to Frank Bullitt's freewheeling yang. In the first scenes of Dirty Harry (1971), Clint Eastwood set an iconic standard for this uncompromising detective by donning a contemporary gray tweed jacket over a pale blue shirt, deep red sweater vest, and a silk repp tie in navy and red to bring both garments together, uttering "do you feel lucky, punk?" while aiming his .44 Magnum at a – spoiler alert – ultimately lucky bank robber. The palette is no coincidence as Inspector Callahan is presented to us as a "red, white, and blue" all-American lawmen at the height of the Nixon era 1970s. Every subsequent Dirty Harry film would thus feature Clint in a stylish new tweed jacket, though the days of the cool cop in a rollneck and boots was out, replaced by a dedicated detective in an office-friendly button-up shirt, tie, and brogues.
They say fashion is cyclical, and tweed appears to be making a revival as the "bad boy" choice of the current decade. The Shelby family in Peaky Blinders conduct their violent business in natty tweed three-piece suits and caps, and Benedict Cumberbatch drapes his incarnation of Doyle's greatest invention in a long Irish tweed greatcoat on Sherlock. It's not just the Brits who are continuing this legacy of tweed as the preferred fabric for defiant characters. While dressing Ryan Reynolds' insouciant gambler for Mississippi Grind (2015), costume designer Abby O'Sullivan informed me that she took cues from the rebellious all-Americans played by Paul Newman, Robert Redford, and Steve McQueen in the 1960s and 1970s. The jacket she envisioned would be "an idealization of a certain type of man and visually complex enough to stare at on screen for long periods." What did she eventually choose? A micro-checked sport jacket in hand-woven Harris Tweed.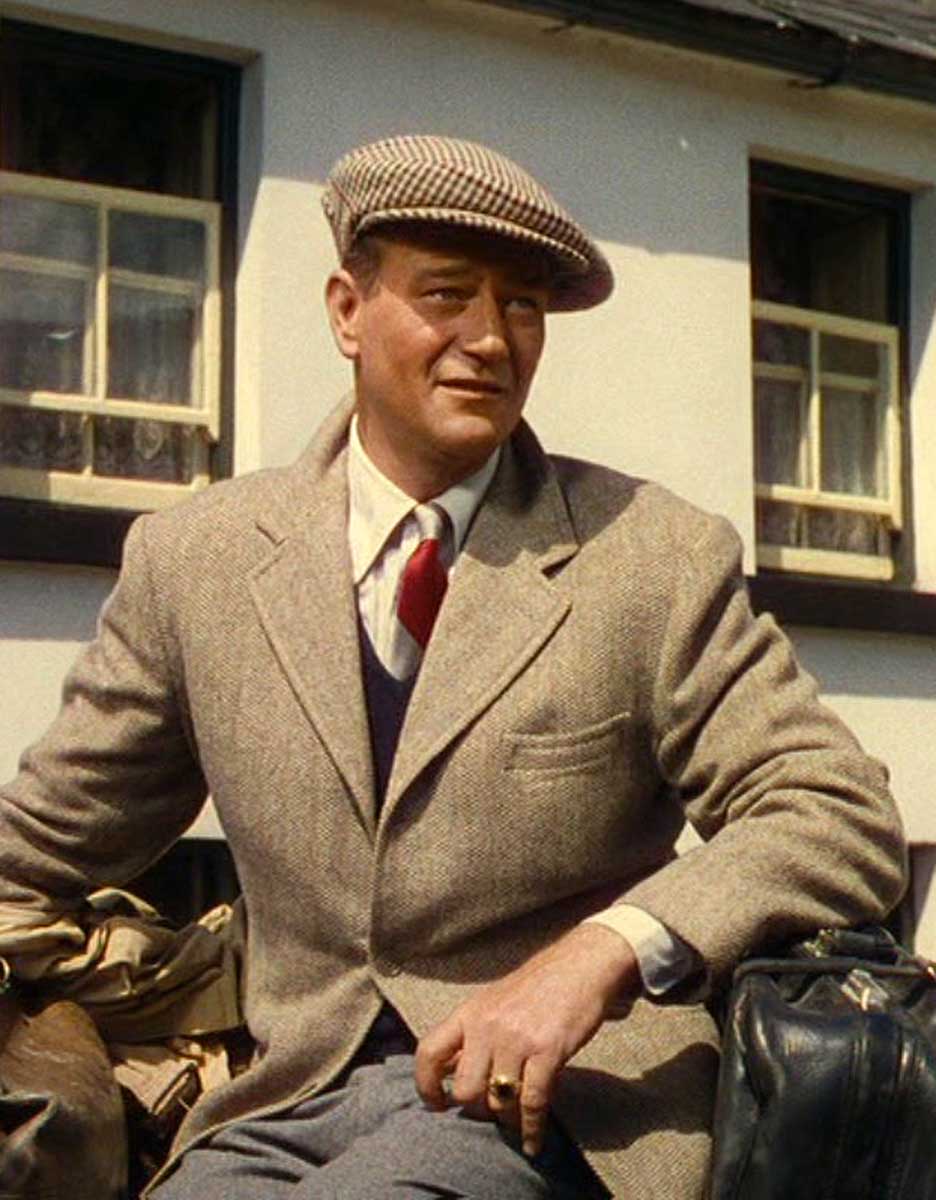 THE QUIET MAN
John Ford's cinematic love letter to his ancestral home remains a perennial St. Patrick's Day favorite, even if it is a somewhat overly sanitized depiction of Irish life in the 1920s. Based on a 1933 short story by Maurice Walsh, The Quiet Man stars Ford's favorite actor John Wayne as Sean Thornton, a former boxer from Pittsburgh who is returning home to reclaim his family's land in Ireland. The setting, Inisfree, is fictional, but much of the movie was filmed on location in western Ireland around the village of Cong, County Mayo.
With his tweed jacket, flat cap and flannels, Sean Thornton looks every bit the native Irishman when he arrives by train at Castletown. "He didn't have the look of an American tourist at all about him," Father Peter Lonergan (Ward Bond) remarks with approval in his narration.
Many of the costumes were tailored by the O'Máille family, who continue to sell Irish country clothing at their shop in Galway. Their web site proudly states that John Wayne and Maureen O'Hara both visited its store for their characters' costumes, making it highly likely that John Wayne wore authentic, locally hand-woven Irish tweed for his role in this most Irish of movies.
Sean's tweed is a herringbone twill weave of beige and light brown yarns to create an overall tan effect, with a slight cast toward taupe. The single-breasted jacket has notch lapels that are often worn with the back collar flipped up for a touch of insouciance. The notch lapels and the welted breast pocket have "swelled edge" seams. The jacket also has straight-jetted hip pockets in line with the lowest button. Although Sean's tweed jacket is pure Ireland, his button-down collar shirt, striped tie, and v-neck jumper are indicative of his Americanization.
Both Ford and cinematographer Winton C. Hoch won well-deserved Academy Awards for their work on The Quiet Man.
This article by Nick Guzan originally appeared in The Chap Summer 18
For more features about gentlemanly style in film, visit bamfstyle.com