Mexican cuisine in Britain has, for many years, experienced the unfortunate reduction to the role of fodder for hen parties and twentysomething birthday bashes. The restaurants themselves have been partly to blame, decorating them in too-bright colours and offering cheesy chaps in sombreros and fake moustaches as entertainment. The new wave of Mexican eateries in London swerve away from this by offering street food in a simple cantina atmosphere, but fine dining Mexican cuisine is not easy to find outside of Mexico City.
Unless you happen to be in Miami, Florida, where new chain Cancun Grill has two branches, the newest in the Midtown Doral neighbourhood. The first thing you notice is the absence of any Lucha Libre masks adorning the walls, and the furniture is not painted bright yellow or green. The décor is subtle, stylish and airy, with the front bar open to the street, as it would be in Mexico.
While executive chef and owner Martin Cardenas was busy in the kitchen, his second-in-command and superbly named Gustavo came over to introduce himself and his menu, while we made a start on three different types of guacamole – classic, spicy and tropical. Immediately impressed by my Mexican Guayabera and acquaintance with the Yucatan region of his country, Gustavo explained that Cancun Grill's menu was sourced from all regions of Mexico, with many of the ingredients imported from that country, only a few hundred miles away from Florida.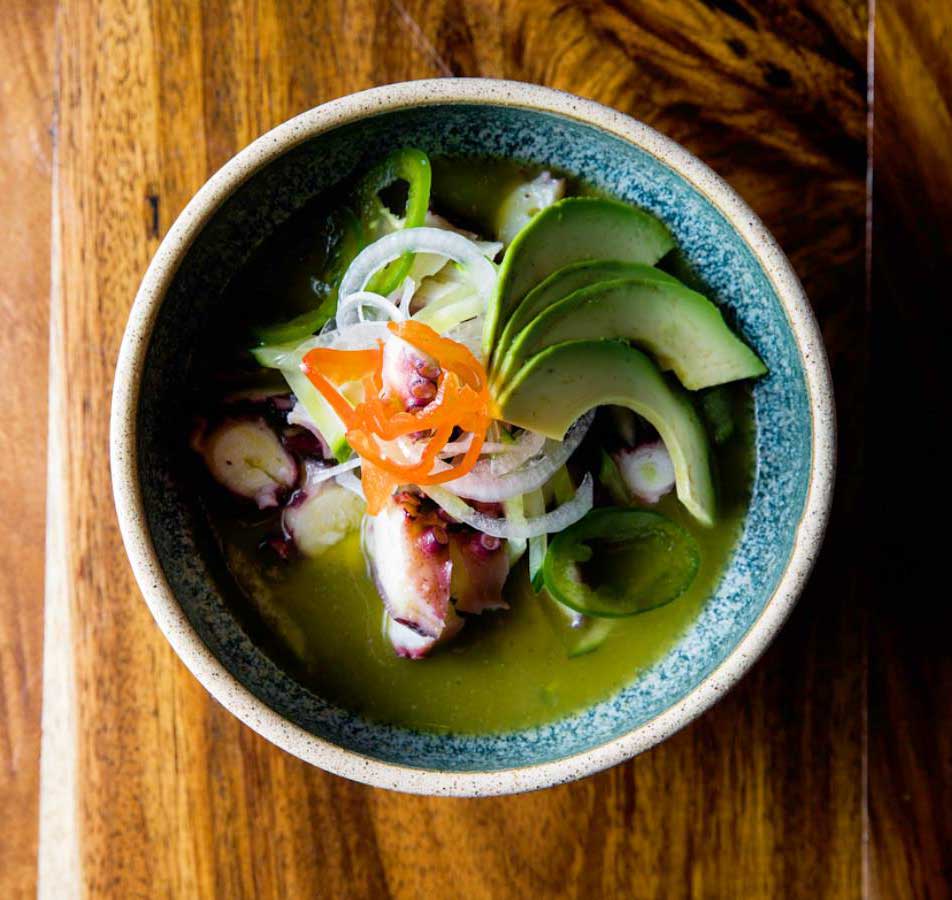 We commenced with Aguachile, a cold dish not unlike a soup with shrimp in a citrusy sauce made from limes, jalapenos, cucumber, cilantro, red onions and avocado. It's the perfectly light lining for the stomach before the cavalry comes in, which is to say the meat dishes.
My starter (even though I had started may mouthfuls ago) was Tuetanos al Horno – roasted bone marrow, served in the bone, with beef barbacoa, pickled red onions, avocado, aioli, served with warm tortillas. You scoop out the tender, soft, succulent bone marrow and wrap it in a tortilla; it melted in the mouth and was quite unlike anything I have ever tasted before.
Next came Tlayuda con Asada, a vast open-face corn tortilla smothered in flank steak, refried beans, onions, chilantro and Oaxaca cheese. Kind of a Mexican pizza, but much more flavoursome than anything with boring old mozzarella and tomato. The tortilla is thin and crispy enough to tear off pieces – Gustavo counseled me to eschew knife and fork for this dish, and the combination of meats and refried beans gave a burst of complex flavour to every mouthful.
My dining partners were my two children, aged 13 and 10, and they proved untypically open to this new way of eating and indeed the unfamiliar flavours. The various dishes being scattered around the table makes it less daunting for a child to feel they have to tuck into what's on their plate. The other customers all seemed to be glamorous Latino types, who didn't bat an eyelid when the entertainment began. Rather than the intrusive Mariachi band hovering around one's table, silencing the conversation and producing awkward grimaces while you try to eat, a couple of well-dressed Mexican crooners drifted about with microphones, only approaching tables where birthday parties were being celebrated. The Mexicans can't help themselves when it comes to celebration and they make every day seem like Fiesta.


It was time for pudding and that moment when adults, especially at Cancun Grill Doral, are ready to consider a new fitness regime, while the children are all eyes on the menu again for the all-important dessert menu. What on earth will Mexican puddings consist of? More tortillas, with sweet fillings perhaps? They were far from disappointed at the exotic sweet offerings. Helado Frito might be something you'd expect in an upmarket Scottish restaurant – literally deep-fried ice cream. Vanilla choc-chip ice cream is plunged into the deep fryer, coated in a crispy cornflake, cinnamon and sugar shell.
It works, surprisingly. The ice cream retains its bite and as soon as you crack open the shell, the crispy sugary coating melts into it. I have never seen such determined, wide-eyed looks on my children's faces, who polished the whole lot off in minutes.
The more adult-oriented pudding was a Guayaba Cheesecake with guava sauce. Cheesecake is a difficult dish to make original, but this tropical version, using the purple variety of guayaba, was a triumph, with the subtle flavour of this acidic fruit allowing the rich cheesecake flavour to flourish as well. We left Cancun Grill Doral with the impression that Mexican cuisine has only just begun its journey from the streetside cantina to the fine dining table, and there had not been a single hysterical L-plated lady in sight.
Cancun Grill Doral
7835 NW 107th Avenue, Suite #3-01 Doral, Florida 33178
Tel: 305 307 7003
cancungrilldoral.com