The actress Fenella Fielding, who has died aged 90 from a stroke, was one of our most difficult interviewees to track down. After countless attempts to reach her via her agent in 2008, it was several years later that I saw her on a street in Soho, stopping traffic in a black and white ensemble, a vampish tower of hair and black eyelashes peering over enormous black sunglasses. "Fenella, Fenella!" I called out from across the road, to the delighted schadenfreude of some hipsters sitting outside a café.
They smirked as I approached Miss Fielding on the pavement, blurting out how keen The Chap was to interview her. "I must dash, darling, I'm late for an audition," was all she had time to say. The hipsters sniggered, not because I had been snubbed by a celebrity but because I was visibly crestfallen over an unsuccessful encounter with someone who meant nothing to them.
The reason I was so keen to interview Fenella Fielding wasn't because she was a celebrity. Even at the age of 80, as she was then, she still had a mysterious glamour and presence that was beyond mere fame. It was like catching a momentary glimpse of the swinging sixties, in a Soho that had moved on from cultural revolution to hipsters drinking expensive coffee and examining their various screens with great interest.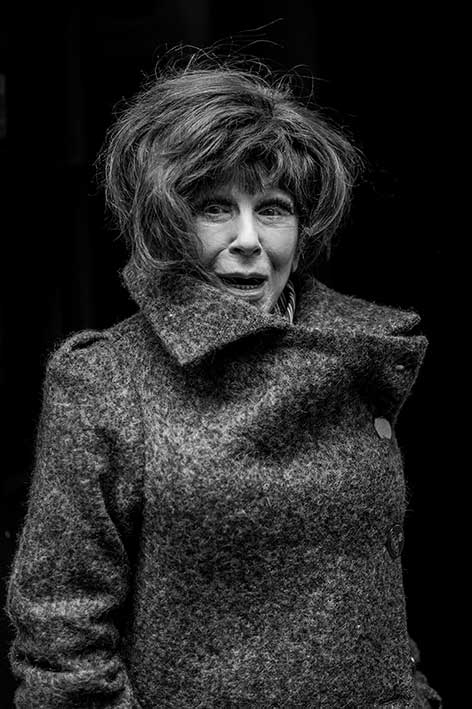 It wasn't until eight years later that Fenella finally emerged from her elusive lair and granted us an interview. Our second encounter was as emotive as the first. I was waiting for her to arrive at an Avengers reunion in a City lounge club hosted by Count Indigo, hovering at the entrance with a determination at least to meet her properly. When she arrived, terrifically late of course, it was that same feeling: the spirit of the 60s had entered the building. In a room full of young people observing an Avengers-themed dress code, as well as another living 60s legend Peter Wyngarde, this diminutive 85-year-old lady lit up the room and all eyes were on her. The interview was secured at last.
Atters interviewed Miss Fielding in 2016 upstairs at the French House, in the heart of the area where she had flowered in the 1960s. Here Fenella had caroused with Jeffrey Bernard, rubbed shoulders with Andy Warhol and performed at Peter Cook's Establishment Club. A few streets away was the RADA building, where she had trained as an actress in the forties. Her two years at RADA were constantly interrupted by indignant visits from her mother, who didn't approve of her daughter's career choice and tried constantly to take her away.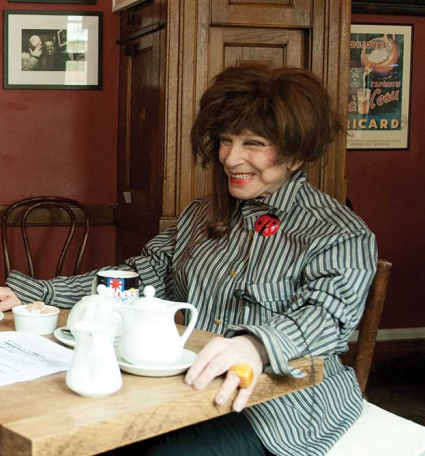 It was Ron Moody who encouraged her to persevere, helping her get parts in musical revues until she had made a name for herself by the late fifties. She then worked with Kenneth Williams in a live comedy revue by Harold Pinter and Peter Cook. The brittle Williams flew into a rage when Fielding received more laughs and favourable reviews than him, leading him later to refer to Fenella in his diaries as "Madam." The pair were reunited on the set of Carry On Screaming in 1966, playing brother and sister. Williams, weary by then of playing the same role in multiple Carry on Films, couldn't even compete with Fenella, who stole the show as the vampish Valeria Watt. Her career had peaked and she never shook off the association with that role, even later turning down a film Fellini offered to write especially for her, because she had a theatrical commitment in Chichester.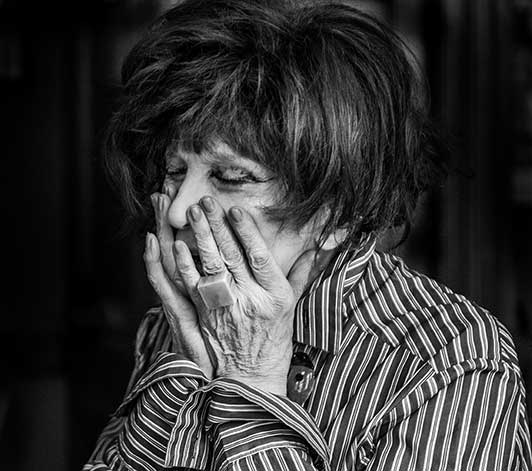 Fenella never faded away and she never compromised her passion for theatre by exploiting the one iconic role she was known for. Her career survived and she remained true to what she had set out to do as a child, against the wishes of her parents. I get the impression that even if she had become a massive star, her warmth and sincerity would have survived too. The force that had pulled me towards her on that street in Soho was not the allure of fame, but quite the opposite: the charm of a genuine eccentric who radiates glamour purely because of who she is, and not because of what she has achieved.
In one of the unpublished questions during our interview with Fenella, she was asked how she would like to be remembered?
"Oh as a wonderful person I think, don't you?"
I think we do.
By Gustav Temple
Read the full 2016 interview with Fenella Fielding here