Miami greets the arriving driver with a glittering cluster of skyscrapers flanked by bright blue sea. As soon as the heart of the city has caught your attention, you're in it, cruising through mid-town Miami with the buildings getting taller and taller and the sea coming nearer, like the opening scene of a disaster movie but with the only impending calamity being: where on earth will we park?
Our first hotel was on an island across a bridge at the very tip of Downtown Miami, reached over a narrow two-lane bridge over the sea. The Mandarin Oriental dominates Brickell Key, an oddly anachronistic building with a ground floor made of weathered metal. After an hour-long drive from Fort Lauderdale Airport, where we flew from Gatwick with Norwegian Air, it's a relief to hand over the keys and the first of many Greenbacks to a valet before breezing into the vast lobby.
The Mandarin Oriental displays its five-star credentials with subtlety and its Eastern flourishes with elegance. You could be in Hong Kong or Singapore; it's only clear that you are in America when the broad smiles greet you at the desk, everything seems very easy and you feel like the most honoured guest they've ever had. The Oriental elegance extends to the rooms, which are spacious and sleek, in our case with a balcony overlooking the Miami skyline. If you don't feel as if you're in a Bond movie when you first see that skyline over the bridge, you might have to wait till you meet some crocodiles (which we will).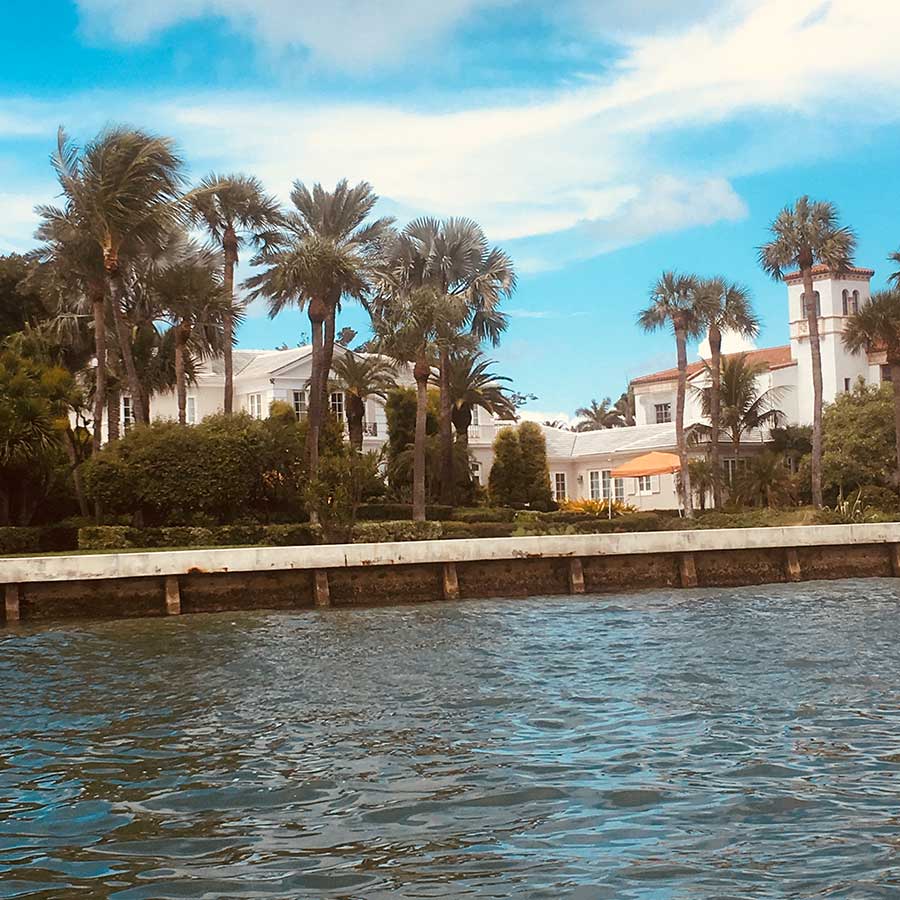 THRILLER MIAMI
Our first excursion was with Thriller Miami, a speedboat ride around the harbour and islands of a city that is surrounded by water. As fresh arrivals, still jetlagged, confused and very hot, this was the perfect way to get a handle on this new world we had discovered. The boat zips around the various islands at breakneck speed, with a running commentary from an enthusiastic pilot that hypes up the city and the passengers of his vessel. Star Island is one highlight, though the only celebrity name I recognised was Don Johnson, whose house looked unlike all the others – tasteful and rustic (and once owned by Elizabeth Taylor) rather than showy and vulgar (Madonna left Star Island in a huff when the neighbours complained about her noisy parties; I hope Don Johnson was one of them). A 'fun fact' imparted to us seemed to sum up the spirit of Miami: when Hurricane Wilma was coming in 2005, a wealthy yacht-owner positioned his prize vessel near the harbour to avoid damage at sea. He placed it right beside the Hard Rock Café, whose gigantic metal guitar crashed from the roof and split the multi-million-dollar yacht in two.
LA MAR
The exterior of the Mandarin's restaurant sits in the shadow of the Downtown skyline, with a pleasant view of the endless parade of joggers dodging past the lizards on the footpath. Breakfast is a lavish affair, advertised as "buffet" but it's a long way from our experience of congealed eggs and the queue for the slow toasting device. Waiters continually breeze over with jugs of fresh juice and coffee, and any preconceptions about American food being unhealthy are put to rest by the mounds of fresh tropical fruit. When we dined on the same terrace that evening, with the sun setting over that still impressively glittering skyline, Peruvian cuisine from Gastón Acurio continued the tropical theme, with plenty of seafood, notably marinated octopus and Paiche Charapa, the largest fish in the Amazon River roasted in banana leaves. All washed down, of course, by strong and chilled Pisco sours.
EVERGLADES SAFARI PARK
Fortified by Peruvian cuisine, we were ready for our next day's excursion, a riverboat trip through the Everglades Safari park, where alligators and crocodiles lurk. It's a surprisingly short drive from Uptown Miami to the lush green swampland of the Everglades, toured by a noisy airboat. The alligators emerge from their leafy lairs as soon as the boat comes to a halt and eye the passengers tentatively, before disappearing under the murky water when the engine cranks up again. I was tempted to take a Live and Let Die walk over their backs before realizing I wasn't wearing my safari jacket. Sartorially, Florida presents only one problem: temperatures of 32 C degrees and humidity off the scale. You never stop sweating and here in the swampland it was even worse than the city. Mexican Guayaberas proved the only solution to maintaining a modicum of elegance, paired with off-white chinos and a Stetson Panama hat.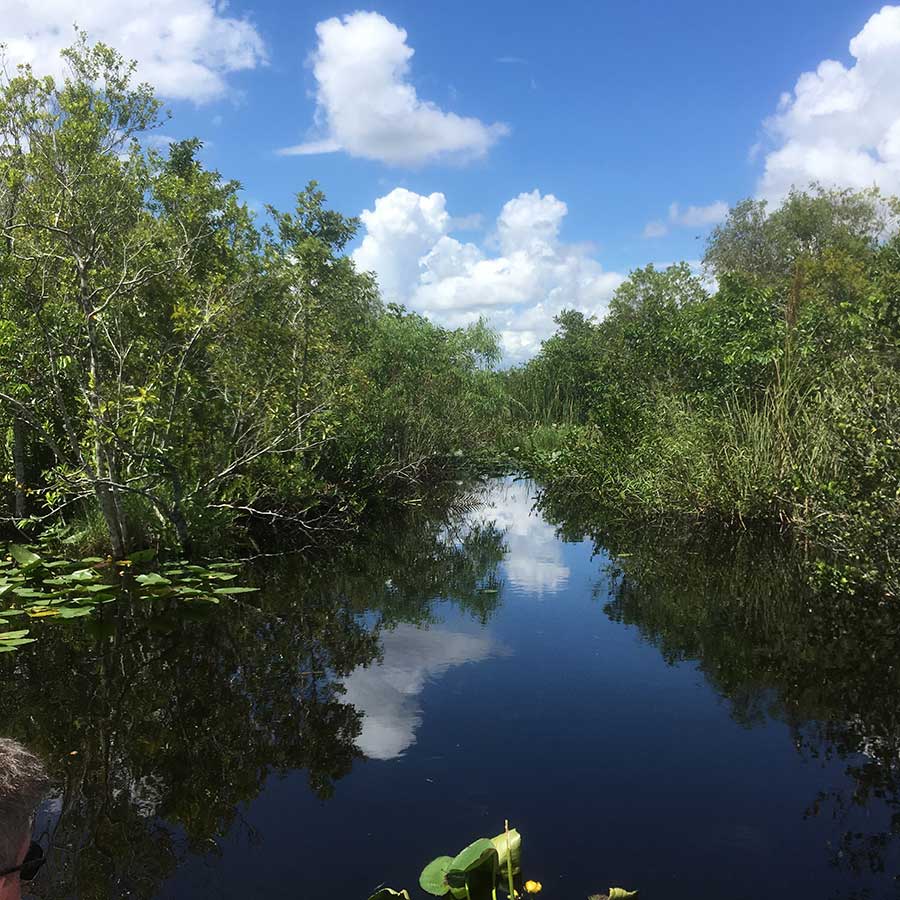 MIDTOWN MIAMI
On day two we transferred to our second hotel, the Element Miami Doral in Midtown Miami. To reach it we drove through what the children referred to as "Simpsons land", endless wide residential roads with big, low houses surrounded by picket fences and not a soul on foot. The local schoolkids are ferried around in big yellow buses that do not seem to have changed since the 1960s. The Element is a discreet, modern, quiet hotel favoured by business people, which has a robot called Eco to provide room service. We summoned Eco with a few provisions, but he got lost on the 7th floor and had to be recalled to reception. A human being called Jose delivered our goods instead. We rarely heard any language other than Spanish among service staff; the population of Miami turns out to be 70 per cent Hispanic; mostly Cuban, Venezuelan and Colombian. The Cuban population, resident in Miami since the great Mariel exodus of 1980, has established itself in Little Havana. While a long way from the real poverty and ruined beauty of the real Havana, the low-rise buildings and 1950s Chevvies set it apart from its neighbour West Brickell, a flashy upmarket area with a shopping mall we entered to breathe in its highly expensive air-conditioning.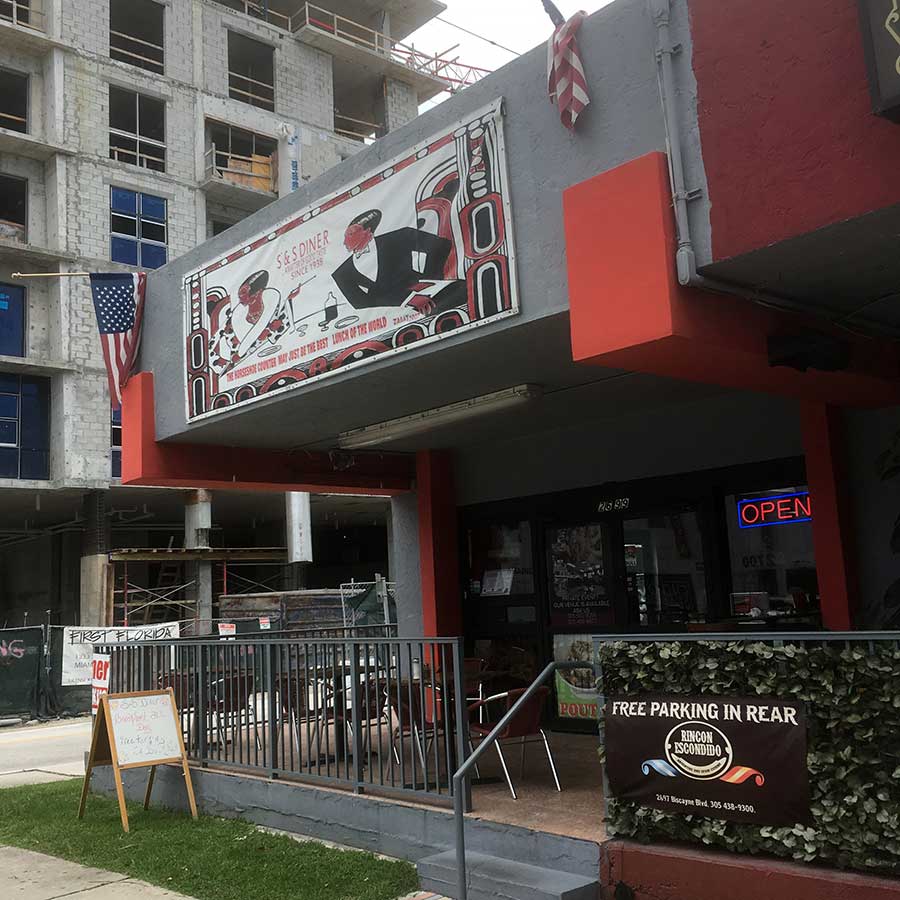 One of our quests in Miami was to locate classic American diners, and the first of these was S&S Diner on Biscayne Boulevard. It moved there from its original location on second Avenue, where it had been since 1938, due to redevelopment of the area, and is now housed in a precariously isolated little corner surrounded by more building sites for skyscrapers. However, S&S Diner still qualifies as Miami's second-oldest restaurant and offers a warm, welcoming atmosphere and exactly the kind of hearty, wholesome and huge-portioned fare one would expect.
LIZARDS AND MONKEYS
It was time to see more wildlife, and our third day featured a packed schedule of two animal encounters, the first at Miami Zoo, where we were shown round by Cindy Castelblanco. True to American form, we eschewed any footwork and conducted the whole tour in a golf cart, stopping to meet various impressive animals, including a gigantic Galapagos tortoise named Goliath. Unlike British zoos, where tropical animals pace about disgusted by the cold, in Miami Zoo the lions, gorillas and zebras laze about in the heat, often joined by the uninvited native lizards, iguanas and parrots.
No matter how enamoured by games consoles and smartphones, children are always distracted by animals, and the bigger the better. When they can actually meet them face-to-face everything else is forgotten and Monkey Jungle, situated to the southwest of Miami outside the city borders, provided the full immersive experience.
In 1933 Joseph DuMond built a 30-acre replica Amazon rainforest here and released six Java Monkeys into it, establishing a wildlife centre that would remain for over 80 years. There are now 300 primates living in the trees, and before our meeting with them visitors are primed with instructions on what to expect. As we entered the double gate into the jungle behind our guide, it felt like a "what could possibly go wrong?" Jurassic Park moment. I glanced at the others in our group and wondered who'd be the first monkey-kidnap victim.
The size and character of the dozens of squirrel and capuchin monkeys that suddenly materialised from the trees made it more of a Doctor Doolittle moment. The children were entranced as the furry little creatures, some with babies clutching to their backs, leaped from the trees and on to our hands and heads. With multiple cameras and videos flashing, it became a fashion photo shoot for tiny fur coats and cute monkey faces. Next we were introduced to King, a 13-year-old Silverback gorilla, who demonstrated his remarkable intelligence – he has the brain of a 3-year-old child and the strength of ten men – and we had our first encounter with a pair of retired Texans, whose ears had pricked up at our accents. The inevitable conversation ensued, about their single visit to England and whether we knew so-and-so who lives in Southampton.
Our next animal encounter took place in the water. Miami Seaquarium was built in 1954, giving it the sort of ancient monument status that the Tower of London has on this side of the Ocean. It's where Flipper was filmed and they still hold dolphin displays in the same pool. But we went one better than watching a show; we became the show and the dolphins were the audience.
In a sartorial low, I donned an ill-fitting wetsuit and was obliged to leave my Panama in a locker (we may have to add a caveat on the Chap Manifesto about being allowed to go hatless if there is risk of a dolphin chewing it). The dolphins squealed, laughed and performed tricks; we did exactly the same. Swimming in that shallow seawater pool dressed in a similar way to our rubber-skinned antecedents was like skipping 50 million years of evolution for 30 minutes. It was nice to get dressed again and go in search of a lunch that wasn't raw herrings in a bucket.


The second of our diners was in a district called Wynwood. Miami was built by savvy entrepreneurs from the 1920s onwards and this tradition continues. In the early 2000s property developer, entrepreneur and all-round rich chap Tony Goldman started developing the run-down slum that was Wynwood, successfully turning it into the thriving hipster community that it is today. There is graffiti everywhere and it was the only place I was offered weed on the street; also the only area where we found a huge Salvation Army thrift store.
Wynwood Diner had the stylish exterior we were seeking but the bare brick and faux-industrial interior to justify its location on the "sixth coolest street in America", according to a 2016 report by real estate giants Cushman & Wakefield. American cities are a series of mirages held together by self-belief and money but this was the closest we got to discovering the "real America", though even that was another constructed mirage, albeit a beautifully made one. This reflection prepared us for the final leg of our journey to Miami Beach.
Flights: norwegian.com
With thanks to miamiandbeaches.com