One of the fourteen countries that straddle the Equator, Ecuador took its name from that imaginary line and offers an engaging place for the traveller to explore with much historical interest, museums and art galleries but, more significantly, it's the best place in the world to buy a Panama hat. I took a trip out to the far-flung continent of South America to find out what a chap really needs to know about the intoxicating capital of Quito.
This is a country where avocados grow all year round and there are only two seasons: wet and dry, although it might well rain in the afternoon in the dry season. November to April is usually the wettest; it can be chilly at night and hot in the day so pack layers – think flannel rather than tweed. You'll need stout walking shoes and a good waterproof jacket, and you can get a new Panama hat while you're there (see below). Although taxis are cheap and plentiful (the minimum fare is only $1.50 and you can get practically anywhere in the city for less than $10), I would urge you to walk, especially in the historic colonial centre, where you'll see so many more interesting places that are not accessible by car.
Quito is long and thin and runs roughly northeast to southwest in the northern highlands of Ecuador and the eastern flanks of Pichincha Volcano. With a population of 2.6 million and predominantly low-rise buildings, the city is spread out. Traces of pre-Columbian life go back 8000 years BCE, but Quito is best known for the colonial period, from 1535 to 1822, after the 12-year struggle for independence was finally successful. It was during this time that the historic centre was developed and in 1978 it became the first UNESCO World Heritage site in the world.
You will find a multitude of architectural disciplines including Gothic, Moorish and Rococo. A perfect example of Rococo is Santo Domingo Church, owned by the Dominican order and designed by Francisco Beccera in 1581. It has an intricate wooden Moorish ceiling constructed with no nails or screws and frescoes that were added in the 1800s. Its piece de resistance is The Chapel of Our Lady of the Rosary, an overwhelming golf-leaf covered Rococo masterpiece. You can even ascend to the roof with a guide, though this is not for the squeamish or portly – the route up is through dark narrow passages and steep spiral staircases. The reward is a splendid view of the old city and the knowledge that you managed to get up there, so you should be able to get down again.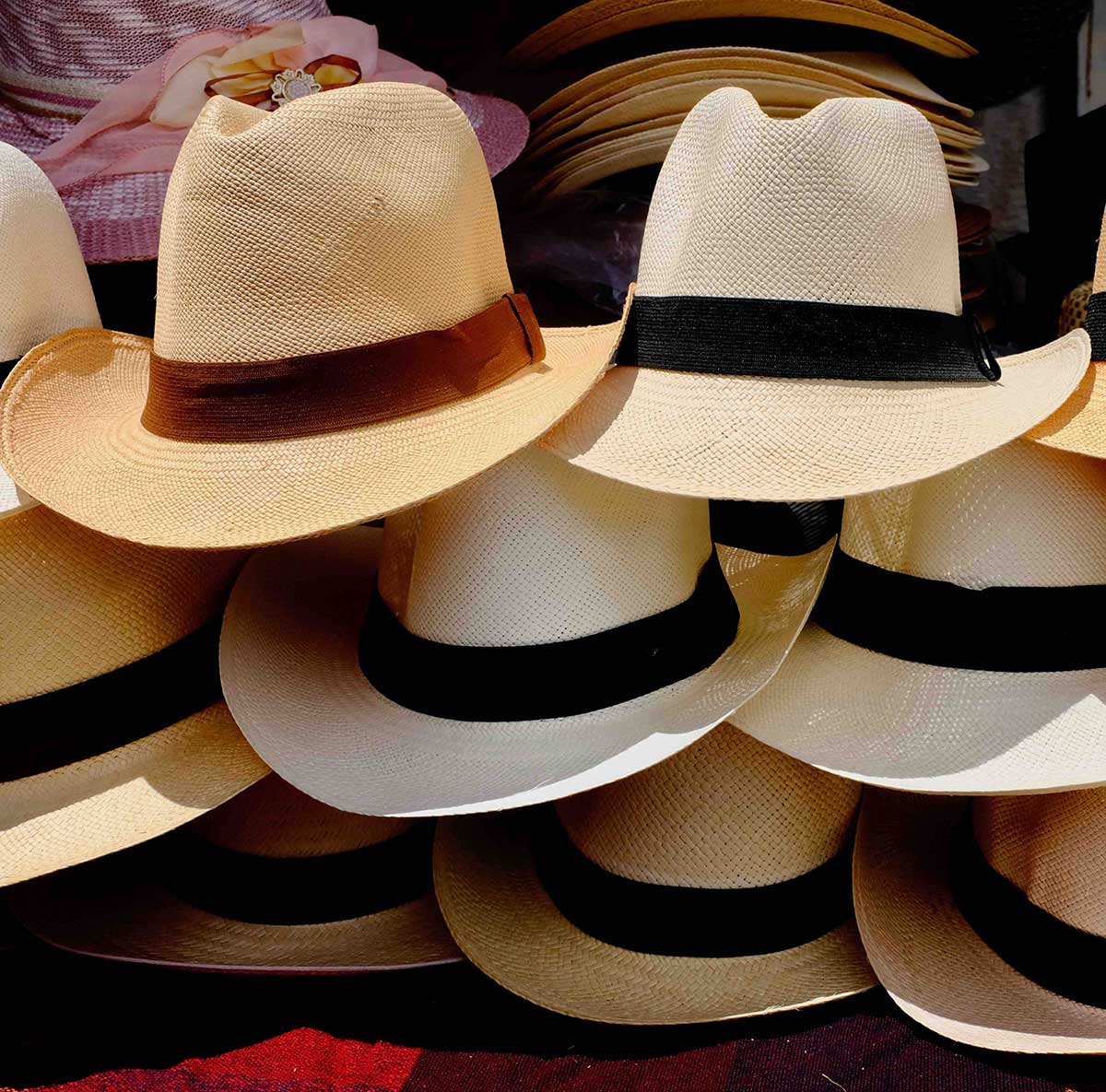 PANAMA HATS
Carludovica Palmata, or the Torquilla Palm, is the scientific name for the plant used to weave the world famous Panama hats. Why are they called Panama hats yet are made in Ecuador, I hear you ask? The Panama Canal was built between 1881 and 1914, mainly using Ecuadorian labour, and to stave off the heat they wore what the hats they had been wearing for hundreds of years. The Panama Hat dates back to pre-Inca days and a tribe called the Xipixapas, who are said to have first developed the intricate weaving required to make a proper hat. So secret was were the skills needed to create these beautiful hats that the indigenous tribes never revealed to the Spanish conquistadors how it was done, much to their consternation.
The process is quite elaborate and can take weeks or months if the weave count is high. Some hats can sell for $1000s. You could go to one of the swanky shops in the centre of Quito buy a hat, but I chose to visit a lady who had been making them since she was a little girl. Her shop is on Junín E1-44 and Juan Pío Montufar in the San Marcos district. The hat I bought had taken her two days to weave and cost the princely sum of $50.
ART GALLERIES
The national hero and godfather of Ecuadorean art is Oswaldo Guayasamín. After graduating from the Quito School of Fine Arts he travelled extensively around South America in the 1940s, constantly struck by the indigenous inequality around him and this became the main thrust of all his work.
Guayasamín's house is now an open museum and a fascinating visit, as he was also an avid art collector and the walls are dotted with insightful pieces. Next door to his house is the Chapel of Man, a building designed by Oswaldo and his two architect sons to house a national collection of his works. Completed after his death, it has his largest painting, 'Condor', depicting a fight between a condor (representing the Andean people) and a bull (colonialism).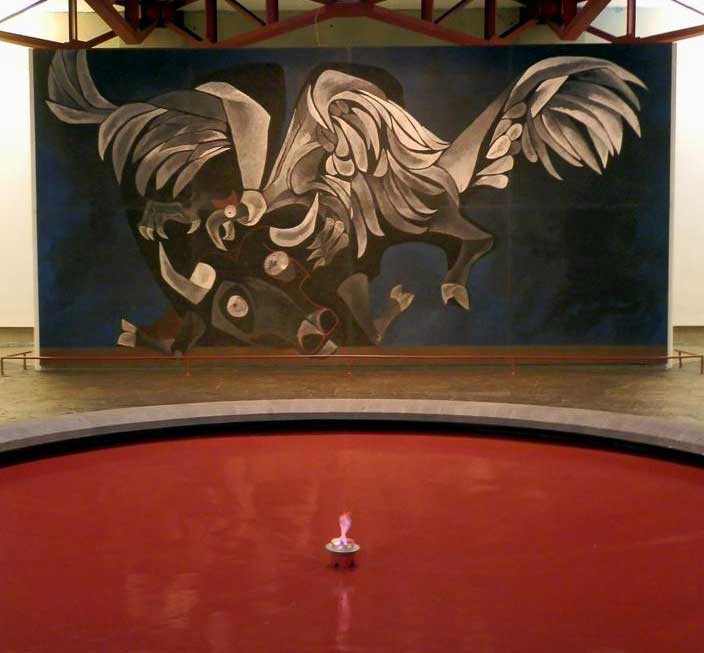 BUYING A SUIT
Now what would any self respecting chap need to pair with his newly purchased authentic Panama hat? Why, a bespoke suit of course. There are several good tailors in Quito and, again, you could go to the centre and find a perfectly respectable tailor, but at a price. The canny chap will seek out somebody like Gonzalo Vargas, at Cuenca N8.30 Y Manabi, who's been making men's clothes for 37 years. His shop is tiny and in disarray and his workbench is a bit messy, but he creates award-winning attire for the discerning gent on the move. Gonzalo will make you a three-piece from $110 for the manufacturing, plus the fabric. He stocks a multitude of fine yarns so you should find something you like, and he also makes bespoke shirts. So why should you use Gonzalo? For many years he made suits for Peter Romero, the American ambassador in Ecuador –a fine endorsement if ever there was one.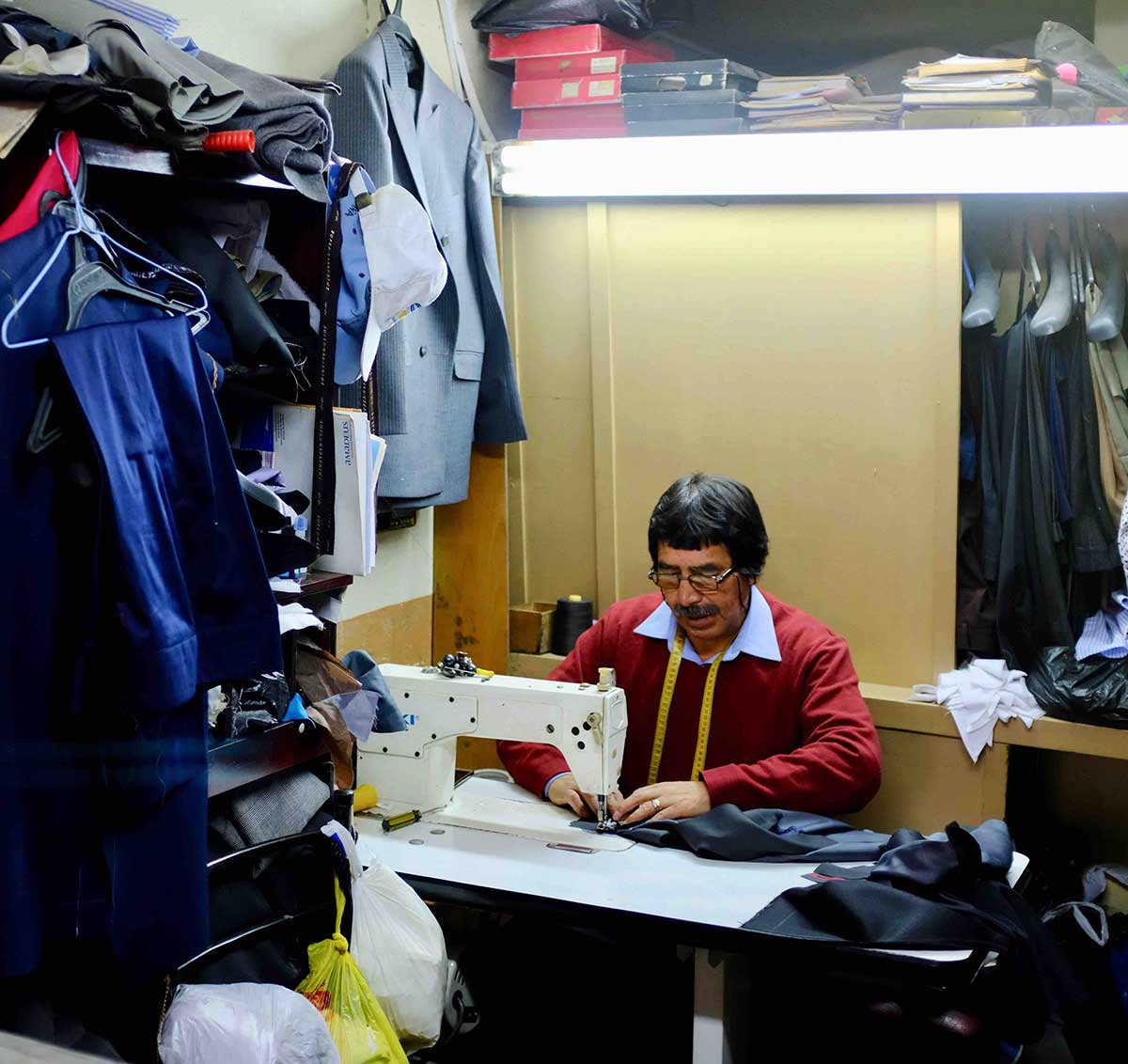 ACCOMMODATION
Casa Aliso Boutique Hotel in the La Floresta district, known for its restaurants and nightlife, was once a Doctor's surgery and it has the feeling of a home from home, with a small library, garden and excellent multilingual staff. My second hotel was a grander affair. Hotel Castillo Vista Del Angel claims to have the finest view in Quito, perched on one of the many hills on the edge of the old town. The food is superb (three-course breakfast anyone?) and views as commanding as promised. Finally I stayed at Illa Experience Hotel, listed in Time Magazine's 'Best places in the world'. The Illa Experience is something rather special; with only 10 rooms, it has a cutting-edge restaurant run by Alejandro Chamorro from Noma in Copenhagen. The food is quite simply stunning food: shrimp ceviche with onion, crab with coconut, lamb with flava beans and nougat with apple were just some of the delectable dishes.
The 'experience' part of the hotel is a rather unique opportunity to try various new skills. I had a go at gold-leafing a statue destined for a church. Tasting chocolate and coffee can be attempted, as well as watercolour painting with a local artist. This was a very enjoyable couple of hours in the most sublime of settings with the most charming of men.
Quito is a quixotic blend of history, the best-preserved buildings in Latin America's Spanish history, charming people and superb food. At nearly 3000 metres, the altitude takes it tolls on the system initially, but plenty of water and the odd aspirin takes care of it. The symptoms are headaches and shortness of breath – so perhaps leave that ascent up to the roof of The Chapel of Our Lady of the Rosary until later in your stay.
By Neil Hennessy-Vass
With thanks to Quito Travel