Gentlemen, ladies, dandies, chaps, fops, boulevardiers and flâneurs: we are taking our silver-topped malacca canes to the streets once again, but this time not to shout about tatty T-shirt emporia on Savile Row. The Grand Flâneur Walk on Sunday 14th July in London will simply be a walk without purpose; a stroll without direction; a civilised amble without destination. There is far too much purpose these days, and far too many distractions for the art of flanerie fully to be practiced by those who refuse to be 'too busy' or 'stressed out' about something or other that in all likelihood is not actually that important.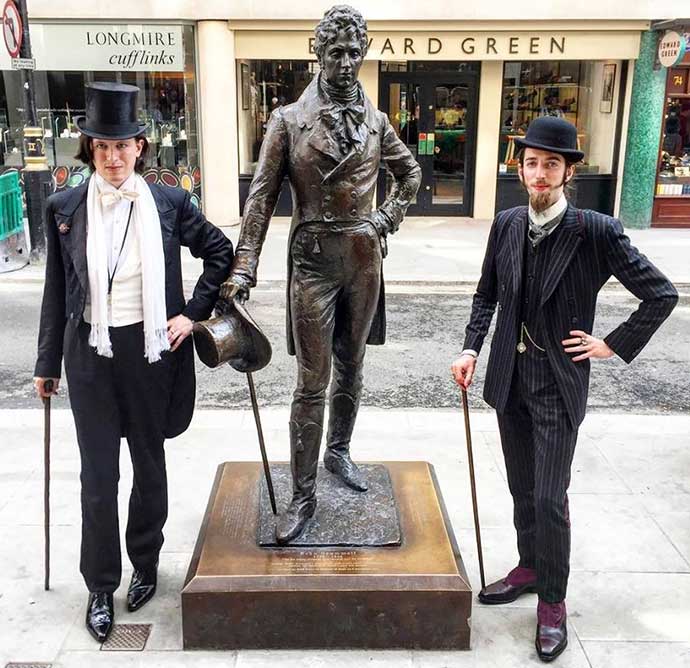 Join us at the statue of Beau Brummell at midday on Sunday 14th July, dressed in whatever way you think appropriate for a leisurely stroll, and we will all set off with absolutely no direction in mind. The walk could take five minutes, five hours or five days, and we could end up at the end of Jermyn Street or on the boulevards of Paris. None of this can, or will be, determined beforehand. The aim is to celebrate the art of the flaneur, oblivious to the demands, mostly made by ourselves, always to be going somewhere specific.
At midday in Dusseldorf, Germany, we will be joined by our fellow flâneurs on Der große Spaziergang der Flaneure, and at 8pm GMT we will hand over the baton to our chums in Los Angeles, who will set off on their own Grand Flaneur Walk at midday, California time.
The flâneur is a wanderer in search of anything that might pique his or her interest. Without plan, destination, appointment and armed only with curiosity, an open mind and unlimited time, the flâneur walks among the crowds, oblivious to the ceaseless chattering around him. The flâneur bypasses all tourist sights and monuments, seeking his own particular set of archaeological points of interest, to which he or she may, or may not, return to one day. The flâneur's map, if he ever carried one, would be marked with symbols showing, for example, 'nice quiet café', 'pretty lady reading book in park', 'tramp who looks exactly like Daniel Craig'. Most of us manage to enter the realm of the flâneur when on holiday, while in daily life it is more difficult to nurture the air of the artist-poet while dodging around all the chuggers, muggers and beggars, with one's field telephone beeping constant notifications that so-and-so has responded to our friend request. The genuine flâneur does not request friendship; he is perfectly content to strike up passing acquaintances with people encountered on his wanderings that he is unlikely ever to meet again.
Facebook.com/TheGrandFlaneurWalk
A short history of the Flâneur