On Sunday 14th July, a group of flâneurs assembled before the statue of Beau Brummell on Jermyn Street, London at midday. At precisely the same hour, another group of German flâneurs assembled in Dusseldorf, while yet another group in Los Angeles prepared to set off when the London walk reached its destination.
This proved impossible, for all three walks aimed to explore the art of the flâneur, which is to walk without purpose or destination. Without plan, strategy or appointment and armed only with curiosity, an open mind and unlimited time, the flâneur walks among the crowds, oblivious to the ceaseless chattering around him. The flâneur bypasses all tourist sights and monuments, seeking his own particular set of archaeological points of interest, to which he or she may, or may not, return to one day.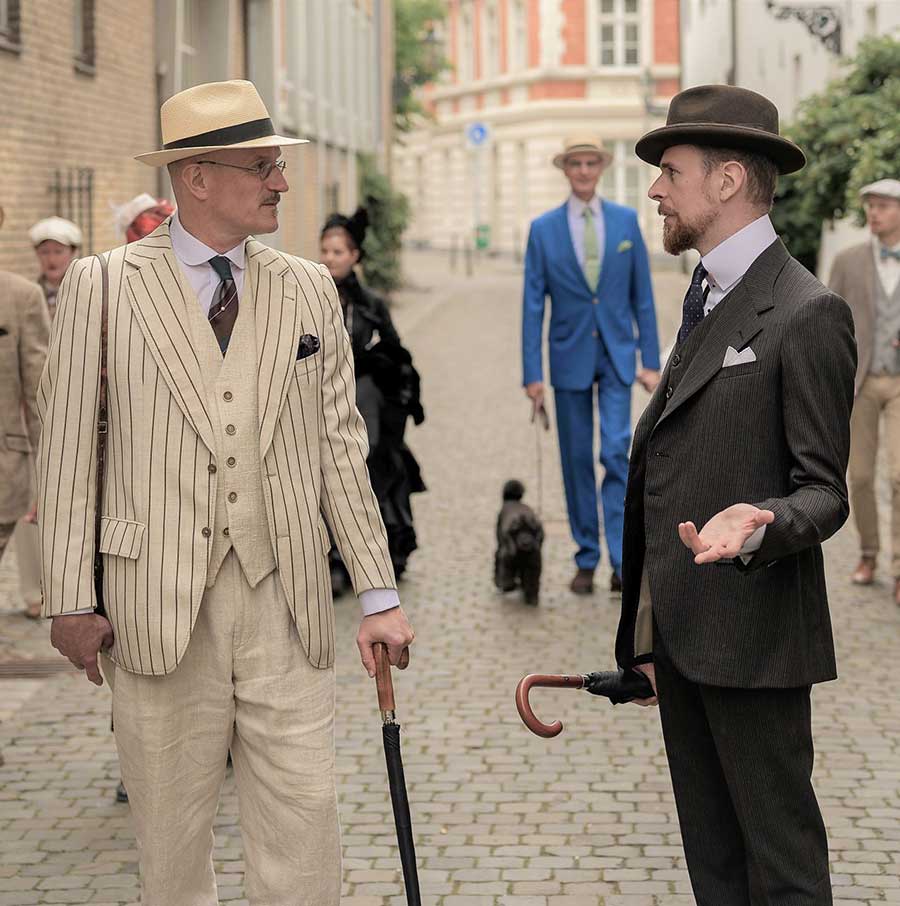 The London chapter didn't set off on their walk until about 12.30, having milled about on Jermyn Street, adjusted their dress and sipped from their hip flasks. Once the walk commenced, consensus proved somewhat difficult, for the flâneur is essentially a solitary creature. The communal walk down St James's Street en masse made slow progress, and it wasn't long before a hostelry was espied, a rare sight on a Sunday on the south side of Piccadilly. There was no difficulty in gaining consensus on a short pause for refreshments, the flâneurs' curiosity having already been whetted by walking through an alleyway where Oscar Wilde was said to have propositioned guardsmen. A toast was raised to the old libertine, and the walk progressed towards Soho.
Meanwhile, the Dusseldorf flâneurs strolled along the Rhine, surviving the midsummer heat in crisp linens and summer frocks, albeit Edwardian ones.
At 8pm, the London flâneurs were exhausted, having walked at least three quarters of a mile, and pause was taken at the Blue Posts on Rupert Street, Soho. Here the baton was handed over to the Los Angeles flâneurs, for it was now midday California time. Setting off from the Millennium Biltmore Hotel, the LA flâneurs faced the biggest challenge of all three chapters, by proposing to spend the whole day walking in a city not generally disposed towards perambulators of the pavement.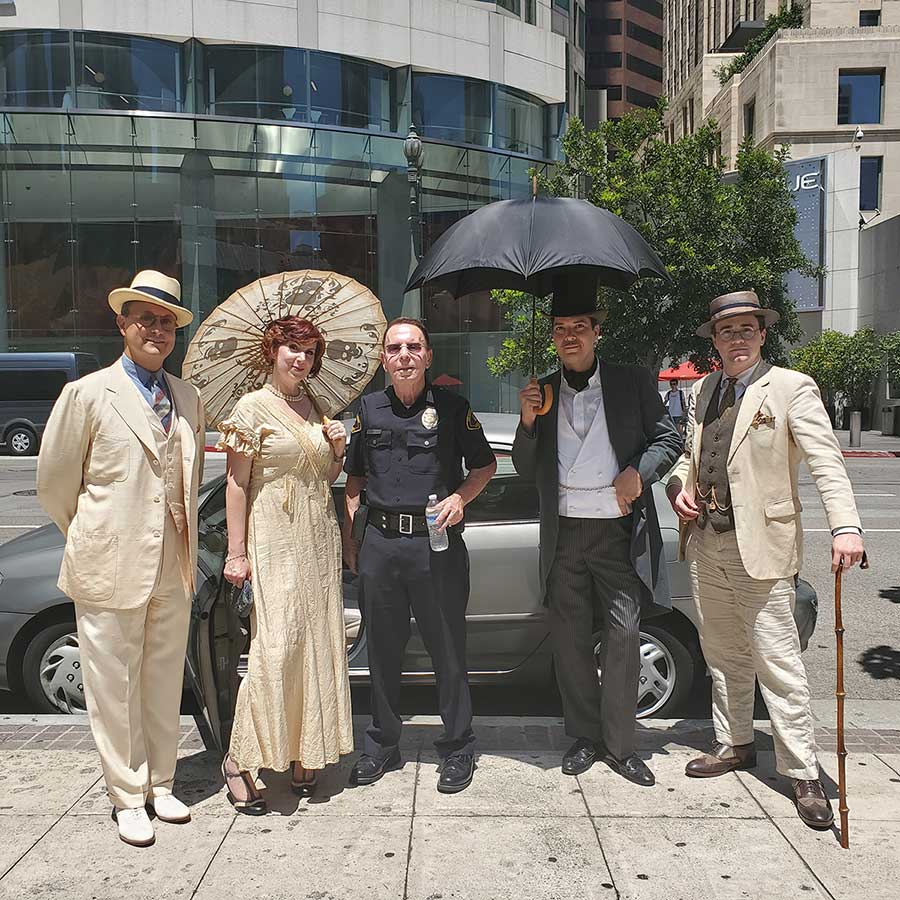 The LA flâneurs certainly aroused the curiosity of the LAPD, who asked them where their vehicles were. Once flanerie was briefly explained to the officer, he agreed to have his photograph taken, though near the safety of a car.
The Grand Flâneur Walk proved that, in a world dedicated to keeping appointments, making schedules and having specific destinations, there is still room to roam without purpose or target, and that some activities, much like elegant clothing, don't need to be brought 'up-to-date' or modernised in any way to improve them. Men and women may still enjoy the simple pleasure of walking, allowing nothing but curiosity and an open mind to guide them.
Take part in the next Grand Flaneur Walk on Saturday 14th May 2022