When we last interviewed you in 2017, the idea of a Stray Cats reunion was but a pipe dream. When did the pipe get fired up and what started it?
The continuing saga of Stray Cats fired up again with an offer from a festival in the states in April 2018 that celebrates all things Rockabilly – the consensus amongst the three of us was that if we hadn't fallen in love with Gene Vincent in 1979, none of this would still be around today. That got us talking and feeling tasty and we agreed it was time to show them all who's boss… again.
The Stray Cats have just done a massive world tour. How was it being on the road again with the band and did you all get on as before?
The world tour was very, successful & enjoyable. Everyone gets on very well, aided by the fact that we all travel separately – we've done this for quite a long time now; each Cat has a preferred mode of travel and as long as the three of us meet at the side of the stage by the intro song, (on this tour it was C'mon Everybody by Eddie Cochran) everything is cool. There is a well-oiled, moderately sized crew and infrastructure that enables us to operate this way. I have a sophisticated, five-language speaking tour manger who, when she's not brewing me PG Tips tea in the dressing room, is the event planner for Dior. Her last name is unpronounceable and she goes by initials. Everyone enjoys slumming with the Stray Cats once in a while; some days we fly, some we drive. I took the train a few times on this last run – a mild mannered "A Hard Day's Night" moment followed the show in Manchester, when I walked off the stage almost right on to the train to London, and the kids were all on the train, too!
Any changes to dressing-room habits this time – such as fewer bottles of Jack Daniels, etc? Were there also fewer television sets thrown out of hotel windows this time around?
Dressing room habits are quite different these days – very genteel and, again, separate dressing rooms do add to the overall congeniality and good vibes. I do keep a stock on hand of beer and wine for guests and there are light snacks of olives, fresh fruit & hummus. My darling wife Jennie Vee decorates the room with nice lights, a few posters and rock 'n' roll touches, which we can fold up in the wardrobe case to take to the next place. I have a nice little sound system which pumps out rockabilly favorites to get me in the mood. The TV out the window was early on; I did curse the Internet a few times over bad reception, but resisted smashing the laptop – a gentleman never loses his temper over inanimate objects.
When the Stray Cats formed you were all in your late teens. Were there any advantages on this tour of being older and wiser (yet fortunately still looking like the heppest cats in town)?
Definitely a few advantages to being older and wiser. The smaller annoyances of touring and working as a unit don't get you down so much or seem as important. In my own defense, I was always pretty good at going with the flow and being happy to be involved in the life we'd chosen – dealing with the rest of the world has come easier and the rest of the world, I'm sure, appreciates my new-found peaceful approach – looking good is a given and a pre-requisite for the whole thing.
Sartorially, were there any changes to the band's wardrobe on this tour?
Yes, a couple of minor sartorial changes on the last tour. Without specifically discussing amongst ourselves, we all started wearing vintage clothes, again – mainly H Bar C cowboy shirts and short gabardine jackets; bowling shirts over t-shirts made a big comeback; the other Cats really pulled out some top-notch ones. I gave Lee Rocker a beautiful pink, gabardine, short-sleeve masterpiece for his birthday, which fell during the tour. My wife, an expert seamstress, customized a few cowboy shirts and bandanas for me, and we found some new ones, mainly Pendleton, Panhandle Slim and Wrangler brands, which she removed the sleeves from (not hacked them off, barbarian style, like yours truly) and bedazzled them with Swarovski crystals and vintage appliqués. A few belts and custom-made Chelsea style, black suede boots made by Glenn Palmer rounded off my nightly ensemble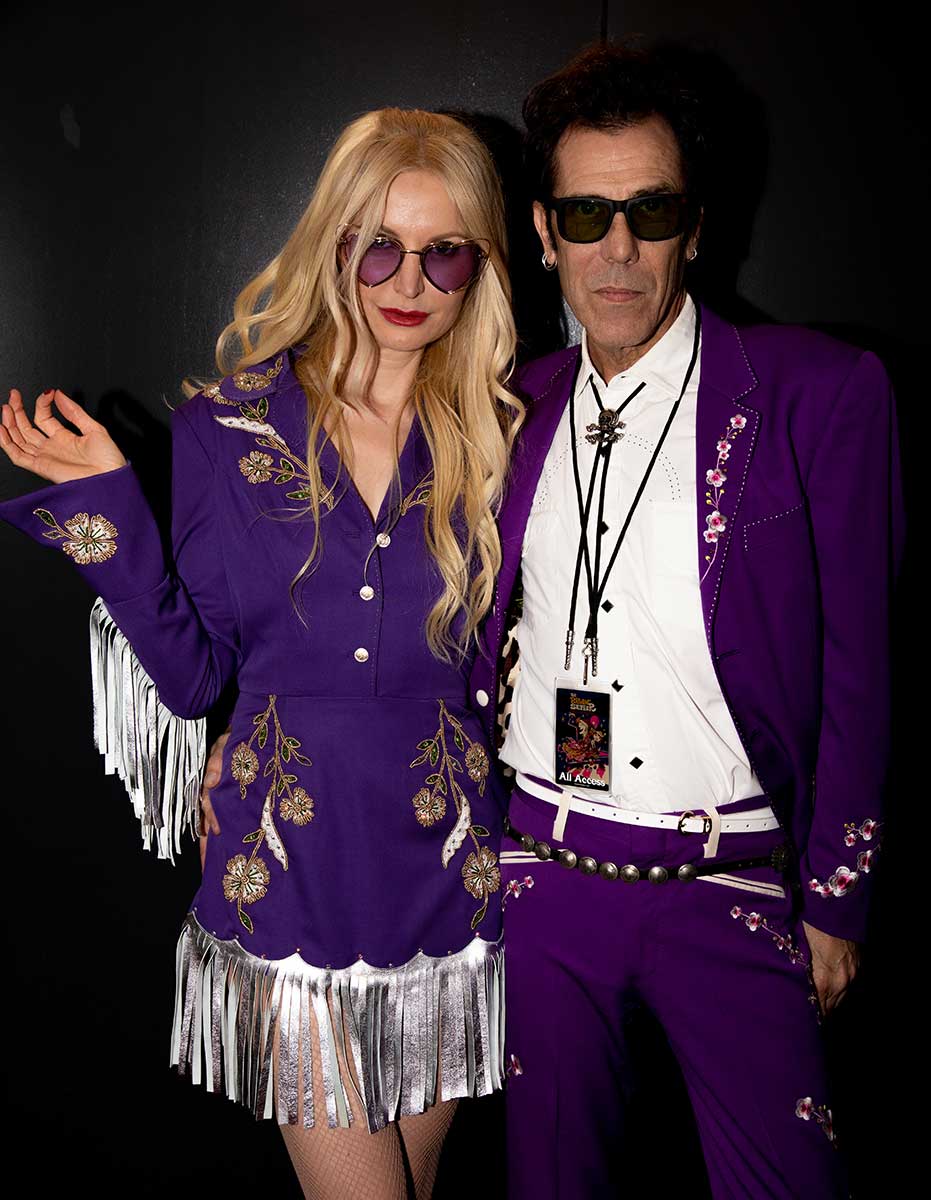 While in the UK, where you played two dates at Hammersmith Apollo, did you manage to pick up any Princess Diana souvenirs?
No Princess Diana merch to be found anywhere! The one you so kindly found me, dear Gustav, was a vintage one – there are no new items being made, and my challenge to The Chap readers stands: find me a newly manufactured item of Princess Diana merchandise and I'll buy you a drink.
We discussed your deep Anglophile tendencies during our previous interview. How was the British fans' reaction to your shows here?
The British fans have always embraced the cooler aspects of USA culture and especially Rockabilly. I've always been flattered and responsive to this and have always reciprocated by embracing and furthering the parts of British culture that I admire – a symbiotic cultural exchange program, for sure.
Did any particular shows on the tour stand out for you, or was the reaction universally as excellent as the one I saw in Hammersmith?
Hammersmith was a special one – my old china plate and Chap Johnny Depp came to visit that night, wearing his own style of bespoke pirate finery, and watched the whole show sitting next to Jennie on my starboard side. Halfway through the show, it hit me that the audience was not as enraptured by yours truly as much as staring slightly off center at Johnny Depp & Jennie Vee rocking out to the Cats' infectious form of Rockabilly.
When the band started out, you told us that you had to come to the UK to break in as a band. Has this now changed and were there as many fans in the US to support you this time?
Yes, we broke in UK but there is a huge USA market now, too. The UK and international fans tend to be more in the swing things of things in a fashion and lifestyle sense, but the crowds in USA are just as big.
You've made a new album and done a successful world tour. What are the next steps for the Stray Cats?
I hope we will play more shows – the demand is there and we're very good at it! I sense a similar feeling from my bandmates, and it's really a fun show with fine musicianship and stage presence. I don't think it's possible for anyone to walk away feeling unsatisfied or disappointed from a Stray Cats show. Onwards and upwards!