Borough Market came to everyone's attention in the 1990s, when Jamie Oliver pointed out that British food is actually rather good, as long as you spend vast amounts of cash on each ingredient.
The market continues to thrive, anachronistically at odds with the vast developments that have taken place around it in Southwark. The change to the market itself is the proliferation of cafes, bars and restaurants in the area immediately surrounding the market, replacing the greasy spoon cafes and sawdust-floor pubs that would have been there originally.
A more recent development is the addition of restaurants above the market, in new buildings that seem to spring out of the old wrought iron columns. Roast, opened in 2005, is one such establishment. The menu is decidedly British, with ingredients such as beef from Lake District Farmers and Goosnargh poultry from Reg Johnson in Lancashire. The restaurant also works with many of the stallholders in the market below, including Bread Ahead, Cannon & Cannon and Grovers and Turnips.
My dining companion was Chris Sullivan, a Welsh carnivore who normally lurks in glamorous nightclubs in Soho but was persuaded to venture south of the river with the promise of tasty cuts of British meat, washed down with lashings of red wine.
But this was a drizzly Monday in October, so our task was not to be approached lightly and a sense of occasion was required. This we launched with a brace of cocktails in Roast's elegant new bar, launched only in May this year, with leather banquettes that allow one to view the hustle and bustle of the market below while sipping one's cocktails. We both selected a Beekeeper – butter-washed Appleton 12-year-old rum, lemon, cardamom and honey, decorated with a twist of lemon peel. The Beekeeper had the expected citrus sting, immediately followed by the sweet spices wrapped around an aged rum. After a couple of those, it felt more like a Sunday afternoon for two men preparing for a grand feast.
The dining room at Roast is a vast cavern with an elegant wrought-iron half rose letting in what little light there was outside. A small but crucial detail is that the tables are placed far apart enough for one to be able to converse freely without feeling eavesdropped by one's neighbours. When dining with Sullivan this is paramount, for the tales are inevitably bawdy, and names from London's nightlife that require discretion are dropped casually, but with no intent to impress.
Our fleet of serving staff glided about in efficient silence, though when pressed, one waitress showed an excellent understanding of European wines, guiding us gently, following our usual questions about sulphates and tannins, to a superb Fleurie Grand Pré 2017 Beaujolais.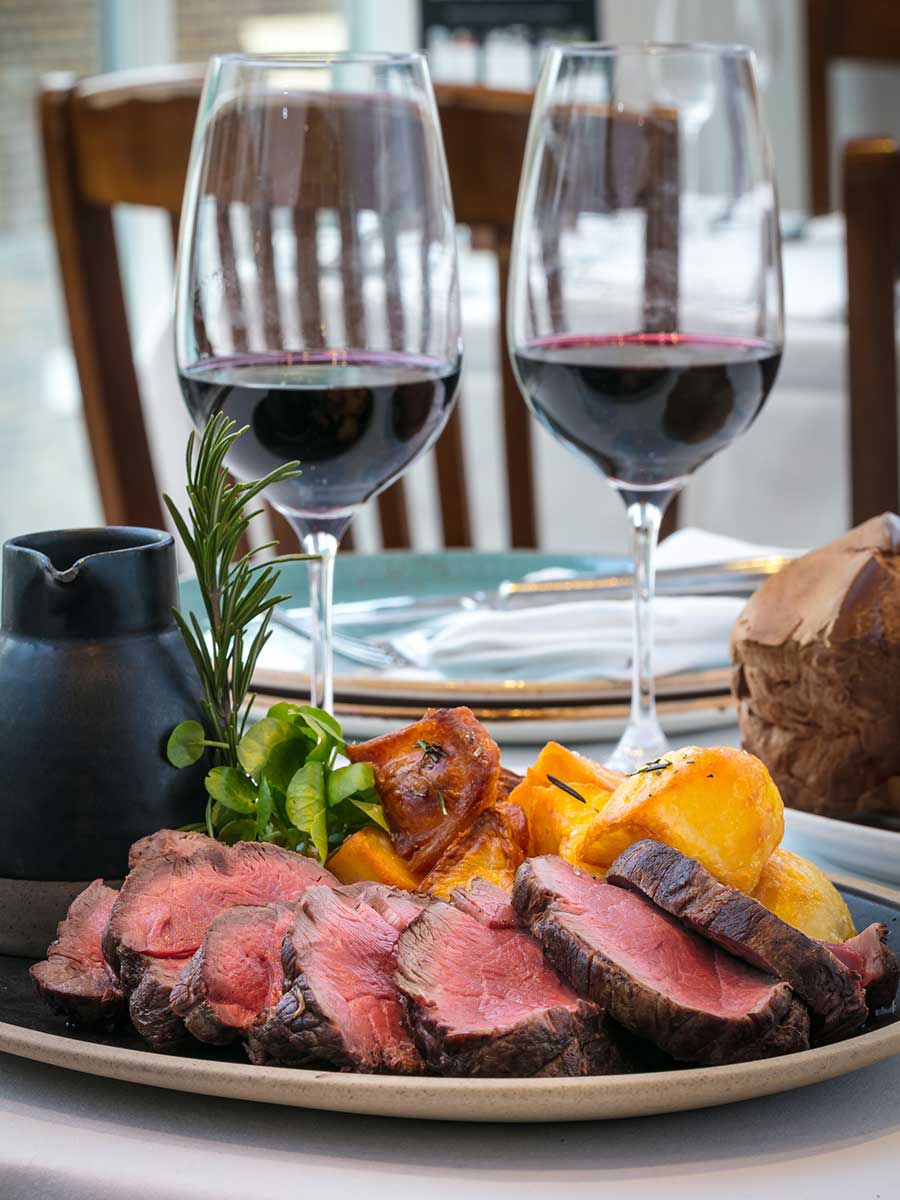 Having chosen to share the chateaubriand, we selected starters that would leave plenty of room: Blow-torched Brixham Mackerel and Roast Cabbage. A waiter glided over to us before long, to inform us that the chef was fresh out of cabbage and would we accept cauliflower instead? This struck us as rather odd, considering that the market, still bustling away below us, probably had a stall selling cabbage, but perhaps the chef knew more than we did.
Nevertheless, both starters were pitch perfect for our requirements, providing a light yet tasty kick, accompanied by some particularly fine bread from Borough Market.
And so the meat, for which Roast is famed. The chateaubriand itself was presented on a large plate with what looked like more than enough for two, cooked to perfection to our requested state of medium rare, with just enough pink on the inside. The roast potatoes with it were sublime. I don't know whether they used a blow-torch on them, like the mackerel, but the outsides were as crispy as you would wish, while tender and powdery on the inside.
Chris is no stranger to meat feasts and he declared this to be the finest roast lunch he had ever had.
I was inclined to agree and my only disappointment was being entirely unable to finish the last succulent slice of chateaubriand. There were also enormous Yorkshire Puddings on the side, along with some celeriac in a Stilton gratin that, for a vegetarian, one supposes, could easily have been a meal in itself.
On Sundays one may also partake of roast chicken, lamb shoulder, pork belly and beef sirloin on the special Sunday three-course Roast menu. I could not think of a better place to spend a Sunday lunchtime, though this damp Monday afternoon was elevated to something rather sublime by our feast.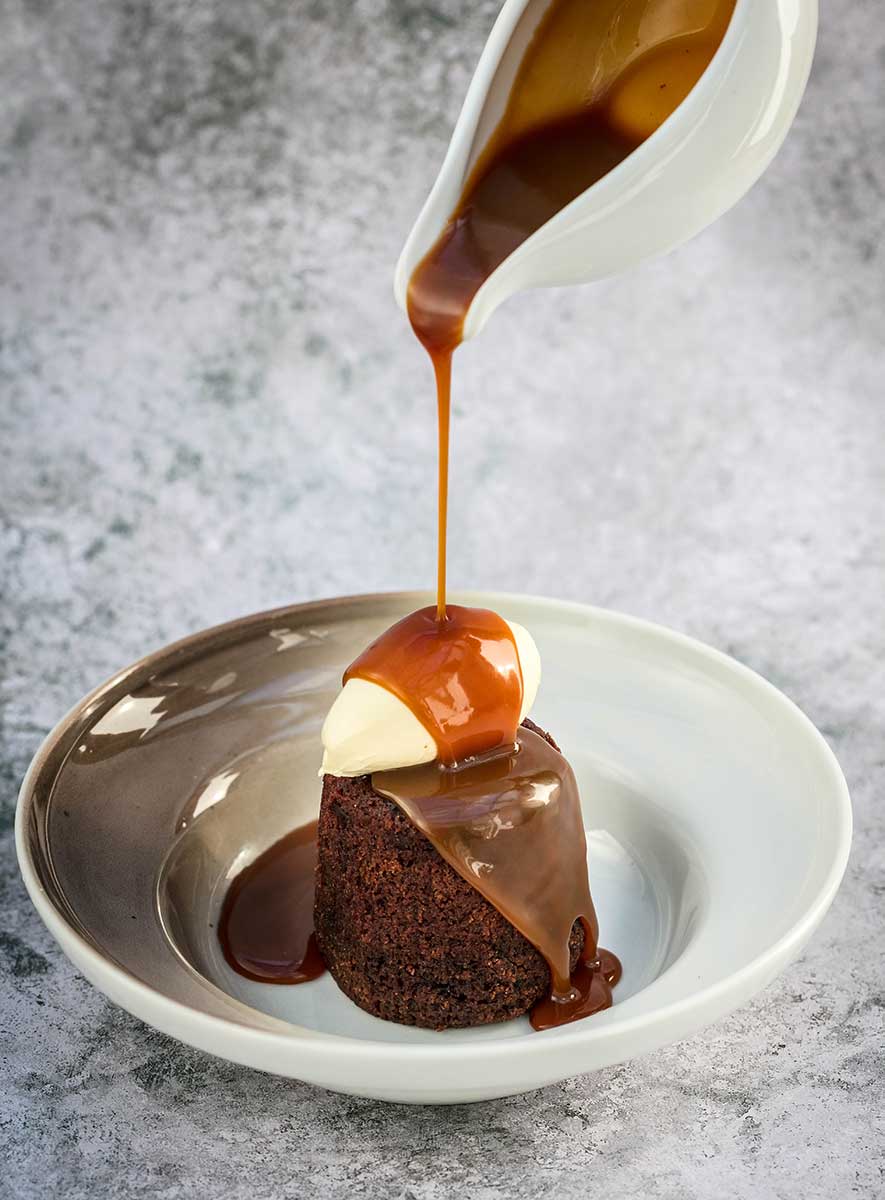 And it was not yet complete. The human capacity to squeeze in something substantial and sweet, having forgone one sliver of beef, is extraordinary and clearly more to do with the mind than the stomach. I chose a Sticky Date Pudding while Chris opted for the Michigan Plum and Almond Sponge. Both were superb, washed down perfectly with a Calvados Boulard Pay's d'Auge VSOP.
By the time we finished, the market traders were visible from our wrought-iron eyrie, shutting up their stalls while London's rush hour human traffic surged among them. We steeled ourselves for the descent and quickly darted into a nearby hostelry for a civilised glass of porter. Surrounded by hipsters, our fine lunch had made us oblivious to their curious beards and meaningless T-shirts, and we reflected that there was no better way to spend a rainy Monday afternoon than in consuming an excellent Roast lunch.
Roast
The Floral Hall
Stoney Street
London SE1 1TL