As a nonagenarian, Nicholas Parsons radiates polite yet firm resolve on matters of neckwear:
"I think the cravat is a very elegant form of dress, a colourful and sophisticated accessory. I own at least 30. What I don't understand is, people wear an open neck shirt with a beautifully tailored jacket. This goes against the grain with me. A tie, or better still, a cravat, complements a jacket. I always wear cravats for my one man show."
Our conversation takes place in the secluded Buckinghamshire barn conversion where Nicholas resides with his adoring wife Annie. Exposed beams, brick open fireplace and plethora of family photographs reflect the stylishness of their generously proportioned drawing room, where fragrance from fresh flowers permeates the air. Nicholas, seated on a large sofa where his red jersey blends with adjacent velvet cushions, announces he is "weak in the legs but strong in the head." Truly, despite occasional forgetfulness, his mental alertness is impressive.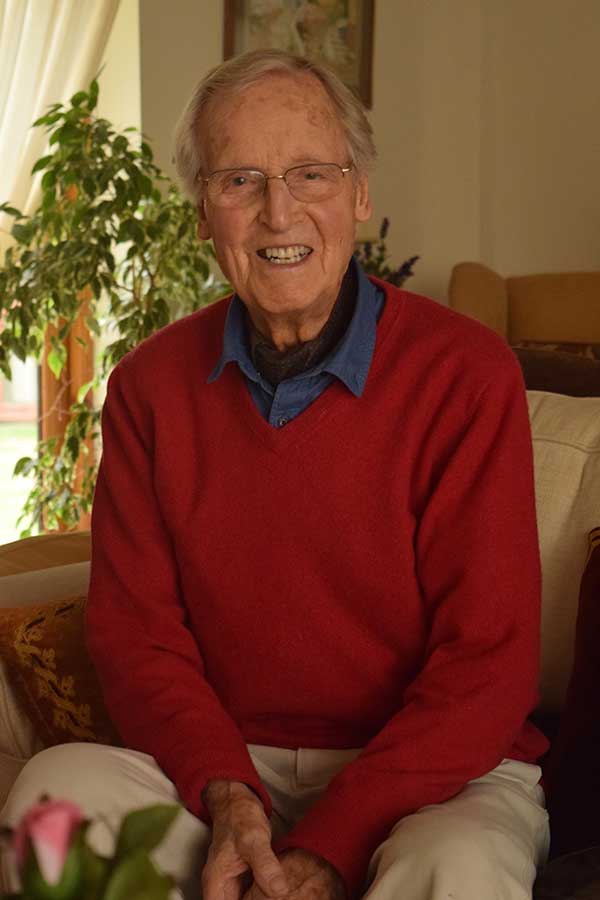 "I keep working. Using mental and nervous energy helps to keep me going, though I have to pace myself more sensibly these days." This summer, the silver-haired gent, who remains as slim and erect as he was in his prime, completed yet another successful Edinburgh Fringe, entertaining with his one man show, Nicholas Parsons' Happy Hour. "I love the exhilarating atmosphere up there," he smiles. "I've done the same show for 16 years, stand-up comedy in which I engage with the audience in the intimate Cabaret Bar."
That the nation has, for decades, been regaled by this stalwart of the entertainment industry is in no small measure due to a willingness to buck familial pressure. "I was born at a time when you did as you were told. My father said a few rather eccentric people go into show business, but I would have to get a proper job." A stint north of the border followed where Nicholas embarked, at the age of 16, upon an engineering apprenticeship in Clydebank. Was this social transition straightforward, I probe?
"I didn't know what they were saying and I seemed a complete oddball to them. I came from a middle class family and had a public school accent. I could have been crucified but I survived that environment, making them laugh with my Scottish accent. It was the instinctive performer in me; you have to get your audience on your side. I was there for five years and became one of their mates."
The manual labour experience did not, however, curtail his acting ambition and Parsons returned home still gushing with fortitude. "I wrote to theatre managers and agents. On one occasion I sat in a theatrical manager's office for two days pleading for an audition. In the end they were so fed up with me, I got a part. That was down to sheer, utter determination."
From this modest beginning, Nicholas's blossoming repertory and film career led him to cross paths with The Chap's spiritual godhead, Terry-Thomas. Both men were cast in the Ealing Comedy Brothers in Law. "Terry was a great character, a brilliant impersonator with great comedy timing. His talent and larger than life character meant you could sense his presence in a room. Not in himself a funny man, he was an outstanding comedy performer."
Our banter is momentarily interrupted by what is commonly referred to as a ringing tone. Nicholas picks up his contemporary handset, heretofore positioned on a rectangular coffee table next to a volume of The Kenneth Williams Companion, but is unable to access the call. I offer my modicum of knowledge and he hands me the slim electronic device whence, having activated the answering response, I return it to him. After briefly conversing with the caller he takes the phone to his wife in the nearby dining room.
"I love a challenge." His announcement, upon returning, is not connected to electrical gadgetry but the weekly television programme he hosted for 12 years, Sale of the Century. "When I was asked to do a quiz show, my immediate reaction was: I've never done that, it would be interesting. Like taking on an acting role, it's an aspect of yourself and you want a sense of drama. At the time the press thought quizzes were downmarket entertainment; nowadays they treat them correctly."
Even longer in duration, over 50 years, Nicholas has presented BBC Radio 4's Just a Minute, which showcases his listening skills and syllabic curiosity. "It's my favourite job. I have developed my own style. Every time we do a show the adrenalin starts to pump. Psychologically I say to myself, it's worked before, it will work again. One thing I'm proud of, our show is hardly edited. We treat it like a live show and I wear a collar and tie to complement the audience. The essence of success is having fun."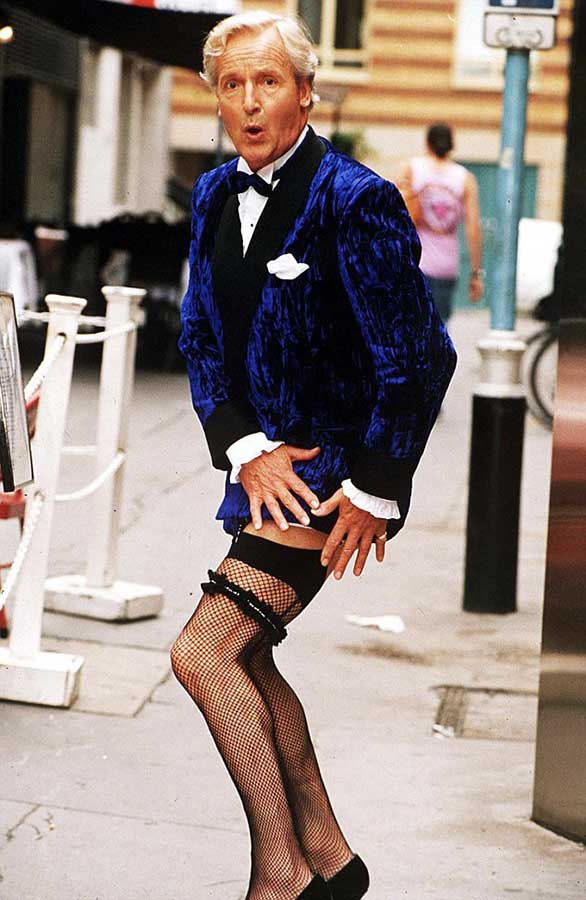 A somewhat disparate, yet equally notable, professional highlight is his memorable role in The Rocky Horror Show. "The Narrator had always been treated as an object of ridicule but I wasn't going to stand there and be insulted, so I started lobbing comments back to the audience, who laughed. For the finale everyone wore fishnets and high heels, so I told the producer I'd dress the same. I kept on my crushed velvet jacket but wore a suspender belt, fishnet stockings and heels. People said I had very good legs."
Hospitable and gallant, we're discussing his fondness for waistcoats and favourite alcoholic beverage ("Red wine, obviously, Claret, not the heavy stuff, and an occasional Campari as an aperitif") when he gently reveals another appointment is imminent. Perhaps one final question, I venture – your ongoing ambitions? Having recently celebrated his 95th birthday, Nicholas Parsons' response reveals a charisma which is, thank heavens, as alluring as ever. "To be interviewed by charming journalists."
RIP Nicholas Parsons, 10th October 1923-28th January 2020
This interview by Alex Smythe-Smith was originally published in The Chap Winter 18