Ava Gardner loved drinking, staying up all night, sex, jazz, four-letter words, dogs, driving fast and Frank Sinatra. Her luminescent white skin, jet black hair, emerald green eyes, feline grace and dancer's elegance was known to have stopped even the most hardened casting couch-abusing Hollywood producer dead in his tracks. She was thoroughly unimpressed with the movie business, considered acting not only silly but an embarrassing torment tolerated only to fund her extravagant lifestyle, was the prototype jet setting hedonist who, pursued by paparazzi, was constantly in the headlines for fighting and drinking and staying up all night.
I'd say she was the most perfect woman you'd never want to live with. 'I'm just a plain simple girl off the farm and I've never pretended to be anything else,' Ava was oft to say, but her story was the stuff of myth. A bona fide rag to riches tale of a gal from the Southern back woods that became one of the world's biggest film stars.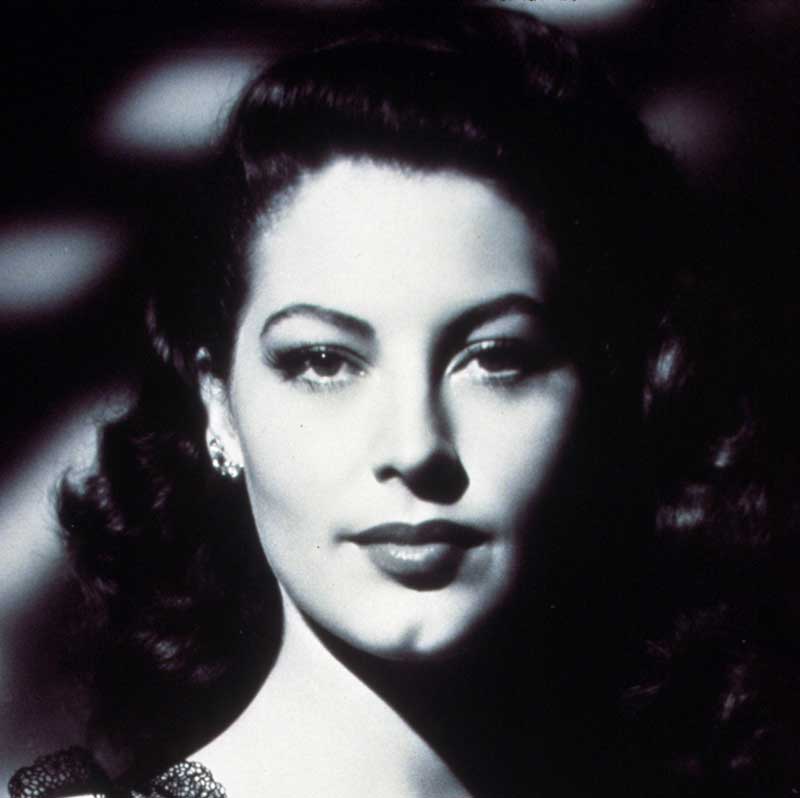 Ava Lavinia Gardner was born the youngest of seven children to Molly and Jonas Gardner, dirt-poor Baptist cotton and tobacco sharecroppers in Grabtown North Carolina on Christmas Eve 1922. Aged 18, local lad Ace Fordham took her to New York to see her sister Bappie. Bappie's boyfriend, photographer Larry Tarr, took countless shots of Ava, installing one of them in the window of his studio on Fifth Avenue. In the spring of 1941 who should see it but Barney Duhan, a runner for Loew's Inc, the parent company of MGM Studios. Tarr got hold a few more shots of Ava and dropped them off at the MGM offices in Times Square. That summer MGM asked to see the young girl.
Al Altman was MGM New York's screen-test director. He had introduced MGM to hundreds of the most beautiful girls in the world, but for him Gardner was 'the most beautiful woman he had ever seen.' Executives saw her clumsy test but were still in abject awe. Ten Days later she was signed to MGM and flown to Hollywood. Louis B. Mayer saw the test and signed her up for the MGM grooming school.
First of all they had voice coach, Gertrude Fogler, change her accent. But it seems that Ava's biggest challenge was fighting off the wolves, such as Wizard of Oz producer Arthur Freed, just one of many executives who thought their job was a short cut to molesting young beautiful naive girls (cf Harvey Weinstein). Thus the young starlet was reticent about attending parties, going on dates or even talking to men. Odd then that she should date and then marry legendary diminutive sleazebag Mickey Rooney, who was fond of boasting of his sexual conquests.
'When I saw Ava everything stopped,' he said in his 1965 autobiography. 'My heart, my beating, my thinking.' He had to have her, and as Hollywood's biggest Box Office draws it was only a matter of time. The studio sent minions to persuade Ava to go to dinner with him. Eventually brow beaten from all sides she acquiesced and on that first dinner he proposed and she ran away crying. Then, to impress her, he got her a part in a movie, Strange Testament, and suddenly she was Mickey's girl. Pictures appeared of them dancing at the Mocambo, she in her heels ten inches taller than him. Eventually he cornered her and proposed again and, thinking that 50 million moviegoers couldn't be wrong, Ava said yes.
One the wedding night Rooney was so drunk he passed out on the bed while Ava cowered in the bathroom. Ava would later say, 'Don't let the little guy fool you. He knew every trick in the book,' while the man himself said, 'It was the perfect honeymoon. Sex and golf and sex and golf.'
Read the full feature by Chris Sullivan in Chap Spring 20