Monday 16th March 2020 was an auspicious day for a long lunch with Chris Sullivan. Coronavirus fever was about to hit London, and full lockdown was imminent, with deserted streets and nearly empty Underground carriages. This could be the last chance we met for some time, and possibly the last chance anyone had of enjoying a civilised meal in a restaurant, or indeed any kind of meal in any kind of restaurant, before they are all forced to close for a period.
We had chosen our location well for this significant repast. Hix Oyster Bar and Chop House is a discreet establishment tucked away at the top of Cowcross Street in Farringdon, founded by Mark Hix in 2008 on the back of a stellar career as head chef at Le Caprice and the Ivy. Situated right behind Smithfield Market, the focus is naturally on British meat, though, as we were to discover, Mark heads slightly further afield for some of his choicest cuts of beef.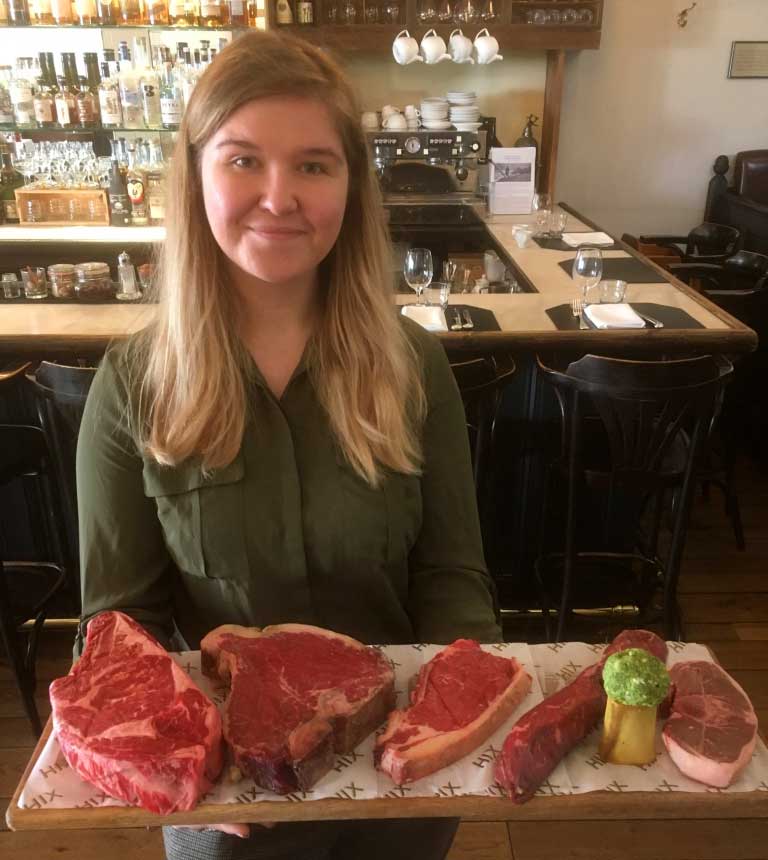 We were attended to by the charming and knowledgeable Harriet, who did a lot more than simply deliver the food to our table. An enquiry as to which cut of beef to order resulted in the presentation, seconds later, of an enormous wooden board lined up with every cut of steak on offer, from Glenarm Estate rib steak on the bone to hanger steak with bone marrow. The beef all comes from Peter Hannon of the Glenarm Estate in Northern Ireland, who ages all his meat in a Himalayan salt chamber.
"Excuse me?" comes the response, wine glasses frozen in mid sip.
Harriet showed us a chunk of this mysterious pinkish salt, imported from the Himalayas and used as bricks to construct an enormous fridge, where the meat is hung for up to 42 days. Cold air is filtered through the salt, adding gallons of extra flavor. Hix and Fortnum & Mason are the only two places in London to import this prized Glenarm beef.
But before we approach the Himalayan salt-cured beef, we must focus on the oysters. Hix offers four choices of crustacean: Native from Colchester, Rock from Cumbrae and Jersey, and crispy fried rock oysters with Scotch bonnet mayonnaise. We selected from either end of this tempting spectrum, and turned our attention to the starters. Chris chose some River Teigh mussels with Burrow Hill Cider and wild garlic, while I, feeling reckless, opted for the steak tartare, partly to try and help Chris overcome his fear of this delectable dish.
"The first and last time I ever had steak tartare was at the Devil of Lombardy in Paris with Steve Strange in about 1979. At that time, the French weren't as friendly as they are now, and if you didn't speak French they thought you were an imbecile, which we probably were. We didn't have much money, so the only thing I saw on the menu that I could afford was steak tartare, and when it came I thought they were taking the piss." I resolved to heal this wound with what was bound to be the best steak tartare available this side of the 1980s club scene.
Harriet encouraged us to break free of the tradition of only taking oysters with white or sparkling wine, and we washed down our brace of crustaceans with a glass of Tonnix Grand Crew 2014 Quinta de Bandeiras, the rest of which was on hand when the starters arrived. The steak tartare was uncooked to perfection and I managed to persuade Chris to try a forkful, throwing caution to the wind on this coronavirus Monday. The egg yolk had been completely separated from its white and quickly smothered the glorious raw beef with a sumptuous yellow coating; the meat itself peppered and spiced to just the right state of piquancy.
None of these fulsome starters had prepared us for the Glenarm Estate Porterhouse Steak (for two), presented by Harriet on a board, which she then set to expertly with carving knife. It looked like enough for three, but since Steve Strange (RIP) couldn't join us, we decided to finish it all in his honour. I won't claim to have tasted the Himalayan salt, but the 42-day curing process had certainly given the beef a rich succulence. Cooked medium-rare, it simply oozed blood and flavor, served in two-bite portions smothered in béarnaise sauce.
This was the food of the gods, providing the perfect repast for a temporary farewell to the city, whose citizens were already disappearing in their thousands from the streets. Having squeezed in the very last mouthful, we felt it our duty to sample the puddings and some of Mark Hix's splendid cellar of Julian Temperley's Somerset Cider Brandy – which in France would be called Calvados. We chose a three-year-old and a five-year-old to accompany a Steamed Kingston Black and marmalade pudding with custard, and a Yorkshire Rhubarb Buttermilk Pudding, both of which were concentrations of such wonderful flavour that we had no difficulty dispatching them.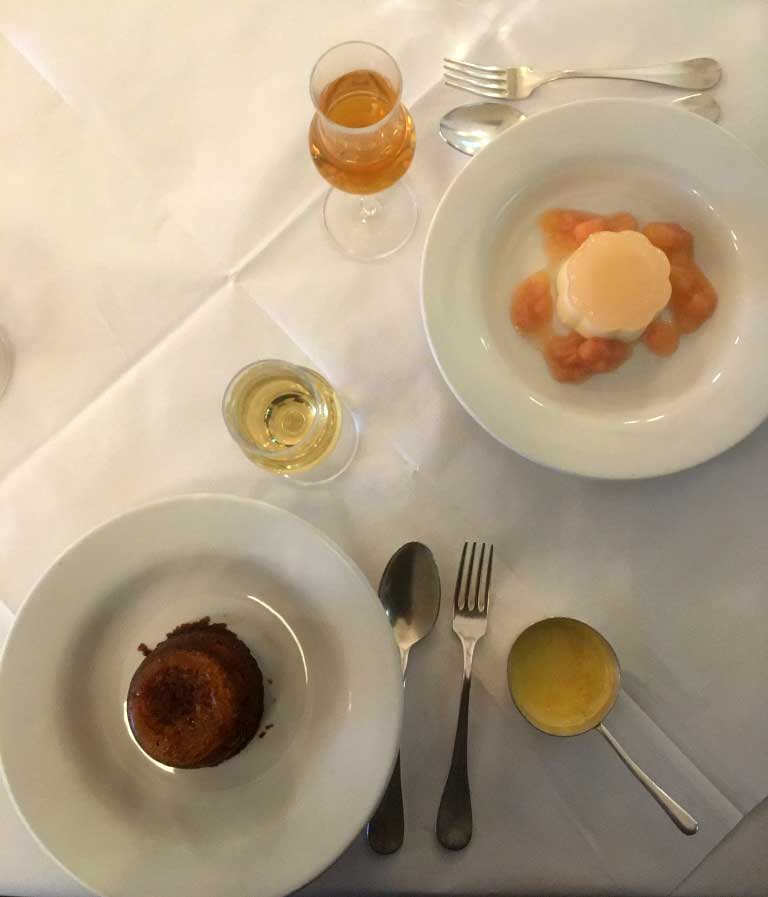 Post-prandials at a deserted pub on Cowcross Street were devoted to ruminating on the impending lockdown, already visible around us. Everyone seemed to be heading for home rather hurriedly, which would have been normal in London at rush hour, but this was three o'clock in the afternoon. It may be some time before we are able to consider meeting for lunch, and Mark Hix and his wonderful team of meat packers, carvers and chefs had fortified us for the foreseeable future.
HIX OYSTER BAR AND CHOP HOUSE
36-37 Greenhill Rents
Cowcross St
London EC1M 6BN
Reservations 020 7017 1930
www.hixrestaurants.co.uk