"Everyone gets everything he wants. I wanted a mission, and for my sins they gave me one. Brought it up to me like room service." Captain Willard, Apocalypse Now
My mission was not to find a colonel in the Vietnamese jungle who had gone mad and to kill him, but to catch up with an old friend who had not been seen in Soho since the death of our own Colonel Kurtz, Sebastian Horsley. Shortly after the great dandy's funeral in June 2010, Paul Lawford disappeared from Soho in a wisp of cigar smoke. His flat on Meard Street had been directly above the house of sin that was the Horsley residence. Rumours circulated the French House of exile to Andalucía in Spain, but they had the air of bar-room tittle-tattle. Social media, for once, was silent on the matter.
Nine years later, I am boarding a plane at Gatwick Airport bound for Jerez de la Frontera, a small town near Cadiz that gave its name to sherry. Like Oporto in Portugal, the connection with England is via the gallons of the local produce consumed by Britons since the 18th century. But, as I discovered even before the taxi deposited me in the ancient town centre, the connection works both ways.
Jerez is not a popular Spanish destination like its neighbours Seville and Cadiz. Most of my fellow passengers were Spanish and they were here during the only week when the airport is busy: La Feria de Caballos. The whole town shuts down and effectively rebuilds itself in a huge park on the outskirts, for a week of dancing flamenco, drinking fino and watching horses. The taxi rank, where I imagined I'd stand out in my crisp linen suit and straw panama, was full of slick Madrileños in blue blazers, cream chinos and expensive sunglasses. They looked like they were roughing it even by the act of standing in a queue. As the taxi neared the town centre, groups of women, walking in the opposite direction, wore polka-dotted flamenco dresses, mantillas and flowers in their hair. It was 2pm and the early summer heat made the dust sparkle.
The address I'd been given by my hosts was bang in the centre of town. I expected a fairly decent-sized establishment, assuming they had sold up in Soho nine years ago and benefited from the vast difference between local property prices and a two-bedroom flat in Soho. I did not expect a palacio. The huge, ancient door was opened by Catherine, the lady of the house. Echoing around the vast central atrium came a voice emanating from a figure on a tatty sofa: "Mr. Temple, I've been expecting you."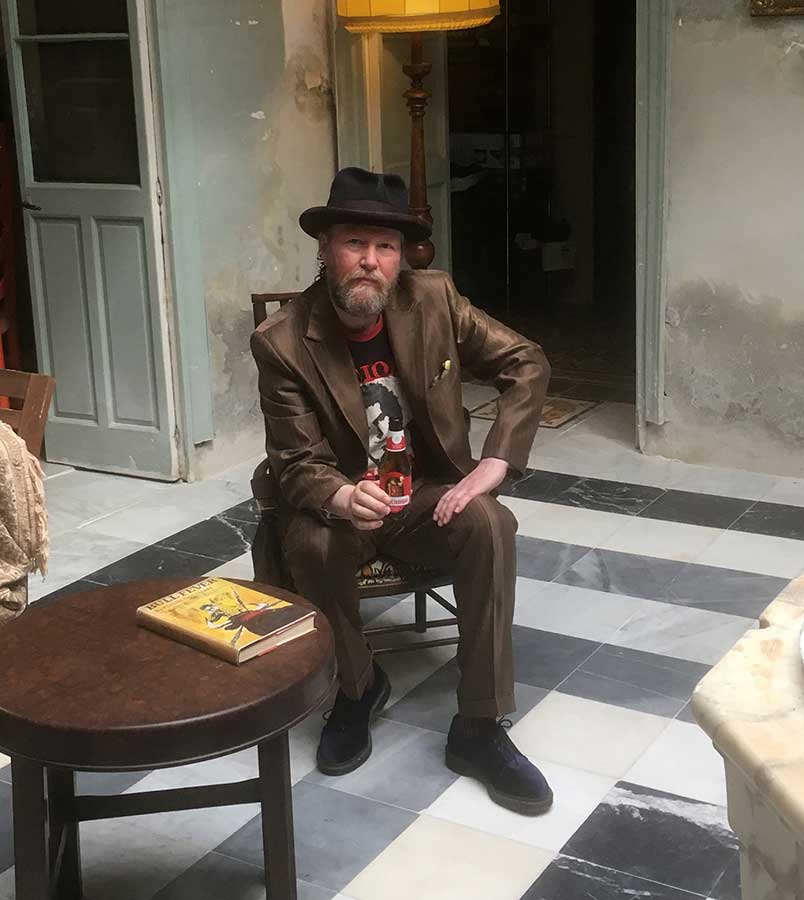 Paul was, naturally, stroking a cat. He was also dressed as if just back from the Colony Room. The glass of something or other on the table was, I was to learn during the next three days, never to be empty.
Rooms, endless rooms, gave off the atrium, as well as stairs, courtyards, corridors. There was even a well in the centre. But the drumkit in the corner distracted from the architecture, as did the pair of decommissioned Kalashnikovs and the enormous boar's head with a string of pearls. This was no ordinary palacio. I was immediately taken to one of the kitchens – the 'wet' one, where no food was stored or served (that prosaic business took place in another kitchen). Various fridges were opened in search of whatever I wanted – fino, of course – and plans were hatched for my stay.
One's plans during this week in May have to revolve around the Feria. Principally because it's where the action is, but also because the town centre is in limbo – most of the bars and restaurants erect a caseta, an ersatz version in the park where the Feria is held, and so their main building is closed. Consequently the town was deserted, with the advantage that a table was easy to secure in the places that could afford to keep two establishments going. The result is the freedom to stroll about the town as if every day is a sleepy Sunday, and also the chance to take part in the mayhem that is Feria when the need arises. Everywhere is anticipation, preparation, exodus: groups of señoritos, the local chaps, all identically dressed in chinos, blazers and ties, many with a detail peculiar to this area: a shirt collar so cutaway that the tips are horizontal, the huge gap filled with a fat Windsor knot. I had not expected to be sartorially impressed by the Andalucian equivalent of the crowds at Henley Regatta. The women mostly wore trajes de gitana – gipsy dresses, bedecked with shawls, flowers and flamenco shoes that make a racket on the dancefloor. We were to follow them to their mecca at dusk, after a splendid lunch (mostly meat; I think there was a vegetable in there somewhere) and a siesta.
I was awoken in my downstairs room by someone playing the drums to Rosemary Clooney's Sway. It was dark and I'd forgotten which corridor to take to the atrium. The slashing of cymbals guided me to the sight of Paul, wearing a three-piece suit, Homburg and punk T-shirt, doing a paradiddle in the dark. It was time to go to the Feria.
The entrance to the Feria park is a cross between Rotten Row in 1890 and Disneyland. A vast stone portico sweeps into an avenue lined with bars and restaurants, illuminated by vast strings of lights that put Regent Street at Christmas in the shade. The ground is covered in a bright yellow sand that must have been dyed a special Feria colour. From each caseta emanates music that lurches from Sevillanas, a version of flamenco, to pounding modern dance music. Some of the casetas are the size of nightclubs and others as small as a tiny backstreet bar. All are packed with people of all ages, guzzling fino, devouring tapas and dancing.
We stayed until 2am, but the younger folk would be there until dawn, I was told. When they need reviving, they run around on the traditional fairground rides stationed on the edge of the park, and load up on hot chocolate and churros before heading home. The next day's hangovers would be dealt with by a return to the Feria.
Paul and Catherine's approach took place in the wet kitchen. Around 10am the next morning, I headed for the kitchen where something was happening, assuming some form of breakfast would take place. It was: Paul was propped at the cocktail bar in the other kitchen, sipping a small glass of some aniseed liqueur, wearing a djellabah. The inevitable conversation about Sebastian Horsley ensued, something we had avoided until then. Hangovers always make one think of Sebastian, whose life was one long hangover. I was shown various artefacts and memento mori: clothing items; a copy of Tintin in the Congo scrawled with the dandy's ramblings and doodles; a framed poster that kept falling off the wall. Sebastian lurked about this palacio like some well-dressed phantom and I recalled the lines from T-Rex that had been played at his funeral: "Distraction he wanted/To destruction he fell/Now he forever stalks the ancient mansions of hell."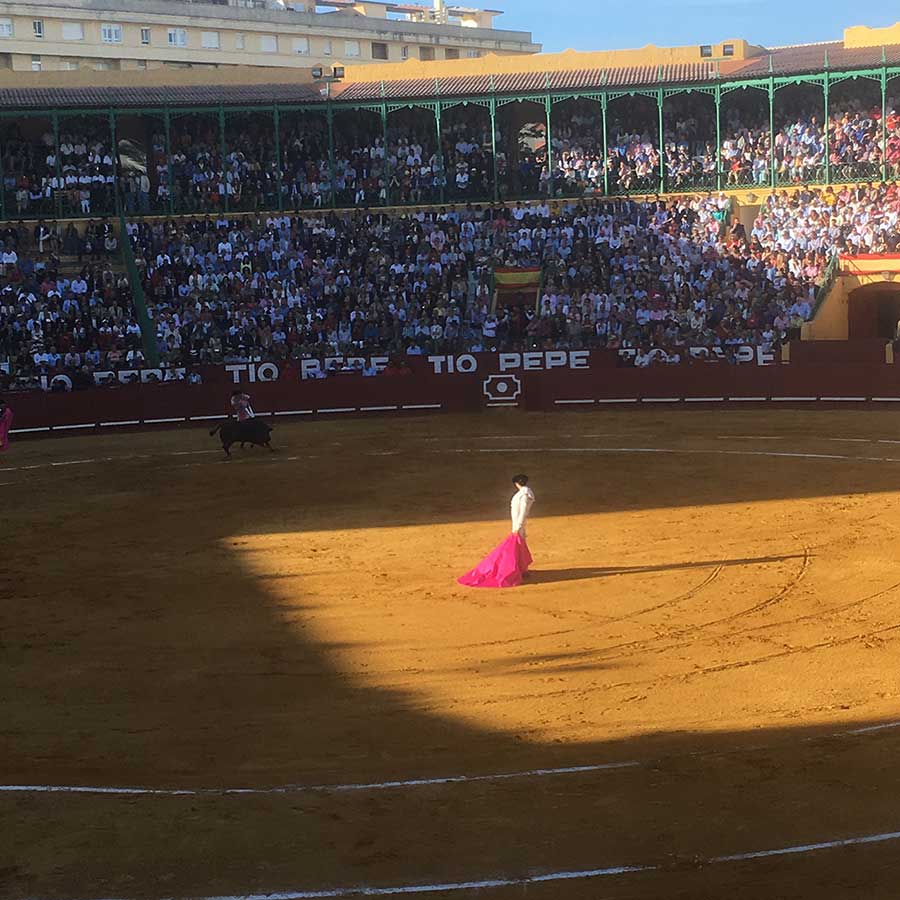 The entertainment lined up for Day Two included a bullfight. As well as dancing and parading horses, another element of the Feria is three days of corridas. Jerez's Plaza de Toros is only a Category 3, but during Feria there was a cartel that boasted El Fandi, Manzanares and Roca Rey, three of Spain's top matadors.
Bullfighting is not for everyone and even those who support it have to wrestle with the ethics. But once you're installed in your seat and the trumpets are blaring, and three men dressed in suits of lights march into the sun bearing swords and red capes, you may as well be in ancient Rome. We saw everything that day one can see at a bullfight. A bull being spared by the crowd all waving white handkerchiefs, a spectacular turn on the arena by El Fandi and plenty of horns ripping holes in the suits of lights. The only thing missing was a goring, but these boys were at the top of their game and made a virtue of taking huge risks without injury.
We'd only had a couple of beers during the corrida, and there was only one place our thirst could be quenched: an illuminated park full of hundreds of bars, so we headed back to the Feria.


Of all the towns and cities I've visited in Spain, Jerez de la Frontera (I wish I lived in a place with 'of the frontier' suffixed to the name of a drink, eg 'Whisky of the Frontier') is the most Anglophile. The citizens dress impeccably with the occasional flourish of dandyism; menswear emporia full of ties, hats and tweed jackets abound; there is an affinity absent in the rest of the country for both dogs and cats, as pets rather than as scavenging feral creatures; equestrianism is everywhere, the town echoes with the clip-clop of horses driven by men in sombreros, reminding me of the local Harveys Ale where I live being delivered by bowler-hatted men on carriages pulled by Shire horses. Unlike other parts of Europe, a man in a linen suit and Panama hat is not regarded with curiosity or asked if he is an actor.
It's also incredibly cheap in Jerez, even compared to the larger cities in Spain and especially to the Balearics. I questioned every bar and restaurant bill as if they'd forgotten to add half our order. Flights, with Easyjet, are cheap too, as most tourists to Andalucía head to Seville or Cadiz. Both those cities are an hour away by train, through the parched, brown fields of the province. I fully intend to revisit when there isn't a Feria, and see all those casetas returned to their original locations in the town centre.
On my last day we discovered that some bars are so popular that they keep the main one open as well as their caseta. The Peña El Pasaje is a 'traditional' (though everything in Jerez is traditional) flamenco joint with about four small tables, which were all fully booked. While Paul and I sipped rebojitos (a quaffable mixture of fino and lemonade) in a bar, Catherine disappeared for a few minutes, returning with the news that she had secured a table for us. It seems the Lawfords have been in Jerez long enough for a table of tourists to be kicked out in their favour. Everywhere we went, they were greeted with open arms and cries of "caramba!" Another testament to Jerez's love of all things British, particularly its high-living, eccentric émigrés.
Many Spaniards have told me, not only in Jerez but in Seville too, that the best flamenco is to be found in Jerez. You might imagine a show to have the status of ballroom dancing or folk dancing, i.e. full of old people, but the opposite was true. Our guitarist and singer were both men in their early twenties, and our dancer still had braces on her teeth. Once they got going, the quiet little bar suddenly came alive with stamping feet, strummed guitars and the wailing, seemingly improvised lyrics of flamenco. My Spanish is just about good enough to pick out the words, which were along the lines of "I woke up this morning and everything was pretty awful…"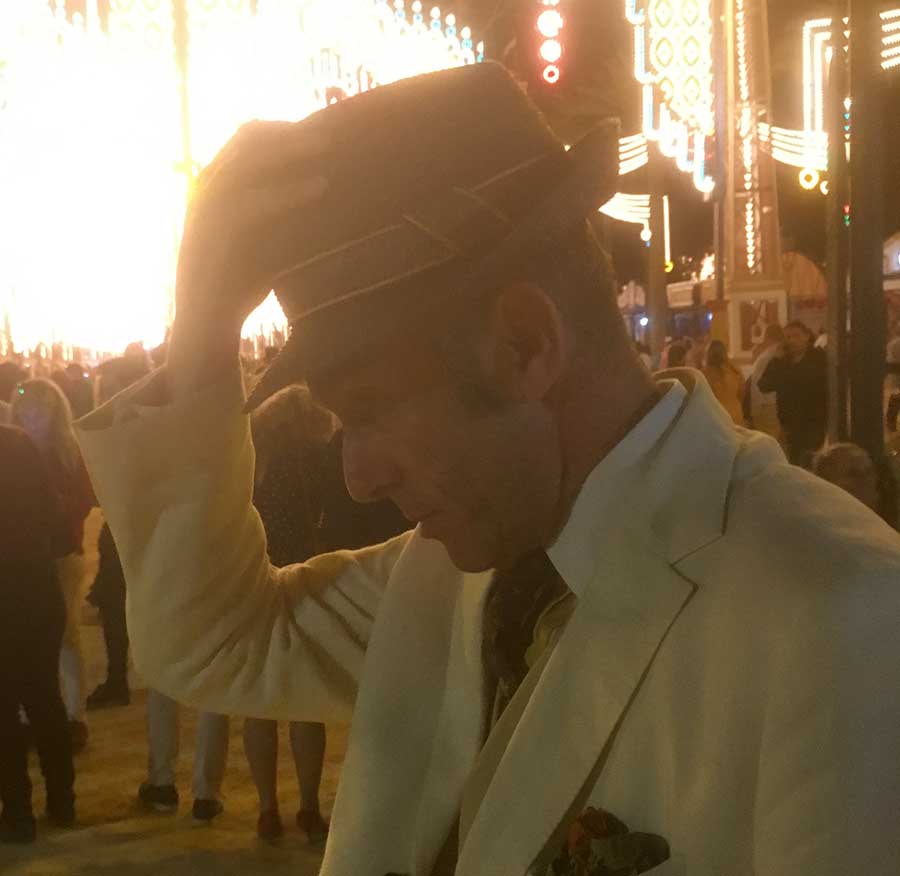 One more spin around the Feria and suddenly it was 3am and time for carriages to be called. During the return flight I left the yellow dust on my shoes to keep the memories alive. The three-part hangover helped that too, which I dealt with by raising a glass on the plane to Sebastian, without whom none of this would have happened.