One of the biggest challenges in writing about someone like Marilyn Monroe is that people have been writing obsessively about her for almost a century. Books on her famous lovers, confirmed or rumoured, are generally the first thing one comes across. Another focus is her impact on fashion. There's rather a lot on her reputation for being difficult on set, her tragic life and conspiracy theories about her death. The first problem with writing on such a complicated person is having to leave so much out – Marilyn's work in the Civil Rights Movement; how she pressured one of Hollywood's most famous venues, Mocambo, into changing their racist rules to allow Ella Fitzgerald to perform there. One could write an entire book on Monroe's poetry, or talk about her library of over four hundred books.
But here we're interested in Monroe's dandyism. In Fashioning Gothic Bodies, Catherine Spooner argues that "Dandyism is not merely surface, but rather the managing of surface". Norma Jean Baker certainly created an immaculate surface that the world knew as Marilyn Monroe, and she maintained that surface identity with complete dedication. Jack Lemmon, who worked with Monroe in Some Like It Hot, says that Monroe "developed a character – how much of that rubbed off on her, keeping that character so that it became ingrained when she was off-screen also, or how much of it truly was her that she just bent the part to, I don't know. But they did become intertwined, you couldn't tell where one left off and the other began."
"Often," according to Catherine Spooner, "representations of the dandy seem to reproduce a Jekyll-and-Hyde dualism, whereby the public self and monstrous self are inextricably linked". In Marilyn's case, the 'monstrous' was not necessarily a diva like Joan Crawford, but more of a doomed Gothic heroine in an old 19th century penny dreadful – a prisoner lost in a world of mirror reflections until her death in August 1962.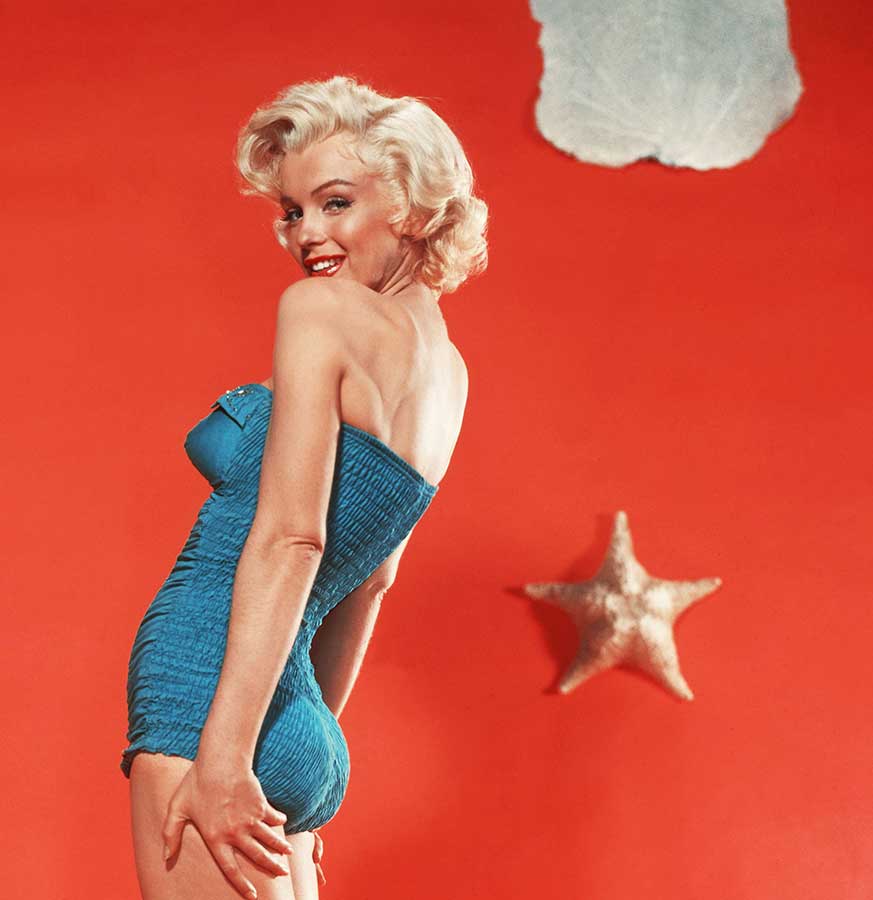 A mirror is a fitting metaphor for Marilyn's prison – Baudelaire also argued that a Dandy "must live and sleep as if in front of a mirror". As perhaps one of the most recognisable women in the twentieth century, Marilyn seemed to live every moment in front of a mirror – but what did she see when she looked into one? Monroe and Truman Capote were great friends, and he once found her staring at a mirror. When he asked what she was doing, Marilyn replied, "Looking at her." Even she saw a duality in herself that she wasn't sure what to do with – Marilyn, the sex bomb dumb blonde who had love affairs with powerful and famous people, and Norma, a brilliant, nervous, scared little girl who wrote poetry and was too nervous to speak up in acting class.
Norma Jeane (later spelled "Jean") Mortenson was born 1 June, 1926 in Los Angeles, California to Gladys Pearl Baker (née Monroe). Her mother Gladys struggled with paranoid schizophrenia, and as a result, Norma Jean spent a great deal of time in orphanages and foster homes. By all accounts, these were traumatic experiences for her. Co-star and friend Shelley Winters recalls a time after celebrity had hit them both when they were both walking near a theatre. Monroe suddenly froze. Initially Winters suspected it was because she'd just seen Charlie Chaplin, but Marilyn was looking at a building. She told Winters, "That's the orphan asylum they sent me back to when they didn't want me anymore."
In 1943, Norma Jean started working at a munitions factory, the Radioplane Company. In 1944 she met photographer David Conover, and she quit her factory job in order to start modelling for Conover, signing with the Blue Book Model Agency in 1945. She started using her mother's maiden name in 1946, and the creation of Marilyn Monroe the blonde bombshell began to take shape (though she didn't legally change her name until 1956).
Her acting coaches at the Actors' Laboratory Theatre thought she was a little too shy and insecure to make it as an actress, and because of this, she struggled to get a stable career until she signed with Columbia Studios in 1948. Her brunette hair was bleached to her trademark platinum blonde, and she began to hone her craft with the help of drama coach Natasha Lytess. After a little jaw and nose surgery, Marilyn Monroe splashed onto the Hollywood scene. Her big breakthrough didn't happen until 1950, through bit parts for Joseph Mankiewics's All About Eve (staring Dandy Bette Davis) and John Huston's The Asphalt Jungle, resulting in a seven-year contract with Fox.
By 1952, she was receiving top billing – and then a scandal broke out when nude pictures she'd taken in 1949 were published. Monroe admitted to posing for the photos and the public loved her for it, and this only added to her appeal as a sex symbol. Jane Fonda said, "I think one of the great things about Marilyn is that she was loved by men and women because we [women] sensed her vulnerability. The men sensed… something else. I remember a party at Lee Strasberg's house and she walked in and the men would start to shake from desire."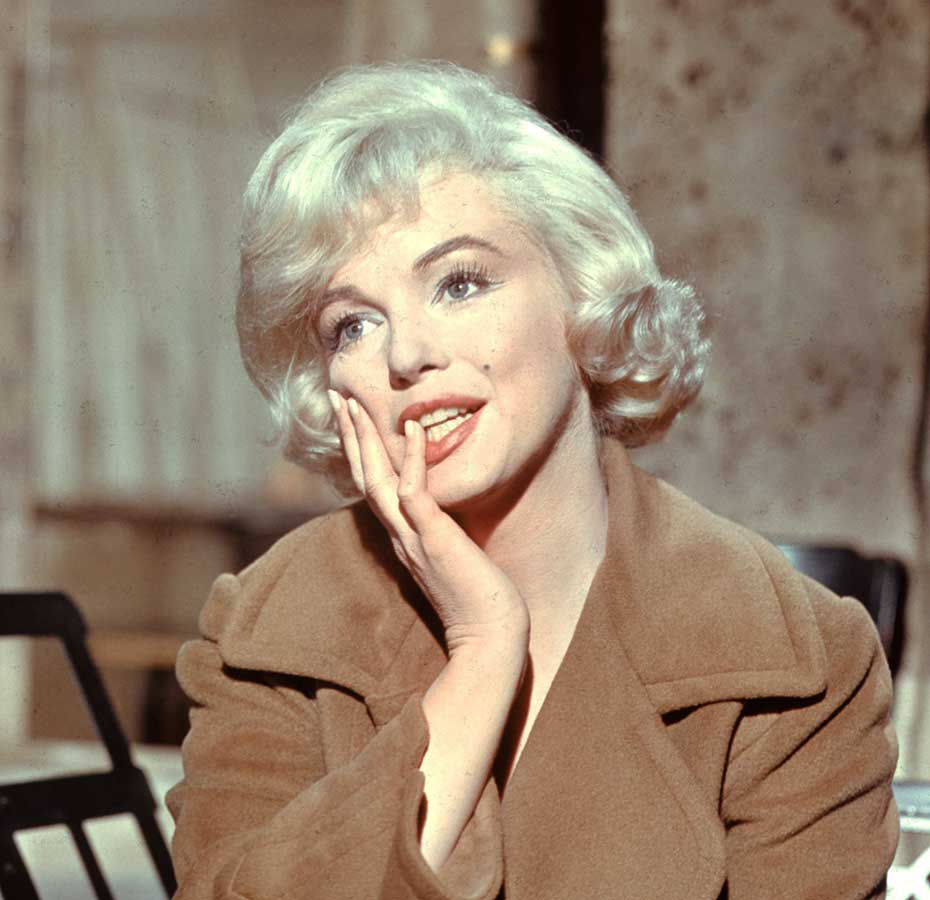 Another reputation Marilyn had was an image as a 'difficult' performer. Tony Curtis and Jack Lemmon starred with Monroe in Billy Wilder's Some Like It Hot (1959), and later talked about the filming struggles with Marilyn – she came in late; she often took forty takes to say a single line. But they also all agreed that there was something magical about her. Wilder said, "I had no problems with Monroe, Marilyn had problems with Monroe. She was slightly discombobulated all the time, she had great difficulties to concentrate. Something was always biting her, eating her. Not that she was mean or anything like that; she required a slew of analysts to unravel what was happening within her."
Mitzi Gaynor starred with Monroe in There's No Business Like Showbusiness (1955). Gaynor struggled to explain her first meeting with Monroe, saying, "How can I explain it to you? She kinda glowed in the dark." Jane Fonda had a similar first encounter: "I watched her film Some Like It Hot (1959). That's the first time I met her and she couldn't get her lines. But I remember she walked off the set and as she walked towards me, it's actually like she was carrying the light inside her. There was something so incredible about her. She was luminous and as she came up to me and began to talk it was like a tiny little girl."
Maybe it takes a dandizette to understand another one – Fonda recognised the duality playing under the surface between Norma and Marilyn, saying "On the one hand, she knew she was the most famous woman in the world and the sexiest and most sought after, and on the other hand she always thought 'this is the day they're gonna find out I'm a fraud.' We had the same agent and he would tell me that sometimes she was two hours late for a press conference because she'd be literally getting sick."


Fonda wasn't the only witness to this duality. There's the famous story told by Susan Strasberg at the height of Monroe's popularity. They had been walking through New York City and Susan was surprised that no one had seemed to notice that they were in the presence of Marilyn Monroe. When Susan commented on this, Marilyn asked her, "Do you want to see me be her?"
"Marilyn – or, rather, Norma – seemed to make some inner adjustment, something 'turned on' inside her, and suddenly — there she was — not the simple girl I'd been strolling with, but 'Marilyn Monroe'. Now heads turned. People crowded around us." George Chakiris, director of There's No Business Like Showbusiness, summed it up: "I know we have this sort of mythical thing about Marilyn, but… it's kind of true."
Wilder went even further: "If we knew what made Monroe Monroe, we could sell that patent and manufacture it… Maybe it's tough to make another Garbo, but duplicating Monroe should be easy – a blonde, small girl with a sweet face. God, there should be thousands of Monroes, they come from all over the world. But it doesn't make them Marilyn."
Writer Napoleon Jeffries argues that "Beau Brummell, the original dandy… left no model to emulate, no handbook to follow, no anecdotes to relate". The very same thing could be said of Monroe. Norma played the character of Marilyn with just enough exaggeration so that anyone who tried to imitate her would fail. If someone played it with too much camp, it would look caricature-ish – and if they didn't play it with enough, it would not look genuine.
Marilyn Monroe was, as Sebastian Horsley would have said, always a "real fake".
By Sunday Swift