"Caught up with RHQ at Enscheide by mid morning. Went down main street to see how things were going. Odd elements of German infantry being winkled out. Half way down main street firing broke out on both ends so I dived into a shop for cover. It was a barbers shop, so I had a haircut while waiting for things to simmer down."
Excerpt from the Rev Leslie Skinner's war diary: 3rd April 1945
When Leslie Skinner landed on Gold Beach on 6th June, 1944, with the Sherwood Rangers Yeomanry, he had two missions: officially he was senior chaplain to the 8th (Independent) Armoured Brigade; unofficially he had made a pledge to ensure that a Christian burial was given to any soldier found dead, at any risk to his own personal safety. He had purloined a lightweight motorcycle upon landing in Normandy, in order to carry out his second mission.
Skinner's first diary entry from D-Day records his landing: "Up 0500 hours; cold, wet, sea rough. This is it. Running for beach by 0700. Under fire by 0710. Beached 0725. Man either side of me wounded. One lost leg. I was blown backwards on to Bren carrier, but OK. Made it to beach, though I had hell of pain in left side. Bed on ground about 0130. Dead beat. Fell asleep beside half-track."
The complete diary entries record the chaplain's painstaking record of 153 graves and personal details of men from his regiment killed in action. He insisted on clearing corpses from tanks, refusing tank crews from assisting him, so they wouldn't see the way in which their comrades had died. German troops nicknamed Sherman Tanks "Tommy Cookers" due to the way they quickly caught fire when hit, incinerating the crew immediately.
After burying the bodies, Skinner then wrote personal letters to the families of the deceased, a correspondence which continued late into his life, long after the war. J D Semken recalled his career on the Sherwood Rangers Yeomanry Regimental Association web site:
Born in York, the son of a hairdresser, Skinner was educated at Elmfield School, before joining his father's business. He became a local preacher, and later a Methodist minister. His first church appointment, in north India in 1937, was cut short by the onset of deafness, which was to afflict him for the rest of his life. At the outbreak of war, he joined the Royal Army Chaplains' Department, serving in Persia, Iraq and Egypt before, in late 1942, his deafness was recognised and he was sent home as unfit for overseas service. Passed as fit again in March 1944, he was posted as senior chaplain to the 8th (Independent) Armoured Brigade and attached to the Sherwood Rangers.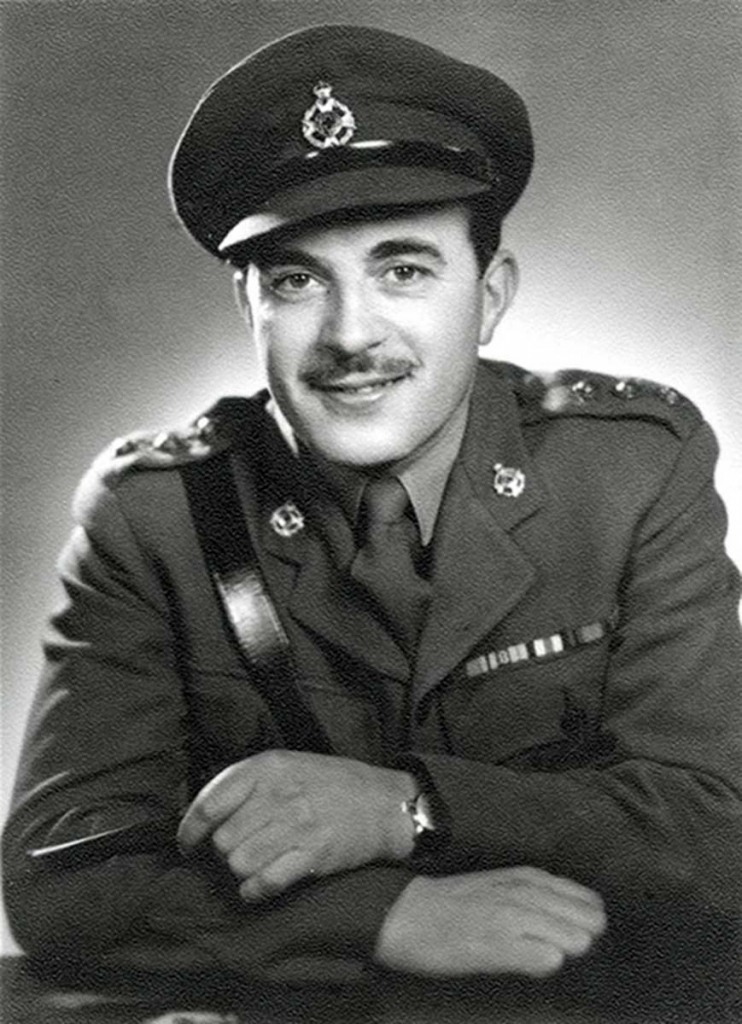 His first spell of service in Normandy lasted 20 days, till he was wounded in the head by a mortar shell; his only concern was to recover sufficiently to return to the regiment. This he achieved after only 29 days, recoursing to deceptions best not inquired into. He remained with the Sherwood Rangers throughout the campaign in northwest Europe, commanding everyone's respect and affection: by popular demand, he wore, on his chaplain's uniform, the regimental shoulder flashes. I remember him as a tower of strength, and a living testimony to the Christian faith. Skinner was mentioned in dispatches and received the French Croix de Guerre 1940 with palm, and the Belgian Chevalier of the Order of Leopold II with palm. His privately published campaign diary, The Man Who Worked On Sundays, is one of the most vivid and illuminating of all war memoirs.
The Rev Leslie Skinner, clergyman, 26th November 1911-9th October 2001