On a rain lashed, windswept day in Hove, East Sussex, Vic Reeves and actor Tony Pitts ducked into the Westbourne Pub to discuss 1970s haircuts, ham salads, turnips, the shapes of bird bills, Blakeys and Rizzle Kicks. Photos by Soulstealer Photography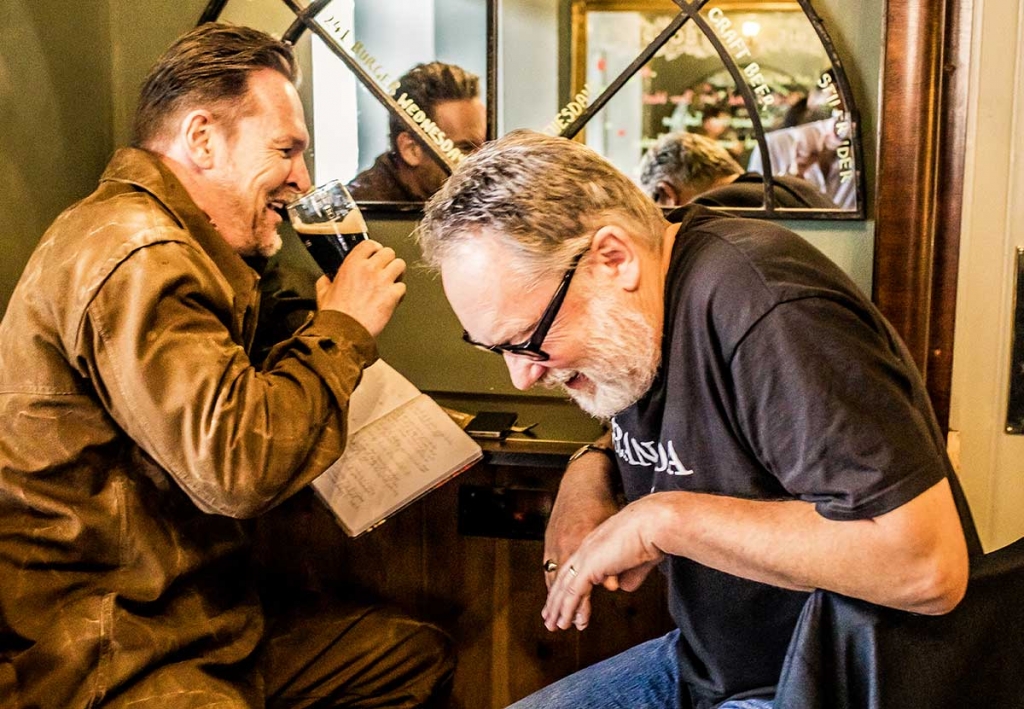 Tony Pitts: Hello Jim – can I call you Jim? I've got some questions that will reveal how you perceive the cultural landscape. The first question is in two parts; we'll call the first part Part A: Do you ever become overwhelmed by a complete sense of despair and loss of hope, when faced with the spiraling, churning futility of it all?
Vic Reeves: Is that the question?
TP: Yes, but Part B of that question is, who is your favourite African child?
VR: My own African child. I'm quite like Paul Theroux in that respect. I've sired a lot of African children. But to answer Part A, the power of the sea throws me into despair and overwhelms me quite often. Shall I ask you one now?
When you were young and you went to the hairdressers, did you get a square neck or a round neck? You know, at the back: the barber would say to you, square or round, sir?
TP: I was taken to the hairdresser, an Italian bloke, who, when I was seven, always used to say, 'You're 27.' And I'd say, 'No, I'm seven.' When I was eight, he said I was 28. Then I went to Alfredos in Sheffield and I had an Alfredo's special, which was a scissorcut Budgie haircut. VR: You're talking about later when the cuts were longer. I meant when you had it short. When I was ten or eleven, in about 1969, the hairdresser would always say, 'Would you like it round, or would you like it Roger Moore?' A lot of blokes then had a round cut on the neck, but Roger Moore, who was a trendsetter, had it square. So I said I wanted a Roger Moore, because I was a fan of the Saint.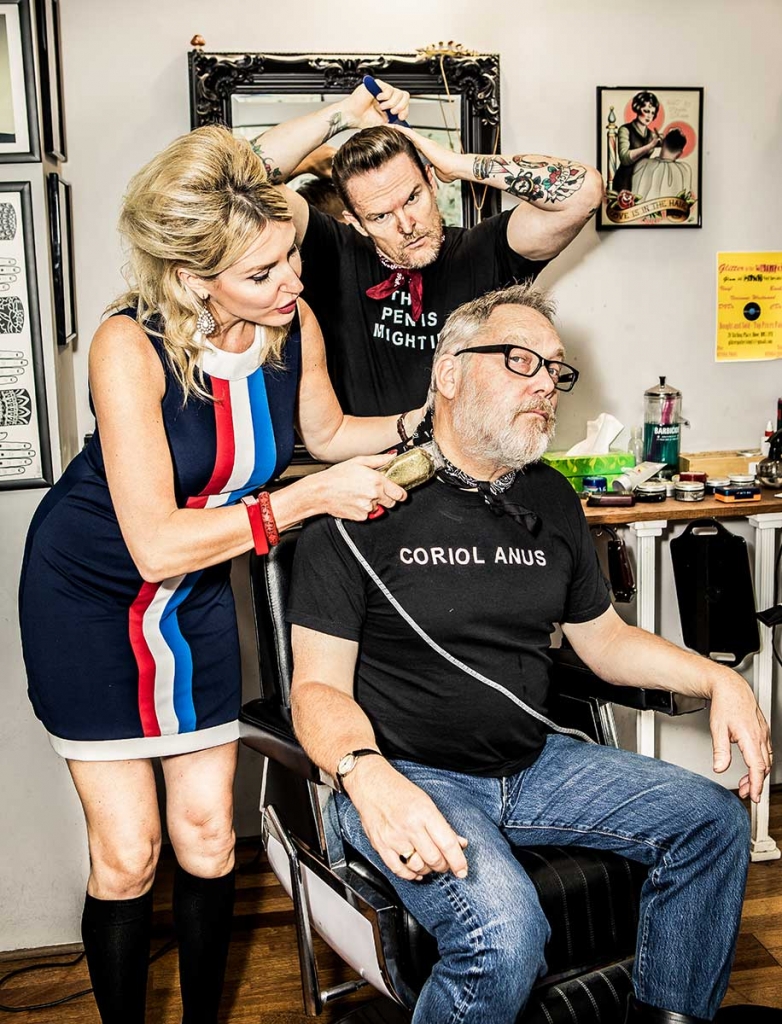 TP: I went to a barber in Sheffield and said 'I want my hair cut like Tony Curtis'. Then he shaved it all off. I said, 'Tony Curtis doesn't have his hair like that.' The barber said, 'He would if he came in here.'
VR: I went to the barbers in Darlington once, in the 1970s. I took a picture of Elvis Costello in and said, 'Can you do it like that?' He said, 'No way, I'm not doing it like that, punk!' I came out looking like one of the Bee Gees. I had to get on the bus and make sure none of my friends saw me. It was worse than a Bee Gee, it was like Noel Edmonds, with a high centre parting.
TP: Sounds like he was trying to hold back the tide of punk. I'm going to ask you another question now, Jim – if I can call you Jim? – Broadly speaking, did you support the Suffragette Movement?
VR: Yes. I've often tried to recreate Emily Pankhurst's running in front of a horse, in busy town centres by leaping in front of milk floats, to stop the flow of traffic. Just to stop men taking over.
TP: Yes, the patriarchy of milk delivery. You can ask me a question now.
VR: On a general day-to-day basis, do you like your food piled up or flat?
TP: I prefer it flat, but such is my greed that it's inevitably piled up.
VR: So what if you had a ham salad, lettuce and ham, which are innately flat when sliced? TP: I'd keep stacking it up until it formed a pile. Next question: which of the garden birds do you think is the most easily discouraged?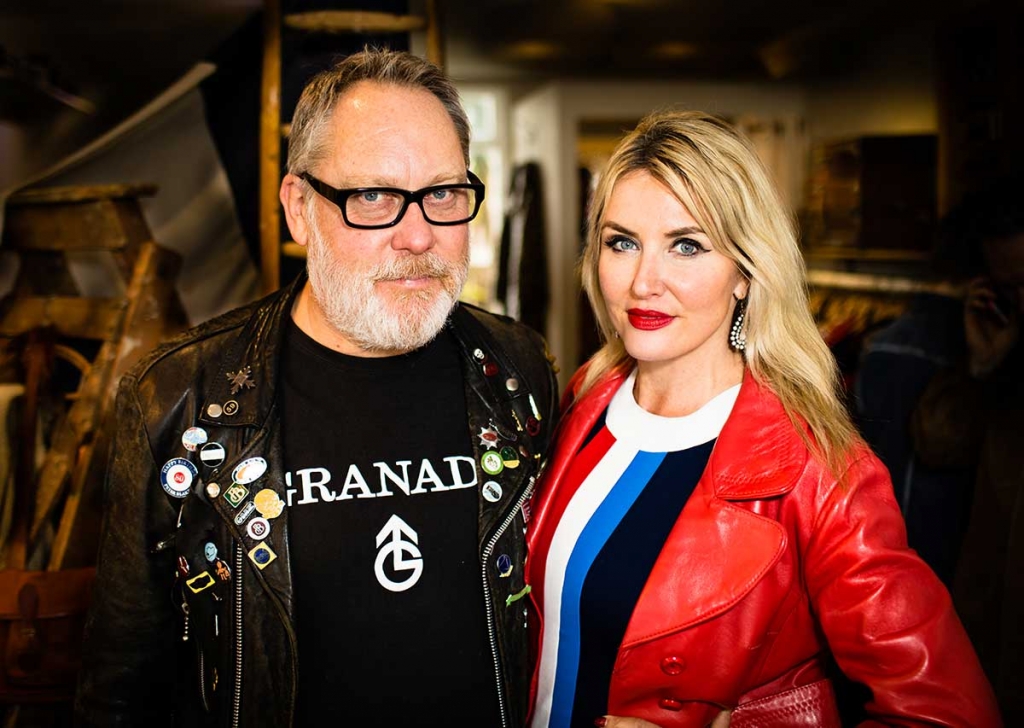 VR: Do you know the commonest bird in Britain?
TP: No.
VR: Katie Price. She's not easily discouraged. Once you get her into your garden it's hard to get rid of her. But in all seriousness, the formation flight of starlings is second to none. Other than the Red Arrows.
TP: Whereas the sparrow is disappearing.
VR: Overtaken by buzzards.
TP: What's the collective noun for buzzards? Is it a Leighton? Anyway, it's your turn for a question, Jim. I tell you what you don't see here, but you do in the north – a curlew.
VR: [does a perfect impression of a curlew's whistle]. I love a curlew. Tony – is it alright if I call you Tony? – Do you prefer a bird with a downwardly curved beak, like a curlew, or an upwardly curved beak?
TP: I must admit I'm much happier with the traditional flat beak. A Redshank or a Mallard.
VR: That's more of a bill. I prefer the long slender Redshank's bill. Last week I got some Blakeys, or segs to put on my boots. You can only get them on to leather soles. I've noticed that with the amount of rubber soles these days, it's very difficult to get Blakeys on them.
TP: Apparently the whole segs industry is on its knees.
VR: When I was at school, you'd put Blakeys on your shoes and when you got on your bike you'd cause sparks on the pedals.
TP: There was also a brief period in Sheffield, around 1974, when they released a kind of winklepicker with a brass fitment on the front, like a cowboy boot.
VR: That might be good with motorcycling. The other thing I used to do, when they invented fluorescent paint in 1971, was paint my brogues fluorescent orange, and put segs on them, so you they were luminous. You could see them in the dark.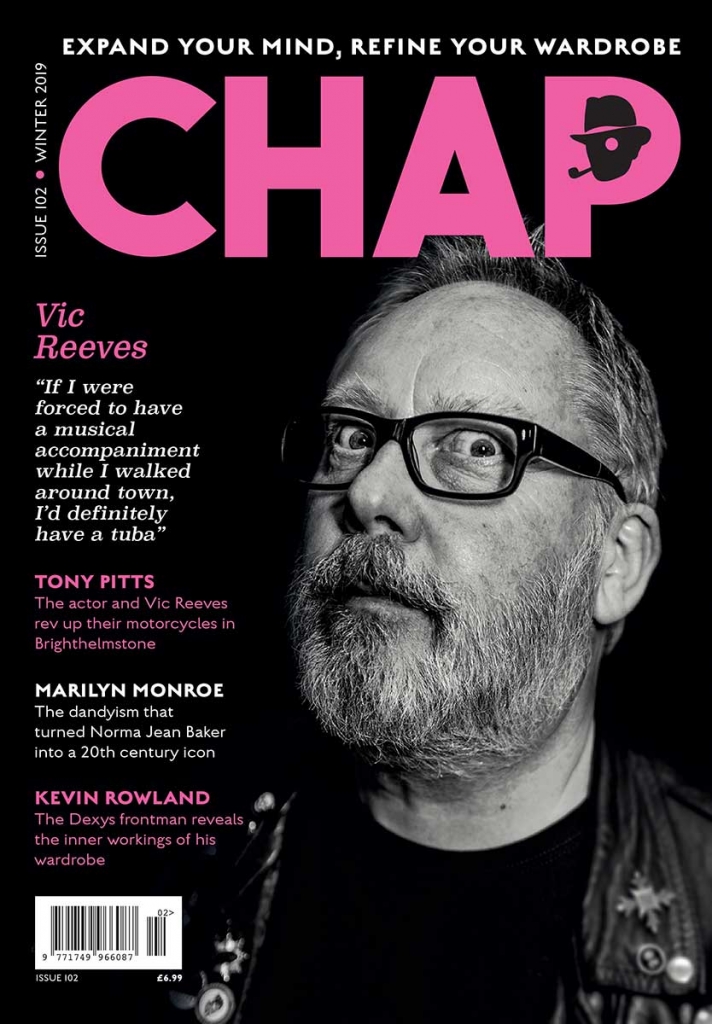 Read the full interview in Chap Winter 19