Gustav Temple pays a visit to the Barbadillo Bodegas in Sanlúcar de Barrameda, to settle once and for all what the difference is between Fino and Manzanilla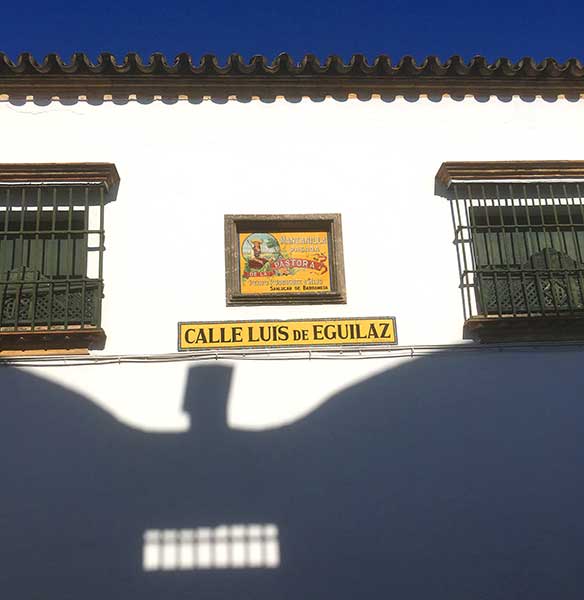 You can smell the bodegas before you see them; the scent of sherry in all its forms wafts about Sanlúcar de Barrameda, a small town on the coast of the Cadiz province, as you wander down from the railway station, becoming stronger as you reach the Barrio Alto. I was shown around the Barbadillo bodegas by Tim Holt, a dapper British expatriate dressed like an Andalucian señorito: blue blazer, crisp unbuttoned pink shirt and grey chinos. We started in Benigno Barbadillo's original office, now more of a museum, its principal exhibit a bottle of Versos 1891, an amontillado from a single cask which was dedicated on that year for Manuel Barbadillo, so valuable that no-one is even allowed to touch it, never mind take a swig from it.
I was led into cellar after cellar, all brimming with barrels of the finest sherry in the land. The most impressive is the last one we visit, a vast cathedral of a cellar, its walls spotted with enough black damp marks to give a British builder a heart attack. This style of cellar is indeed known as a 'cathedral cellar' and the damp, Mr. Holt informs, me, is actively encouraged. Various barrels are dipped into with a wooden ladle for a quick sample of the contents. We start with Barbadillo's famed Solear Manzanilla, the most perfect iteration of this Andalucian staple, at the driest end of the sherry spectrum.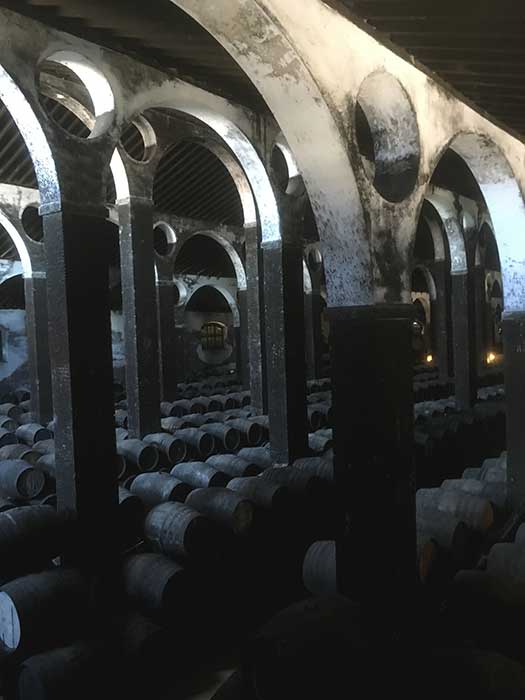 People often ask what is the difference between Fino and Manzanilla, as they taste very similar, and the answer, Mr. Holt informs me, is simply the sea. Fino is produced inland at Jerez, while Manzanilla comes from the coastal Sanlúcar. The grape growing season in Sanlucar is right throughout the year, whereas in Jerez it's only autumn and spring. The final destination on our extensive tour was a large sampling room with vast windows looking out over the Golfo de Cadiz, whose crisp easterly breeze dapples the maturing Manzanilla with its essence. I took a photograph of this wind (above), purely because it seemed somehow poetic to photograph a breeze. Luckily the climate in this area is pretty constant; any dramatic change in temperature would have adverse effects on the precious barrels and the levels of damp might actually start to cause heart attacks among the staff.
Before witnessing the wind that shakes the barrels, I was taken to the dark heart of sherry production, into a special chamber designed purely for demonstration. Here, one barrel has been fitted with a glass front, so that visitors can see the fermentation process in action. Sherry is an unoxidised wine, its flavour emanating from a gathering of bacteria on the surface of the liquid known as 'flor'. There was something quite magical about this dark cellar with its glowing orange barrel, something like finding the sun in a burial chamber.
"The flor grows more thickly here in Sanlúcar than anywhere else in the sherry district, because of the humidity and temperature never getting too cold or too hot. Because flor is constantly growing, it's also constantly dying, so you can see the dead flor collected on the bottom of the barrel, which has to be drained out every so often. Flor is a strain of yeast called Saccharomyces beticus, essentially fighting for survival on the surface of the wine. And that actively takes out any oxygen from the liquid and prevents oxidisation. Ordinary wine is in a cask with air infiltrating through the wood, which makes it darken and oxidise. With flor, any oxygen dissolved is taken up by the yeast rather than oxidising the wine."
As well as all the varieties of sherry, from Manzanilla through to Amontillado and Oloroso, culminating in the extraordinarily dark and sweet Pedro Ximenez (described by Olly Smith in this publication as 'a cross between a mince pie and Edvard Munch's The Scream) Barbadillo also produces other wines. They have a signature white wine, Castillo de San Diego, a range of red wines, brandies, and have recently relaunched Ataman, a vermouth created by Barbadillo in the 1940s, with a logo straight out of a Spanish Civil War poster. The new version, based on the original recipe, uses absinthe, quassia tree bark, rosemary, Seville orange and elderberry on a base of Manzanilla sherry, with some of the original blends, held in barrels for over 50 years, added to the bottling. I left Bodegas Barbadillo with my clothes slightly smelling of flor, a belly full of sherry and a much more forgiving attitude towards damp patches on walls.