With the passing of Diana Rigg, Sunday Swift reflects on her most iconic role, Emma Peel in The Avengers, ahead of a full tribute to the actress in our next edition
The female dandy, AKA the cointrelle, quaintrelle, dandizette, lioness, peahen, chapette or dandyess, receives less attention than her male counterpart. Many words have been written about the immaculate dandyism of Patrick Macnee in The Avengers. With the passing of Diana Rigg, we turn our attention to Steed's partner Emma Peel and her impeccable fashion sense.  
Steed's controlled, sharp, traditional Edwardian-inspired dandyism seems, in many ways, strikingly contrary to his fluid and lighter mod female counterpart. Emma Peel is, like actress Diana Rigg, cultured, playful, poised, elegant, intelligent and confident. With the panache and humour straight out of an Ouida novel, Peel is an immortal figure who serves as a perfect counterpoint to Steed's more traditional dandyism.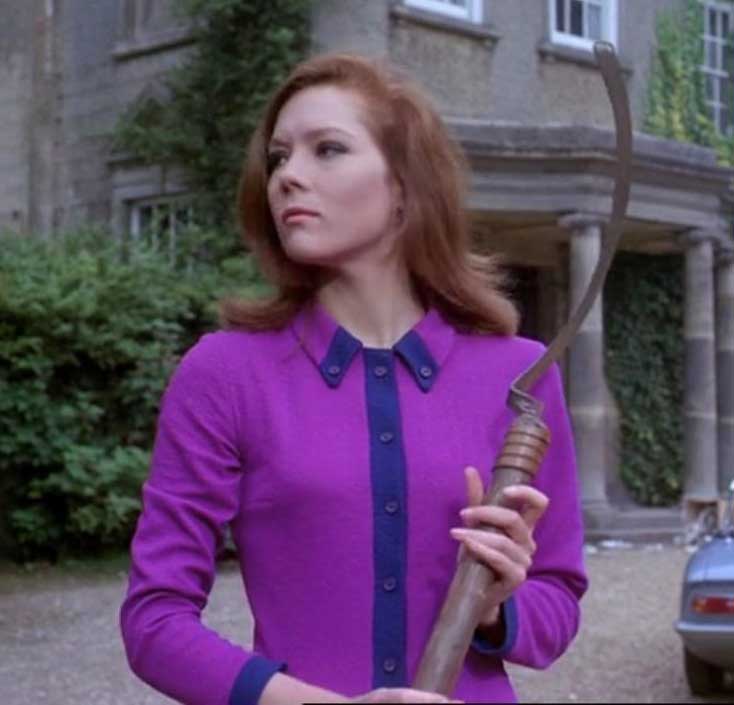 What makes Emma Peel particularly interesting is that she constantly shifts between each type of female dandy, as outlined in issue 60 of The Chap: Femme Fatale, sleek and seductive; Heiress, born with more money than sense; Fashion Maven, an independent fashionista; Sapphic, a more androgynous figure; and Lady of Action, dressed to kill.
In an interview with The Telegraph, Diana Rigg said, "Once a critic wrote, 'Diana Rigg is built like a brick basilica with too few flying buttresses.' Do you think that's fair?"
Of course it isn't. Rigg's boyish figure was, in fact, one of the reasons she was chosen to replace Elizabeth Shepherd in The Avengers as Emma Peel. According to Peter Graham Scott, "For a hermaphrodite part like Emma Peel, where you really needed to look like a boy scout, if only from the waist downwards, [Sheppard] wasn't right. The girl needed to be fleet and fast and determined". Just like her dandy partner Steed, Rigg's Peel represented what Patrick Macnee referred to as a 'delicious androgyny'. Rigg – and, in turn, her character, Emma Peel – had a blend of the masculine and feminine about her.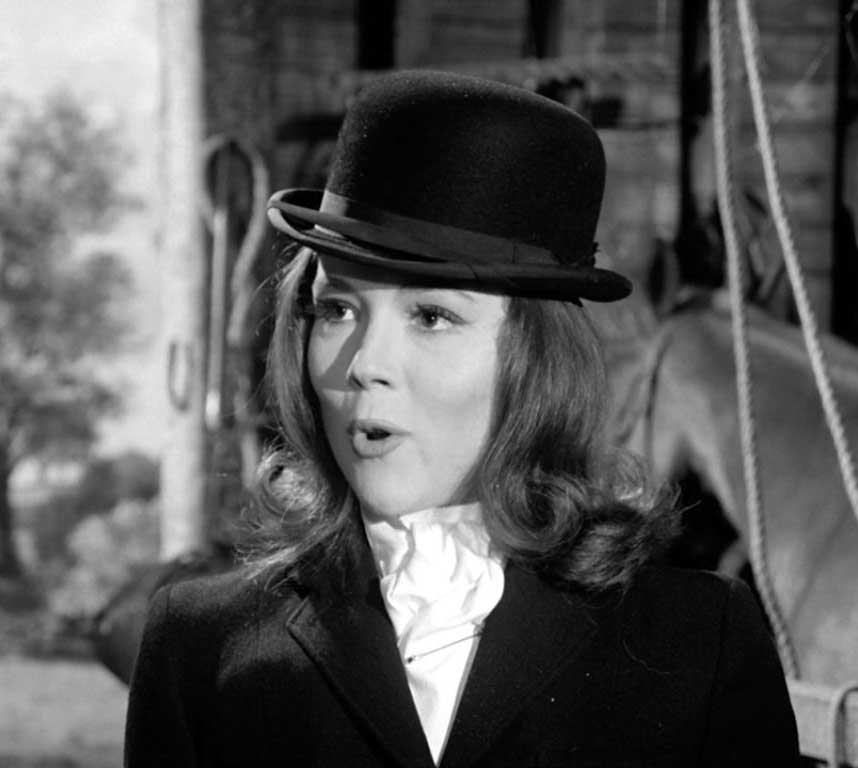 Crucial to Emma Peel's character are, of course, her outfits. In the monochrome era, designer John Bates designed her attire specifically around Rigg's physique and personality. Rigg herself proved to be something of a fashionista, even modelling for Bates in 1975, saying, "When I want something sexier, and more languorous, it's straight to John Bates". Commonly, particularly in the Bates era, Peel favoured the Heiress Dandyism. Taking a leaf from Jackie O (another spectacular dandizette), Peel mixed an aristocratic, professional conservatism with a youthful, kinky playfulness. Peter Pan collars, frilly tops with pencil skirts were common, and tweed peppered her wardrobe (usually accompanied with the famous miniskirt, set 10 inches above the knee). The Heiress image changed when Hughes took over: the monochrome wools and tweed were generally abandoned in favour of block pastel and neutral colours. A-lines were favoured, as were large collars, stretch trousers and skivvies.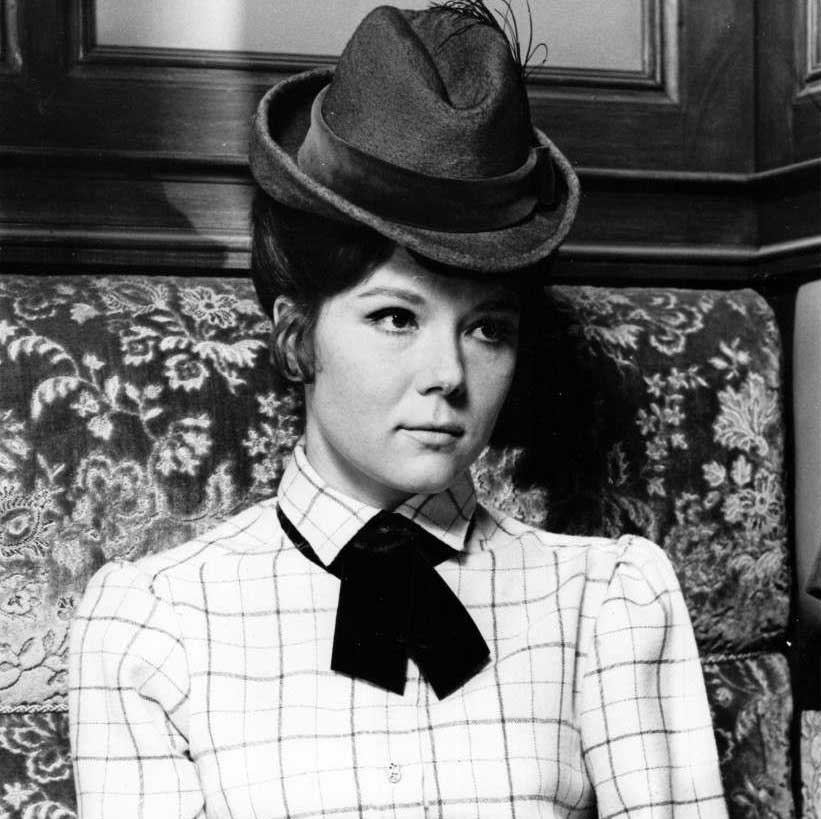 The Fashion Maven element for Peel, also more prominent in the Bates era, tended towards leopard-skin print, or contrasting black-and-white Chemin coats with stripes. A wide stole ball gown in Honey for the Prince is, perhaps, her most Maven outfit, particularly as she eccentrically accessorises this with a teddy bear. In the Hughes era, the furs were generally abandoned for more flowing long chiffon, silk embroidered dresses, and Chinese silk print Palazzo trousers, as seen in The Joker. Each of these outfits emphasised a femininity and lightness of touch.
The lightness, however, was often anchored when Peel took on the role of the Femme Fatale, presenting a seductive and even exotic image. She stops the room when she walks in dressed as the Queen of Sin in the infamous episode A Touch of Brimstone, banned in America for a whipping scene. Dressed in a boned corset, fishnet stockings, a spiked collar, and knee-length laced boots. The outfit, designed by Diana Rigg herself, includes a snake wrapping itself around her.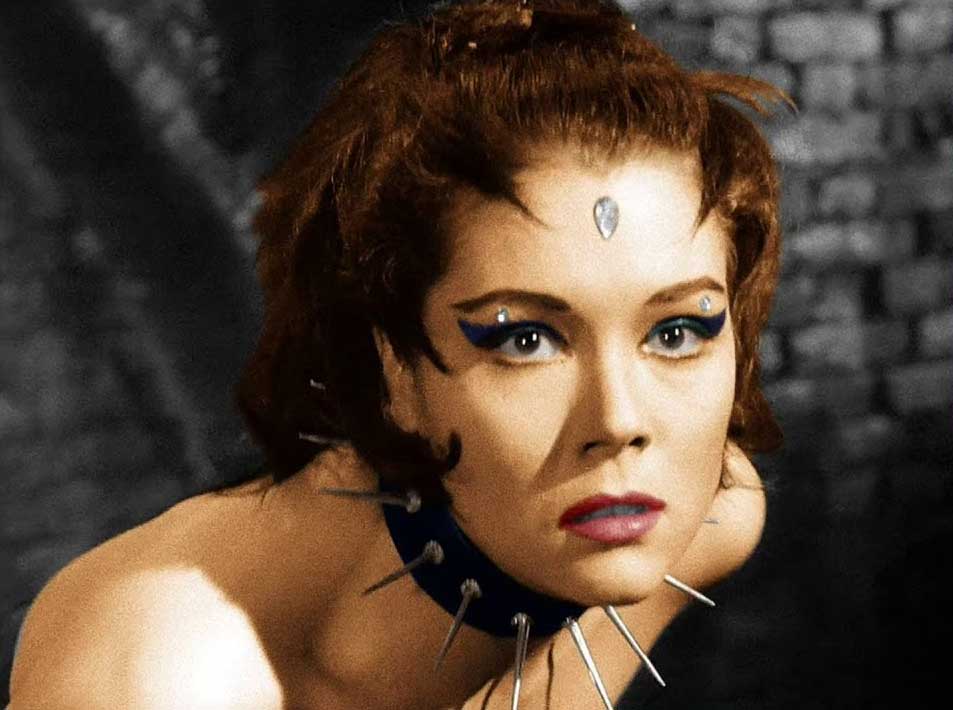 As feminine as Peel could be, she had strong Sapphic tendencies – she's seen, for example, not just once but twice with a moustache, in 'Silent Dust' and 'Dead Man's Treasure'. Overtly masculine-style hunting kit, as seen in 'Two's a Crowd' is not uncommon, often complete with cravats and short top hats or boaters. Emma loved her hats, often sweeping all her hair up in a chauffer's cap or a wide brimmed Gatsby. Military button shirts and corduroy jackets and overalls served to box her slender figure rather than reveal it – androgynous but never butch. Only Emma Peel could ever look quite so fetching in a dress and a moustache.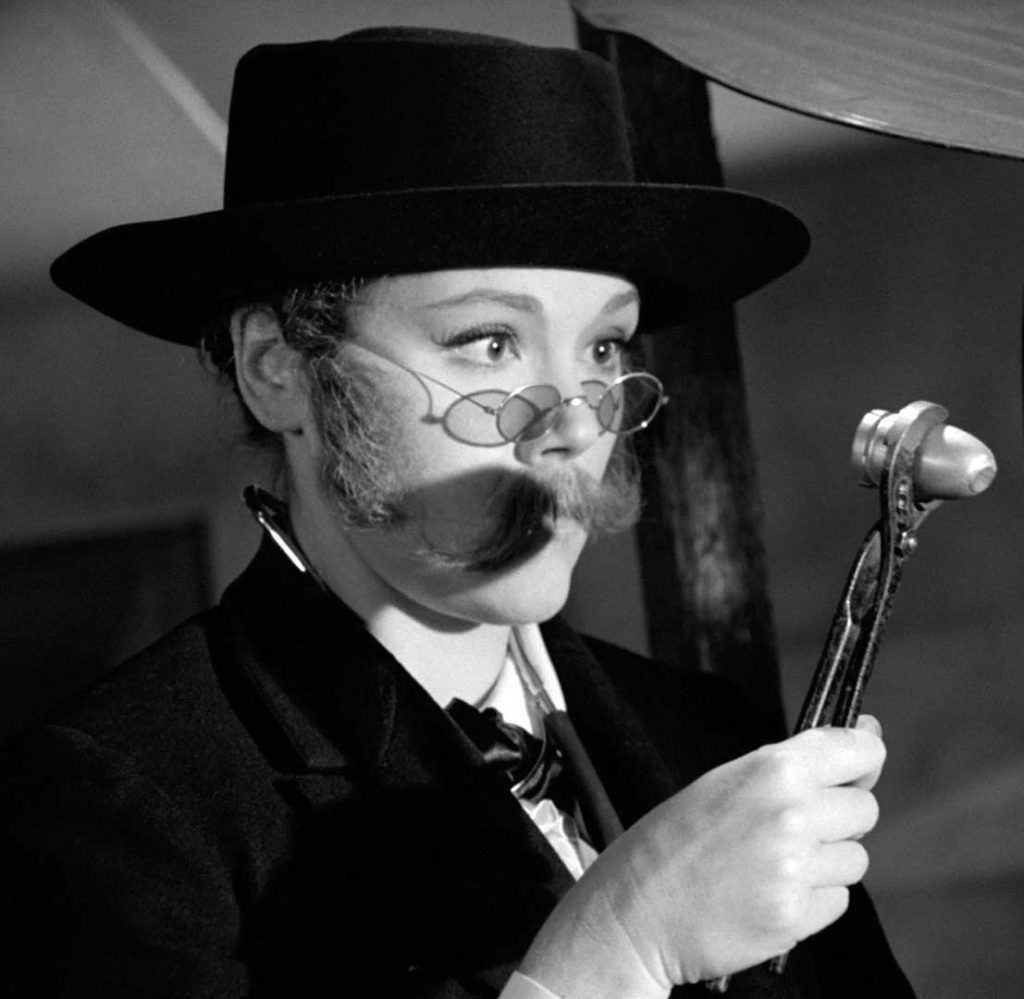 Like Cathy Gale, Peel's outfits were built for action. Bates designed some particularly striking leather or PVC suits, but it is the EmmaPeelers from Hughes that made the lasting impression. Stretchy, loose-fit and two-tone (blue and mustard, cranberry and mustard, blue and pink, etc), these catsuits had an elastic strap at the bottom to hook under the heel (in the style of Beau Brummell) under matching flat boots. Similar in style but tighter in fit were the nylon stretch form-fitting catsuits, with cutout holes at the waist, usually accompanied with a fob watch and thick chain across the mid-waist.
Even the characters in the programme notice Emma Peel's ability to navigate expectations as a dandy. In Epic, a madman who has kidnapped Peel explains, "I needed a woman like you, Mrs Peel, a woman of courage, of beauty, of action, a woman who could become desperate and yet remain strong; a woman who could become confused and yet remain intelligent, who could fight back and yet remain feminine. You, and only you, Emma Peel, have all these qualifications."
RIP Diana Rigg, 20th July 1938–10th September 2020