Juliette Greco was the rebel dandizette, new bohemian icon and existentialist chanteuse of post-war Paris, says Sunday Swift
If you were looking for one figure that exemplified the existentialist movement, in her music, her aesthetics and her rebellious persona, it would be Juliette Gréco. A 1960 article in Life magazine declared Gréco as the "soul of post-war Paris" and she went on to perform and record for over 70 years.
"I don't take orders well and I'm not very obedient," Juliette Gréco said in a 1999 interview for The Guardian. She belongs in a new category of dandy, setting her apart from our previous female dandies: the Rebel Dandizette. French philosopher Albert Camus, who wrote on rebellion and Dandyism in his 1951 book, The Rebel, argued that "Romanticism demonstrates, in fact, that rebellion is part and parcel of dandyism; one of its objectives is outward appearance. In its conventional forms, dandyism admits a nostalgia for ethics." Gréco was friends with both Camus and Sartre, meeting them in Cafe Laurent in Paris, a smoke-filled dive in the Rue Dauphine. But to understand why Gréco and the existentialists were considered rebellious within post-war France, we need to backtrack to Gréco's earlier life.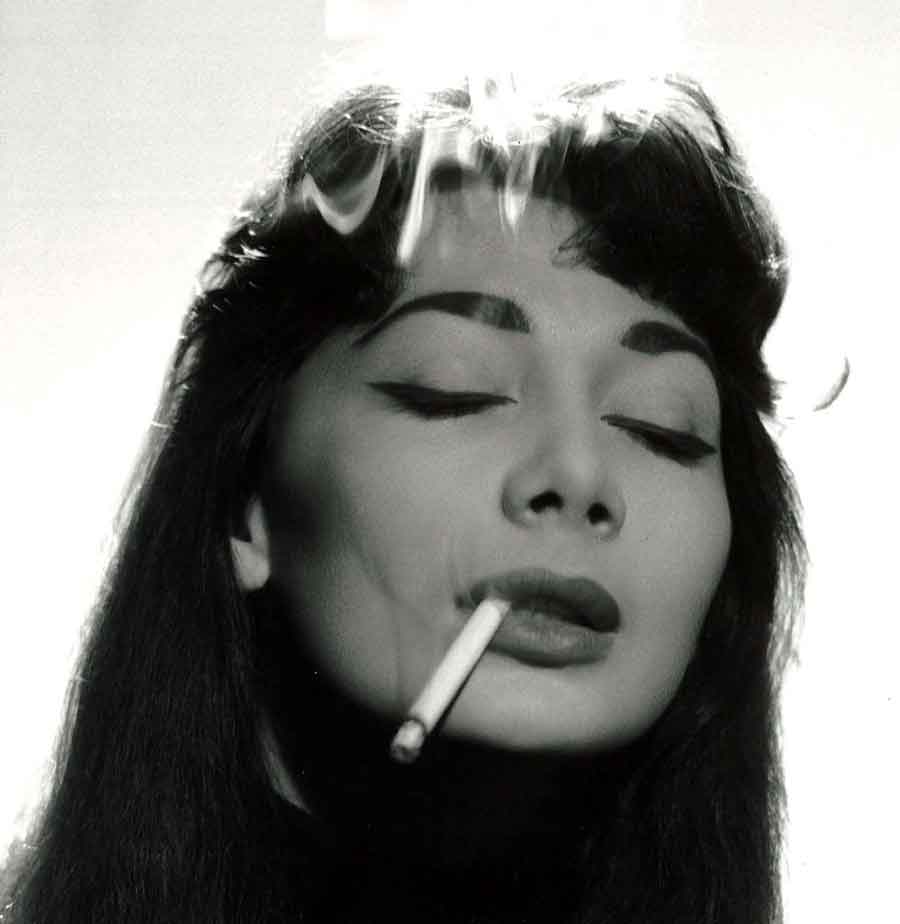 Moving to Paris with her mother and her sister in 1933 from Bordeaux, Juliette had a passion for dance and trained at the Paris Opera. This happy life was cut short with the outbreak of the Second World War. Her mother would become a member of the Résistance in Southern France. In 1943 the Gestapo arrested Juliette (aged 15), and she remained imprisoned in occupied Paris for a year. This was when her rebellious spirit surfaced: "My sister and mother were already in Ravensbrück concentration camp," Gréco said in a later interview. "This French Gestapo officer humiliated me, I became so upset I punched him on the nose. Well, that cost me some disagreements!"
After being released aged 16, Gréco didn't speak for a year: "I felt talking was useless and dangerous. I had to relearn talking by listening." She was taken in by a former teacher, until her mother and sister were released from Ravensbrück after the liberation of Paris in August 1944. Life in post-war Paris was difficult and food was scarce on the Left Bank, but the young Juliette valued the freedom they had finally obtained. This was when she became more involved with the existentialist movement.
Pablo Picasso declared to Gréco that "You moonbathe while others sunbathe." Her style came to define the existentialist aesthetic. Her shoulder-length dark hair and square fringe framed her striking face. She wore no makeup except kohl eyeliner, and mostly wore black pedal pushers and black polo necks and occasionally, black dresses. All black may be a trademark of French street fashion these days, but that's because of Gréco and her followers. As Sabine Von Dirke writes, "As existentialism broke out in Paris, the dark clothing broke the prescribed dress code and distinguished them from the nondescript majority culture".  However, like the best Dandies, Gréco is much more than her aesthetic. It was Sartre who suggested she start singing, co-writing a song for her with Joseph Kosma, Rue des Blancs-Manteaux. "It is like a warm light that revives the embers inside all of us," Sartre said of her voice. "It is thanks to her, and for her, that I have written songs. In her mouth, my words become precious stones."
Her singing debut at Le Boeuf sur Le Toit nightclub was a sensation, with Marlon Brando among the audience, while Eartha Kitt was performing around the corner at Carroll's. Post-war Paris was steel reeling from the occupation, and the voices of Kitt and Gréco were helping it heal. For Juliette, singing was both a rebellion against the chaos of life and a display of freedom and hope for a new life. "It was a happy time," Gréco said, "an explosion of freedom after the German occupation."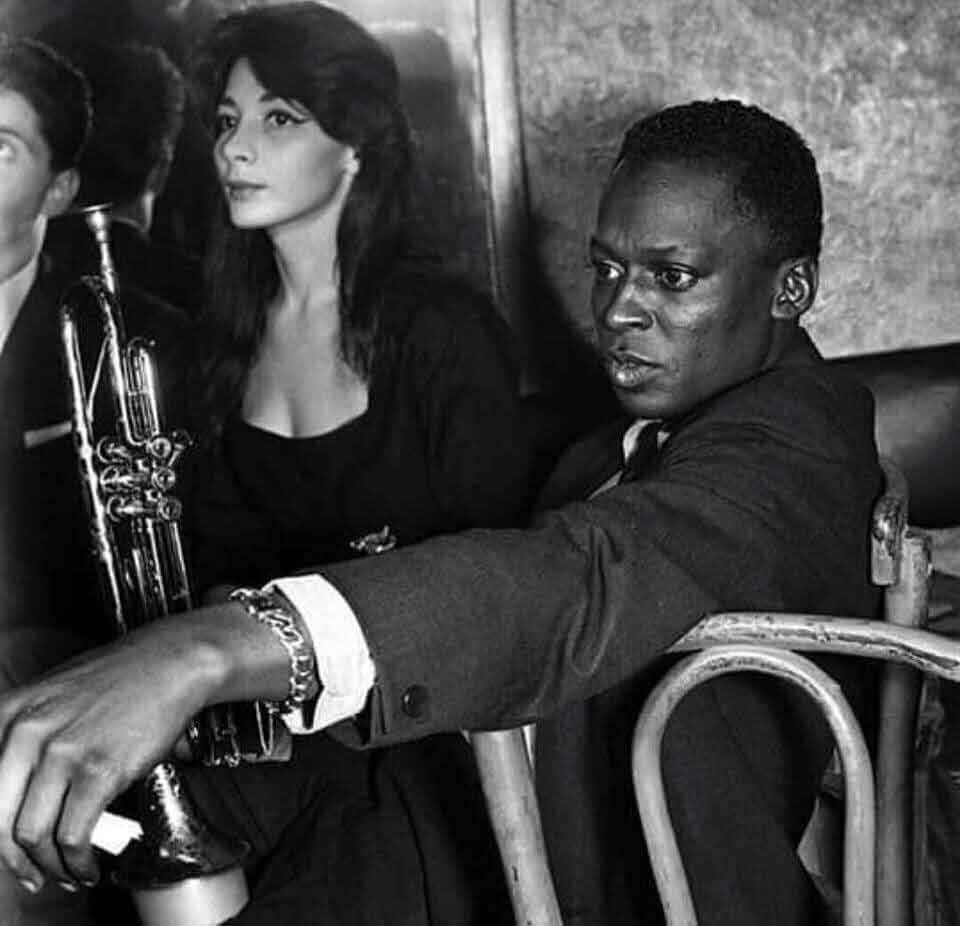 When she was 22, Gréco met the legendary jazz player Miles Davis. Despite the fact that Davis spoke no French, and she spoke no English, theirs was a passionate on-and-off love affair that would last until Davis's death in 1991. She said that Davis was "one of the most elegant men I have ever met." Sartre once asked Miles Davis why they didn't marry, and Davis replied that he "loved Juliette too much to make her unhappy." Gréco described the abuse she and Davis received in America: "In America his colour was made blatantly obvious to me, whereas in Paris I didn't even notice that he was black." Concerned that Gréco's career would be destroyed, they remained close – but not as close as they both wanted to be. 1949 America just wasn't ready for a black man and a white woman to be together.
And so Gréco moved on. In 1953 she met and married her first husband, Phillipe Lemaire. They had a daughter a year later and divorced in 1956. In the late 1950s, she had a brief Hollywood career (and romantic relationship) with American film director Darryl F. Zanuck. She starred alongside Orson Welles in Roots of Heaven (1958)and Crack in the Mirror (1960).She was offered a seven-year contract in Hollywood, but she declined. During this time, she also met and married French actor Michel Piccoli.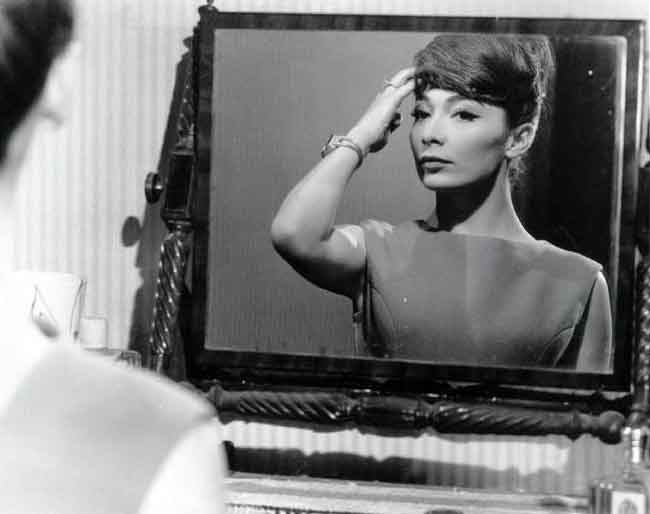 As it happened, neither Hollywood nor Piccoli were right for her, so she left Hollywood to return to France. Much of the 1950s had been focused on a film career, and so Juliette returned to her singing career in the 1960s. She released a new album at the age of 86, and didn't stop performing until her farewell tour in 2016. Like so many Dandies, Gréco's final bow off the stage lived up to the old adage: leave them wanting more. "I am not afraid of dying," she said, "I'm only afraid of having to stop singing. But you have to know when something is over.
As a husky-voiced chanteuse and actress clad in black, the politically active anti-war face of the New Bohemian, who laughed and closed the door when Hollywood came calling for her, Gréco defied conformity. In The Rebel, Camus wrote that one should "Become so very free that your whole existence is an act of rebellion." As the Rebel Dandy, Gréco defies definition. Like her famous song, Je Suis Comme Je Suis says, "I am what I am". In an interview, Gréco said, "I think I could fly with only one wing – and that will be the left one."
RIP Juliette Gréco, 7th February 1927-23rd September 2020