Minerva Miller discusses practical glamour and the lost art of mending with this year's Sewing Bee Champion and vintage enthusiast Clare Bradley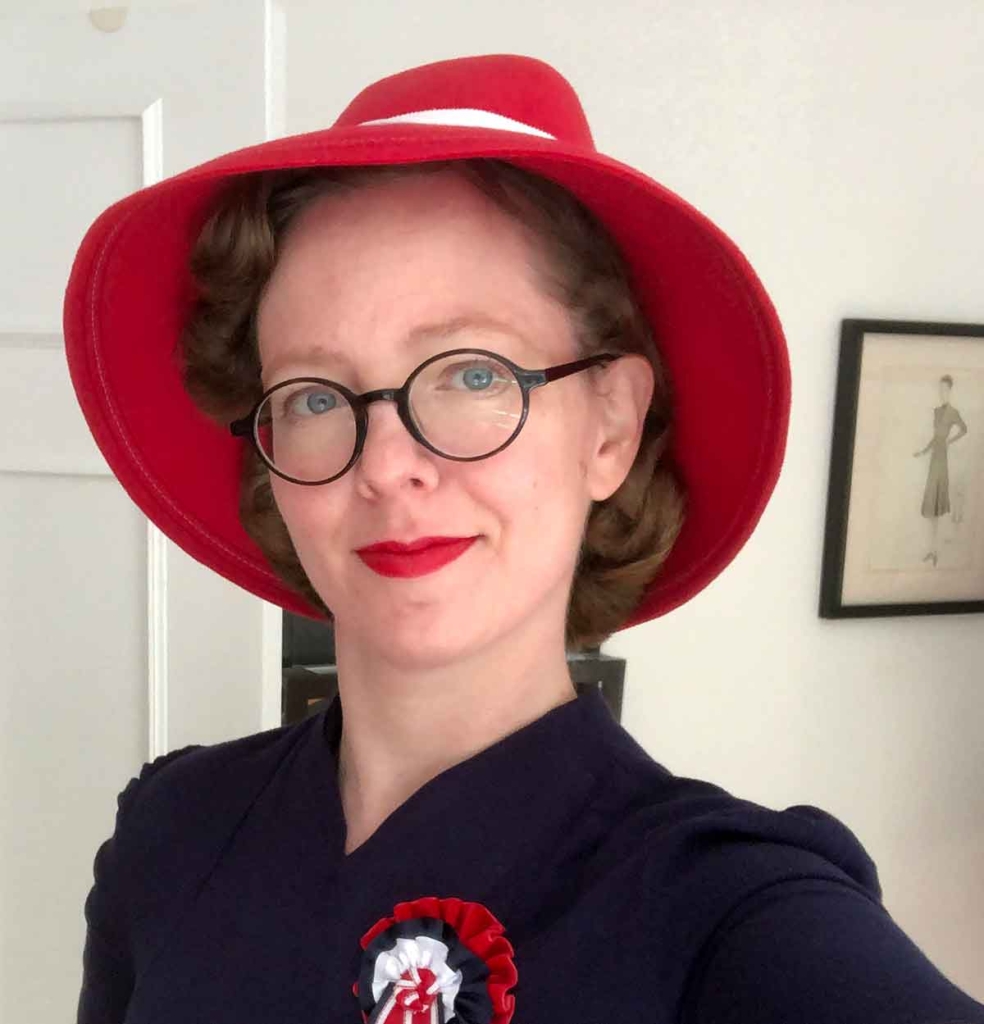 While watching the first episode of the 2020 series of The Great British Sewing Bee last April, one of the contestants immediately stood out: wearing a vintage inspired dress, she expressed her enjoyment of 'vintage events' at which there was 'lots of gin'. This was Clare Bradley from Winchester, whose accurate sewing skills, consistency and creativity eventually led her to win the competition. Clare's plucky cheerfulness and steely determination (think a combination of Celia Johnson and Jane Marple wielding a sewing machine) matched her forties-inspired wardrobe. Her success is even more remarkable when set against the demands of her profession. Clare is a Respiratory Hospital Consultant and spent much of this year at the sharp end of the Covid-19 pandemic. She spoke to Minerva Miller about her passion for sewing.
Apart from your sewing skills, the thing that really marked you out on screen was your vintage aesthetic, not only in your appearance but the clothes you obviously enjoy making – what drew you to it?
On a very basic level, clothing from the 1940s is just the right shape for my figure. I make them, they fit me, and I don't have to 'footle' about with them. Secondly, I like the way they combine practicality without looking scruffy. They look smart, but feminine, not shapeless – so today I am wearing my dungarees; I can hike and cycle in them, but they still look, I think, stylish – I don't look as if I am wearing men's clothing.
Vintage inspired dress can prompt interesting reactions, I've been on a bus in London with people in fetish wear, with brandings and piercings. I'm wearing a tea dress; saddle shoes and red lipstick and I am the one who is stared at!
[laughs]: In Hampshire if I get stared at it's probably because there is no one else 'slightly odd looking' around. I think people also think it takes a vast amount of effort, but most of the time it doesn't. It does sometimes fascinate people; they say 'are you in a film?' and you reply, 'Well, no!' – it's as if they think you have escaped from a film set and decided to run around town for the afternoon for the sake of it. I think the only problem you do get with people is when they associate your clothes with old-fashioned ideas, that they feel you have this 'little housewifey' attitude to the world.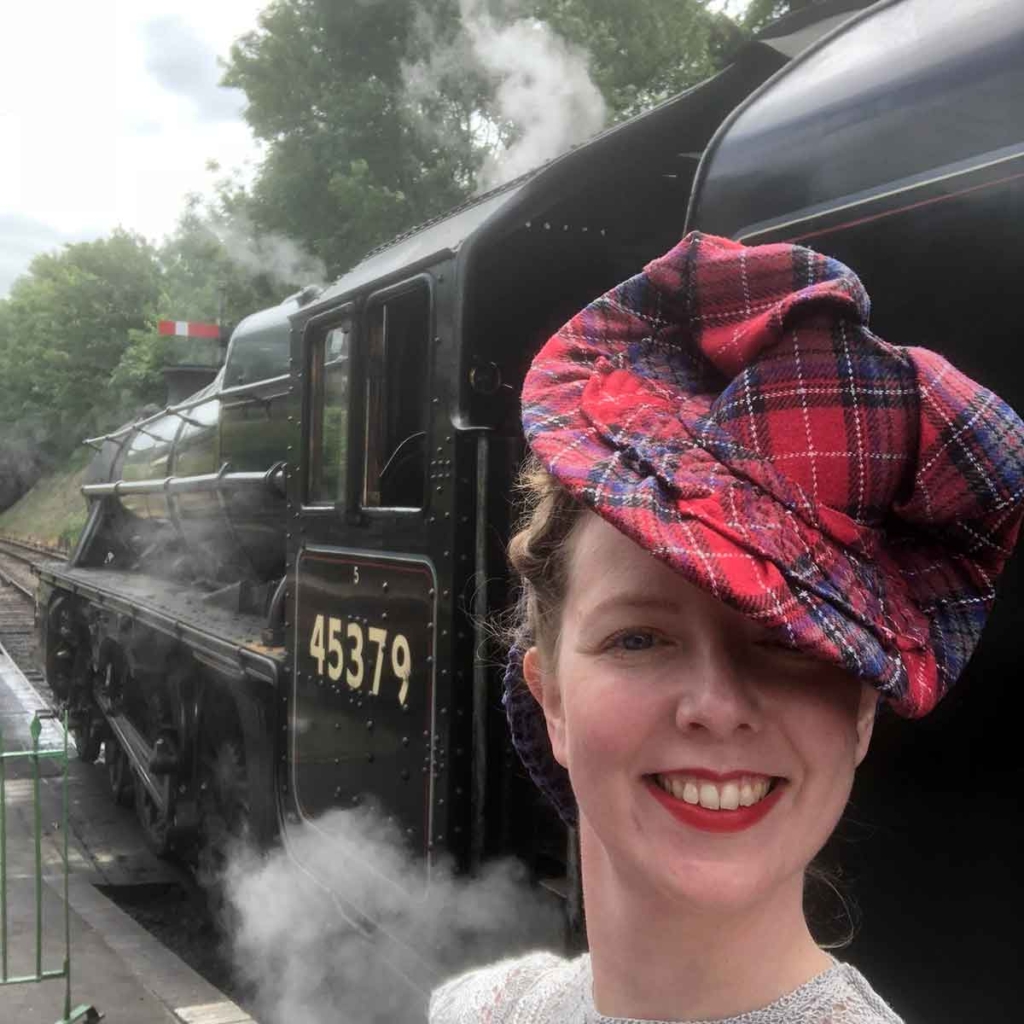 What do you think when you encounter that attitude?
I think the first thing I'd say is that they are just clothes. The second thing I'd say is that the 20th century was one of the most visionary times for thinking in human history; while there was racism and sexism, there were also women getting the vote and into the workplace, and it was also at least the beginning of moves towards anti-racism, and it was also a revolutionary period: I think the style of 'Rosie the Riveter' symbolises a bid for freedom.
I've heard you describe your style as 'Vintoid'?
Well, I don't wear genuinely vintage clothing, it's 'vintoid' or 'vintage-ish' and although I prefer forties style, I wear all kinds of clothes, including occasionally turning up to work in technical hiking boots!
One thing that cannot be accused of being anachronistic is a concern about sustainability. You took on a World War II 'Ration Challenge' where you limited yourself to the same amount of clothing and garments that you could buy with a year's worth of ration coupons; are you still doing that?
Yup, I'm in my fourth year actually. I did it initially because it is more like a game, and less like an obligation. The longer I continue, the more I realise how important thinking about consumption is. Others had already done a similar thing though I did feel I had to adapt it slightly; in the original system, a big giant pair of 1940s knickers was two coupons; I decided my more modest modern pair of knickers would use just the one! It does stop me from just shopping and thinking 'Oooh pretty fabrics' and ending up with loads of stuff I am not going to wear. But it does also allow for impulse buys;  if you see something beautiful you can buy it.
One of the trickiest challenges on Sewing Bee is the unseen pattern challenge, in fact the whole experience of sewing on television in front of the viewing millions seems daunting – what made you apply?
I thought I might as well try and apply, otherwise I might always wonder if I would have done well, at least I could always say I'd had a go.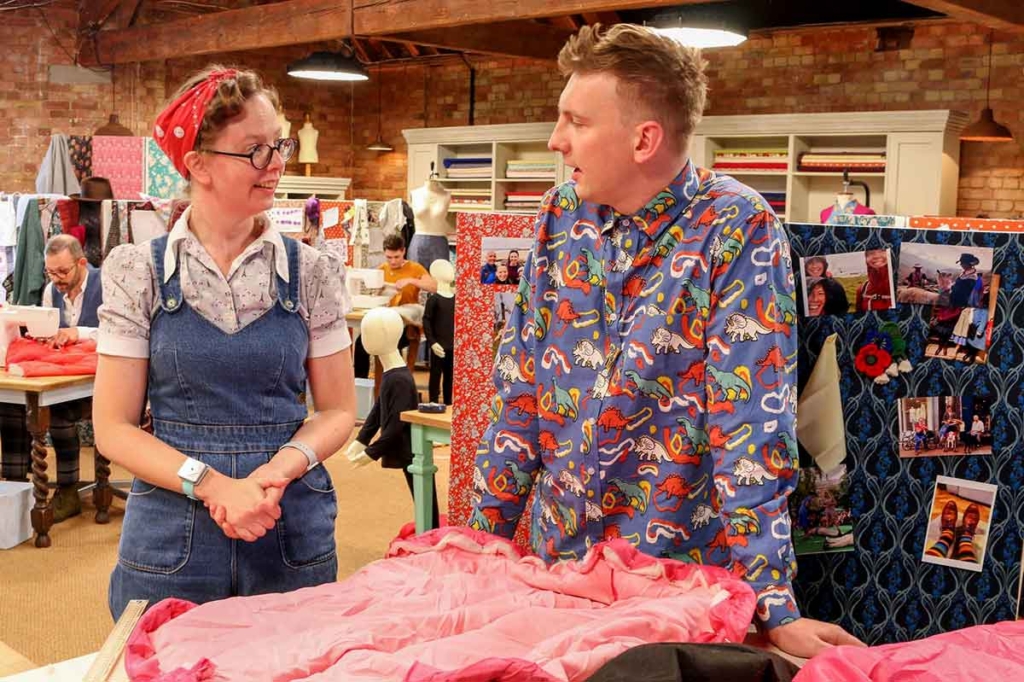 Is the application process difficult?
There are a few steps; they interview you, look at garments you've made, they watch you sewing so they know that what you show them is not something your granny made. They check that you are fine sewing with a camera right in your face: so, the people who are chosen are not necessarily the best technical sewers – but they are people who can sew, talk and perform under pressure.
Everyone does seems fairly calm for most of the show. You, for instance, would simply exclaim "Crikey!" or call the sewing machine "You beast" if things started to go wrong.
It's all good editing! I actually swear like a trooper, and there was a lot of 'non-swearing swearing' on screen but I have had to train myself out of doing it at work because of my profession. My patients are often awake or very lightly sedated, you can't go 'oh ****!' when there is a pool of blood on the floor. You really can't curse when you are carrying out a procedure, it terrifies the patients – you just have to go, 'oh well'. The only problem is that the 'special calm voice' I have developed might be a bit too calm; recently, during a minor emergency, I asked a nurse to go and fetch a colleague for me, and they fiddled about until I had to say, "Can you go and fetch them NOW please!". 
Many were inspired by the Sewing Bee to take up sewing during lockdown – what is your advice for someone who has just started?
I improved my skills by ignoring instructions that told me a pattern was for a certain kind of sewer, 'beginner' or 'intermediate', and to try things I had no experience of. I'd make them slowly and look up things I didn't understand up on the Internet. Nine times out of ten it works, maybe not perfectly, but you think 'Gosh, I've managed to make this complicated thing.' So often you see instructions for beginner sewers that say 'Make a wrap skirt' – but I don't want a wrap skirt, and I wouldn't wear one if I did make it. Start by making something you want, and if it works it will make you want to make more, whether that is a pair of wide legged trousers or a T-shirt.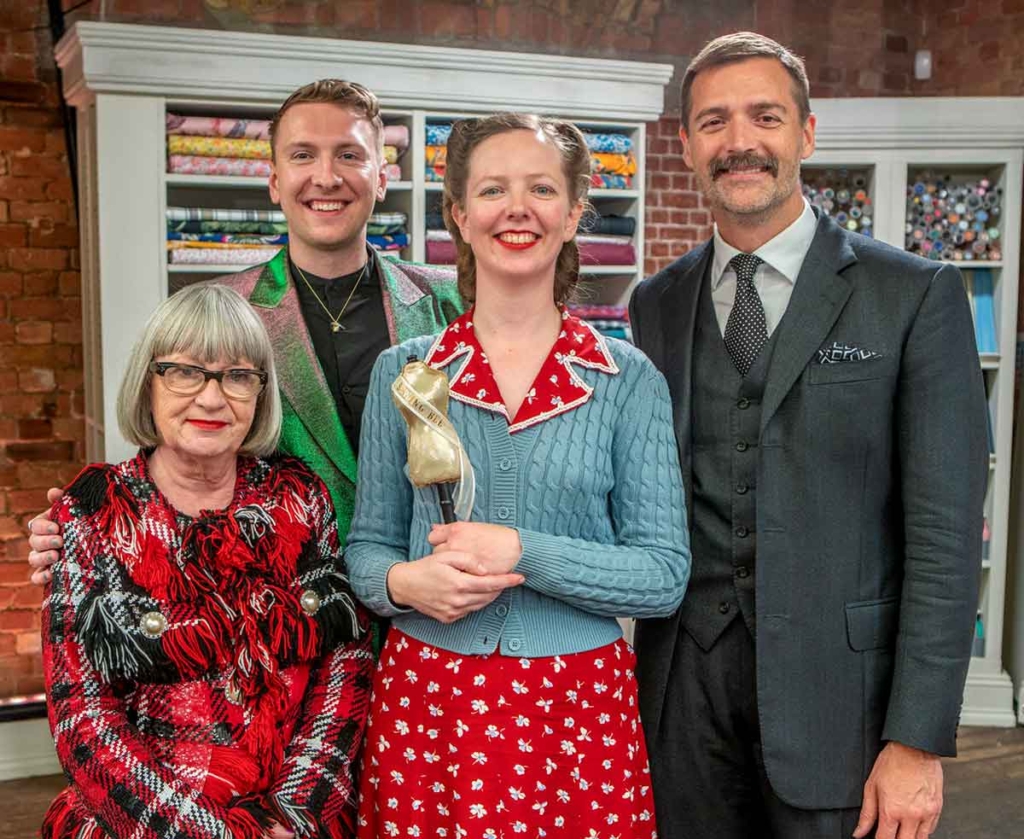 Sewing is something that we would traditionally learn from our parents, is there a risk of these skills being lost?
I don't think so, people need clothes so the need for professional sewing remains, and there will always be creative people who want to make things. What I think really does risk being lost is the thing that used to be the 'drudgery' part of womens' sewing: mending. It's not glamorous and you don't get a fancy garment at the end of it. No-one is going to celebrate you for a beautifully darned sock, and I think that is becoming a lost skill; perhaps one in ten people know how to darn a sock.
One of the best things about Sewing Bee is the diversity of the contestants, including men, but men are still a minority among home sewers.
Yes, I suspect about 95% of home sewers remain women. I think one reason is that in our culture there isn't the same emphasis on personal style for men, so if just you are just going to put on a pair of jeans and a shirt, why would you want to bother to make a fancy pair of jeans yourself?
I've been told by a tailor that things like shirts, scarves and waistcoats are within the capabilities of an advanced beginner or intermediate home sewer? Is there a lack of vintage inspired sewing patterns for men?
There may be, a male 1940's clothing enthusiast asked me about waistcoat patterns for men, I didn't really know of any, so I suggested he knit one!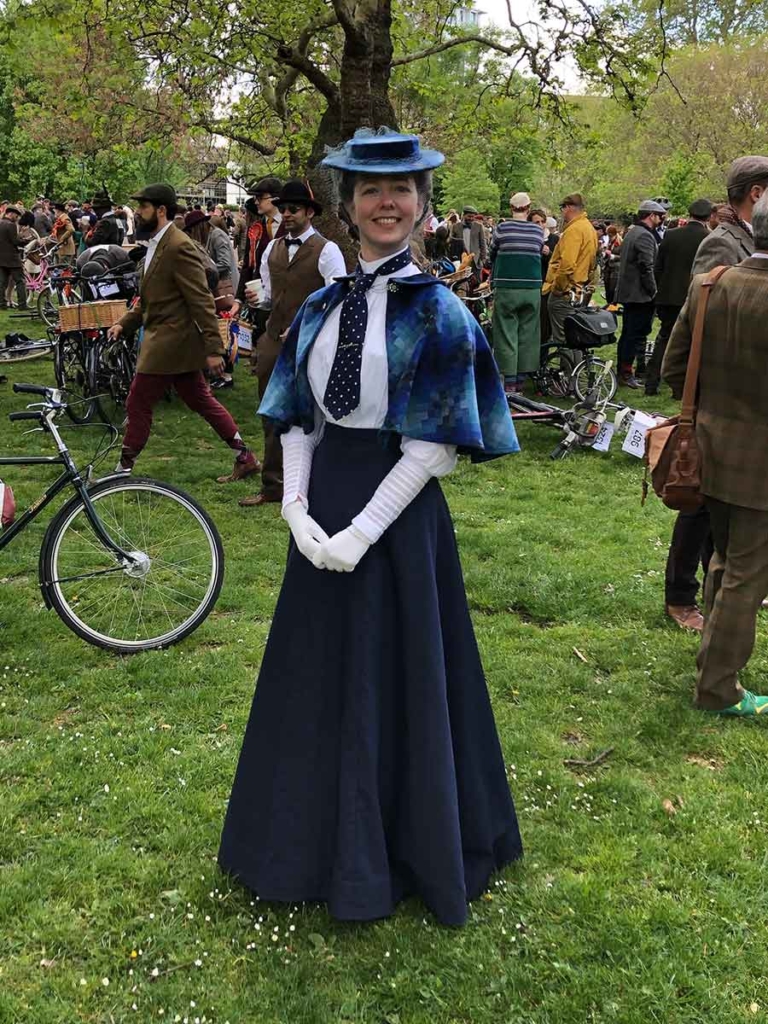 You once won the 'Most Dashing Dame' at the Tweed Run in Edwardian garb and are working on a Victorian outfit at the moment, tell me about that.
The day after the Sewing Bee finished we were all having a deserved lie-in and texting each other,  Liz Grylls, Sewing Bee quarter-finalist found an advert for a 'Victorian Ball'. She had Punk/Goth leanings and we talked about an outfit I had made for the Chap Olympiad a while back. We just thought, let's do it, let's make a full on complete Victorian outfit and go! I bought three tickets there and then. Unfortunately, due to the Covid 19 pandemic it was cancelled, which is just as well because so far, I have only managed to make my underwear, including a corset, so I would have been very underdressed.
What are you sewing at the moment?
I just finished a frilly Victorian petticoat this morning; I do need to do some mending, then I thought I'd make some pants out of old t-shirts!
Clare is on Instagram @clare.bradders