Gustav Temple recalls the actress who played Cathy Gale opposite John Steed in The Avengers and Pussy Galore in Goldfinger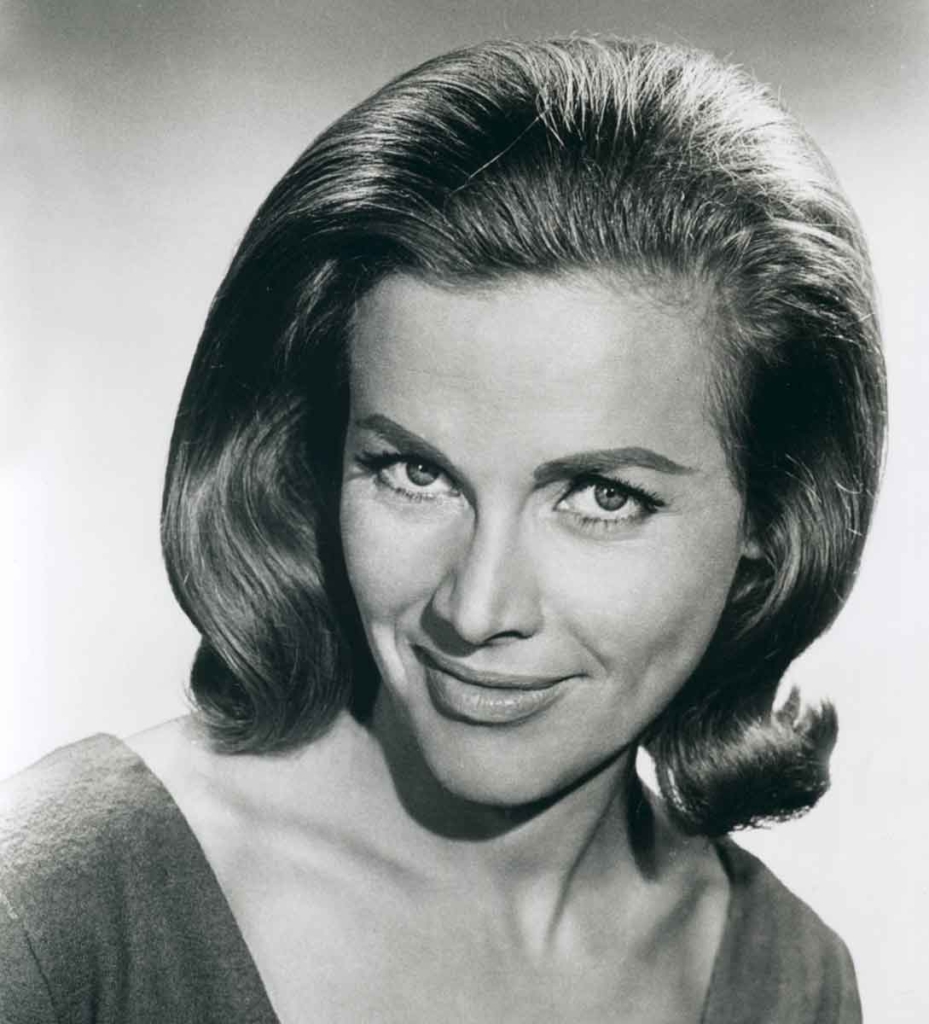 Honor Blackman's arrival on the set of The Avengers in 1962, with a pistol in her garter and a full programme of Judo training under her belt, had taken a lot of meetings, discussions, agonising and resistance from the top brass at ITV. When original leading man Ian Hendry left the series, a new sidekick for Patrick Macnee's John Steed was needed. It was producer Leonard White who suggested a female sidekick, backed up by series creator Sydney Newman, though according to Patrick Macnee, "ITV bosses shook their cynical heads".
The two men ignored channel resistance and forged ahead with developing the character of Cathy Gale. Newman was inspired by the tale of an expat lady in Kenya whose house had been besieged during the Mau Mau rebellion, and had fought off the attackers with a pistol in one hand and her baby in the other. Her husband and other children were slaughtered, while she and her baby survived. Other sources of inspiration for Cathy Gale were daring photographer Margaret Bourke-White and anthropologist Margaret Mead.
Cathy Gale was envisaged as a sanguine blonde with a combination of martial arts training, sophistication and high moral standards, a doctorate in anthropology and also handy with firearms. Persuading ITV bosses to accept this new character took many rows and persuasive meetings, and eventually they caved in. Sydney Newman's first choice was Nyree Dawn Porter, but when he returned from a holiday, he found to his surprise that Honor Blackman had been cast, to which he eventually agreed.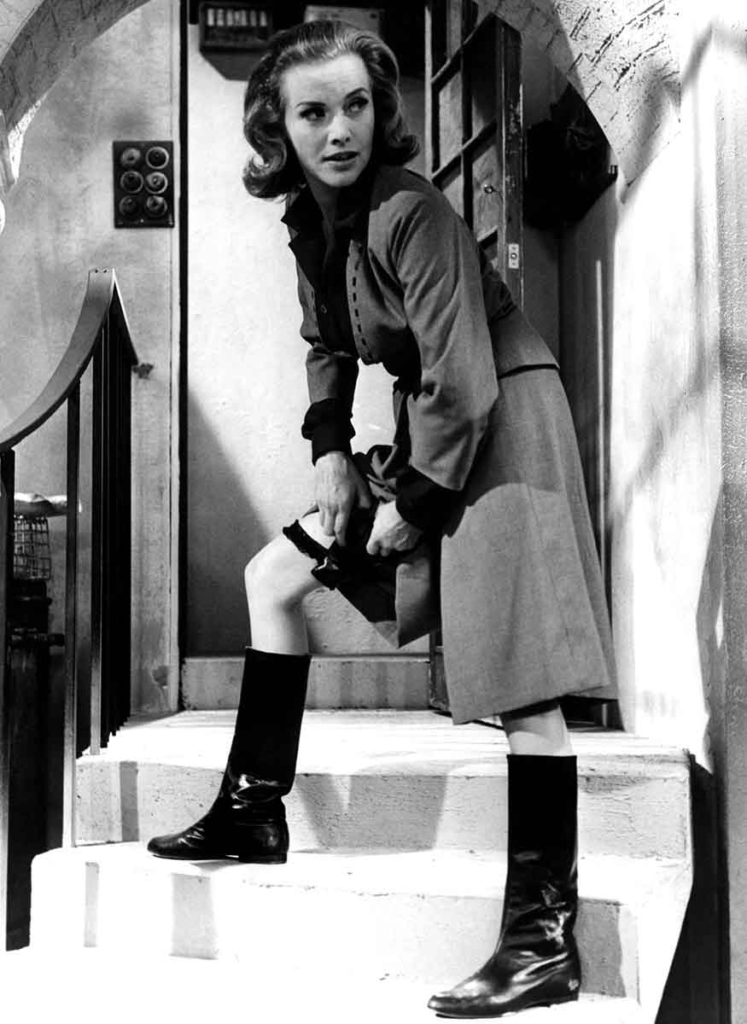 Next came Cathy Gale's wardrobe. Fashion designer Michael Whittaker dressed her in knee-length boots, floppy hats and svelte suits, with a pistol in her handbag. Honor Blackman recalled, "Practically every script contained the line, 'Cathy Gale reaches into her handbag for a gun'. Well, you and I know that we'd all be dead if we had to find a gun in our handbag!" The problem was partially solved by adding a holster to her garter where the pistol could be stored, but when Judo instructor Douglas Robinson was brought in to train the two stars, along with Rene Burdet, former head of the French Resistance in Marseilles, more wardrobe problems arose.
"I noticed that Honor appeared to be unhappy," Patrick Macnee wrote in his autobiography. "Whenever the scene called for Cathy Gale to take a tumble in a fight scene, the audience would see the tops of her stockings. I'm not sure what inspired me to telephone my old friend Peter Arne, but possibly thinking that Peter had the answer to some of life's more interesting problems." Mr. Arne certainly did, and suggested a wardrobe change that would go on to create an icon. His idea was to put Cathy Gale in black leather trousers with a matching black leather jerkin. Honor did not object, though she did say, "Oh God. Don't the two of you realise what you might be starting?"
Once she was put in leather trousers, Blackman approached the fight scenes with more gusto: "I had to go in with all my strength if I was going to throw those great big men about. I'd have looked a right Charlie if I'd tried and not been able to manage it. I didn't break anyone's neck, but I accidentally knocked out all-in wrestler Jackie Pallo." Journalists at the time who dared to question her genuine yellow-belt status in Judo were treated to a quick demonstration, ending up on the floor.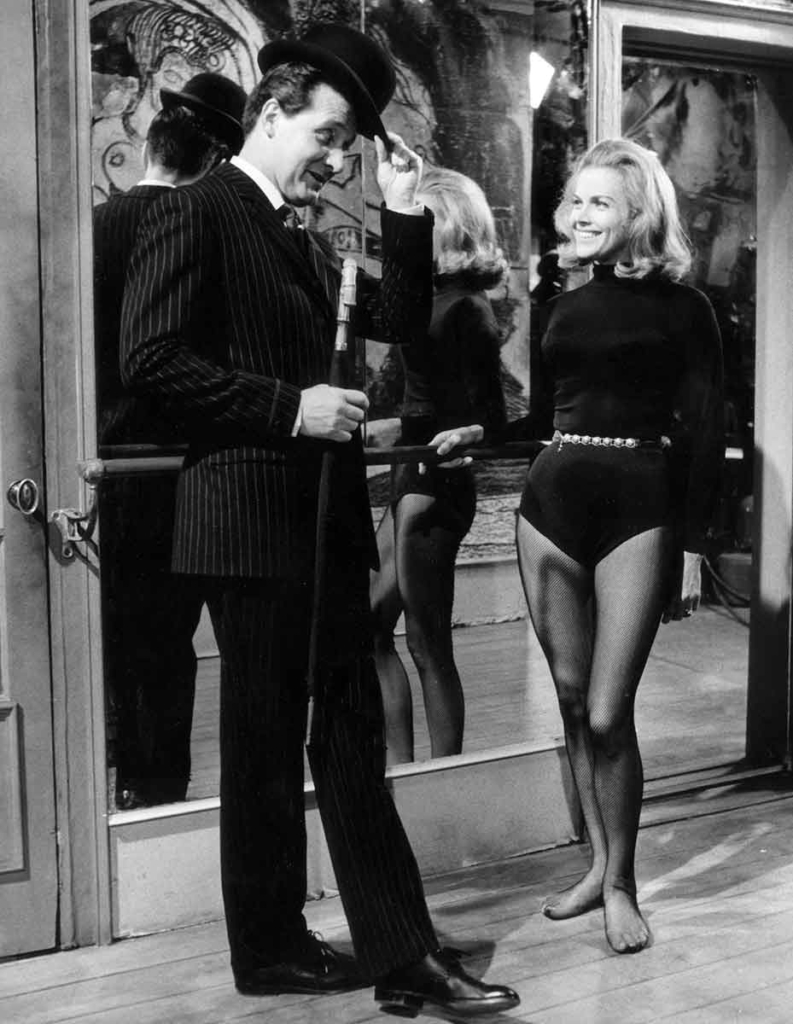 All the preparation, Judo training and wardrobe alterations proved successful when the first episode of The Avengers, series Two was aired on ABC Television on 29th September, 1962. "Mrs Gale was known from the first for her clothes," wrote Toby Miller in the BFI's 1996 tribute book, The Avengers, "designed by Michael Whittaker with a view to being six months ahead of women's fashions. Guns were kept at different moments in a garter under her culottes, in her armpit, and then in a compact. She wore knee-high boots, tailored leather suits and a trench coat at a time when such outfits were only seen in porn magazines and fetishist outlets. Mrs Gale was straightforward and virtuous as well as sensual. Unlike Mrs Peel, Mrs Gale is a Monica Seles avant la lettre, squealing and screaming as she does battle with assailants in ways that made a few male viewers anxious."
Anxious or not, Cathy Gale proved a huge hit with male fans of The Avengers, though also with female viewers. Blackman later claimed she had as much fan mail from women admiring her portrayal of a tough, educated, no-nonsense female character as she had from men asking her to come round to their place in her kinky boots. Before Cathy Gale, most female television parts portrayed either a dutiful wife or a woman in danger waiting to be rescued by a man.
When Blackman's contract on The Avengers came up for renewal, she faced a tough decision. A £10,000 offer had been made from Albert R Broccoli to star in the next James Bond film, Goldfinger. She took the role and walked out of The Avengers, later regretting the decision, though the Bond girl role brought her to much bigger audiences on both sides of the Atlantic.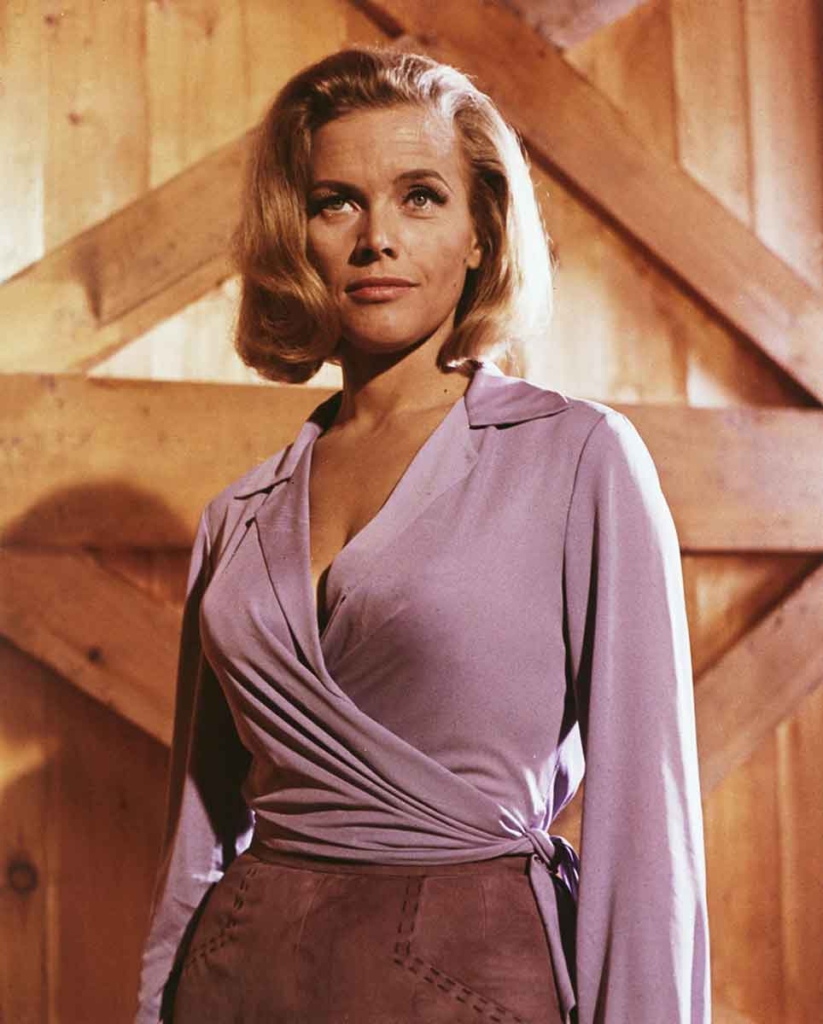 She brought, on the producers' insistence, much of Cathy Gale to the role of Pussy Galore. She was the first Bond girl to resist the spy's charms, initially, and at 39 (older than Sean Connery) the oldest actress to play a female foil in a Bond movie, as well as one of the closest to Ian Fleming's original portrayals in 1958's Goldfinger novel, in which he described her thus: "She had the only violet eyes Bond had ever seen… and they looked candidly out on the world from beneath straight black brows. Her hair was worn in an untidy urchin cut. The mouth was a decisive slash of deep vermilion. Bond thought she was superb…"
Blackman was keen to break the mould of the traditional Bond girls: "I consider Bond girls to be those ladies who took one look at Bond and fell on their backs," she said in 2012. During one of their early encounters in Goldfinger, Pussy Galore says to Sean Connery's Bond, "I am immune to your charms" and judo-flips him into a haystack. "Sean is the best Bond as far as I am concerned," said Honor. "He has the distinct advantage of being the first and the prototype. But he was a stupendous figure of a man, and terribly good-looking. Of course I fancied Sean, he was the sexiest man I've ever met. He was Mr Universe, with a body to die for, had those twinkly eyes and was great fun. Yes, if I hadn't been married, I would have gone there."
"I think he was underrated as far as playing Bond was concerned because he had been a milkman and there he was playing a suave, sophisticated creature. But he was one of the few people that you could accept. Bond wasn't a very nice character. He was a misogynist. He picked up women and threw them away. Until he got to me, of course."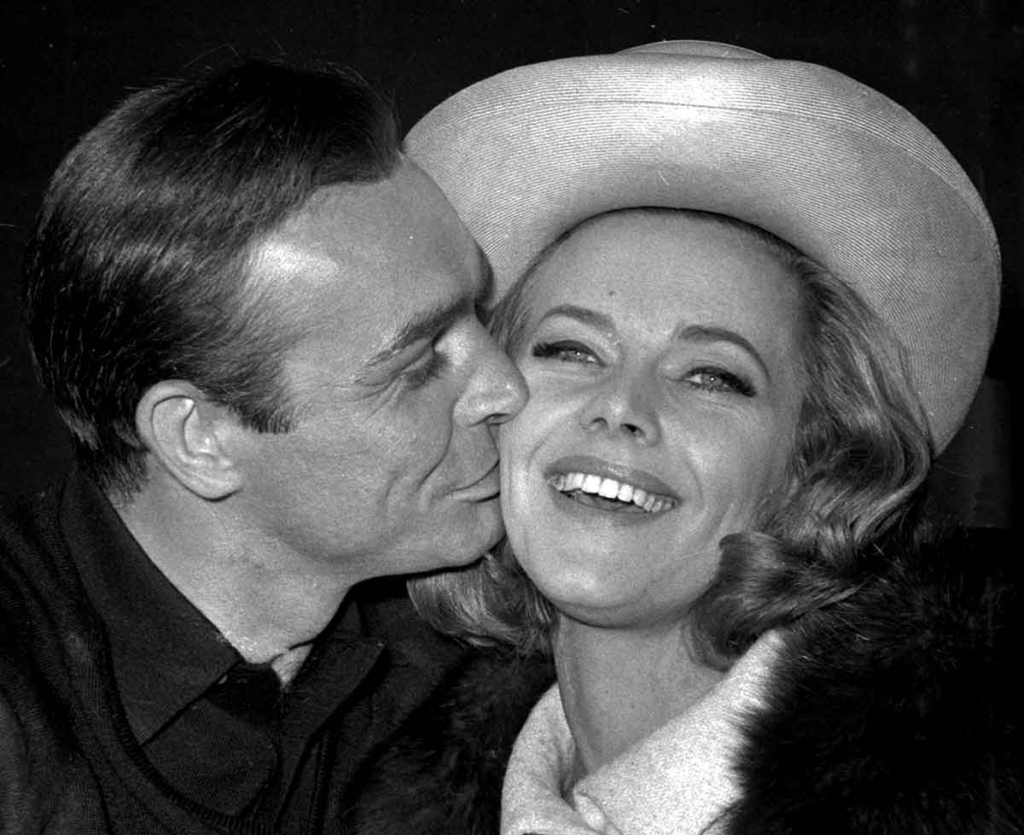 Cathy Gale, though replaced to great acclaim by Diana Rigg as Miss Peel in The Avengers, was still remembered fondly by the show. In an episode from 1965, Steed receives a Christmas Card from Cathy. "A card from Mrs Gale!" he exclaims, adding, with a reference to her role as Pussy Galore in Goldfinger, "Whatever can she be doing at Fort Knox?"
Bigger roles were expected for Blackman after Goldfinger, but at 40 she was considered too old for female leads, and returned to working in theatre. She also launched a very successful production company, Six-Star Entertainment, with John and Hayley Mills, Richard Attenborough and Herbert Lom. Honor's next big part on television didn't come until 1981, when she appeared in sitcom Never The Twain with Donald Sinden and Windsor Davies. She then appeared in four episodes of Doctor Who in 1986, but it wasn't until she was old enough to play grandmothers that more roles were offered. She played Laura West in 1990's The Upper Hand, then Rula Romanoff in Coronation Street in 2004.
Until her death on 5th April 2020, Blackman was still being offered parts, something which, in her 90s, she found "ridiculous". Her last part was in a 2015 episode of television's You, Me and Them, in which she played Anthony Head's mother. She devoted much of her later life to her grandchildren, the scions of her two adopted children Lottie and Barnaby, moving to Lewes from Spain to be closer to them. Blackman was also a tireless supporter of the LibDems and a vocal Republican, turning down a CBE in 2002. Her views were openly voiced during the 2012 Olympic Games, in which she observed: "Wasn't that ridiculous? But everyone seemed to love it. The Queen did play ball, but she surely didn't enjoy the opening ceremony. She was bored to tears because there were no horses."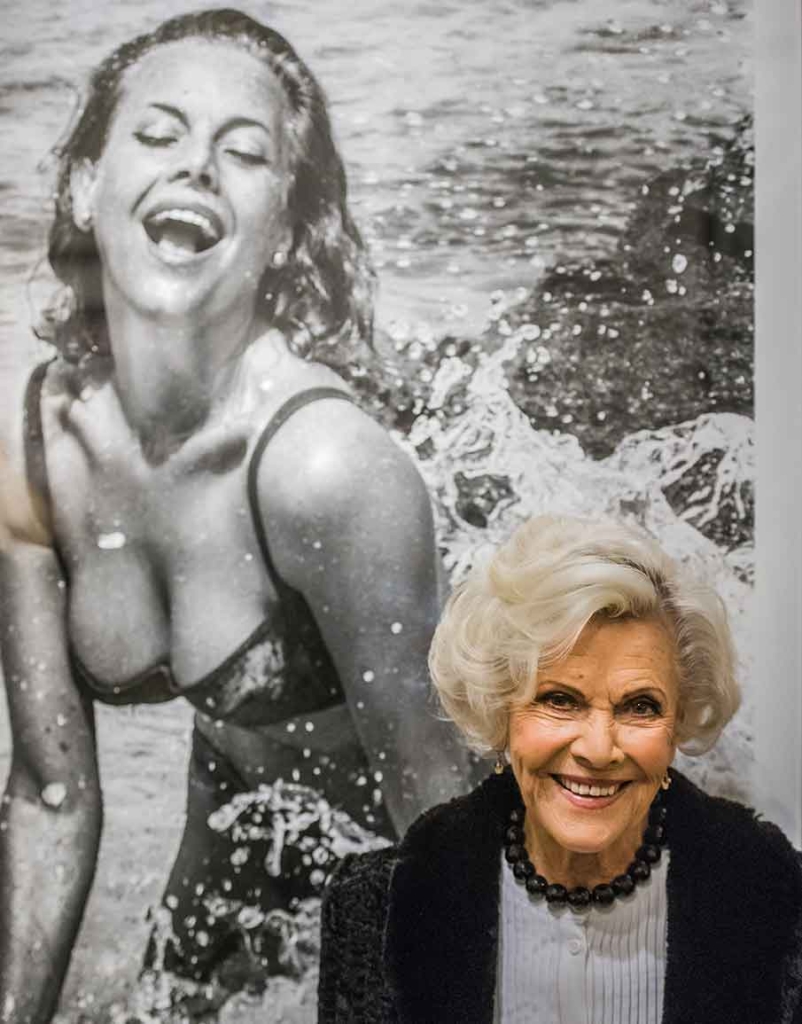 She also revised her glowing opinion of Sir Sean Connery in 2012, unimpressed by his tax exile status: "I disapprove of him strongly now, because I don't think you should accept a title from a country and then pay absolutely no tax towards it. He wants it both ways. I don't think his principles are very high."
Honor Blackman clearly had strong principles, which she somehow managed to maintain while playing a sexy female lead in an iconic television programme and a Bond film. And all this combined with unexpected modesty for an actress, as she displayed in a 2015 interview: "I never considered myself a sex symbol. I've only seen Goldfinger twice: once at the premiere and once at the 50th anniversary. I've turned down parts in the past because they required a sexy woman and I didn't think that was me. I always wanted to play the secretary. I know it's extraordinary, but it's the truth."
HONOR BLACKMAN 22 August 1925–5 April 2020
This article first appeared in CHAP Summer 20