Gustav Temple takes a liquid journey around the world to see whether single malt whisky can be trusted from anywhere except Scotland.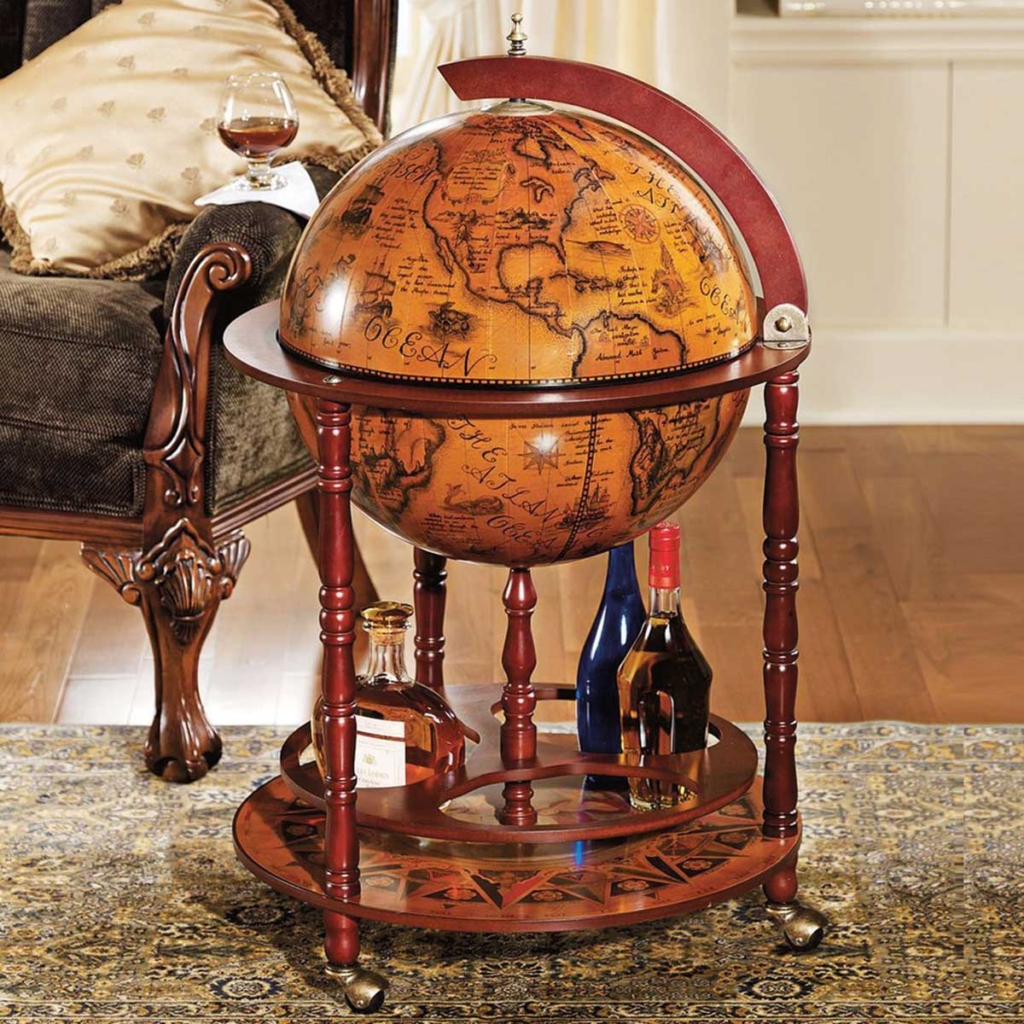 To some readers (and they may be right) is is already blasphemous even to suggest that whisky can come from anywhere except Scotland. But when one discovers that whisky is also made in Germany, Japan, India, Taiwan, Finland, Australia, Canada and Ireland, one feels duty bound to inspect the goods. Of course whisky is also made in the United States but theirs is called bourbon and is an entirely different, usually blended, kettle of fish – admittedly not without its charms.
For the purposes of this investigation of global whisky, however, we are going to give blended concoctions a wide berth – even though, again, there are many supremely quaffable iterations. We shall stick solely to single malts, for it is only within this esoteric and specialised liquid that any true comparison can be made with the towering achievements of Scotland.
An entry in the Exchequer Rolls of Scotland in 1494 lists "Eight bolls of malt to Friar John Cor wherewith to make aqua vitae." Roughly translated into the modern idiom, this means that Friar John had enough malted barley to produce around 1,500 bottles of whisky, known colloquially as uisge beatha or 'water of life'.
Friar John was ahead of his time, for it was not until 1654 that the Scottish Parliament introduced laws to prohibit the illicit distillation of whisky. During the 18th century, one of the most feared excisemen, whose job was to shut down illicit stills, was Robert Burns. By the time he wrote his famous ode to whisky, Scotch Drink, in 1785, he had already confiscated hundreds of barrels of the stuff. Perhaps it was drinking it all that led him to change his tune and begin a new career as the poet who would forever be associated with whisky.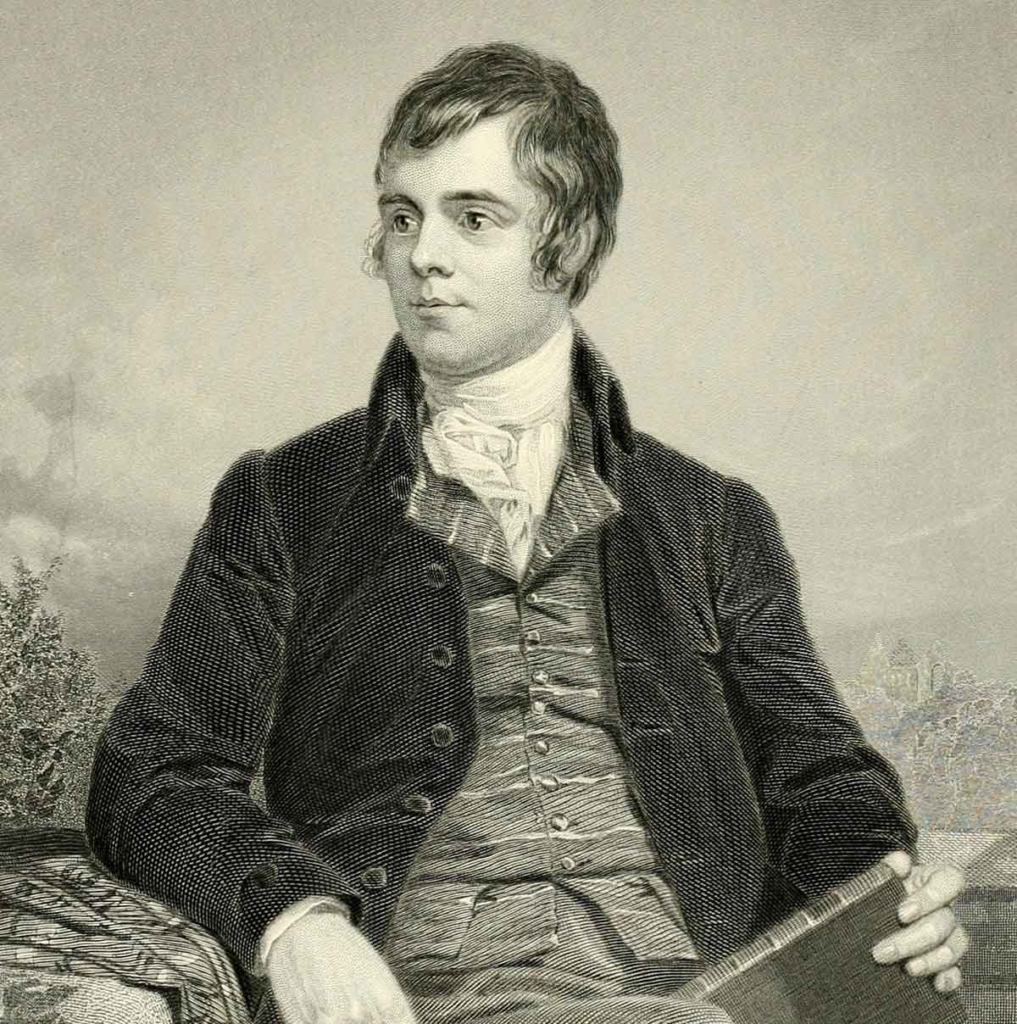 The Excise Act 1823 made it legal to distill whisky for a licence fee of £10, bringing an end to smuggling within ten years. Some of Scotland's finest distilleries continue to operate on sites used by smugglers 200 years ago.
The men who had created the most successful single malts in those distilleries, such as Johnnie Walker, James Buchanan, Tommy Dewar and James Chivas, then began exporting whisky around the world in the 19th century, cornering lucrative markets in countries as far flung as Hong Kong, Australia, the United States and South Africa. Scotch even survived during Prohibition in America, being exempt for those who required it for medicinal purposes. A famous doctor's note exists for Winston Churchill, while he was living in New York in the 1930s: "This is to certify that the post-accident convalescence of The Hon Winston Churchill necessitates the use of alcoholic spirits, especially at meal times."
Given the global export of Scottish whisky, it was no surprise that some countries began making their own. It would soon have dawned en them that the reason the Scots make the best whisky is due to their climage and their terrain. The combination of harsh winters and rich, peaty bogs leads to the distinctive flavour of single malt, while some connoisseurs even believe they can taste the sea spray in certain Speysides. The very different climate in nearly all other countries, not to mention their lack of peat in the ground, produces flavours that veer wildly, in some cases, from traditional Scottish single malt. Those from Japan are the closest to the Scots, partly due to the fact that most Japanese distilleries import their barley from Scotland.
Japan has been producing whisky since the 1920s, with Yamazaki, near Kyoto, being the first established still, now called Suntory Yamazaki. Japanese single malt has since grown into a huge international industry, winning contless awards even when pitted against the might of Scotland's single malts. In 2014, Yamazaki Single Malt Sherry Cask 2013 was named 'the best whisky in the world' by Jim Murray in his annual Whisky Bible. Using sherry casks is widespread in Japanese whisky, as it is in other parts of the world, making some of the results closer to bourbon in flavour.
This is key to the appreciation of global single malts: few of them have the peaty smokiness of Scottish single malts, either because those countries feel they can't compete with Scotland, or because international taste buds are as unable to appreciate the true splendour of Robert Burns' liquid muse as they are his dialect: Leeze me on thee, John Barleycorn, Thou king o' grain!
In short, if you are a true devotee of uisge beatha, there is no need to disturb your cellar of Lagavulin, Laphroaig or Talisker in favour of international whiskies. If, however, you like the idea of single malt but find the flavour difficult to navigate, then read on for our tasting notes of five global whiskies.
TASTING NOTES
Rampur Asava Indian Single Malt Whisky 45% ABV £68.95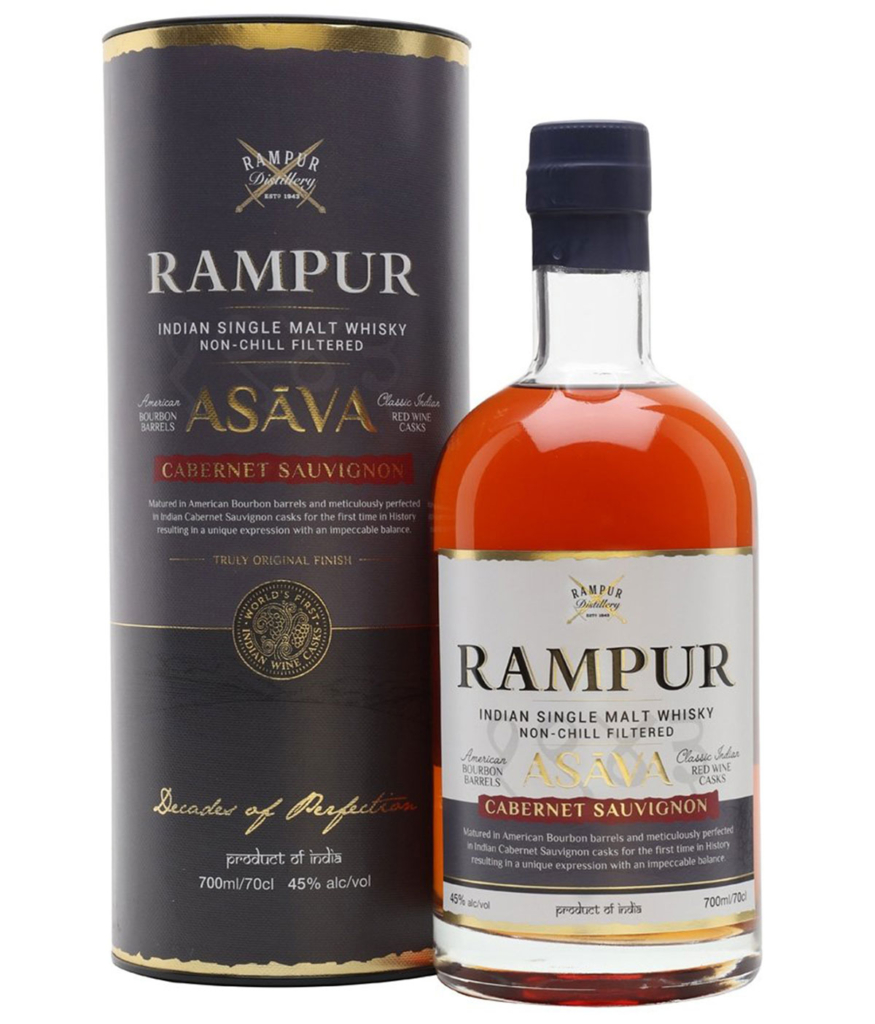 The world's first Indian single malt whisky, matured in American bourbon barrels and finished in Indian Cabernet Sauvignon casks. Produced at a distillery in Uttar Pradesh, in the foothills of the Himalayas, the location exposes the whiskies to polar opposite climate conditions throughout the year, causing Rampur Single Malts to mature more quickly than their Scottish counterparts. Master Blender Anup Barik was born into a family of blenders and has been creating the spirits for gin, voka whisky and rum for 26 years. Rampur is distilled in traditional copper pot stills, matured in India's largest and oldest distillery, dating back to 1943, and then non chill-filtered and bottled at 45%.
TASTING NOTES
Exotic notes of honey and sweet caramel burst from the richly dark colour in the glass. On the palate, the undertone of toasted muscovado sugar confirms that this brew is definitely not from Celtic lands but from somewhere far more tropical. It tastes something like a sugarcube diluted through the tears of the Maharajah, while he watches the sun set over his new palace. On the finish: mince pies and crème Anglaise. Delicious.
Kavalan Single Malt Whisky 40% ABV £45.00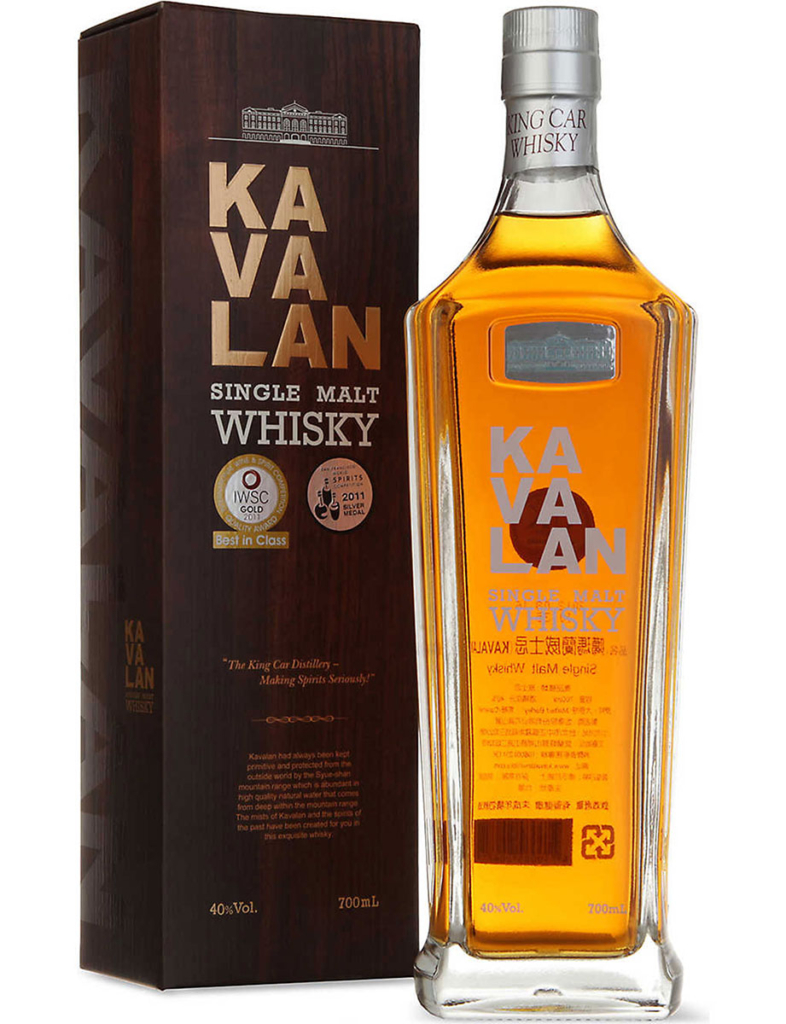 Taiwanese private companies were not allowed to make spirits until Taiwan joined the World Trade Organization in 2002. Kavalan was the first-ever whisky distillery on the land that the locals call their country but the Chinese call one of their islands. Taiwan's subtropical climate would not seem ideal for the production of whisky, but high summer temperatures accelerate the ageing process, while the Siberian winter winds assist with oxidation. Local chap Ian Chang was spotted as having an exceptional nose for whisky, and a mentor in London was sought. Ten consultants turned him down before Scotch whisky expert Dr. Jim Swan replied, "I don't know where Taiwan is, but I would like to give it a try." The result, logged proudly in the distillery's annals, was the first drop of 'new label spirit' at precisely 3:30 p.m on March 11, 2006. Since that fateful moment, Kavalan has won more than 220 awards, including 'World's Best Single Malt Whisky' for Kavalan Solist Vinho Barrique at the World Whiskies Awards in 2015.
TASTING NOTES
The nose is greeted by sea salt and coffee beans, with a hint of Himalayan glacier. The volatility of the first sip, redolent of forest fires, quickly evaporates into dusky floral notes of rose and hibiscus. After the fire: liquorice jostles with granite, suggesting milk of magnesia.
The Sexton, Single Malt Irish Whiskey, 40% ABV £29.00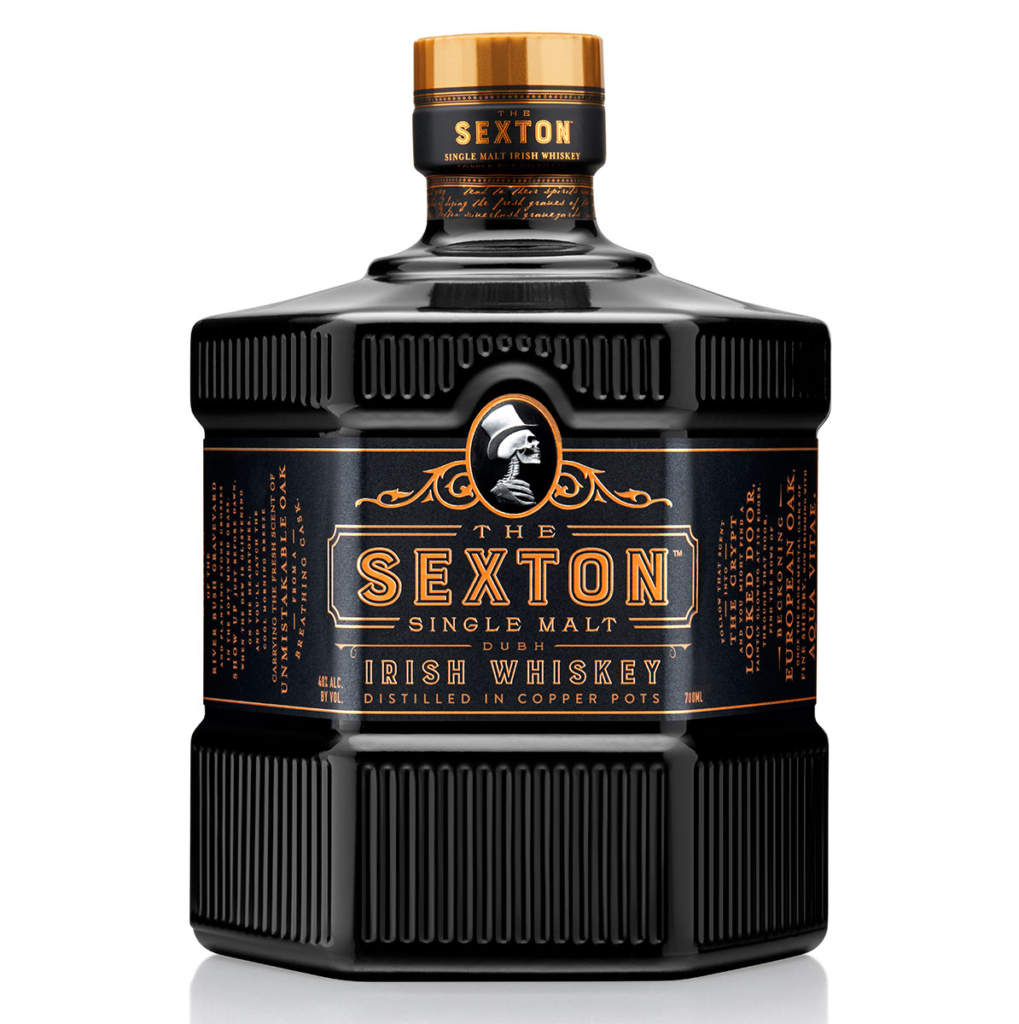 Ghoulishly named after the keepers of graves in cemeteries and in a suitably gothic, hexagonal bottle with a skull in a top hat logo, The Sexton was created by one of the few female master blenders in the industry, Alex Thomas. Produced from triple distilled 100% malted barley, the spirit is aged in casks imported from Jerez in Spain and formerly used for Oloroso, at the darker end of the sherry spectrum. The label informs us that it was distilled in County Antrim, where the only distillery is Bushmills, so make of that what you will.
TASTING NOTES
On the nose, there are boggy, turfy, outdoorsy notes that immediately whisk one to the Emerald Isle, but with a handful of Spanish almonds and sultanas. The first sip indeed makes one think of someone taking care of graveyards on a misty night, but the spirit is within, not without. Accents of peppered pears kick in, swiftly followed by raisins, cloves and other woody elements. The death leads quickly to a resurrection of rich flavours under a full moon.
Cotswolds Single Malt Whisky 46% ABV £39.00
A whisky made in England! Whatever next, champagne made in Sussex? Of all five samples, this is the closest to a peaty Scottish single malt, and this is no surprise, given that the climate of northwestern England is not a million miles away to that of Scotland. Every step of the distillation process, from harvesting the local barley, to steeping it at Warminster maltings (Britain's oldest working maltings), grinding and mashing the barley in the mill, then double distilling it in traditional copper pot stills, is carried out in the Cotswolds. The spirit then rests in oak casks for a minimum of three years. Because peat bogs are not a common feature of the Cotswolds landscape, the added peatiness comes simply from ageing it in a cask that previously held peated whisky.
TASTING NOTES
Surprise surprise – vanilla peatiness on the nose, laced with hints of peach and apricot. The first sip conjures up lace doilies and polite company, but the brown sugar and spices herald the promise that one will soon be proceeding to the boudoir. The death brings more peat and a pleasantly sooty sharpness to the tongue.
Oxford Rye Whisky 46.3% ABV £95.00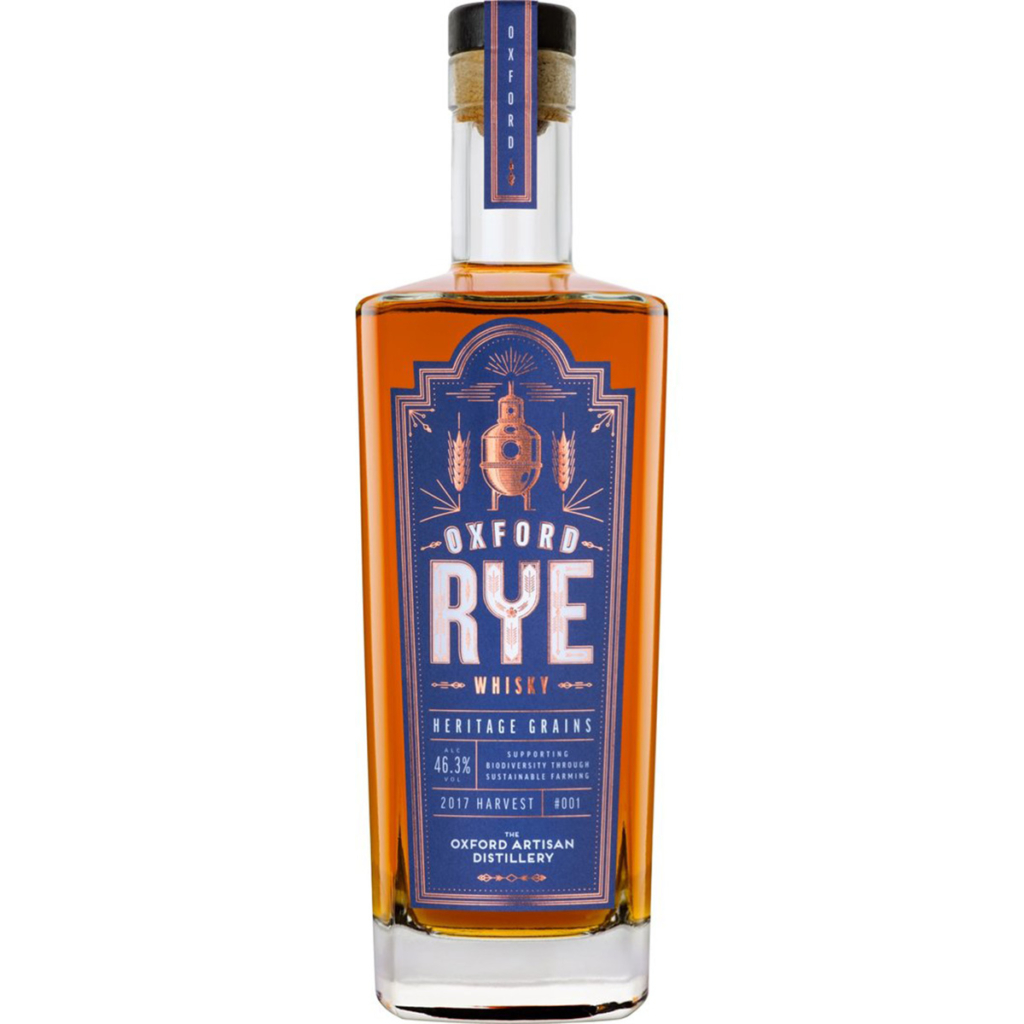 The Oxford Artisan Distillery launched their first rye whisky in April 2021. While clearly not a single malt, it is worthy of our attention to observe what English distillers are experimenting with to produce, in some cases, some spectacular results. Oxford's inaugural rye release was made from a mashbill of 70% rye, 20% wheat and 10% malted barley, mashed in an original mill from the 1930s that produced a mash so thick that, according to the distillers, one could stand an oar up in it. The mash was then fermented in Hungarian oak vats for a week, giving it plenty of lactic bacteria for a highly creamy profile. The porridge-like substance was then double distilled in Nautilus, one of the copper stills built by South Devon Railway inspired by steam engines. Finally, it was aged in new American oak casks for three years.
TASTING NOTES
Hints of freshly baked bread and spices on the nose, with notes of coconut, nutmeg, cloves and toasted marshmallows. On the palate, the texture is smooth and sweet, with strong hints of Nutella on toasted rye bread. The death is long, spicy and lingering, peppered with cardamom.