Held annually for the last 15 years, The Chap Olympiad welcomes 1500 eccentric chaps and dapper debutantes to Bedford Square Gardens in central London, for a completely unique day of sartorial elegance and sporting mayhem. The purpose of the Chap Olympiad is for chaps and Chapettes to try and beat each other at games such as Umbrella Jousting, Tea Pursuit and Riding Crop Rumpus, but sporting prowess is not something these dissolute dandies value very highly.
Higher on their list of priorities is choosing the correct cravat to wear with their linen suit, or which beaded clutch bag to carry with their 1920s flapper dress. For these Olympians, while they may like the idea of engaging in sport, are absolutely not prepared to don the required clothing made of Lycra, Spandex and nylon. And as for trainers – not only would they be shunned by the competitors as sportswear and especially not as fashion wear, plimsolls are specifically prohibited upon entry.
A sporting event where the competitors are turned away from the venue if suitably dressed for sport – how peculiarly British! How defiant, eccentric and downright contradictory, the very qualities that make this isolated island what it is. The age range at every year's Chap Olympiad starts at about 18 and occasionally tips into the octogenarian, with all points in between fully represented. And as for gender, the balance of male and female is equal, with the frequent addition of transgender, nonbinary and those who may be trying out a new sexual identity for the day, knowing they will be both fully accepted and hardly noticed among such sartorial exuberance.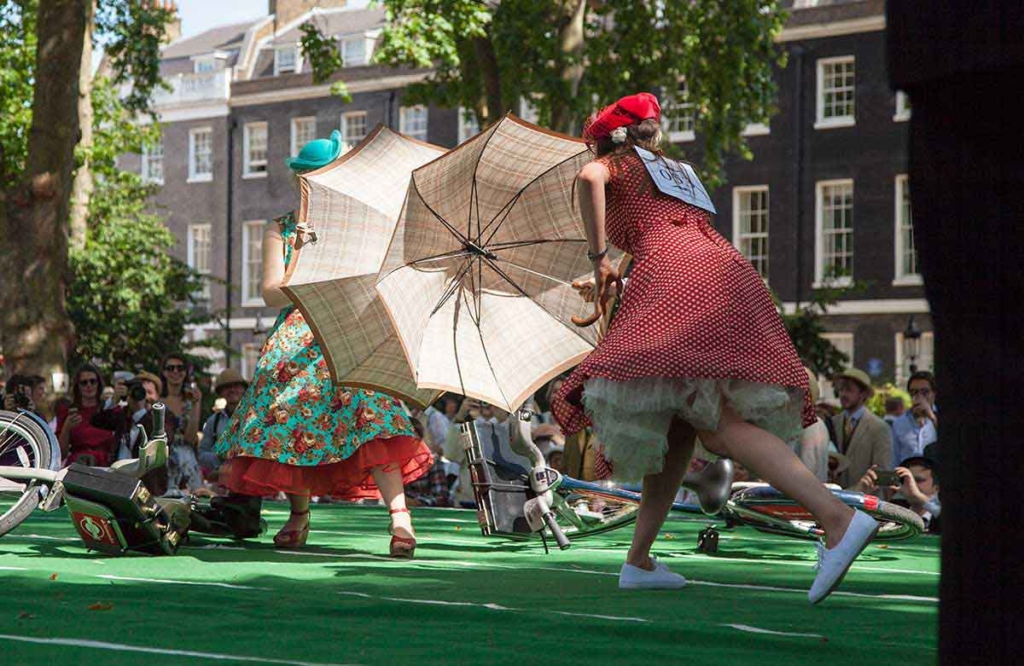 A the Chap Olympiad you are likely to see a man dressed in RAF uniform rubbing shoulders with a transvestite in a frock, joined by a group of twentysomething young bucks in linen suits and a lady with cropped hair in full masculine evening wear. There's no deep thought behind it; the Chap Olympiad isn't some sort of protest against the London of Starbucks, Top Man and the gradually eroding sense of identity of the capital (well, it is a bit). It is more a gathering of lost souls who generally stand out from the crowd and get stared at in the street by the locals – though not by first-time tourists, some of whom probably came to London fully expecting to see men in top hats and ladies carrying Edwardian parasols everywhere.
The sport? Oh yes, they get around to that eventually, but not before consuming gallons of gin and tonic, cocktails and flagons of ale. By the time the competitors assemble for the ceremonial lighting of the Olympic Pipe in the Opening Ceremony, many of them would be disqualified if entering a proper sporting competition. But at the Chap Olympiad, being slightly sozzled can actually improve one's performance in events such as Tie Knotting, Butler Baiting and Not Playing Tennis. A few drinks under one's belt gives one the Dutch courage, and an edge of skullduggery, to outwit their opponents and impress the judges with flair, style and panache.
A Chap Olympian is not rewarded for making an effort, breaking a sweat or showing any form of physical prowess; in fact points are deducted for seeming to be trying too hard. The overall victors are those who have shown their disdain for sport and their courage to show pluck and elegance on the Field of Pleasant Dreams.