Gustav Temple meets The Chap's new timepiece collaborators, Jerome Robert and Anneke Short, founders of the Camden Watch Company.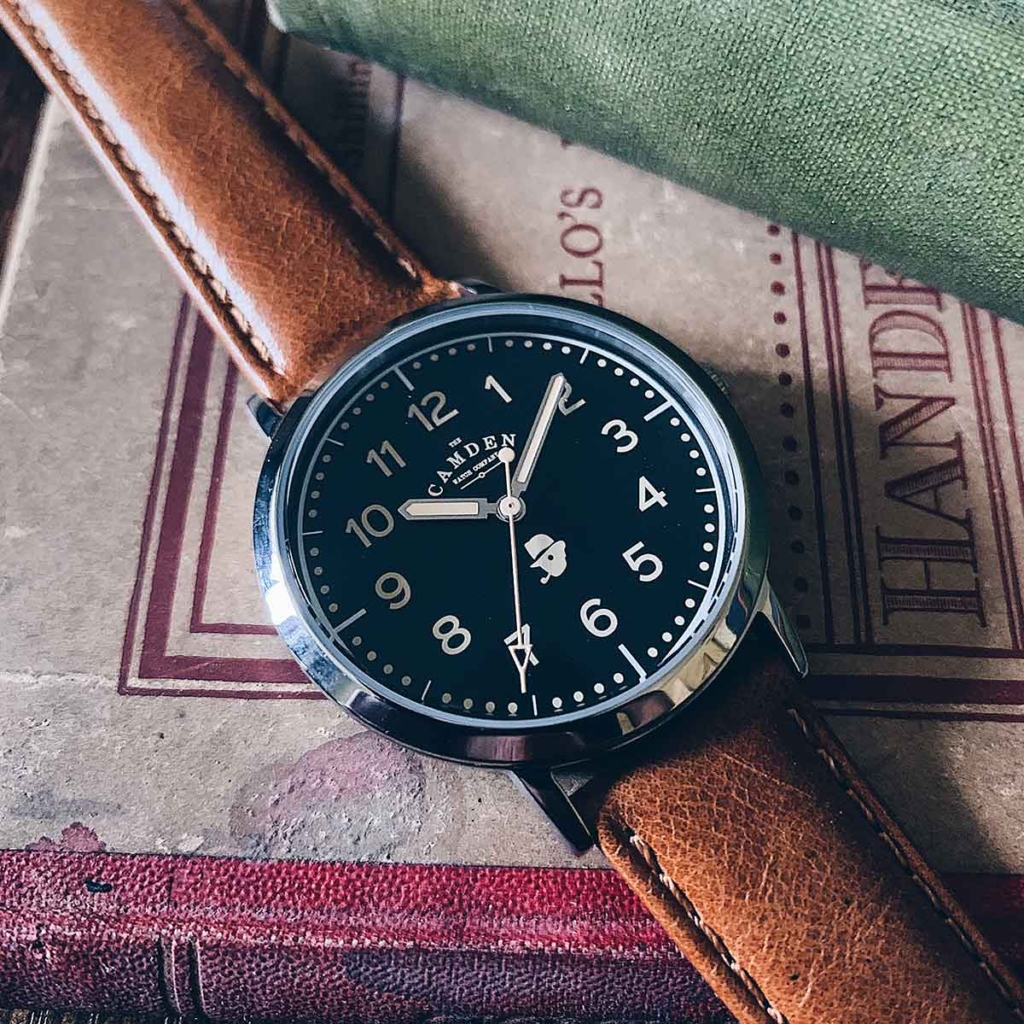 We first encountered the Camden Watch Company in 2017, when they had recently launched their ambitious company into a crowded market. The original aim of the brand was to use the founders' extensive knowledge of design and watchmaking to create affordable timepieces, based around the Camden motto 'Not for one, but for all'.
Founders Jerome and Anneke met in La Chaux-de-Fonds, the area of Switzerland known as 'Watch Valley' and where Jerome is from. "I wouldn't necessarily say it comes naturally," says Jerome, "but being Swiss certainly means that you're surrounded by watches from a very young age, which definitely provides a huge advantage and understanding of how things work."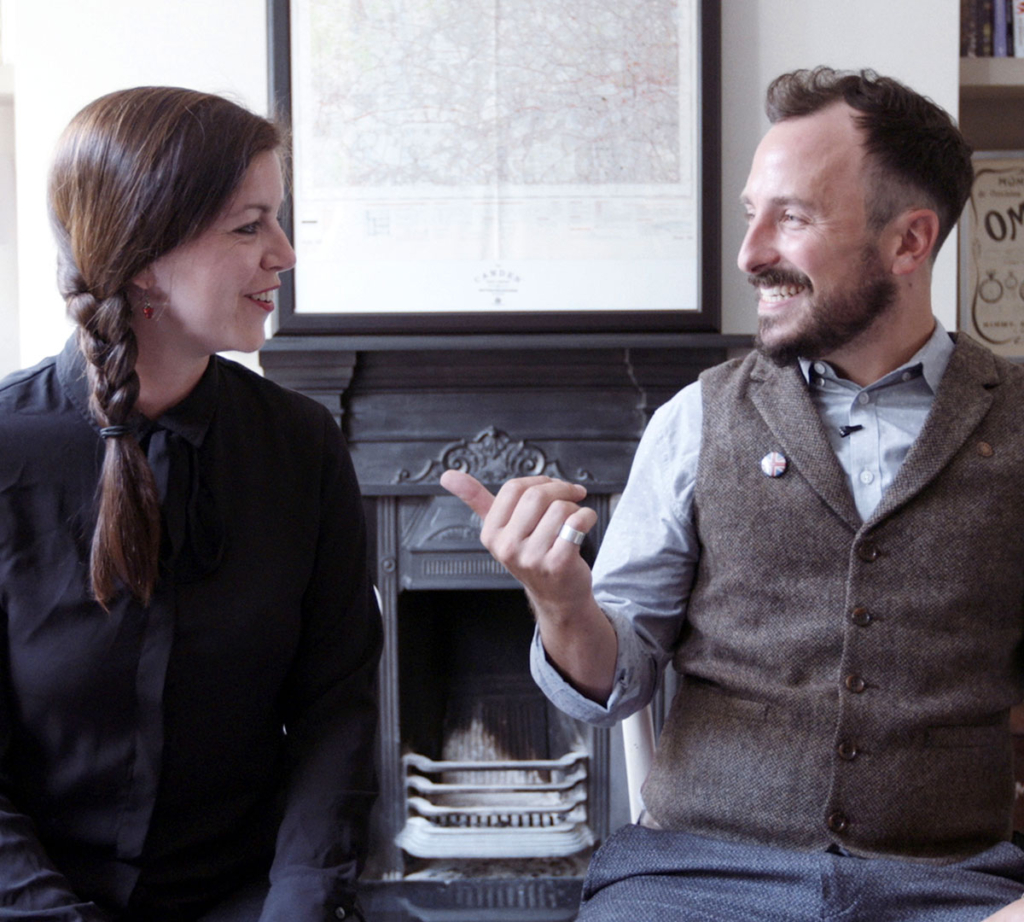 From the start, they wanted the industrial, Victorian side of Camden and Britain as a whole to be a big part of the brand. "We love Camden," says Anneke, "we've always loved it, ever since our first visit on some rainy day way back when. It's so inclusive, so perfectly imperfect. It's like the whole of London condensed into one area, and, like all of London, it has such a rich and fascinating history."
The watch market is viewed as being rather saturated, with all sorts of charlatans trying to dive in to make a quick buck. Jerome and Anneke had no intention of being part of that kind of enterprise. "We're not ex-stockbrokers looking to start a business, or entrepreneurs trying to make a quick exit. We're in this for the long haul. There are a lot of people who think watches are 'easy money', who buy pre-made watches straight off the factory shelf, print their logo on it and package it as a 'brand'. We want to design watches that not only provide great value, but that make you feel great when you wear them."
It is well known that most British watchmakers have their watches assembled in the Far East, and the Camden Watch Co have found this was the only way to keep costs down. However, every element of their watches bar the movements are designed in-house and bespoke to them. "We do all of the research, design, and pre-production of our watches in our HQ in Camden," says Jerome, "and then we outsource the production to the Far East. We work the old fashioned way, using a different factory for each element of the watch, which ensures the highest quality for the best price. We've visited all the factories we work with and have been working with each one for years now. We also produce one-off, special editions that are assembled in our HQ in Camden."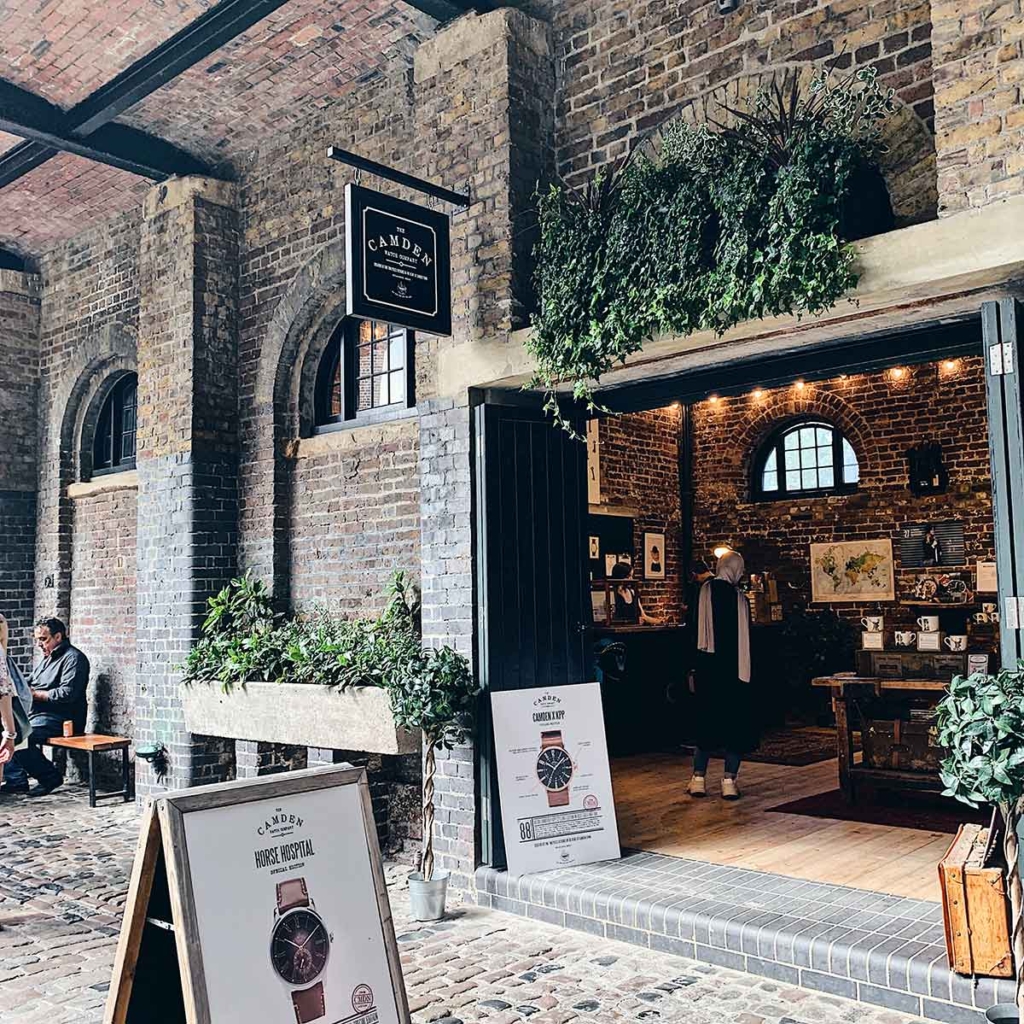 Since launching in 2014 with just a few timepieces, the range has grown exponentially and now includes some ten different designs, all in further varieties of colourways, sizes and strap designs. The first flagship store was in Camden Market, followed by another in Shoreditch and then a third in Greenwich, with many pop-ups and festivals in between, including The Chap Olympiad in 2019. The factory itself is smack bang in the middle of Camden Town in an old spectacle factory.
Not content with pouring all their watchmaking knowledge into their own timepieces, the Camden pair has also engaged in various collaborations to produce some special editions. The Camden Giving Watch, limited to 250 pieces, was a collaboration with local charity Camden Giving. All profits from this watch are being donated to Camden Giving's Future Changemakers, a campaign against street violence in Camden. Inspired by Victorian symbolism, the edition features a hand-drawn heart design in the centre of the watch.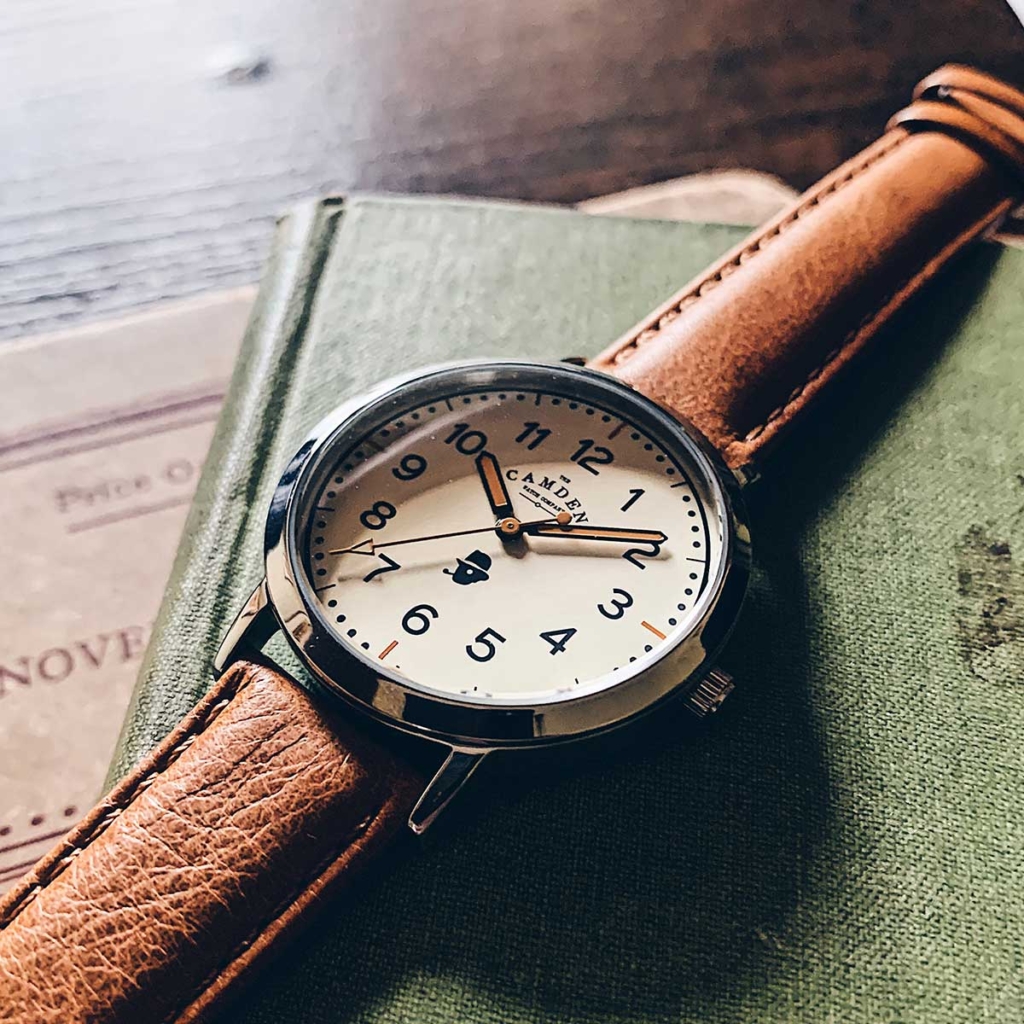 When The Chap broached the notion of a collaborative timepiece with Jerome and Anneke, the design quickly took shape, following a flood of references from the classic British wristwatches of the early and mid-twentieth century. The No.27 Camden Chap Edition features large, old-school numbers and a domed crystal polished case with softly brushed sides. Like all Camden Watches, The Chap Watch was designed by Jerome and Anneke at their studio in Camden, the manufacture being outsourced to the Far East. The case size is 37mm with a depth of 8.4mm, with a Japanese Quartz movement and water resistance of 50 metres. The Chap Watch is available with two choices of face colour, cream and black, both with a real leather brown strap.