The new film written by and starring Timothy Spall uses a format with which readers of The Chap will be familiar. The style of Kind Hearts and Coronets, in which Dennis Price played the lead while all the other roles were played by Alec Guinness, has been taken even further with Stanley, a Man of Variety.
In the film, out today, both the lead role and all the supporting characters are played by Timothy Spall; his is the only human face to appear on the screen for the whole movie. Added to this unusual format is the fact that nearly all the supporting characters are well-known figures from the history of British comedy: Tony Hancock, Max Miller, Margaret Rutherford, Alastair Sim, Max Wall and others.
When The Chap spoke to Mr. Spall about the film, I asked him whether these were his comedy influences. He said that he and co-writer and director Stephen Cookson didn't want the film to be a series of turns, like the Mike Yarwood Show. "We wanted to portray the connection between those so-called affable, charming, unusual, erratic British characters, but a subversion of that and showing something more underneath, a connection with a period of isolation; the kind of world that postwar Britain was."
The film has some very funny moments, especially when Spall's version of Max Miller is seen floating on a cloud in full music hall costume, making asides to an imaginary audience. But the film certainly isn't a comedy. Stanley is an isolated man, the last inmate of a psychiatric prison; his only company a black-and-white television showing episodes of his comedy favourites. "The story is about a man with no sense of humour, actually," said Spall, "and a man of very little character. A nobody who has all these people in him. The comedy characters are all part of his own guilt and confusion."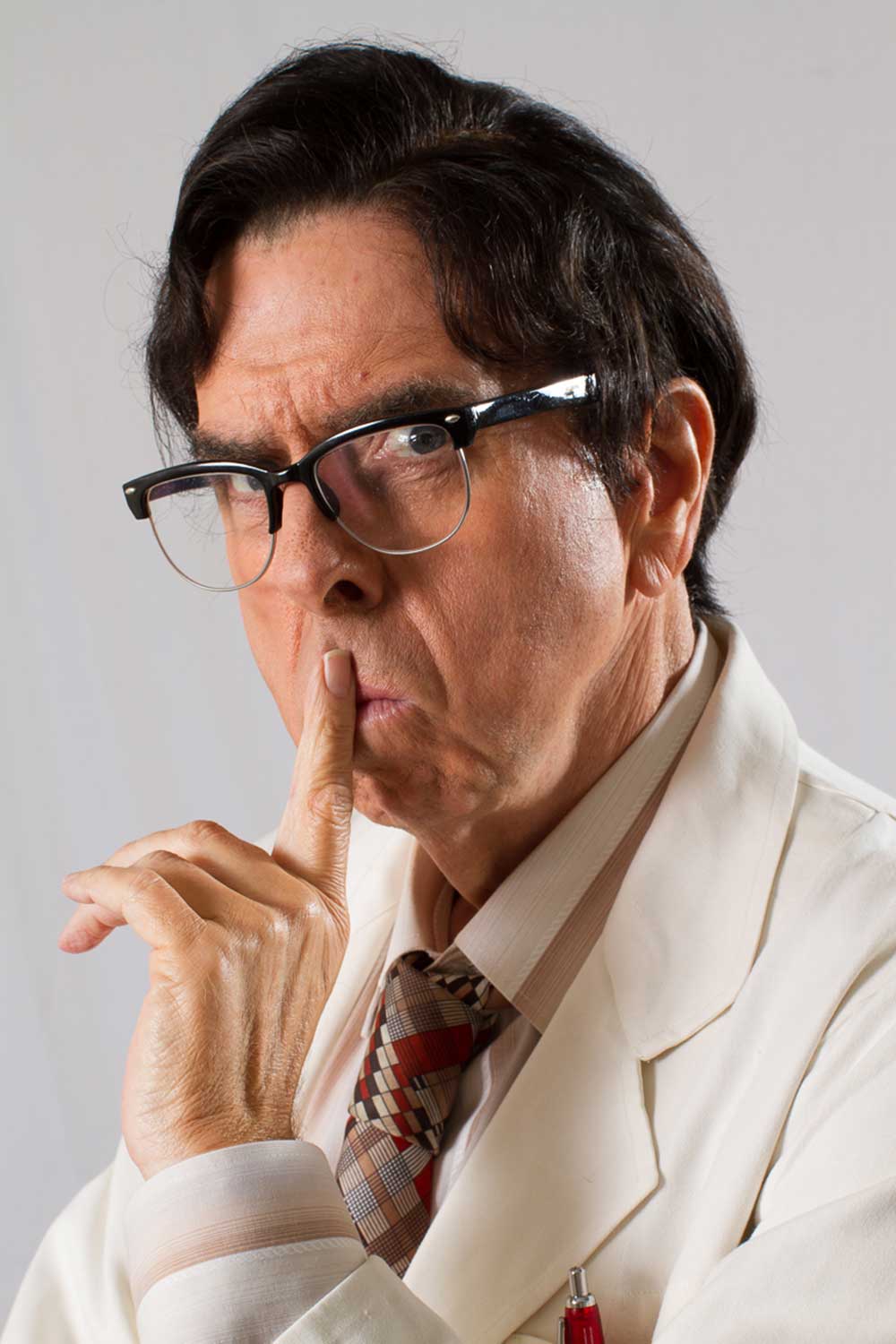 In once scene an Indian doctor, played of course by Spall, sweeps into the room to assess Stanley's mental condition. Stanley projects on to the doctor all his pent-up frustration in the form of racist remarks. "He started as a kind of Peter Sellers in The Party," said Spall, "which now would be completely unacceptable but was very entertaining at the time. But we made him much milder, and when Stanley sees him, he accuses him of what he thinks he's feeling, which is what he's feeling himself. It's not meant to be a funny film, but if it's uncomfortable, even better."
Uncomfortable is certainly true, as is dark, experimental at times, baffling and occasionally funny. At first the viewer latches on to each familiar comedy legend, but that is confounded when you realise they are not who you think they are. They are merely manifestations of Stanley's madness. Spall avoided using any of the comics' familiar catchphrases, so that it was clear these were not impersonations but interpretations. In one scene, Tony Hancock leans out of a window and talks frankly about how he drank himself to death; George Formby later grins his way through a burst of song with his ukulele, before looking like he's having a breakdown.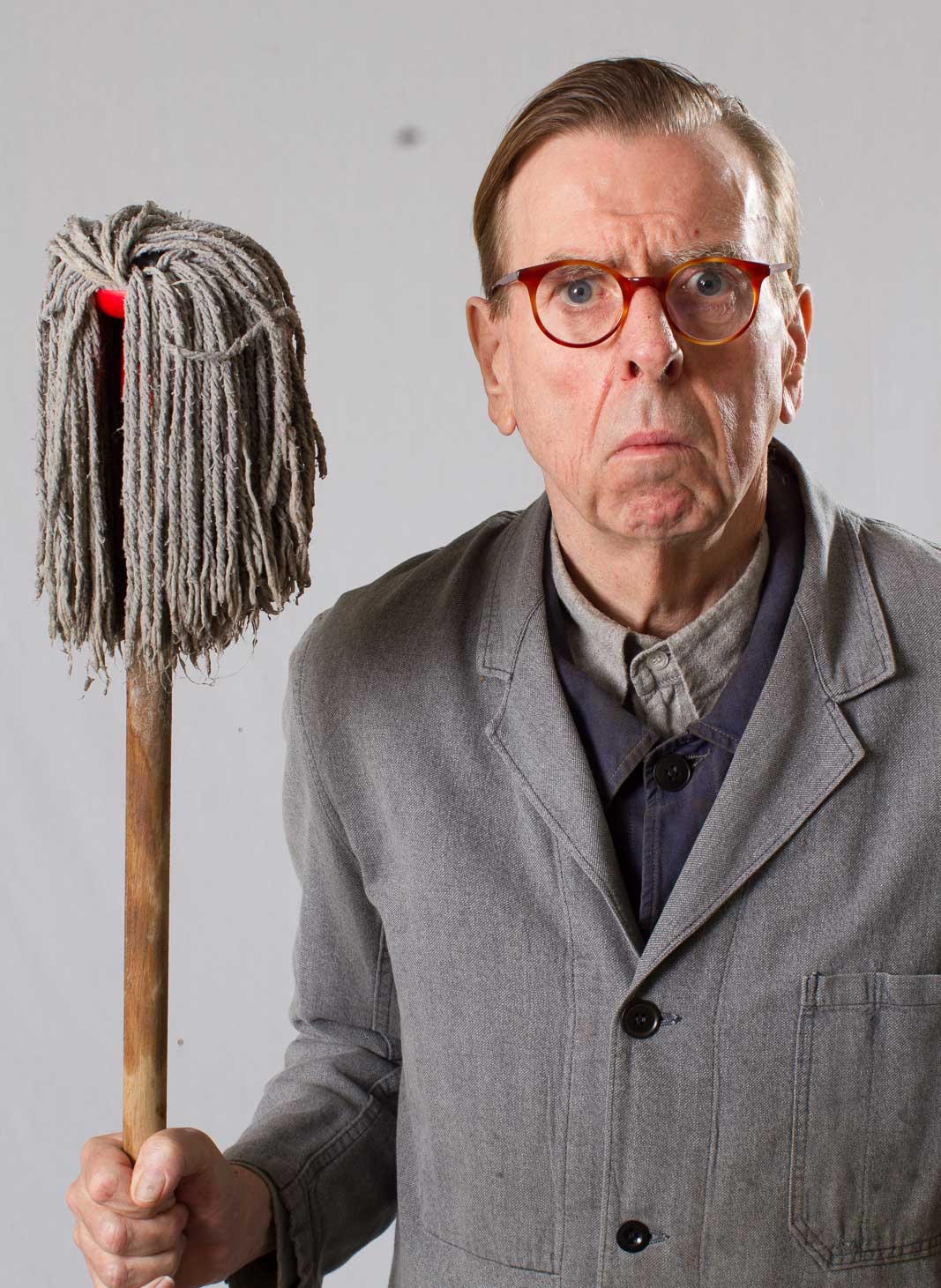 There are not many actors who could handle the multiple parts in one round of filming, but Timothy Spall's career has prepared him for this tour-de-force. He has rarely played straight characters, and the extraordinary range of parts he has played covers everything from mad Regency fops (John Polidori in Ken Russell's Gothic) to Ian Paisley, as well as a litany of Dickensian eccentrics, 1960s hangmen, 1970s ghosthunters and Holocaust denier David Irving. "People accuse me of being an everyman," he says, "but I've been typecast in about 17 different modes."
Many of the characters Spall has played verge on the grotesque. The influence of Charles Laughton, whose Hunchback of Notre Dame Spall avidly watched as a child, is evident. Laughton was another actor who would steal the scene off the lead when he was only in a supporting role. Spall as Eric Lyle in Bertolucci's The Sheltering Sky has a lumbering, Laughtoneseque presence when he first walks into a sweaty bar in Tangiers.
Even as J.W. Turner in Mike Leigh's 2014 Mr. Turner, Spall brought something otherworldly, verging on the grotesque, to the role that other actors wouldn't have. Despite having worked with Leigh on several films previously, Spall found that working on Mr. Turner was the only occasion when the role seeped into his personal life: "It was the only time in my life when the barriers between me and the character eroded a little bit," he told The Chap. "Even though Mike is very strict about ring-fencing you and the character separately, I found myself wandering the streets of London talking in this bizarre early-Victorian speech." On one occasion he walked into a bar, forgot he was still in character and asked the barman: "Are you a purveyor of wine?"
In one sense, Stanley, a Man of Variety could be seen as a film about Timothy Spall himself and his Pandora's Box of peculiar characters. The only major difference is that Spall has, unlike Stanley, managed to hold on, throughout an extensive and varied career, to who he really is.
Stanley, A Man of Variety is out now in Picturehouse Cinemas. Book here: www.picturehouses.com
Read the full interview with Timothy Spall in the August 2018 edition of The Chap Magazine