Some suggested cadeaux for the papa in your life, ranging from the mildly generous to the worshipful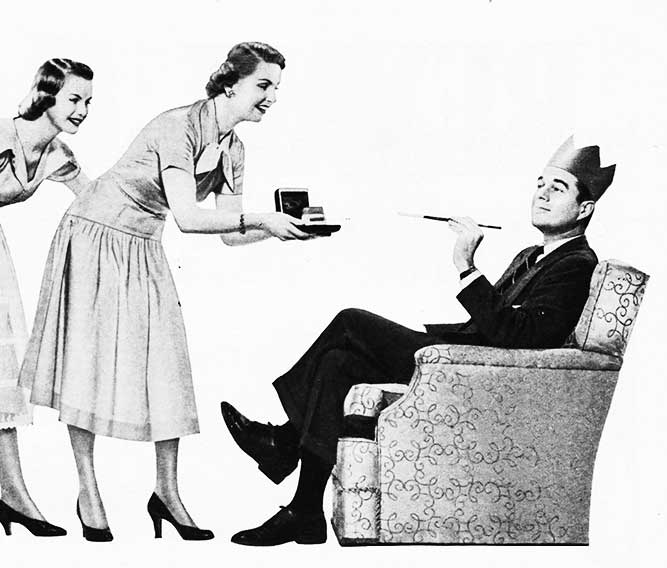 This year, Father's Day falls on Sunday 20th June. Dads across the land, while they quietly fix lawnmowers, construct bird boxes and oil all the hinges on the bathroom cupboards, are blissfully unaware that their scions are rampaging around barely open shops, breaking into a cold sweat at the range of gifts available.
'Hasn't he already got about fifty trowels?' one wonders, while grazing the garden implements. Ditto shovels, spades, garden shears and those little garden forks that no-one else knows the use of. Fathers are generally rather an organised species, usually owning at least six drawers full of seemingly useless items, such as decommissioned phone chargers, rolls of sellotape, balls of string, dead batteries, Allen keys in various sizes and tubes of Araldite (that Superglue will never replace this, they mutter).
This is where The Chap comes in to help. Unless your pater is already cognisant of our humble publication, he will undoubtedly not be the owner of any of the gift items heretofore exemplified.
THE CHAP HIP FLASK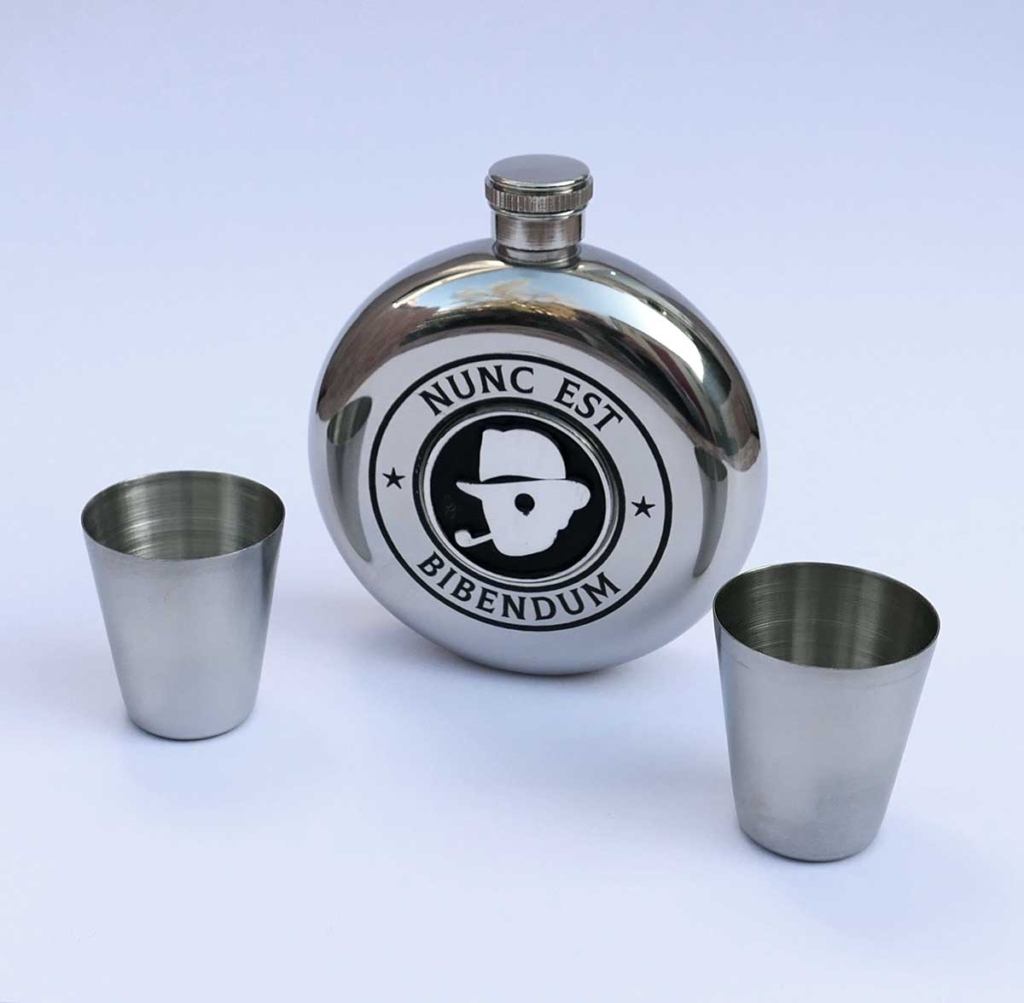 This circular stainless steel hip flask is made by world-renowned manufacturer A.E. Williams, members of the Worshipful Company of Pewterers who have been making pewterware for Royal Palaces, cathedrals and stately homes since 1779. The Chap Hip Flask can hold 75ml of whisky, rum or cognac, with a helpful porthole to the rear to view current levels of spirit. This hip flask comes with two stainless steel cups and a filling funnel to avoid spillage. The motto 'Nunc Est Bibendum' comes from an ode by Roman lyric poet Horace from 30 BCE. The ode is a celebration of drinking, carousing and dancing, and continues: 'nunc pede libero pulsanda tellus', all of which roughly translates as 'Now is the time for drinking, and stamping the ground with a free foot', though Dad will be very likely to provide the translation for you when he receives it. Chap Hip Flask £29.00
RAFFISH EAU DE COLOGNE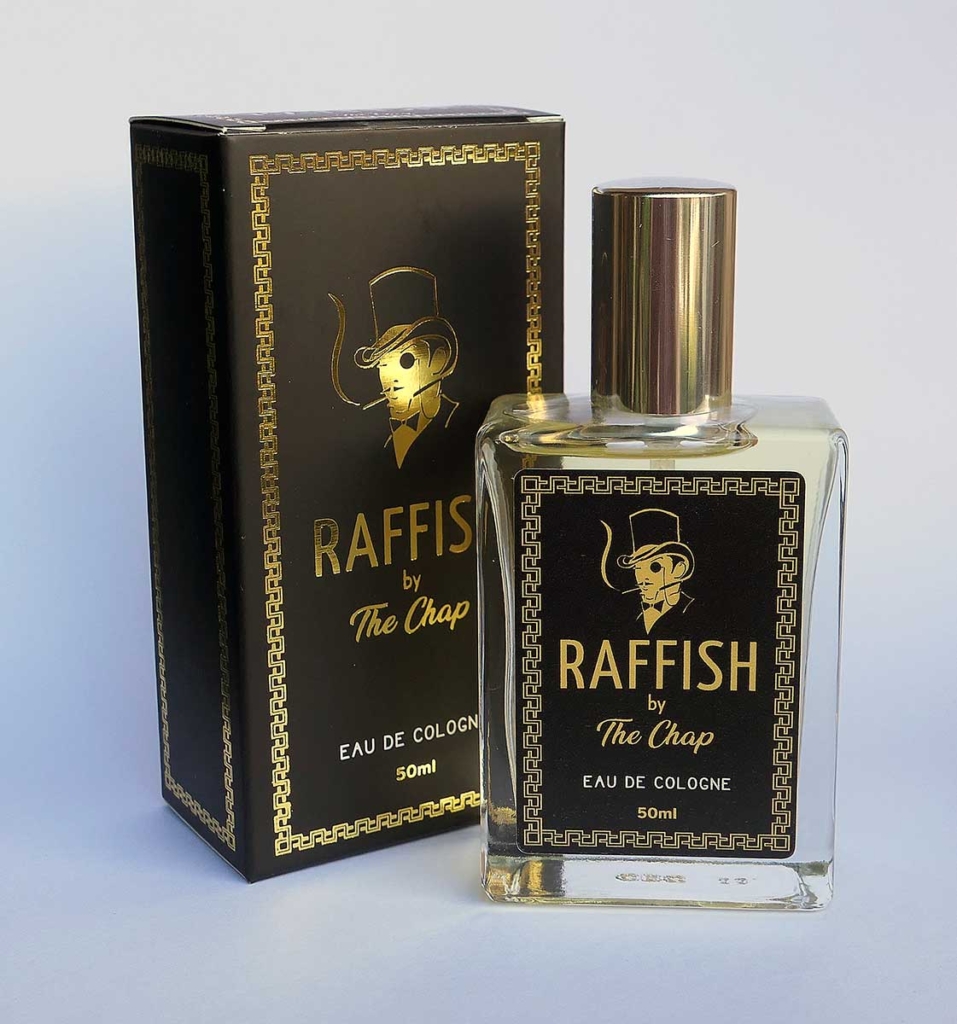 This men's fragrance from The Chap, takes a much more masculine stance than our other men's scent, Flaneur. Raffish is a heady blend of dark spices and elegant florals, which combine to produce a decadent scent that will make you feel louche as soon as you wear it. On a base of sandalwood, vetiver, amber and patchouli is added a fragrant sprinkling of spices, ylang-ylang and blackcurrant, rising to top notes of jasmine, mandarin orange, lemon and gardenia. Raffish is certain to appeal to pater because it will remind him of the days of his youth, when he probably thought of himself as a bit of a roué and man-about-town. Indulge this fantasy by allowing him to smell as if he really was such a character (even though mater will tell you he really wasn't). Raffish Eau de Cologne £29.00
THREE CHAPS AND A FREE BOOK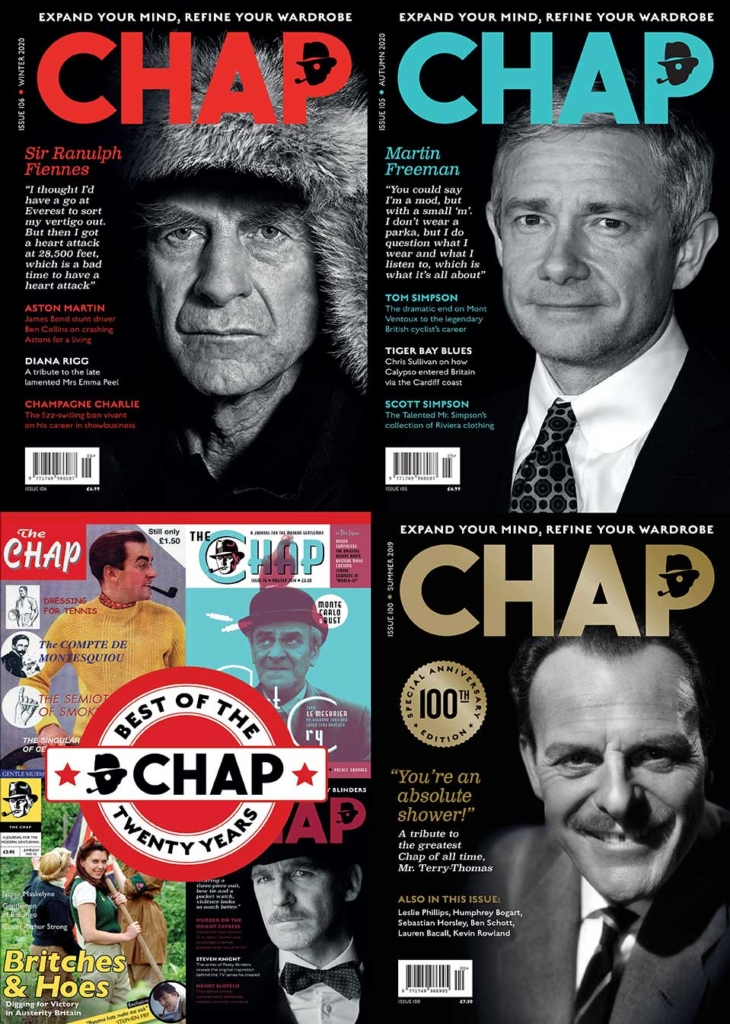 This special collection of three recent editions of The Chap comes with a copy of Best of The Chap, our 300-page hardback collection of 20 years of anarcho-dandyism. Packed within the three magazines you will find interviews with Martin Freeman, Sir Ranulph Fiennes, Leslie Phillips, Rita Tushingham and Nicholas Lezard. Dad will certainly be intrigued by features on Scott Fraser Simpson, Utility Clothing, Palm Beach Style, A History of Men's Grooming, Humphrey Bogart, Aston Martin, Terry-Thomas, Tommy Simpson and Tweed Ski Suits. Furthermore, this item has been reduced to just £19 from £30. Three Chaps & Best of The Chap
RAFFISH POCKET SQUARE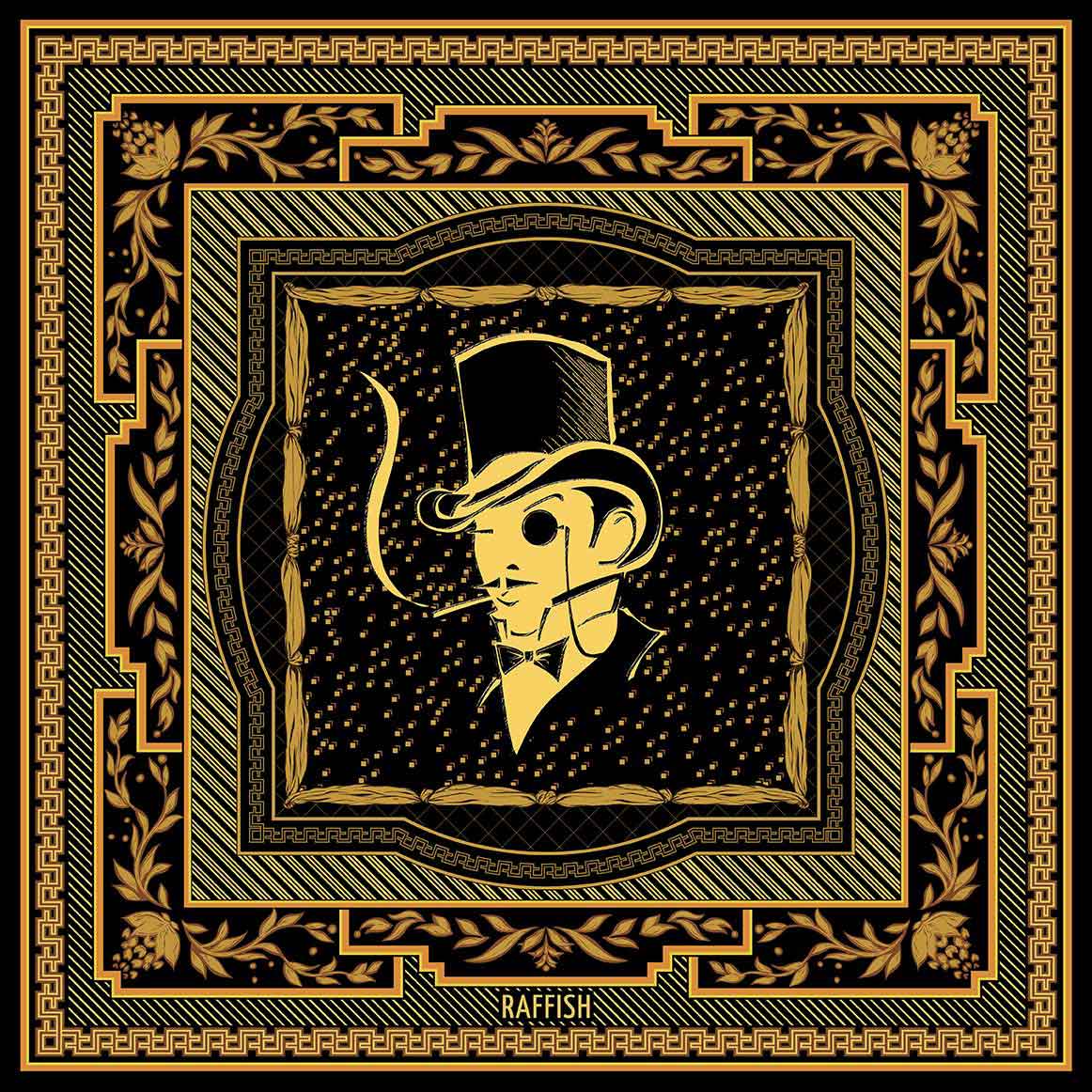 Designed to complement the Raffish eau de cologne, the accompanying pocket square adds a dash of decadence to father's (probably tweed) jacket. Its racy tones of black and gold, with a louche rake in the centre, can be positioned in the breast pocket in a variety of ways (don't worry, you won't need to explain this to papa), producing an entirely different display each time. The pocket square measures a generous 16×16 inches of 100% pure silk and is made in Britain, and features hand-rolled edges.
Raffish Pocket Square £25.00
SUBSCRIPTION PLUS FREE BOOK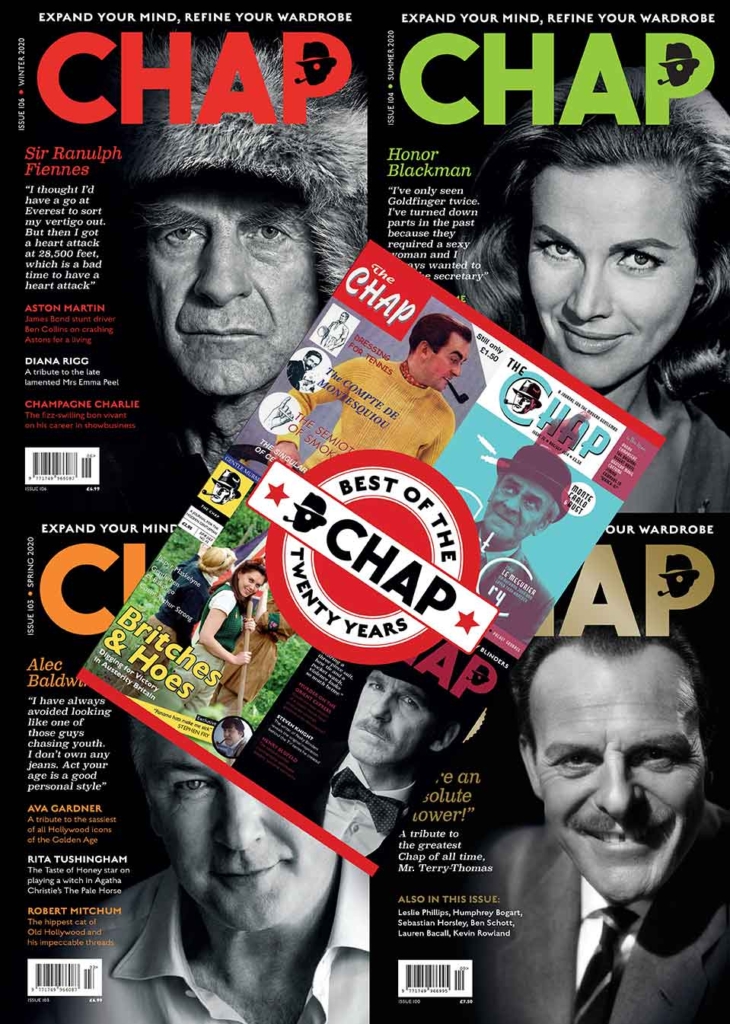 A similar gift to the above Three Chaps & Best of The Chap, but this gift is spread over a whole year, and is reduced by half price on the usual subscription cost. In the first instance, Father will receive his copy of Best of The Chap to whet his appetite, and thereafter four copies of The Chap will arrive directly to his door for the next year. The normal price for a gift subscription is £28 in the UK, but with this offer it will only cost you £14.00. Simply visit our Subscriptions page and use code FD21