Gustav Temple reviews a new steakhouse in the heart of London's Theatreland.
One of my favourite pubs in London is the Harp on William IVth Street in the heart of Theatreland. It is not, as one would expect, full of chorus girls and understudies awaiting their moment in the footlights, at least not on a damp Wednesday lunchtime in January.
Instead, the Harp contains the gentle murmur of ordinary Londoners slipping away from the workplace at lunchtime for a swift half or two with colleagues, and old men reading the Racing Post, the sort of people one used to see in pubs every lunchtime. The only reference to Theatreland is the eclectic display of paintings of actors and ballet dancers gracing the tobacco-stained walls on the way upstairs.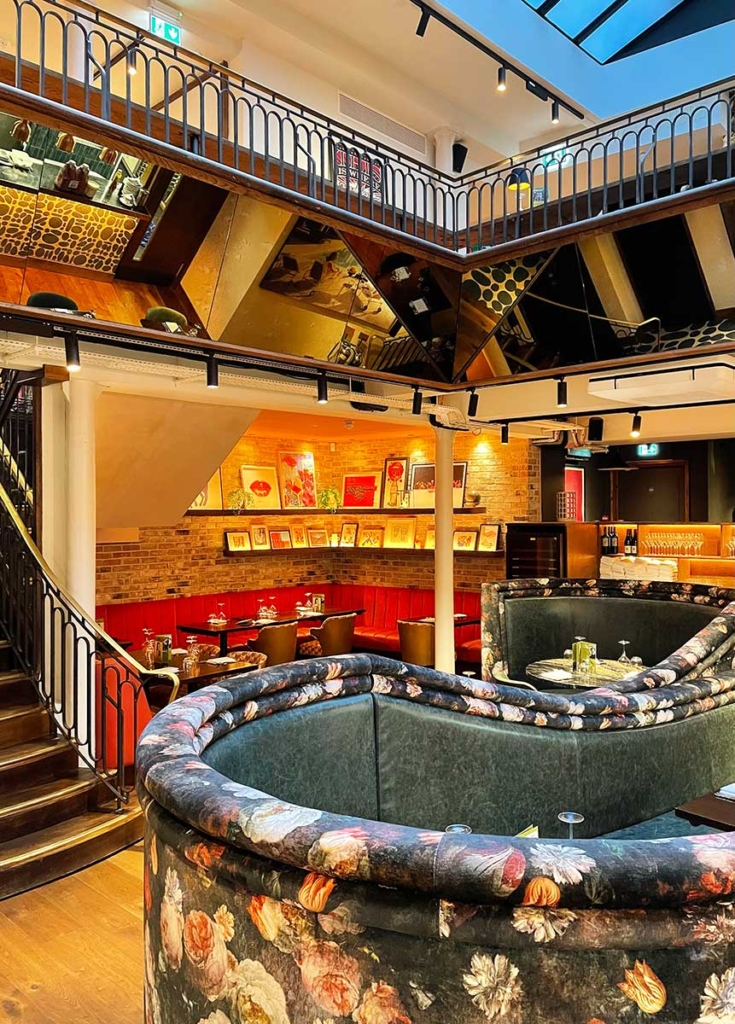 Almost next door to the Harp is the Jones family's new restaurant, on the back of their first venture, the Jones Family Kitchen in Belgravia, voted London's Best Steakhouse in 2019. Previous occupants of 40-42 William IV Street have been Les Deux Salons brasserie and a Pitcher & Piano, admittedly not hard acts to follow. The décor of the new restaurant provides a stark counterpoint to the Harp's faded charms, with bold monochrome portraits of Hollywood stars behind the bar, and larger more colourful artworks on every wall, making you feel as though you've stepped out of the January drizzle into a swanky Los Angeles diner.
My dining companion is Chris Sullivan, that celebrated nightclub impresario, writer and dandy who pens features for The Chap. Always adding more strings to his bow, he insisted on taking out his latest painted portraits, reminiscent of Picasso and George Grosz. Luckily we had been seated in a huge, swirling, central booth upholstered in bold floral fabric, so there was space to do this and also accommodate our pre-prandial cocktails, a Roll With 'em (rum, fruit cordial, lime) and a Saffron Sour (vodka, lemon, saffron syrup, bitters, lavender, egg white).
A flurry of amenable, well informed staff attended us, one of whom handed us a double-entry wine list: from one side they were listed in the usual way by country and region, from the other by style. "So the latter is for people who don't know about wine?" Chris cheekily asked, browsing the French selection and choosing a Chateau Tour de Capet St Emilion Grand Cru. Having selected to share the chateaubriand – for those who prefer a leaner cut (we were carrying our own reserves of fat) – on the advice of the waitress, we commenced with Duck Egg & Wild Mushrooms and Octopus Salad with Chili Dressing.
The octopus was a generous serving of tentacles on a platter of rocket, prompting an anecdote about my favourite restaurant, La Pulperia in Santiago de Compostela, whose menu is non-existent: Octopus, Galician style; bread; red or white wine. The Jones Family Octopus took me right back to that Galician cantina, and even just for this the chef should be commended. And that was before he'd chucked a prime cut of beef tenderloin on to the grill for us.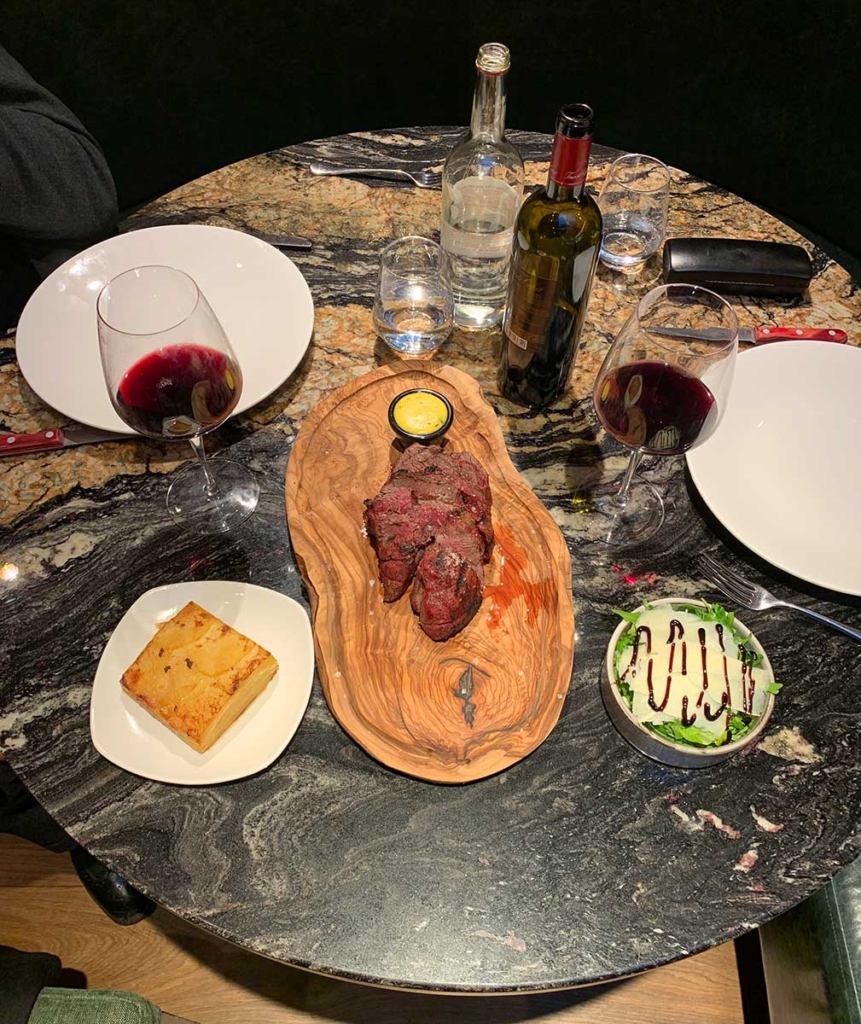 Chateaubriand is a large centre-cut fillet of tenderloin named after Vicomte François-René de Chateaubriand, French Ambassador in England in 1822 and created by his personal chef Montmireil. Originally it came with a Chateaubriand sauce and was cooked between two lesser cuts of beef which were then discarded. Today it simply means the best, leanest cut of beef you can get. Side orders included dauphinoise potatoes and rocket slathered with sliced Parmesan. You couldn't ask for a finer pairing than this prime, succulent cut of beef and a St Emilion Grand Cru, the Romeo and Juliet of meat and wine.
We took a stroll around the restaurant – it's large enough to do that – between courses, admiring the moodily lit modernist artworks and posing for a photo in front of a Warhol Marilyn (it's what the artist would have wanted). A restaurant should make you feel as though you've stepped away from all your cares and the poor weather, and into a capsule of refinement and pleasure that reminds you of the finer things in life – and the Jones Family Affair does precisely that.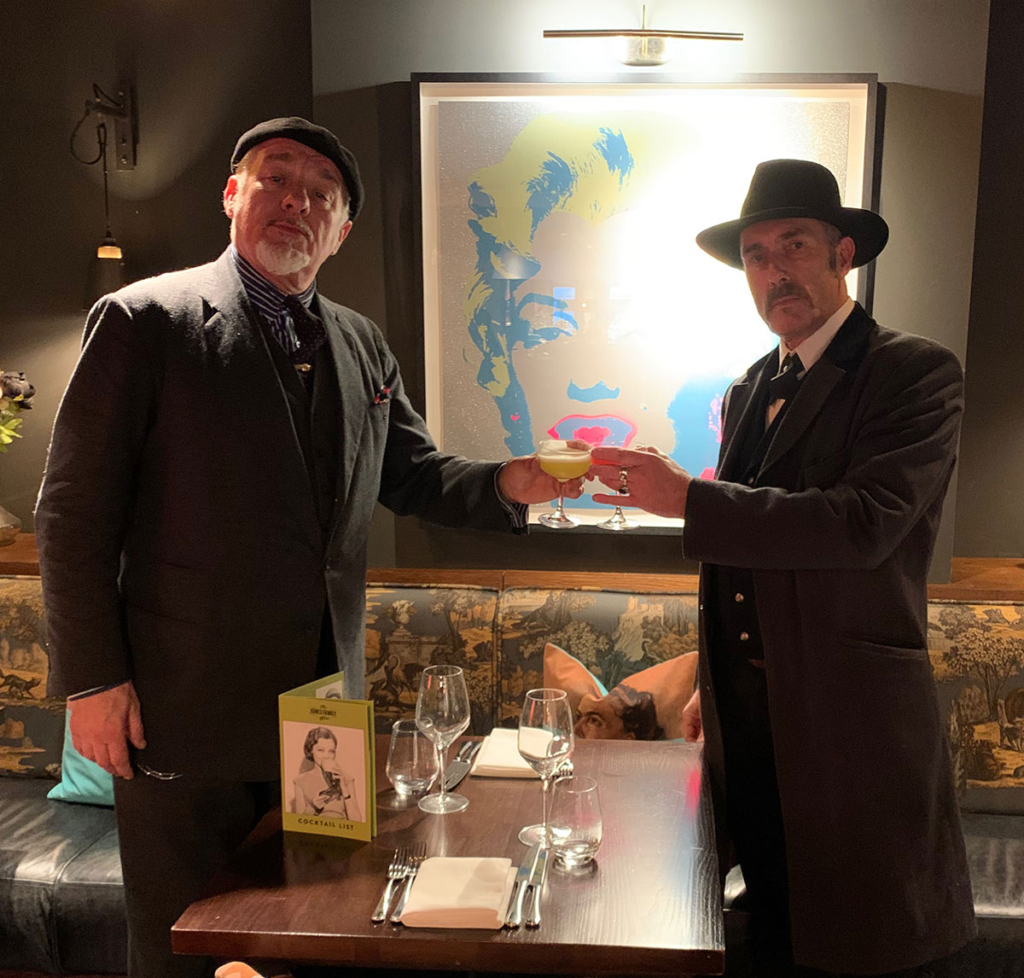 The restaurant's position on William IV Street means you can see Nelson's Column emerging from the mist in Trafalgar Square. William IV Street was once the site of Toole's Theatre, long since demolished, but around the corner is still the London Coliseum, and the major West End theatres are a hop skip and a jump away. The Jones Family Affair has set itself up to fill the bellies of theatregoers, offering a very reasonably priced pre-theatre set menu for £19.50 for two courses and £23.50 for three. Their Sunday Roast menu, which includes sirloin of beef with maple-roast parsnips and carrots, roast potatoes and Yorkshire Pudding, will set you back just £20.50, worth the price of admission alone.
THE JONES FAMILY AFFAIR
40-42 William IV Street
London WC2N 4DD
Tel 020 3750 2121