Portofino – diminutive and sublime – has long been on the summer trail of the terminally chic. It is, after all, the perfect expression of the Ligurian coast, its soft multi-hued building facades guarding, sentry-like, the sunlight-accented azure waters upon which a collection of yachts bob up and down, their unhurried skippers lounging upon spotless decks, G&Ts in hand, Gatsbyian elegance made flesh. In short, a stay at the Italian Riviera is the closest you can ever come to inhabiting a 1930s travel poster; all breezy, effortless style. This is, amici, the blithe and unbothered la dolce vita.
Portofino is, like only a mere handful of other places – Capri, St Tropez – the supreme articulation of pristine exclusivity. Glossy-maned women gambol like mountain lambs over cobbles in their heels, their jewels draped nonchalantly on sun-kissed bodies, while their menfolk stroll along in uncrumpled linen, light cashmere thrown over their shoulders with insouciance, the Dickie Greenleafs de nos jours. And all of these glamazons, after their light exertions aboard yachts or gently strolling for a view from the lighthouse, or indeed, from collazione with Domenico Dolce and Stefano Gabbana at their Riviera retreat, eventually repair up the hill to the most elite spot in the whole crème-de-le-crème affair.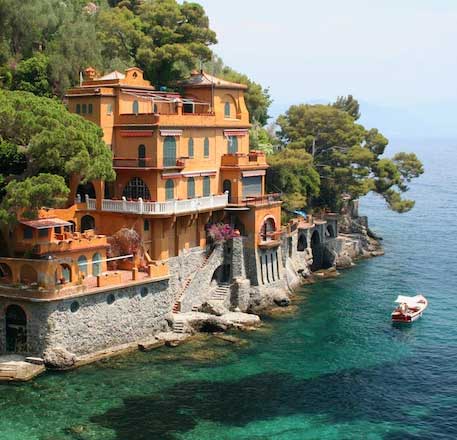 The Belmond Hotel Splendido sits picturesquely covered in wisteria nestled into the hill, its luxurious doors having welcomed la belle monde since it first opened as a hotel in 1901. As guiding principles go, the bed hopper could do worse than conclude that Winston Churchill invariably had the right idea, and once again, so it is proved. The cigar-devoted bon viveur was a regular here, as were Wallis Simpson, Grace Kelly, Elizabeth Taylor and Richard Burton – and it takes no leap of imagination to fathom their devotion.
The sincere warmth of the welcome after we trundle up the hill in the free shuttle bus is the first sign that this is a place you'll never want to leave. Arriving in our top floor suite, there to greet us is a bowl of strawberries and a seductive bottle of Prosecco on ice – and as disciples of the Churchillian school of happy hedonism, there could be no better start to our stay than imbibing said bottle on one of two balconies overlooking the seas below, while elaborately scheming as to how we can wickedly inveigle our way to an entire summer spent at this most achingly glamorous of hotels. No two rooms at the Hotel Splendido are the same, and we find ourselves in one of the more modern propositions, a thing of sheer slick beauty, its near-absurd scale posing the apotheosis of first world dilemmas; which palatial room to parade around in our luxurious dressing gowns first, and which particular table to set down one's chilled glass of Prosecco.
Such parading indulged and dispensed with, we head down to La Terrazza Restaurant, where chef de cuisine Corrado Corti flexes his considerable culinary muscles to showcase the most sublime expression of Ligurian fare. Even on a slightly cool night, the spot is transcendently perfect, its dotted lanterns lending a soothing warmth and a gratifyingly flattering light. The service is, as you would expect, seamless, proving once more that Italian waiters really do it best. Nowhere is this more evident than at La Terrazza, where we are danced attendance on by the charming staff, and where the maitre'd is always on-hand with a compliment or two – which flattery is just as well as you tuck gluttonously into the many irresistible courses that are to come.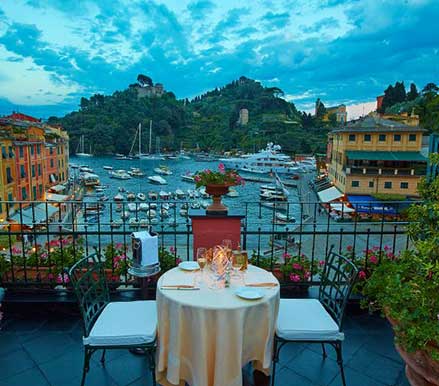 First up is the antipasti: artichoke salad with scampi flavoured with thyme and the Cipriani's (sister hotel to the Splendido) signature beef carpaccio with slivers of parmesan and artichoke, both suitably light and setting the tone for equally perfect courses to follow. And since Liguria is the home of pesto, we cannot visit the region's best hotel without trying its rendition of that classic, so prolifically imitated (and so routinely ruined) the world over. Served with trofie – little rolled morsels of pasta – it is superlative (we're told that the secret is the addition of pecorino as well as parmesan – something that, when tried at home, sadly does not lift our attempts, complete with supermarket basil leaves, to Splendido's lofty standards). The fish courses do not disappoint, with deep-fried scampi, prawns, baby squid and baked sea bass eliciting squeals of pleasure from this fishily inclined duo.
If the ambrosial dining experience at Splendido fosters and fuels the sense that this rarefied spot really is paradisiacal, a day lounging by the swimming pool confirms it. Despite the exquisite delights of Portofino down below us, we cannot tear ourselves away from this elevated (in both senses) pool until sundown, soaking up the rays and swimming up and down, never tiring of the view from its edge down towards the pretty twinkling harbour, with its array of yachts of the invariably 'super' variety.
It's all a pretty far cry from the 16th-century monastery that once stood on this very spot, where the monks found their silence and prayers so routinely and rudely interrupted by Saracen pirates that eventually they decamped from the place, leaving it to the sheep that dwelt on the hills. That was, until one Baron Baratta resurrected the wreckage and created a summer home for his family in the 19th-century, before Ruggero Valentini, to his eternal credit, took it over in 1901 and created what is now, deservedly, one of the most legendary hotels in existence. Today there are, as befits any five-star hotel, spas, gyms and tennis courts aplenty at the disposal of guests, but the real draw is almost certainly found in its constancy; little has changed since 1901, down to the same lemon trees that continue to line the terrace. Now, back to that scheming… we'll certainly be back, even if we have to come as pirates.
By Nancy Alsop
belmond.com