I still find the Eurostar really rather wonderful. You get on a train at St. Pancras and alight some two hours later at Le Gare Du Nord into a different world, where the attitudes, tastes, smells, people and culture are as different from London as sand is to salt. Undeniably, it is quite an anomalous experience – one that usually only a plane journey can really prepare us for – stepping off a train into this alien environment that's both Paris and, due to French colonisation, Gambian, Moroccan, Tunisian, Sudanese and Algerian. It's in all respects downright foreign. I have visited Paris some 40 times and have, via the auspices of Paris nightclub guru, DJ Albert de Paname and translator Clive Hadley, got to know the ins, outs and in betweens of the City of Lights.
After a swift café we made our way to Le Puce (the flea market) located outside Metro Pte de Clignancourt in the suburb of St Ouen; not specifically for the market, but to enjoy a typical Parisian lunch of snails and bœuf bourguignon (with amazing French bread) at Chez Louisette, a marvellous little café where you'll catch one of their septuagenarian crooners delivering a touch of Aznavour, Chevalier or even a Gallic rendition of My Way. This kitsch throwback to an age well missed is a Paris institution that is nothing less than essential. Subsequently, we had a little look around the market, where one might find everything from snide trainers and tourist tat to flick knives, authentic fifties' Americana, superb Art Deco objets d'art and original prewar French couture. Undeniably, this flea market isn't what it was in the 80s but, if you head northwest past Bd Peripherique, past all the cheap rubbish then, you will find the SWPL district and Marché aux Puces de Paris, where one might still find the odd bargain, such as the 1950s leather barnstormer coat I picked up for €60, and the large antique African mask from Gabon that cost me €80.
After a typical Parisian meal, and a typical Parisian flea market, it was time for a typical Parisian bar. La Chope du Chateau Rouge is a no-frills bistrot/bar with cheap drinks (€3.50 a pint of beer), friendly staff and full of locals. Tourist trail this is not. This was where we met one of our hosts for the weekend, the one and only Albert de Paname – who, Paris incarnate, was the man who resurrected Paris nightlife, first as DJ at Les Bains Douche in the late 70s, and later promoted amazing one-nighters at Les Balajo, le Nouvelle Eve and Maxims and, more recently, at Pachamama. He was also the man behind the famed Wednesday night at the Cafe de Paris in London's Leicester Square. His new weekly one-nighter is in Clignancourt, at bar-club-restaurant la Guingette de la Chope des Puces, where Django Rhinehart started his career, and where one can find live gypsy jazz most nights. Here Albert plays classic French music and cha cha cha, while his customers look as if they stepped out of movies such as Rafifi, The Golden Age and Lift to The Scaffold, whose attention to sartorial detail is above exemplary, particularly the ladies, who have an edge right down to the last earring.
But as it was Saturday night in Gay Paree and even though ye olde wallet was now some £200 lighter, in order to anaesthetise myself from the shock of unloading such an amount on drink and grub, the decision was made at 1am to drink a lot more, so off we trotted to Pigalle, home to gangsters, street walkers, drug addicts, sex shops, brothels, gambling dens and ne-er-do-wells that always pulls me in, like a bit fat moth to an even bigger, fatter and infinitely more exciting flame.
"Pigalle as a neighbourhood had the worst reputation of anywhere in Paris and was controlled by The Corsican Mafia for almost all of the 20th Century," chuckled Clive Hadley, who met us near Les Puce. "It's still not that safe at 4 am but now youngsters have started going there, while many of the streetwalkers [who until quite recently covered every single corner] have disappeared and gambling has gone online. It's become a bit like Soho in London was in the nineties."
And, even though the area still manages to hang on to its rather sleazy façade, beneath lies an underbelly of excellent, groovy bars, such as the tiny Pigalle Country Club, full of extremely stylish cats – a good few dandies, some fifties and forties incarnate, others sixties styled – but all grooving to a DJ playing classic funk, blues soul and Latin vinyl on couple of decks. Just up the street we saw more of the same at the lovely Le Petite Taverne, while around the corner lies the Rock 'n'Roll Circus, which delivers insanely cheap booze and a classic rock and soul soundtrack to a hep cat crowd. Pigalle sure is funky.


"There are plenty of these little bars all over Paris," says Hadley. "They are not expensive and so the customers are always young, interesting and interested. I go to a bar called Le Saint Sauver in Menilmontant, not because it's cheap, but because its still got that real Parisian bohemian feel that you don't get elsewhere." Menilmontant is another little area worth a visit. La Feline is a little bar with a stage that features burlesque acts such as Lulu La Vamp and Lalaloo Du Bois, with DJs playing pure 50s and 60s rock 'n' soul with a bit of vintage US garage thrown in, while Café La Laverie is a superb bistro bar run by a couple who care, which I certainly didn't by the time I hit the sack at 6 am.
After a fine breakfast, followed by an hour of intense libation in a nearby bar, we headed to the Left Bank to our first destination, the absolutely splendid Musée Rodin in Rue de Varenne. The sculptures are displayed in the garden, where one can sit back, take tea and relax, while soaking up both sun and culture. Remaining on foot (it is the only way to see all the nooks and crannies of Paris) we made our way to Rue De Seine, passing the fantastic outdoor food market which provides a real insight into the Gallic identity, divorced from all the tourist hyperbole. Rue de Seine is one of many real streets that have survived in Paris with not a Gap or an Agnes B in sight. On the left lies the Hotel Louisianne, once home to Miles Davis, Billie Holiday, Charlie Parker and Jean Cocteau, while at the end of the street lies another Paris institution, Bar Palette, decorated with a variety of old artists' palettes and a décor that must date back to the turn of the century, with a clientele that looks like it was torn from the pages of Brassai's Paris by Night.
Our next port of call was a true Paris institution – the Porte de Montreuil flea market, which has been held since 1860 on the avenue of Professor André Lemierre in the 20th arrondissement. Quite simply one of the world's finest markets, its is full to bursting with everything, from vintage toys to old light-fittings, furniture and clothes in huge piles that conceal some wonderful vintage French mufti. Another option is the smaller and infinitely gentler Les Puces De Vanves in the 14th Arrondisment, which runs on Saturday and Sunday mornings till 1pm and is where the locals go in search of old books, old furniture, antiques and clothing made before 1960.
Then, it was got back on the Metro, heading west to Montmartre where the likes of Renoir, Monet, Lautrec Modigliani and Picasso once lived. Here one realises that the Cubists just basically painted what they saw – a cacophony of roofs in grey, brown and beige (which is a tad disappointing, really). On the way we stopped off at the 120-year-old Chartier Restaurant on Rue de Fauborg Montmartre – where the waiters in bow ties tot up one's bill on your table cloth, and where a main course of confit de canard pommes grenailles is €10. A true Parisian institution, without which any visit to Paris is not complete.
Now a little squiffy again, we cabbed it up the hill to the magisterial Cathedral of Sacre Coeur. From its lofty heights one can look down on the whole city, from Montmartre to Montparnasse and from the Bois de Bologne to the Bois de Vincennes. Walking down from the cathedral, we then passed through Place Montmartre, which has been entirely engulfed by the tourist trade. It does still contain such wonderful attractions as Chez La Mere Catherine – the oldest bistro in Paris, established in 1793 as an eatery for Russian Cossacks who had wandered into France after the war with Napoleon. A damn fine restaurant, though I get a rather bad case of indigestion when eating in the vicinity of tourists who photograph their entire meal – even the damn cutlery – so we nipped over to La Divette de Montmartre, an odd little tourist bar with table football and pinball machines and every last inch of wall covered with stickers, bar mats and old vinyl, run by a grumpy old grey-haired owner called Serge. It was good to sit down, but even so, two hours later we hungry again, so we mosied on over to hill to chef Laetitia Bret's Michelin starred 'vintage' bistro Restaurant L'Esquisse. Even though it's a no-frills affair with zinc chairs and bare wooden tables and benches, it is known by locals as the best bistro in Paris, serving you modern French cuisine the likes of which I have never encountered before. I started with cockle salad with lemongrass, mango and avocado, followed by trout fillet, pickled peppers and orange ice cream with white chocolate/white pepper, finishing off with Raspberry Pavlova with strawberries and Orange Blossom, all washed down with an incredible house red – all for about €60 a head, including service.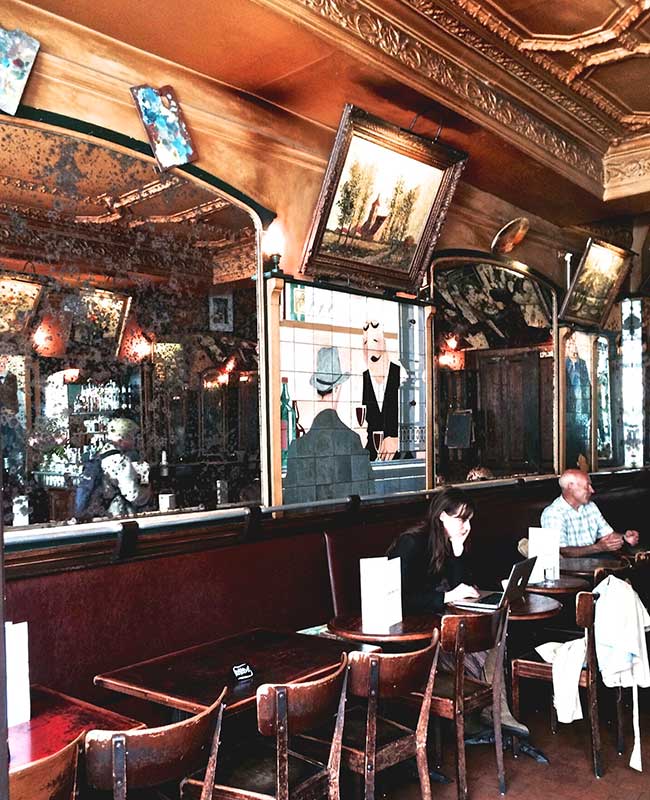 But Paris also fields some of the finest ethnic restaurants that this not so young scribe has ever encountered. Krung Thep in Belleville serves Thai food that is the best in Europe and worth a trip to Paris in itself. For Moroccan you will have a hard job topping Le Souk in The Bastille, whose fare provides a luscious assault on the senses that will knock you into touch. Any trip to Paris is not complete without a bowl of onion soup, a dish that only Parisians can do properly. So the next day (after a pronounced kip) I went to Aux Pied de Cochon in Chatelet, which since 1947 has rarely closed, day or night. This fave haunt of Josephine Baker, Serge Gainsbourg, Alfred Hitchcock and Jean-Paul Belmondo is a beautiful space, while the food is pure Paris and the soup festooned with enough cheese to make your spoon stands up on its own.
Walking from Chatelet to Les Halles, I was struck by the sheer volume of truly great quirky little stores. One might expect the centre of Paris to be bereft of any retail quirkiness. One might discuss the merits of a 1930s train set with a man who has spent his whole life considering such, or haggle over a clay tobacco pipe with a septuagenarian crone who lives for her store or, buy some vintage clothing by the kilo, then rest up in a café not called Costa or Starbucks next to a cobblers, a fishmongers and a button store, all of whom occupy prime real estate. London it is not. Paris and its citizens have an inexhaustible passion to preserve their history by a rather strict code entirely absent in the UK – planning laws are some of the toughest in the world; local authorities set caps on how much landlords, both commercial and domestic, can charge, and in so doing avoid this hideous feeding frenzy that London in now suffering, as rapacious landlords and foreign investors tear down our heritage in favour of building luxury flats. Many of the little shops that made London what it was have been forced out of business by rates that are linked to rents; many of the city's young creatives are forced to leave the city, as they can't afford the rents, leaving a conurbation that is rapidly losing its soul.
We've all seen developers and property magnates turn our cities into enlarged homogenized shopping malls, ripping the guts out of London and New York by tearing down the familiar and the beautiful in favour of nondescript, multinational store fronts. This hasn't happened in Paris, and you can smell the city's vibrancy and history as soon as you hit the street. The French capital overflows with individuality and a very pronounced joie de vivre. Parisians have realised that a real city has diversity and colour that is never a consequence of bending over for huge foreign investment companies, and is achieved simply by being itself, reflected both in citizens and establishments.
As Ralph Waldo Emerson proclaimed, "To be yourself in a world that is constantly trying to make you something else is the greatest accomplishment." I think we have to applaud Paris for just that.
By Chris Sullivan from Chap 100, published May 2019