The epistle that I received from this magazine's editor was a tragic one. "I regret to inform you that I have been taken unwell, following an unfortunate trip to Cornwall. You shall have to do the next review as a solo endeavour." This was enough to bring a tear to my eye, although my sorrow was swiftly dampened by the knowledge that I would be lunching, albeit with less elegant company, at the Cinnamon Club, the doyen of London's sub-continental restaurants, situated in the shadows of Westminster Abbey and the Houses of Parliament. If Gymkhana is a dashing son and Indian Accent an impeccably presented mother, then Vivek Singh's Cinnamon Club – still, after all these years, a place packed to the rafters with politicians, journalists and those-in-the-know – is surely the patriarch. Those who dine here tend to come away rhapsodising at the whole experience; the sublime food, the wonderful wine, the books…
"The books? What has that got to do with fine dining?"
The Cinnamon Club is set within what used to be Westminster Library, and has retained a quietly civilised air. One imagines the gossip circulating between tables being kept at a low thrum; we were visiting during the party conference season, so the atmosphere was sedate. Not that the restaurant wasn't busy; it's a big room, but it was comfortably two thirds full, even on a Thursday lunchtime. As I made myself comfortable in a book-lined corner, I contemplated my fellow diners. Well-dressed men of a certain age who seemed to know all that there was to be known; savvy visitors who were tucking into the excellent value set lunch; even a few ladies who lunch, who seemed to be lapping up the most outrageous gossip.


We were furnished with a fine bottle of white to whet the whistle; my infallible notes tell me that it's a Riesling Kabinett, and that it comes from the house specials list. Well might it do. We peruse the menu, which offers a cornucopia of delights. I'm especially tickled by the fact that, almost apologetically, there are a couple of dishes, devised by the great Eric Chavot, 'for those challenged on the spice front.' We do not indulge. My fellow trencherman has some mild confusion over the pronunciation of the fish he orders, but we get there in the end; I, always conscious of the social niceties, plump for the tandoori octopus. It is a thick, rich and generous portion of that wriggling amphibian; I like to think that it put up a good fight before it disappeared into the pan, and thence my belly.
And then, the main courses. There is a certain theatricality, n'est-ce pas, in the Singh method, because one does not visit the Cinnamon Club merely to sup on chicken tikka masala or lamb rogan josh. There is chicken, but it is old Delhi style butter chicken, served on the bone and carved at table. The sauce is a thing of beauty; in days of yore, one can imagine the locals flocking to one's dining room and begging for a taste. It is sufficiently good to imagine selling a soul for it, albeit preferably not one's own. A glass of the Riesling is taken; some black lentils added to the dish to add an (unnecessary) additional layer of complexity. The butter chicken is the stuff of legend.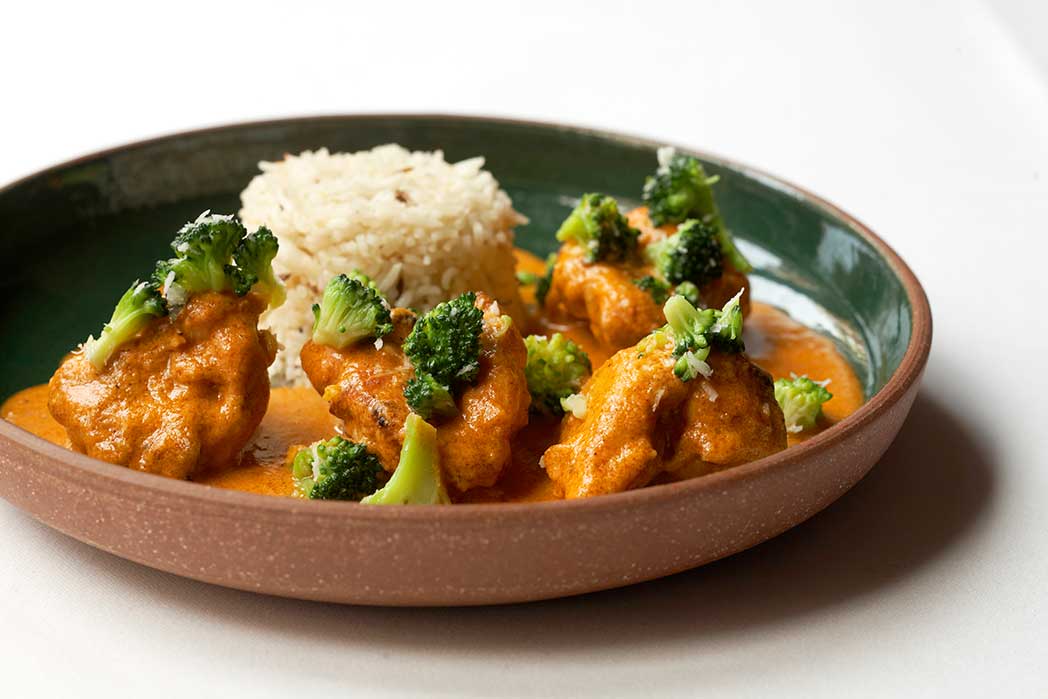 Of course, nothing can really compete with this, but we're prepared to give it a go. There is a smorgasbord of desserts, presented with the confidence of a restaurant that wants to defy the cliché that Indian establishments can't do pudding. (Pedantry alert: that's Cantonese dining.) For £30 for two, a combination can be presented and, after some careful plucking and nibbling, we decide that the outstanding offering is a very fine pistachio ice cream, although the sticky toffee pudding runs it close. A coffee and some excellent petits fours later and we're ready to waltz out into the Westminster afternoon, replete and ready to conduct ourselves with the aplomb of any of our elected representatives.
The Cinnamon Club has been in business for the best part of two decades. All we can urge you, with the greatest of sincerity, is to be careful with your napkin as you slurp the most delicious of sauces; be warned, food this good will stain. And on your very fine head be it….
Reviewed by Alexander Larman
The Cinnamon Club
The Old Westminster Library
30-32 Great Smith Street
London
SW1P 3BU
cinnamonclub.com
This November marks the 10th anniversary of Vivek Singh's renowned modern Indian restaurant, Cinnamon Kitchen, located in the London's Devonshire Square. Vivek has teamed up with five of London's finest Indian chefs including Will Bowlby, Asma Khan, Cyrus Todiwala, Sriram Aylur, and Ravinder Bhogal to host a one-off feasting dinner on Monday 5th November 2018 to showcase a decade of Indian deliciousness. Tickets are £75 per person and can be purchased here: eventbrite.co.uk