By now, Hawksmoor Borough has delighted and beguiled a vast number of carnivorous types. Excitement can be seen writ large on the faces of each meat-eater at the magnificent treats that lie in store. 'The finest meats, exceptional wines and cocktails and a wonderful setting – what could possibly be better?' The answer, you will be unsurprised to hear, is 'not much'. The latest London outpost in Huw Gott and Will Beckett's empire – now present in Edinburgh- does everything that you'd expect from this superbly accomplished group of restaurants, but adds a few twists that show that there's plenty of life in the not-so-old dog yet, not least in an exciting and delightful new special menu.
This Hawksmoor feels closest in atmosphere to the (excellent) Manchester outpost. There's a clubby, intimate feel to it that means that it's more suited to a romantic dinner a deux than the more masculine bravado of the Guildhall branch. If we slightly missed the comprehensive bar area that the Seven Dials branch boasts, then there's no use crying over spilt milk, or spilt gin and tonics for that matter. There is an awful lot here that's good, and we should celebrate it.
If you've ever visited a Hawksmoor before, you'll know the drill to a large extent. Order a pre-prandial cocktail (the Shaky Pete's Ginger Brew is a thing of wonder and beauty) and then relax into the menu. We'd visited specifically to try the latest in the apparently never-ending series of wheezes and promotions that the Hawksmoors offer; in this case, a three-course dinner of the restaurant's favourite dishes paired with various specially created beers, courtesy of the Guinness Open Brewery. One begins with an aperitif of mixed botanicals, or a kind of beer version of a gin and tonic. It is light and moreish, and takes one into the verbena saison, perfectly paired with the Hawksmoor special of scallops with white port and garlic. Then things get even better in the piece-de-resistance of the aged rib-eye steak, complete with a barrel aged red beer.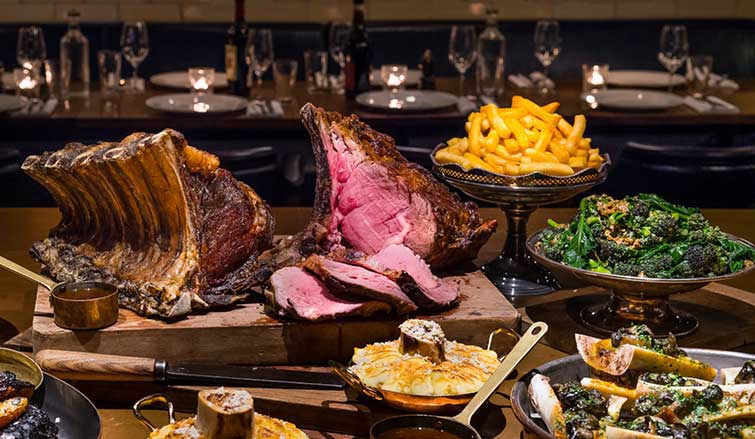 One gets all the traditional trimmings of triple-cooked chips, macaroni cheese and creamed spinach, and the whole affair is a delightful one. Pudding is, naturally, sticky toffee in nature, and if the barley wine beer match doesn't quite work, both work extremely well on their own terms.
When we called for our carriages, more sober than usual, we set off into the night sated and extremely content. Yes, Hawksmoor Borough is far from cheap (although this menu, at £75 a head for all food and drink, is certainly one of the more palatable ways of enjoying it), but it's one of the sheer, delightful pleasures that make London life that bit more enjoyable, and frankly that has to be worth virtually any amount of ready money.
thehawksmoor.com