Kentucky is regarded as the first of the Southern states, sitting south of the Ohio River on the eastern side of the United States. It is a green and pleasant land, literally. There are miles of gently rolling hills, clean air and plentiful amounts of fine pure mineral water. All these elements play a large part in the success of the state's principal assets. This 'porch of the south', as it is known locally, has many things going for it, not least its hospitality. Everywhere I went in the state, whether it was the 'metropolis' of Louisville or the quaint Victorian brick-built small communities like Georgetown, Covington or Lexington, people were friendly, welcoming and generous. There's a saying in Kentucky, "If you leave hungry, we haven't done our job". A chap could never leave Kentucky hungry or thirsty, for that matter.
There are three things that make the state tick, all of them very important for a discerning cove to know about – and they all complement each other perfectly. The first is the equine excellence. This is a state of the horse. It's possible to go to the races 52 weeks a year if, you wanted to. I visited the most famous racetrack in the country, Churchill Downs, Louisville, where the Kentucky Derby has taken place since 1875. Fortunes are made and lost on that day in May and the three-year-old thoroughbreds only get one chance at it. The big event is the culmination of two weeks of races and celebrations. The track's length is one-and-a-quarter miles, takes around two minutes to complete (if you have four legs) and there are 20 runners. This year's winner, Justify, was ridden by Mike Smith and trained by Bob Baffert with odds of 3-1. The winnings are a tidy sum of $1,432,000, but of course the owners and trainers bet as well, so presumably make much more than that.
Crowds of 170,000 racegoers swarm to see this institution and bet on the event. Gambling isn't legal in all American states, but is in Kentucky, so this adds a frisson to the whole affair. They race on 'dirt', which is a combination of sand, silt and clay, carefully raked between each race. The average height of a thoroughbred is 16 hands, a hand being four inches. All racehorses in America are tattooed under their upper lip for identification purposes, reducing identity fraud to virtually nil. Horses are highly intelligent animals that can be trained to do many things, one of which is a lovely little trick, to curl their upper lip, Elvis style, so you can see the tattoo.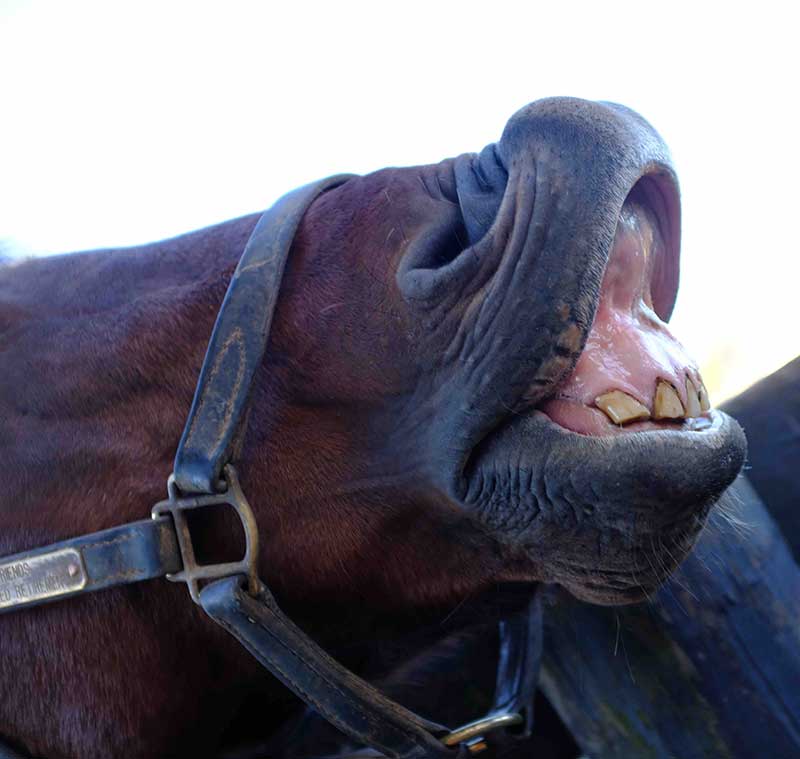 The thrill of the day is powered by money, lots of it. This year's race saw a total of $149.9 million wagered on those two minutes. The chances are that the winning nag will have been stabled by its trainer at Churchill Downs, where they look after up to 1000 horses. Behind the scenes (you can go on a tour and might even see a winner in its stable or having a bath) it's like a small city of equine industry. Horses are cared for like precious babies; nothing is too good for them and a bond exists between the stable lads and their charges. There is a museum, which traces the history of previous races through the decades, with plenty of silks and memorabilia on show, culminating in a superb 360-degree film presentation in the shape of a racetrack.
So what unites racing with Kentucky's next biggest industry? Why, the mint julep of course, only found in local bars and restaurants when mint is in season (Americans know how to do cocktails like no other nation). Kentucky Derby day is all about dressing up in your finery, putting a few dollars in your waistcoat and sipping a mint julep or two through a straw. The cocktail is a perfect combination of crushed ice, bourbon, mint and sugar syrup. It's refreshing, moreish and very satisfying. Bourbon is taken as seriously as you would imagine in Kentucky. The state produces around 99% of the world's bourbon (Tennessee producing the remaining 1%). Every restaurant, bar or liquor store has a vast selection to choose from. In one eatery I was presented with a book that I not unreasonably thought was the wine list, but it turned out to contain hundreds of option of bourbon. When I enquired about wine I was told, "Yes sir, we have red or white."
There is a route that can be taken across the state known as The Bourbon Trail. Visiting many of the distilleries, it meanders not unlike the chap who has imbibed a little too much red-eye. There are traditional ones, start-ups and big hitters, all offering their own take on the brown stuff. There is of course a subsequent stratum of businesses that thrive on the production of bourbon. The Brown Forman Cooperage is one such place. All the barrels for Jack Daniels, Woodford Reserve, Old Forrester, Early Times and many others are still made by hand here. Producing an incredible 300,000 barrels a year, they are the largest cooper in the world.
This is hard work in a hot and dirty work environment. The coopers 'raise' their barrels as if they were children but are somewhat more prolific than most parents. A skilled cooper can produce 200 barrels in one day. There are 33 staves per barrel, held together with steel bands, then the burn is applied. This is where they set the inside of the barrel alight, toasting it for a few seconds to add charcoal to the surface. In conjunction with the American oak, this will yield the flavour and dictate the colour of the bourbon.


Bourbon is a fairly straightforward spirit, in that to be called 'bourbon' it has to consist of at least 51% corn, aged in new oak charred barrels, distilled to no more than 80% alcohol by volume, then bottled at 80% proof (40% alcohol by volume) or more. Unlike whisky, there is no specific aging duration, but usually if it is less than four years it says so on the bottle. Obviously the skill of the blenders, level of char and duration in the barrel all play their part, as does the water in Kentucky; it's slightly limestone, which most Kentucky distillers swear is an integral part of the taste.
And what is that third element that makes Kentucky tick? Bluegrass music, sometimes known as mountain music. The godfather of the genre was Bill Monroe from Ohio County Kentucky. He was born in Rosine and you can visit the house he spent a large part of his life in. There's a museum there and, every Friday night, musicians make the pilgrimage to the Rosine Barn and play until the small hours. This is literally an old barn with a rickety stage, where newcomers are encouraged to have a go as well as old hands. Bluegrass music usually doesn't have drums but will use a double bass and banjos as well as guitars. It has a calming effect on the soul, with a fast tempo and sometimes mournful lyrics. It runs through the veins of Kentucky just as bourbon does. There's also a museum and hall of fame in Owensboro with a concert hall attached. I saw living legend Sam Bush, considered the originator of progressive Bluegrass. His frantic mandolin playing takes this genre to a new level. While the roots of his music are authentic bluegrass, he has added speed and modernity, bringing in new fans worldwide.
Kentucky is many things for the travelling chap. Yes you could go and buy a Stetson and sit on a porch drinking two fingers of red eye and plucking at your banjo. But I would urge the intrepid fellow to seek out those wistful nights of Bluegrass in a small bar somewhere, take a day at the races and certainly take a look round a distillery or two. My favourite was Maker's Mark. A real old-school place made of wood, it has been used as a distillery for over 150 years and creates the most incredible spirits. The tour offers an insight into some of the magic involved and, crucially, a tutored tasting at the end. Yes, Kentucky is one heck of a place.
Article by Neil Hennessy-Vass
Travelplanners offers an 8-night Kentucky trip at four different hotels. Based on two people travelling on the 4th March 2019 with United Airlines from Edinburgh, the cost is £1195 per person. United Airlines direct flights from Heathrow cost £1259 per person, including Hertz car hire for the full duration. To book, call Travelplanners on 020 3542 8888.
For more information on Kentucky: kentuckytourism.com