Lunch at somewhere as legendary as Simpsons-in-the-Strand cannot be taken at a hurried pace. At least half an hour should be spent on pre-prandial chit-chat with the knowledgeable Joshua, Senior Bartender in Simpsons' tastefully refurbished upstairs cocktail bar. Thankfully the extent of the refurbishment seems to have been no more than a lick of Farrow and Ball and some new upholstery on the plush sofas and armchairs. From a selection of imaginatively constructed concoctions that refer to the glorious past of Simpsons and its venerable historical guests, I chose an 'Artful Dodger' (Dickens was a regular) purely because the word Absinthe rang out from the ingredients, while my companion took a more adventurous choice in something called 'Don't Make a Fuss'.
The Artful Dodger delivered its expected gin-and-absinthe punch, while Don't Make a Fuss turned out to be something of a challenge, served in a flute with a faux lipstick mark on its rim and witheringly described by my companion as "flat champagne in a dirty glass."
Sensing discord, Joshua manifested at our side to explain. "Half the guests simply enjoy their cocktail, while the other half indeed 'make a fuss'. The lipstick stain is created with red sugar syrup and the mixture is intended to resemble flat champagne." So, a sort of Milgram Experiment in a cocktail bar. At £16.50 a pop, one might choose a less dramatic start to one's afternoon, but by the time Joshua had given us samples of Simpsons' two brands of gin, London Dry and Old Tom, plus a bottle of Simpsons Pale Ale, we had not only ceased to make a fuss, but were more than ready for something solid in our stomachs.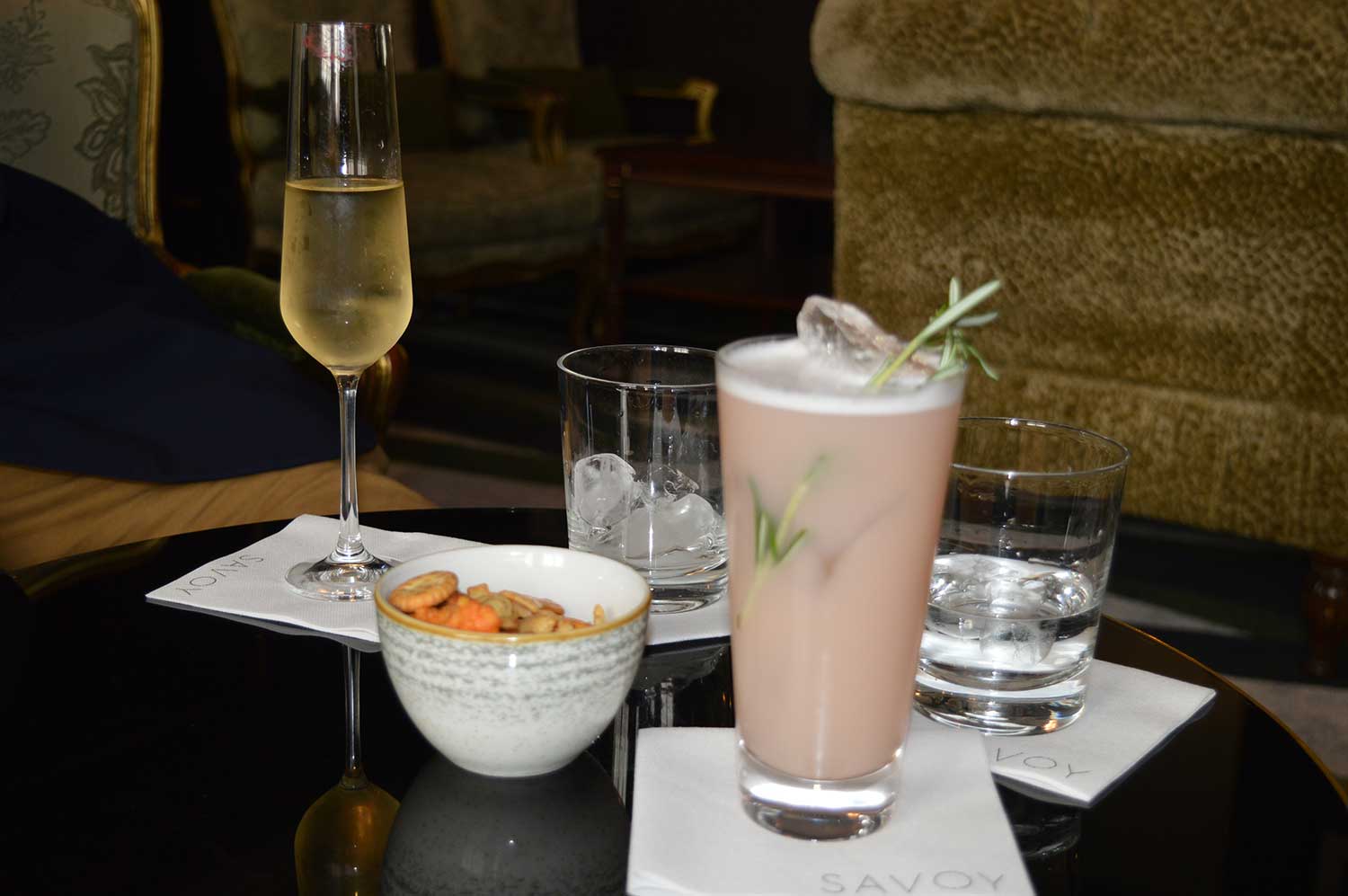 There is something rather glorious about the interior of Simpsons. It has the fin-de-siècle quality of a gentleman's club, mixed with the luxurious abandon of a Viennese grand café; whatever The Wolseley offers, its Strand neighbour did it before, and considerably better. When one enters, it's hard not to be overwhelmed, and that's before the plethora of pleasures offered. The room has the feel of an Oxbridge college, albeit one solely devoted to munching and quaffing. We enjoy the way that the ceilings, post 2017-refurbishment, have artful faux-tobacco staining, so that the old gents dining with their sons and nephews won't feel lost. There is no menu here, instead a 'bill of fare'.
Unlike Laurence Olivier in Spartacus, we've always opted for oysters over snails, and the two proffered here – West Mersea and Jersey rock – are succulent, served in the time-appointed ways of simplicity, with lemon and shallot vinegar. A glass of Ridgeview from one of Sussex's finest sparkling wine regions accomplishes the pre-prandial pleasure, and then we are ready to venture into wilder and less familiar territory.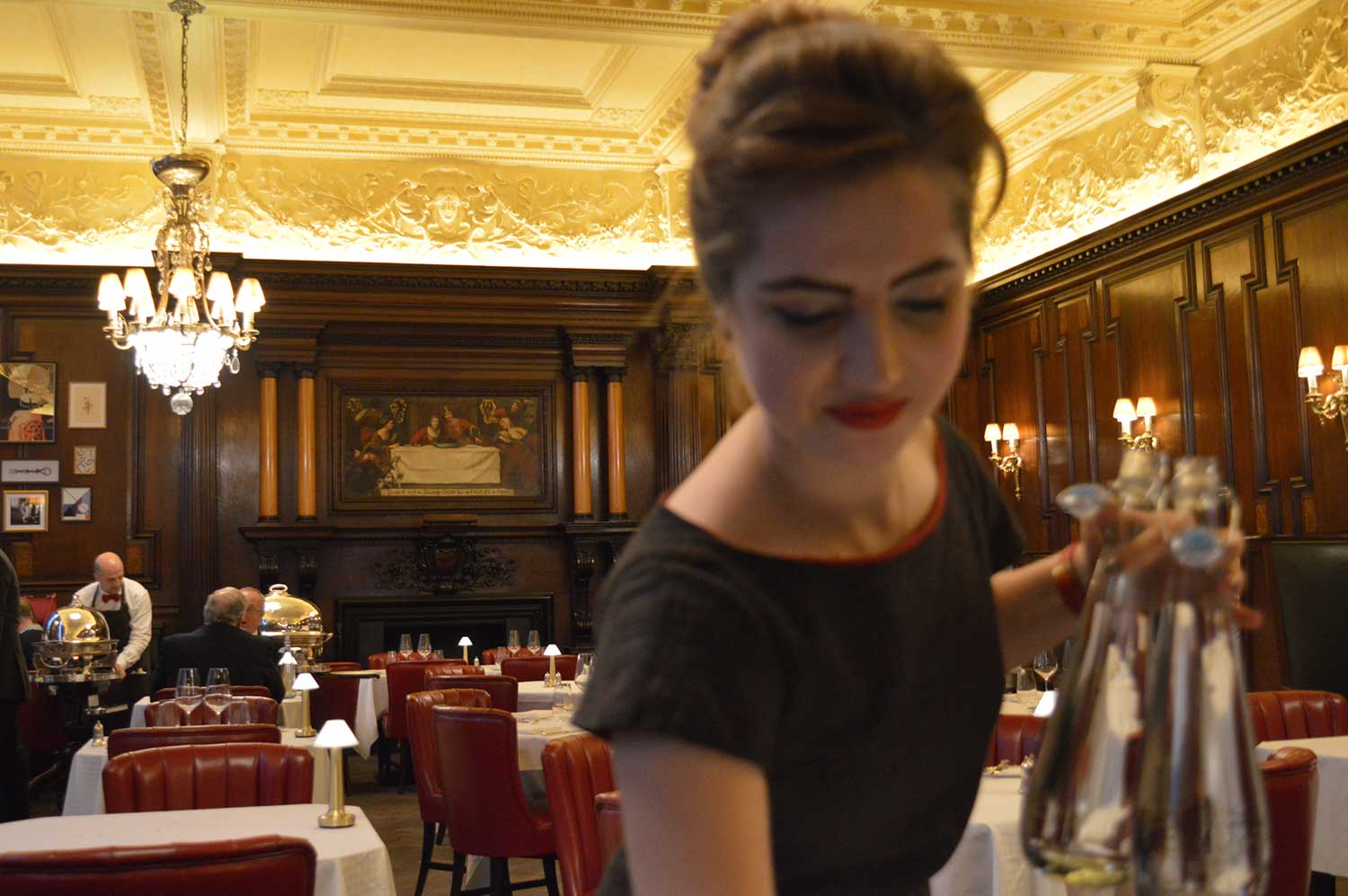 I jest, of course. Simpsons has never attempted to trouble the world of culinary sophistication – although it should be noted that it scored a Michelin star at one point – but instead to serve up the Great British Classics with aplomb. Most people have heard of the trolleys which come round, serving inordinate qualities of roast meat to a grateful audience, and this is certainly true here; the Aberdeen Angus beef which comes by the slice (£35 a serving) is about as good as you'll get in London, and the Yorkshire puddings, gravy and what-have-you are exactly as you'd expect. The potatoes, perfectly roasted and terribly moreish, are the stuff of nursery fantasies. Yet the Beef Wellington, at a not-inconsiderable £42 a pop, is not quite what it was; m'colleague rhapsodises about 'a great enormous slab of gloriousness' on his previous visit some years ago, whereas the couple of rather carefully cut slabs that come to the table are delicious, superbly cooked and yet not quite the reckless luxury of yore. It helps, therefore, that the red we're offered, a Stellenbosch, is a Meerlust. As every Rochester aficionado might recall, 'there's something generous in mere lust'…
Much the same could be said of the starters. There is literally not one thing wrong with either the Simpsons potted shrimps, in their quasi-terrine form, or the Dorset dressed crab, both of which are fresh, delicious and surprisingly light. They are much assisted by the white Mirabeau Bordeaux that they are served with, which sets them off on a splendid volley of excellence. But they're not the trencherman's platter that the larger gentleman – and this has always been a gentleman's place – might be used to. Thank goodness, then, for the redress that puddings offer. A sticky toffee date pudding and remarkably comprehensive trifle are substantial, in a sort of matronly fashion, and utterly delicious.
So we leave Simpsons in a pleasant haze, like two Victorian gentlemen who have accidentally been catapulted into a not-so-brave new world. We have had an immense amount of fun, but wonder if perhaps the corsets, which still seem so tightly laced, might be unbuttoned just the tiniest bit when it comes to the menu, so we can all share in the fun which the institution so obviously and wonderfully is able to offer.
Reviewed by Alexander Larman and Gustav Temple
Simpson's in the Strand
100 Strand
London
WC2R 0EW
020 7420 2111
www.simpsonsinthestrand.co.uk