The Sussex seaside town of Eastbourne is an odd place for a gentleman, especially two chaps dressed as if auditioning for a regional theatre production of Death in Venice. My dining companion and I shuffle along the seafront, bright linen suits attracting the glare of the sun; the confused glances of the mostly octogenarian citizens making us eager to reach our destination.
Upon sweeping into the elegant gardens of the Grand Hotel, built in 1875, we immediately feel safe in the lee of bright white Victorian architecture and bustling concierges. The Mirabelle is The Grand's main in-house restaurant for guests and also a destination eaterie with its own entrance. The hotel's looming Corinthian columns and vast rooms full of Queen Anne armchairs give way to the slicker, glassier interior of the Mirabelle.
Diners are immediately put at ease by Maître d' Benjamin Warren, whose air of Jeevesian efficiency is heightened by a dapper (and definitely untrendy) beard. According to the in-house literature, Benjamin originally trained as a chef and then worked in a Swiss casino, which suggested a glamorous past that endeared him to us. The dress code stating, "Gentlemen are respectfully requested to wear a jacket or collared shirt; please no T-shirts or sportswear" provides further reassurance that we were in suitable surroundings.
After the barely discernible swishing movements of Benjamin, the table is suddenly laden with the first round of our repast. We are intrigued as to how new chef Stephanie Malvoisin compares to the previous incumbent, Gerald Roser, who served the Mirabelle nobly for more than two decades and understood the demands of this kind of old-school tradition about as well as anyone cooking today.


Matters start extremely well. The house champagne is Louis Roederer – always an excellent choice – and the £14 price tag is comparatively kind compared to some similar establishments. The bread that we're offered is seasoned with rosemary and delicious. We talk between ourselves of matters cultural and Chap, but we are exceptionally impressed so far. The shine does not fade when our starters arrive. Gustav's smoked haddock ballotine is a triumph, especially the Jerusalem artichoke vinaigrette; Alexander's quail breast is perfectly cooked and beautifully presented. A couple of glasses of Chablis and Pinot Gris keep sobriety at bay for a moment.
The main courses arrive. Gustav, continuing a winning trend, pronounces his rosemary infused lamb rump, direct from Romney Marsh, exceptional, though he raises an eyebrow at the ratatouille, which is quietly damned as being 'tricky to get on the fork', and he seems more than usually interested in how, exactly, the pomme duchesse was put together; 'I think that the blighter's been at it with a blowtorch!' Alexander's slow cooked feather blade of beef has indeed been slow cooked, to a point that it looks once again rather over-indulged at the stove; it is rescued by a delectable bordelaise sauce, which adds a much-needed moisture and vibrancy to it. We chink glasses of a very decent house red, the Rothschild Cabernet Sauvignon, in quiet approval.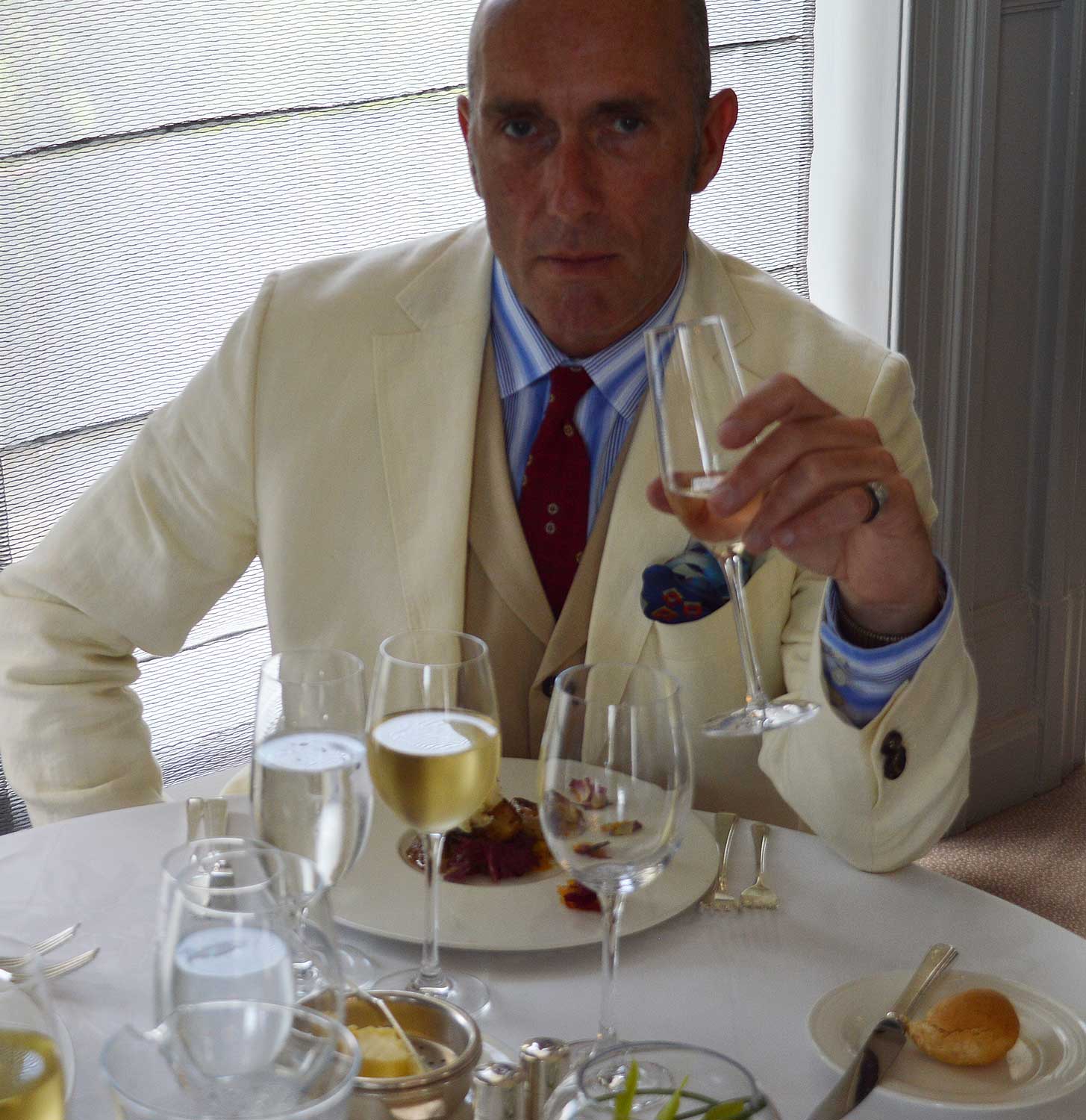 And then pudding. (It's worth noting that, at lunchtime, the meal comes without the frimmery-froppery of amuse bouches and pre-desserts that one might expect, reflected in the very generous £28 price tag). Alexander's attempt to take the high ground with his 'exotic Eton Mess' – cue bawdy jokes about what an 'exotic Harrow Mess' would look like – is once again soundly defeated by Gustav's chilled chocolate fondant, a succulent mound of solid sweetness daubed around the edges with a salted butter caramel sauce. Teas and coffees are had, along with excellent petits fours, and, eschewing the invitation to take post-prandial refreshment in one of the Grand's various lounges, we lay our well-used napkins to rest and plan the next leg of our exploration of Eastbourne's watering holes.
Somehow we made it to the railway station intact and, more importantly, our not-quite-so-crisp linen jackets largely unbesmirched. For which we quietly gave sartorial thanks, as we planned our return to the Grand for future japes and jollity – all of which, of course, will be covered in The Chap.
Bookings www.grandeastbourne.com