This broad sartorial term sometimes confuses those in receipt of a wedding invitation, who panic and think they have to go and buy a new suit – when in fact they already have several in their wardrobe. A lounge suit is simply an informal business suit and can be anything from a plain blue two-piece to a pinstriped three-piece. Also known, rather pejoratively, as a 'City Suit', the most important attribute is that it should be dark in colour, but this can range from charcoal grey, via all the shades of blue, to jet black. A lounge suit can be plain, striped or checked and it can be single- or double-breasted, two- or three-piece. It cannot be made of tweed; that particular fabric will catapult you into the Countryman category and would not be suitable for a wedding. Lounge Suit is a dress code all of itself and includes footwear, accessories and headwear.
FOOTWEAR


We are assuming the suit itself (see below) is dark in colour, and therefore only black shoes are appropriate. The failsafe choice is the black Oxford, a plain shoe with a single seam across the toe cap and no broguing. A half brogue is acceptable but may be considered rather racy in certain quarters. The ideal design is closed, rather than open, lacing, as with this inexpensive example (£135) from Herring Shoes. A pricier version is available from reputable Northampton shoemaker Cheaney at £299. When it comes to socks, plain red always cuts more of a dash than any other colour, and Teddy Edward produce a cushioned sole iteration for £18.00, while Dueple's very comfortable ribbed socks come in a splendid shade of blood red.
SHIRT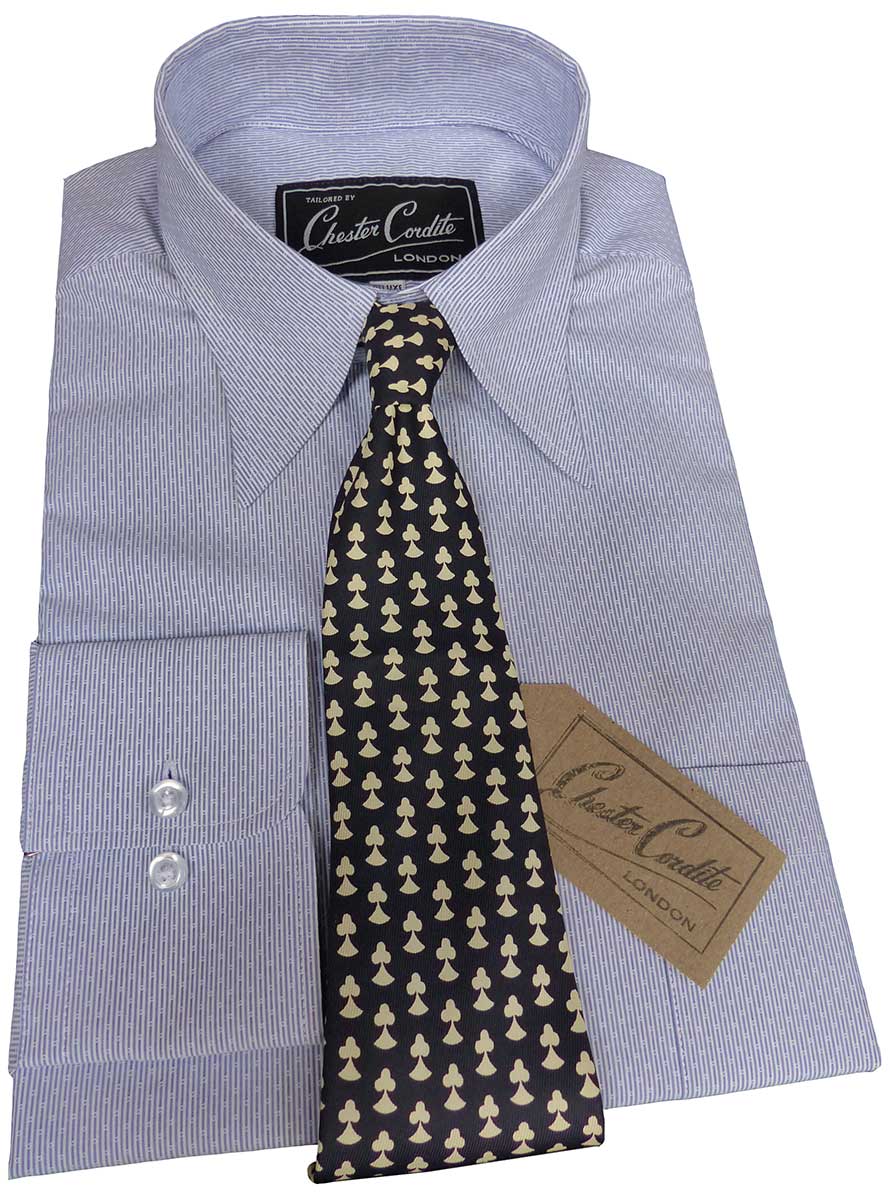 You may wear any long-sleeved shirt you wish with a lounge suit, within reason. Button-down gives rather an American appearance, but apart from that any collar shape is suitable, as long as your tie fills the gap between the points adequately. So wear a narrow vintage tie with a spearpoint collar, such as those from Chester Cordite (£70), and a fatter, contemporary tie with a spread collar. One of the finest examples of a classic white cocktail shirt with a wide collar comes from Mason & Sons, who own the patterns bequeathed by legendary James Bond shirtmaker Mr. Fish, and it retails at £125. At the other end of the budget is a more dashing blue striped shirt from Hawes & Curtis with a white collar and French cuffs for only £49, and a plain white luxury cotton shirt at £89 from Teddy Edward.
SINGLE-BREASTED SUIT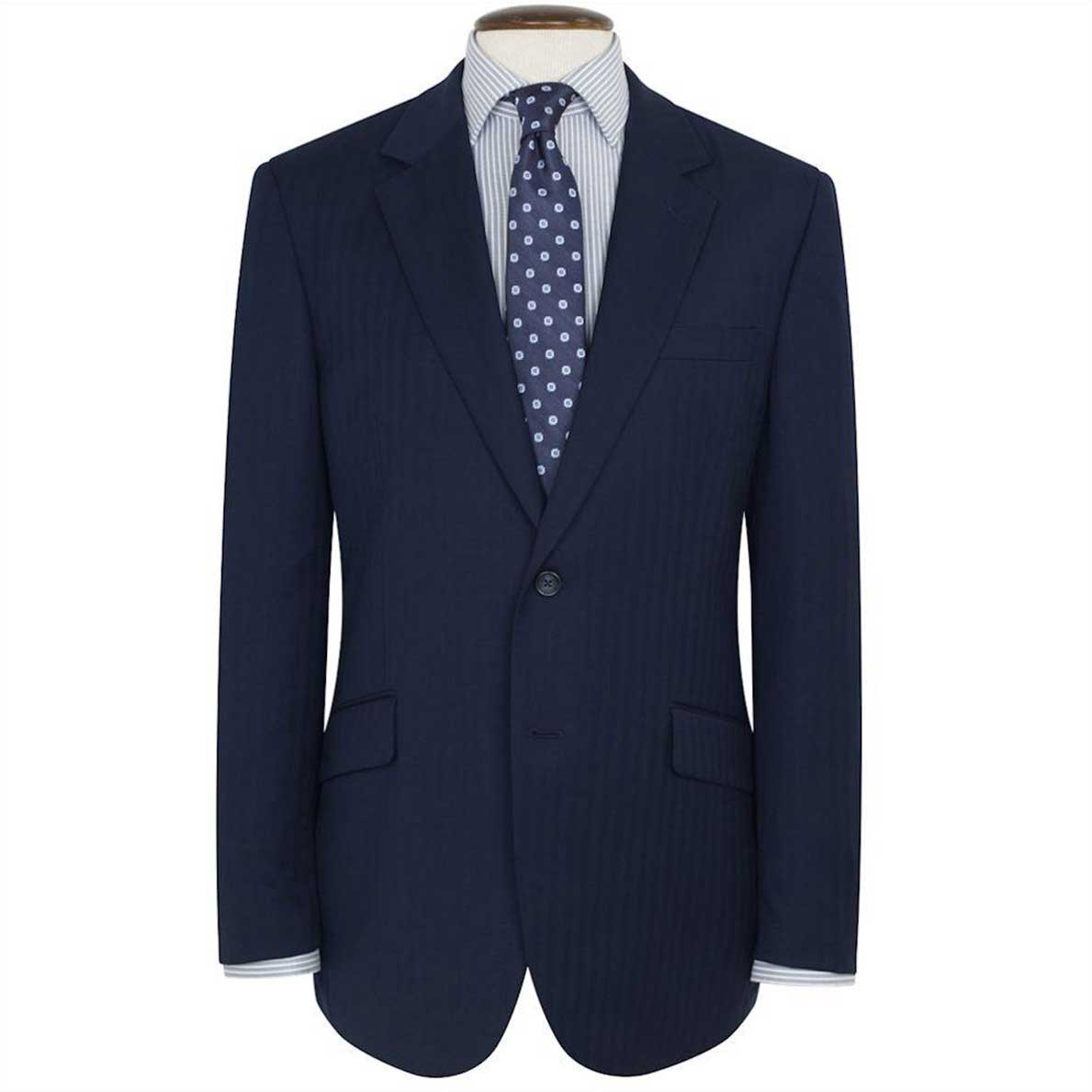 You might think that this item was the easiest to buy, but you'd be wrong. The choices are vast, but one you've sifted out the 'slim fit' (only for the 22-year-old estate agent) and the Polyester/viscose mix (ditto) you'll be heading for the nearest tailor – and that is probably the best option. But if you're short on readies, we've saved you an exhausting search. Very few contemporary outlets offer a lounge suit in a standard fit, made from proper fabric. One of the few is Brook Taverner, whose two-piece Dawlish Navy Birdseye Super 110's Suit retails for £400. It is also available in grey sharkskin, navy herringbone and charcoal birdseye (a pattern made up of thousands of tiny dots, and rather fetching). For those on an even tighter budget, shirtmaker T.M. Lewin's Westminster Charcoal Infinity Suit is made from 100% Merino Wool and costs only £249 for the whole two-piece ensemble. Plus the trousers are flat-fronted (see below). Should you prefer to venture into bespoke and live in London, one of the better off-Savile Row tailors is W.G. Child and Sons, who will make you a bespoke lounge suit for around £2,400. The fabric to request is an 11-13oz pure wool. A vintage lounge suit may be acquired for £200-400 from Savvy Row, and if it doesn't quite fit, a tailor such as WG Child will remodel it to fit you perfectly for around £100.
TROUSERS
If you're buying a two-piece suit, you won't have much choice in the trouser department, but the first alarm bells to ring should be if they are not flat-fronted. Trouser pleats have their place and will come as standard on most vintage items from the 1950s and 60s, but for a new suit they simply spoil the line of one's waist, whether it goes in, out or sideways. You are highly unlikely to find a contemporary menswear brand that provides braces buttons, but these can be applied by a tailor or dry cleaning emporium. Turn-ups are generally de rigeur for double-breasted suits, but can add a dash of élan to a single-breasted suit too, and these can be added by a tailor when you have the trousers hemmed – which will come unhemmed from any decent establishment.
DOUBLE-BREASTED SUIT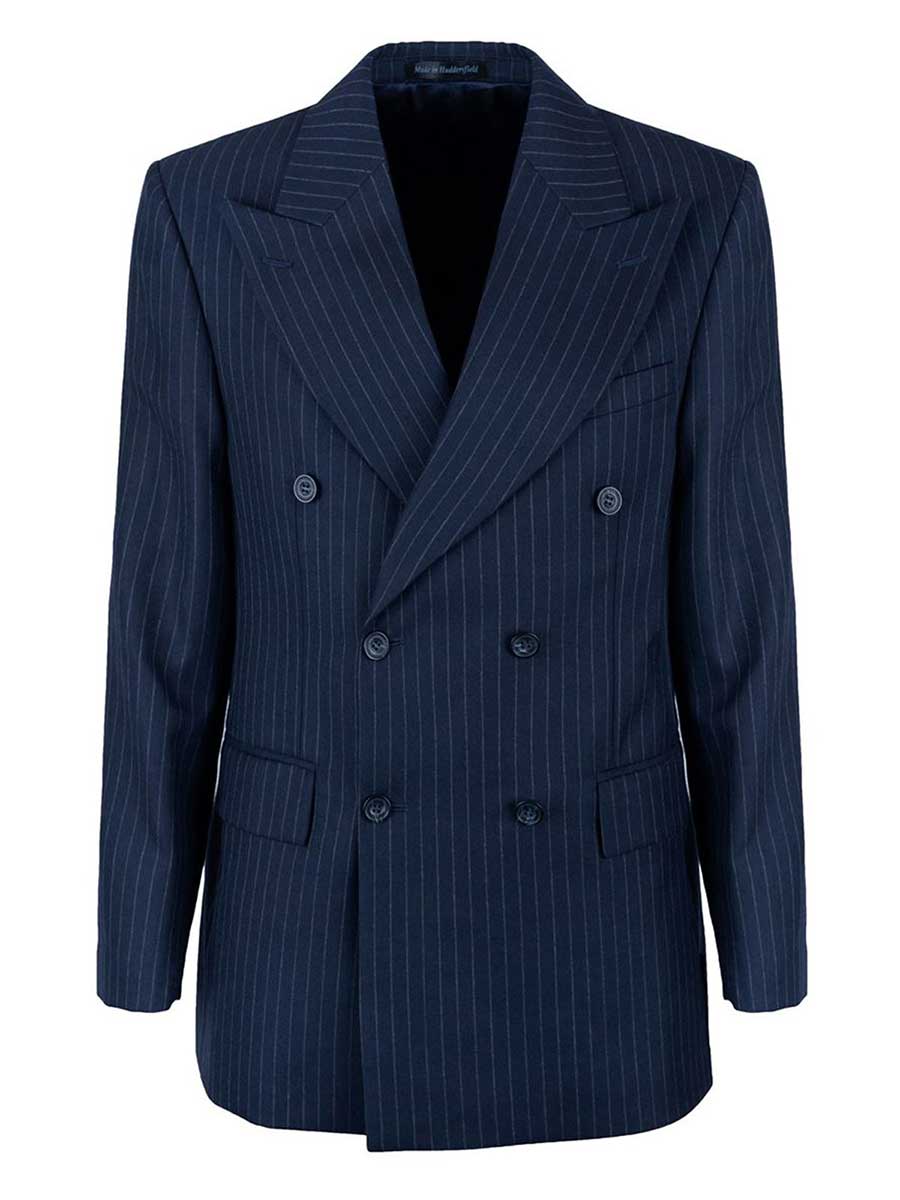 Even trickier to find on the open market is a not-too-ridiculous double-breasted suit. The majority of those available are deeply flawed, either in the lapel department (not wide enough), the pocket department (patch pockets – really!) or the overall cut and length. Double-breasted suit jackets usually have six buttons, two of them working – and the lower of the two can be left unbuttoned, though the more formal approach is only to unbutton it when sitting down. Revival Vintage have plenty of double-breasted original suits from various periods, and they make their own version of a classic Monty Burton pin stripe DB jacket for £400, with the full two-piece suit at £600. The suit is hand tailored with all the original 1940s details, such as wide peak lapels with buttonholes on both, working cuffs and no rear vents. Chester Cordite is a reputable tailor specialising in the 1930s and 40s and produces several sharply cut double-breasted suits for around £500. All have high-waisted trousers for braces and some have an action-back, allowing for fuller flexibility when dancing or carousing.
TIE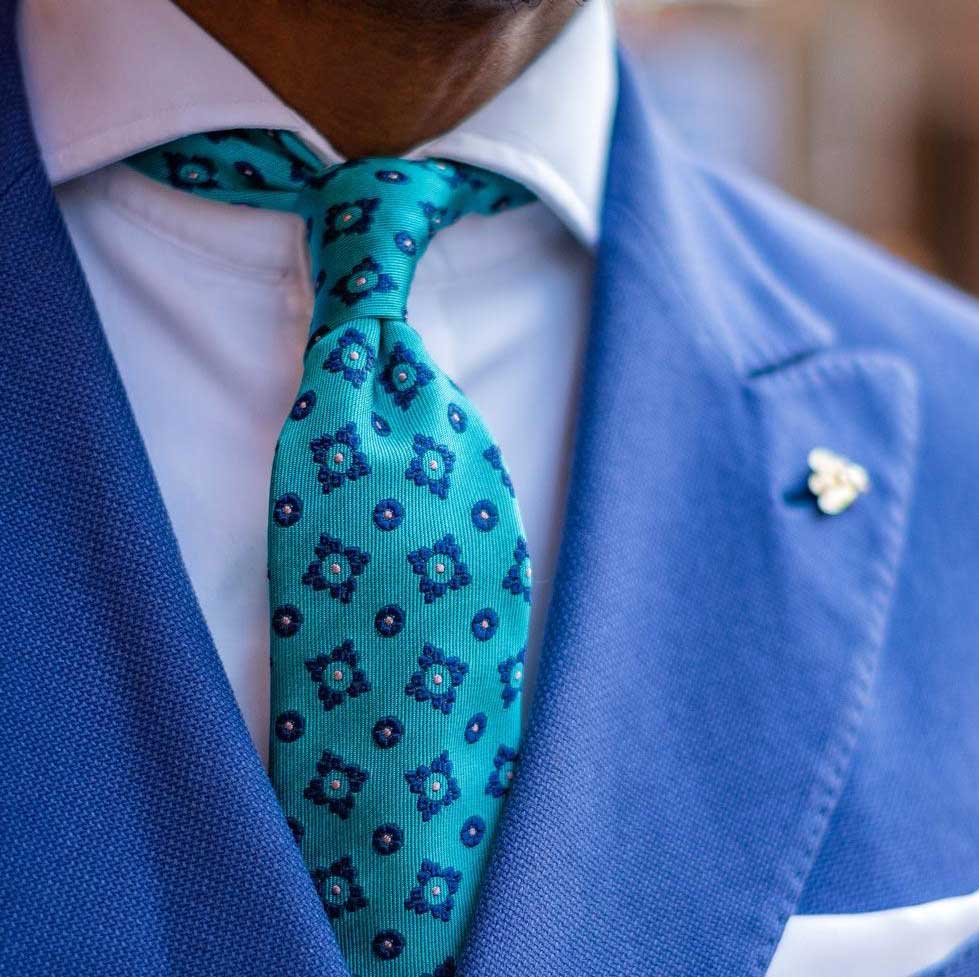 When wearing a dark lounge suit, the only place for a splash of colour is from your neck and sprouting from your breast pocket (see below). Diagonal stripes will always cut the mustard, though remember that, as with driving, if you are British they should go from left to right; Americans the other way round. At the top end of the market is the hand-made silk variety of tie, with new kid on the block Shaun Gordon producing some rather innovative takes on traditional stripes, florals and paisley motifs, retailing at £120, but he often has a half-price sale on. Ditto Turnbull and Asser (the sale part) though vintage T&A ties often beat their own current crop on style. At the other end of the market is the once-market leader in men's neckwear, Tootal, who now produce a much more modest range than in their glory days of the 1950s and 60s, but are still reliable for simple polka dots and knitted ties, available for around £20.
POCKET SQUARE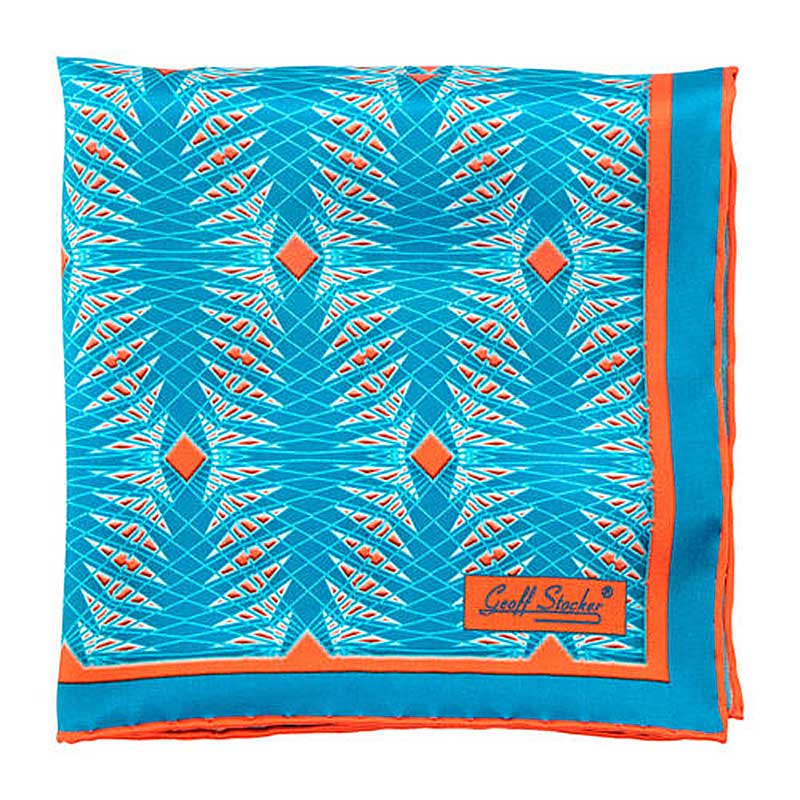 There are no rules regarding pocket square selection when wearing a lounge suit, except that it should be fabulous and should in some way complement (but definitely not match) your tie. At least one colour in the square should correspond to one in the tie. In our gentle meander towards the more peacocky end of the spectrum, we start with Seaward & Stern's range of pocket squares, priced at £55, in a nice range of subtle patterns in bright colours, while Geoff Stocker approaches pocket square design as an artist, drawing inspiration from art and exotic travel; his colourful geometric designs (£45) in particular are worthy of a Chap's attention. For those who wish to express something of the night, or the dawn, or just how kooky they are, Furious Goose, while not for everyone, produce pocket squares (at £75) whose visible portion outside the breast pocket hints at darker depths beneath (i.e. lots of skulls and guns on the designs).
HEADWEAR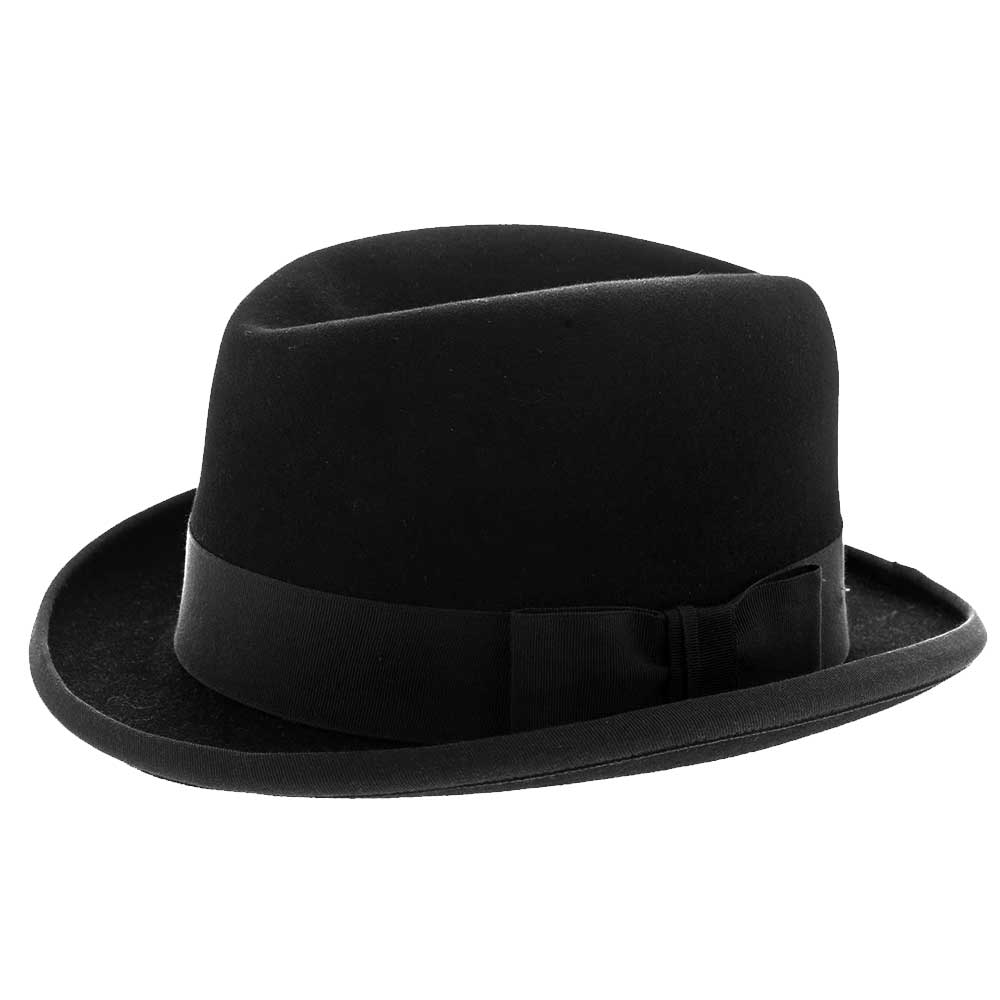 When wearing a lounge suit, one's headwear options are limited to four choices: Homburg, Bowler, Fedora or Trilby. A Homburg, as popularized by Prime Minister Anthony Eden in the 1950s, should only be black and only worn with a black suit. Christy's Hats make a fur felt black Homburg for £149, while Laird London's Homburg justifies its £245 price tag by making it from super-smooth fur felt with crossgrain ribbon. A much cheaper option is from Cotswold Country Hats at £38.95. The same brands offer Trilbies and Fedoras at similar prices, and a budget 40s-style Fedora is available for £32 at Revival Vintage. But when it comes to the bowler (or Coke Hat, to be precise) corners must never be cut. Either get the true original from those who invented it, Lock & Co (£300-400), or seek a vintage example from Messrs E.Bay & Co.
OVERCOAT


When it comes to overcoats, the lightness of fabric of a lounge suit will allow you to wear an overcoat with an inset sleeve fitting, as opposed to the raglan sleeve more suitable over heavier jackets. A velvet collar can add a touch of élan to a man's coat, and the ne plus ultra of this type of coat is the Crombie, with a racy red lining, fly fronted with added darting, horizontal flap pockets and of course a velvet collar. For some unfathomable reason Crombie themselves, who invented this coat, now list the classic iteration as the 'retro' design. Either way it will set you back £895. Head over to Savvy Row for a vintage overcoat at half that price. Even more reasonably priced is the modest selection of overcoats at Tweedmans. A Covert Coat is another option, similar to the Crombie though with the velvet collar as optional. Another distinctive feature is the three lines of stitching on the cuffs, originally designed to repel thorns catching on the sleeve. Cordings of Piccadilly make the best ones, for £595, and they can add a velvet collar in a choice of colours for an extra £45.
UMBRELLA


An indispensable accessory for the lounge besuited gentleman is an umbrella. By umbrella we mean a 'stick' brolly and not – under any circumstances – a foldable or telescopic umbrella. The handle should either be wood or whangee (a type of bamboo) and the canopy colour should be black. The oldest umbrella maker still going is Fox Umbrellas and they will furnish you with a black whangee-handled umbrella for £142.50.
For a plain wooden handled umbrella, London Undercover charges £115 for a decently made one with a Malacca Wood Handle and a Beech Wood Shaft, and silver cup, ferrule and spokes.