Let us make one thing crystal clear: we are not speaking of the contemporary hipster. While jazz-jumpin' chaps from the mid-twentieth century were sometimes referred to as 'hipsters', we are going to use the term 'hep cat' to distinguish this stylish breed from their bearded millennial counterparts. Chaps who favour the forties may be perfectly happy in their three-piece suits, demob trilbies and co-respondent shoes, but should they wish to delve slightly further into alternatives, the hep cat look is but a small step away and opens up a whole new world of possibilities, while still maintaining the sartorial decorum expected of a Chap.
FOOTWEAR
The definitive hep cat shoe is of course the saddle shoe, whose originator in the 1950s, GH Bass, disappointingly does not see fit to continue producing them on the eastern seabord of the Atlantic. The most economical UK versions are those peddled by Rocket Originals, available in navy and cream or brown and cream (£99). For a sturdier item, head over to Mark McNairy for the previously featured Saddle Shoe, which comes in a dashing navy suede with brown leather saddle (£245). For a simpler look below the hemline, Rocket Originals sell a plain white Nubuck Gibson (£99), while Penahaus provides an impressive display of 1950s-style shoes, including a plain black suede number called the Wolf Black (€140).
TROUSERS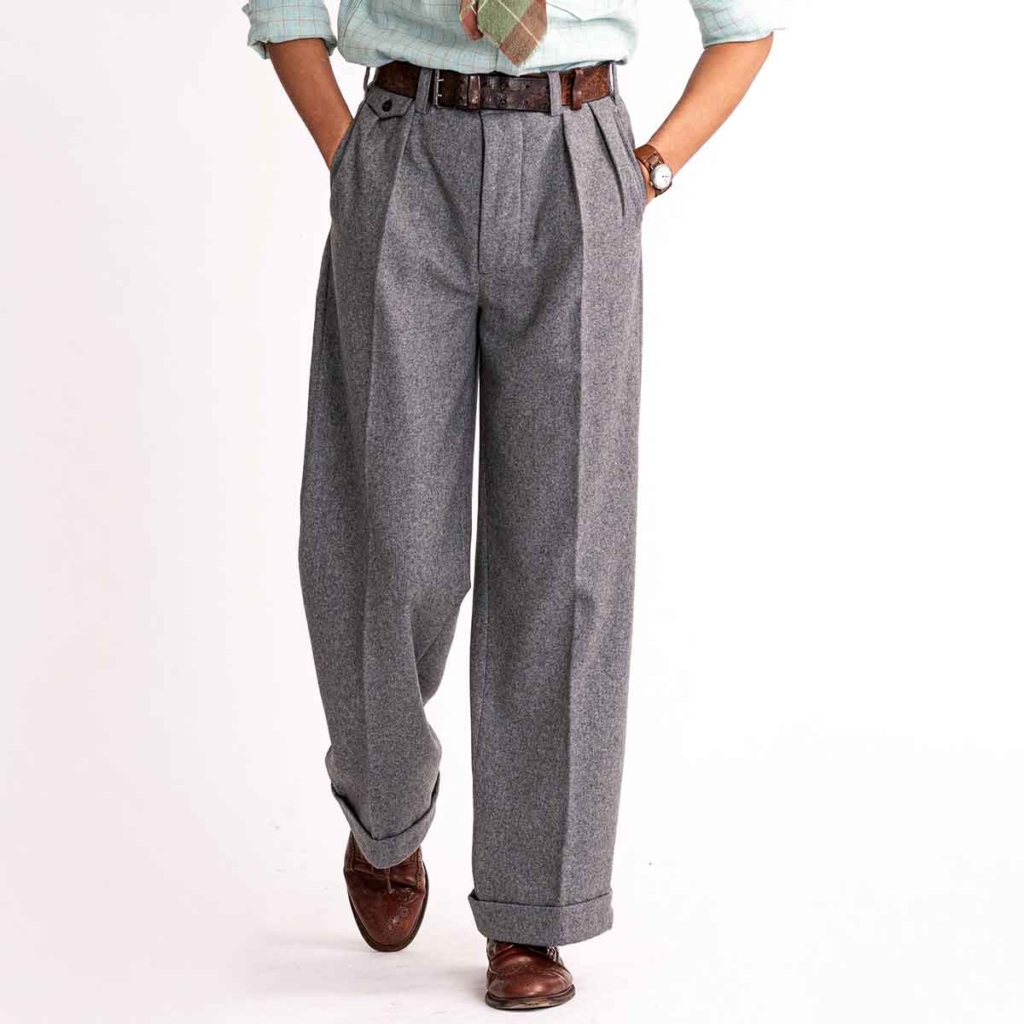 You might think that hep cats, what with all the dancing and fighting with flicknives, would favour a belted trouser, but this is not always the case. Braces can accompany the hep cat's raiment, and if you seek the most authentic number, Simon James Cathcart purvey the 'Biscuit Dot' variety at £49. The trousers for them to support can also come from Cathcart, for instance a pair of Open-Weave Arkwright Trousers or Grey Wool Ellington Trousers (both £149). The Peg Trouser is a belted option for the braceless; try Morellos, whose English-style Pegs (£70) have a saddle seam down the side and come in burgundy, navy or black. The Scott Fraser Collection has many wide-legged trousers, notably the 'classic' (£249), which are made to order and feature a 10-inch hem and high waistband.
SHIRTINGS
It must be understood that the hep cat shirt drifts rather far from the Jermyn Street particulars. Most hep cat shirts are worn tieless (don't worry, there is accompanying neckwear – see below) as they are cut to be worn with an open collar. The 1950s 'Gab Style' shirt is usually sported in pastel colours, often in two-tone colours. The ones from Morellos come in at £50, in a range of colourways from russet brown to racing green. The Steady Rust Brown Panel Shirt (£42) from Ozone Clothing cuts the mustard despite not being mustard-coloured (a pink and black version is also available). Simon James Cathcart makes a vintage-inspired polo shirt with long sleeves, available in similarly rustic shades of bottle green, burgundy and rust.
KNITWEAR
Often the hep cat look will blur the boundaries between shirt and knitwear, and the two are rarely worn together. Instead, there are various iterations of a knitted item that has shirt-like qualities, for example those from Morellos, who describe their knitted 7-button pullover as 'The Belmont Jersey Top' (£60) and it comes in various combinations of black and muted fifties colours. Should you wish to step slightly closer to Jude Law's Riviera style in The Talented Mr. Ripley, you can acquire an authentic reproduction from the Scott Fraser Collection, named the Ripley Ischia Shirt, in either yellow and cream or pale blue and cream, for £310. At the racier end of the knitwear spectrum are those from Ozone Clothing, whose reproductions of an Italian style of knitted shirt (£60-£78) mostly feature diamond and zigzag patterns.
JACKET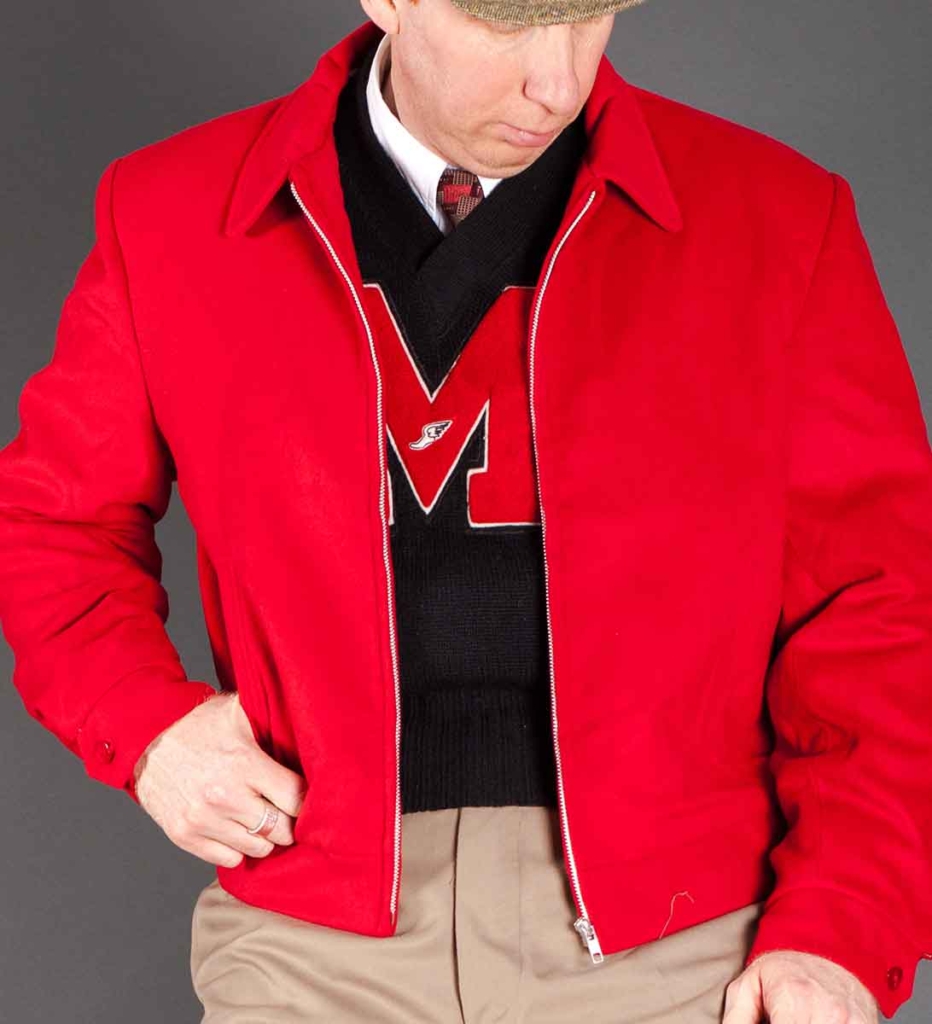 Unlike traditional Chap clothing, there are a bewildering variety of jackets to adorn the hep cat silhouette. The closest to the traditional suit jacket is the Box Jacket, and Revival Vintage sell original vintage examples, as well as reproduction fifties bomber jackets. Box Jackets are also available from Morellos (£120). Then there is the Hollywood Jacket, reminiscent of Elvis Presley's garb. Ozone Clothing's iterations include one in a very 1950s colour of pistacchio green (£95). Penahaus make Hollywood Jackets in shades or rust and cream (£225) that would not have looked out of place in Roger Moore's wardrobe of the 1970s. The 'Gab Jacket' (short for the tightly woven fabric Gabardine), hops towards the rockabilly look in this most relaxed style of jacket. Outerlimitz makes the classic version in black and pink (£95), while sturdier versions are available from Heyday Vintage in pale blue and atomic red at £130. Vintage versions are available from Revival Vintage priced at around the £50 mark.
NECKWEAR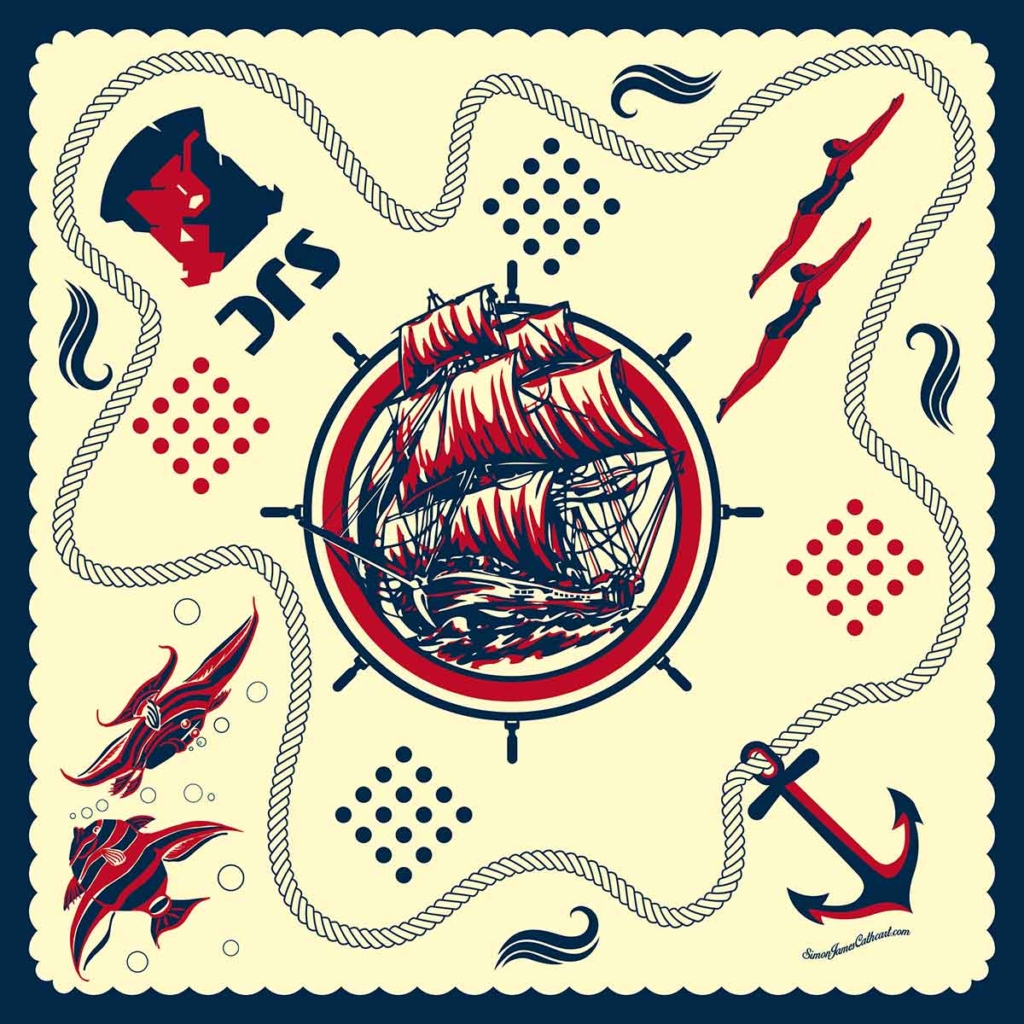 Hep Cats wear ties, but you won't find a regimental stripe among their collection of wide-tipped, colourful numbers, also known as 'swing ties'. Both Timmy Pickles and Revival Vintage sell excellent vintage ones and you may need to apply your shades (see below) before looking at them. The other indispensable hep cat neckwear garment is a neckerchief. But don't think you can simply repurpose your vast armoire of pocket squares, because they are not large enough. A neckerchief, in order for it to be rolled diagonally and flung around the neck (as devil-may-care as possible) requires a width of at least 22 inches, compared to the traditional 16-inch pocket square. Peter Christian produces a small range in classic paisley designs at only £4, while a fuller range but still priced at a modest £5 comes from Ties Planet. A more rakish design (pictured) was once available from Simon James Cathcart but sadly these may now only be acquired from Messrs E. Bay & Co.
HEADWEAR
Oddly enough, despite the wealth of choices for the potential hep cat in all other garments, when it comes to headwear you have only two options: floppy Baker Boy Cap or Pork Pie Trilby. Naturally, even just these two present a multitude of offerings, from the sublime to the ridiculous. For a mid-range, well-made baker boy cap, head over to Stanley Biggs for their Hardwick Cap in light grey Harris Tweed (£65). You can get the same item in cream linen from Cotswold Country Hats for a mere £20, and while you're there, take a look at their pork pie titfers. They stock a total of 17 different styles, ranging in price from £20-£35, including a Crushable Grey with Diamond Crown (£30).
SUNGLASSES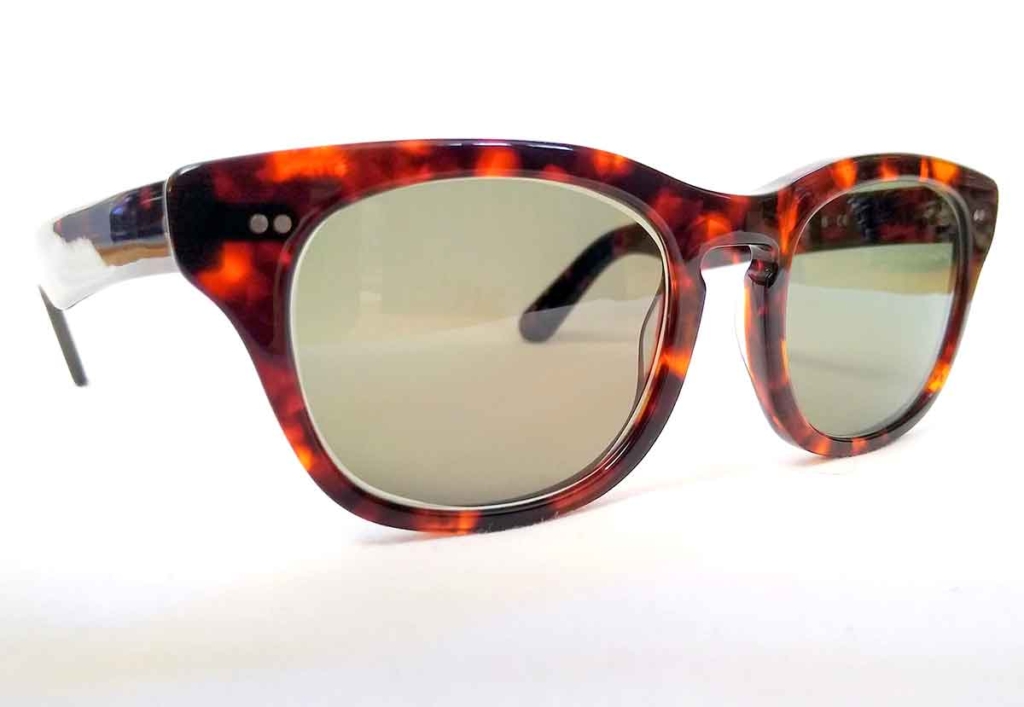 The hep cat would likely call his sunglasses 'shades' and who are we to judge, as long as he only wears them when there is sunshine blasting in his eyes and not while on the dancefloor. Dead Men's Spex carry a large stock of 1940s and 50s-style sunglasses, and will furnish you with a pair of Tortoise Shuron Sidewinder frames for £80 and they'll add non-prescription tinted lenses for an extra £20, with an option for prescription lenses at £45. Black Eyewear's Woody sunglasses come in at £177 and are available in a bewildering (and very 'hep') range of 18 different colours, from light tan to jet black.
This article first appeared in CHAP Autumn 20