Gustav Temple reviews Edgar Wright's new psychological thriller set in the swinging sixties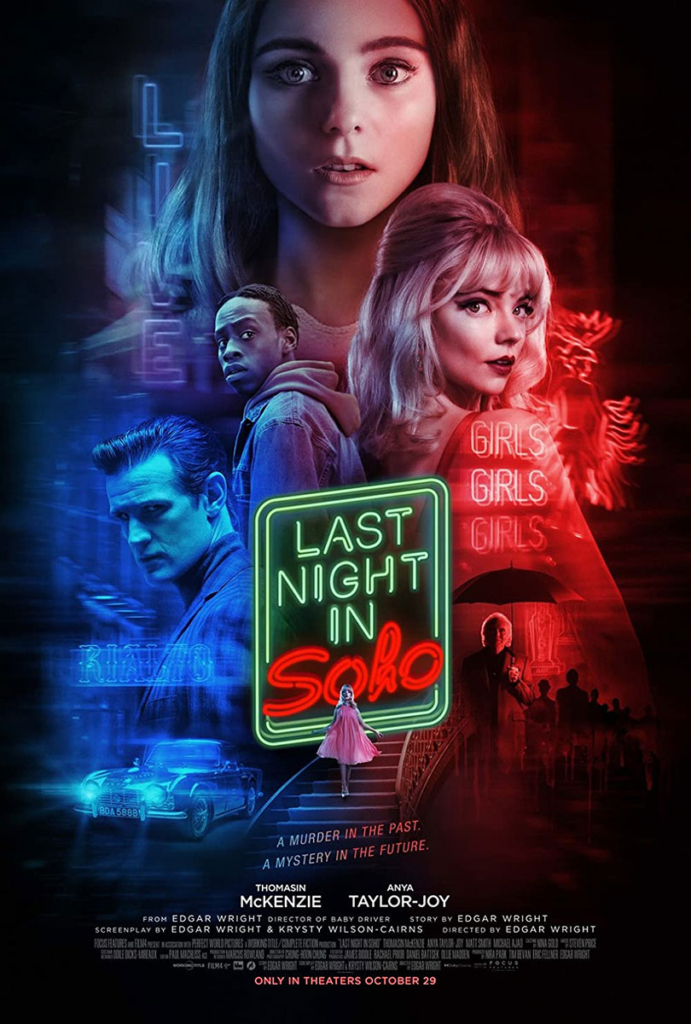 Fans of Edgar Wright's trilogy of comedies Shaun of the Dead, Hot Fuzz and World's End expecting this film to feature amusing fast-edit shots of Simon Pegg getting drunk and losing his girlfriend will find something rather different. The British director, whose most recent film was a much-acclaimed documentary about Sparks, has moved on from spoofs of zombie films and cop shows to reveal his taste for 60s arthouse classics Peeping Tom and Repulsion.
Last Night in Soho is a psychological horror-thriller set in the present day and flashing back to the swinging sixties, with a stellar crop of recent talent including Matt Smith (Doctor Who, The Crown) and Anya Taylor-Joy (The Queen's Gambit). In a natty bit of casting, also in the line-up are 60s icons Terence Stamp, Rita Tushingham and Diana Rigg. One can imagine the call to Terence: "Mr. Stamp, we're casting for a film set in the 60s about…"
"When do you need me on set? Tomorrow?"
The film opens with floaty, naïve, troubled ingenue Eloise (Thomasin McKenzie), obsessed with the sixties and haunted by the memory of a mother who committed suicide when Eloise was seven. She leaves grannie (Rita Tushingham) in Cornwall to head for a course at the London School of Fashion. Films about the fashion industry rarely compel. Nobody wants to see the workrooms, bad drawings and sewing machines behind the glamour of the catwalk, and Edgar Wright whisks us quickly away from scenes of Eloise at college, fashioning cutesy 60s frocks, and into the past that she is fascinated by. By listening to Petula Clark and Lulu in her bedsit, Eloise is transported into swinging sixties Soho, where she morphs into fantasy figure Sandie, played by Anya Taylor-Joy, who is scooped up by Matt Smith's seedy impresario Jack with the offer of a career in showbusiness.
But Jack turns out to be more pimp than promoter, and Eloise/Sandie enters a world of casting couch exploitation, while the Dansette record player churns out the beat girl classics. Polanski's Repulsion gets more than a passing reference, as the endless parade of older men in suits knocking on Sandie's door morph into featureless ghosts crawling out of every corner of the Café de Paris.
The film extends its themes to become a ghost story about more than Eloise's mother, who she keeps seeing waving out of mirrors. It broadens into a film about how we are all haunted by the sixties and can't let go of the idea that everything was groovy in that overhyped decade. Even Terence Stamp looks like he's more than ready to move on from the past, but no-one will allow him to.
Universal Pictures, who produced Last Night in Soho, released a slew of colourful images to promote the film, yet not one of them contained any of the sixties icons cast by the director to give the film its poignancy. Instead we were given endless shots of the younger members of the cast dressed up in 60s fashions, feeding the public's appetite for a rose-tinted, cleaned-up, sanitised, pretty-in-pink version of a decade that Edgar Wright wants to remind us was much darker beneath the surface.
Last Night in Soho is on general release in the UK from 29th October.